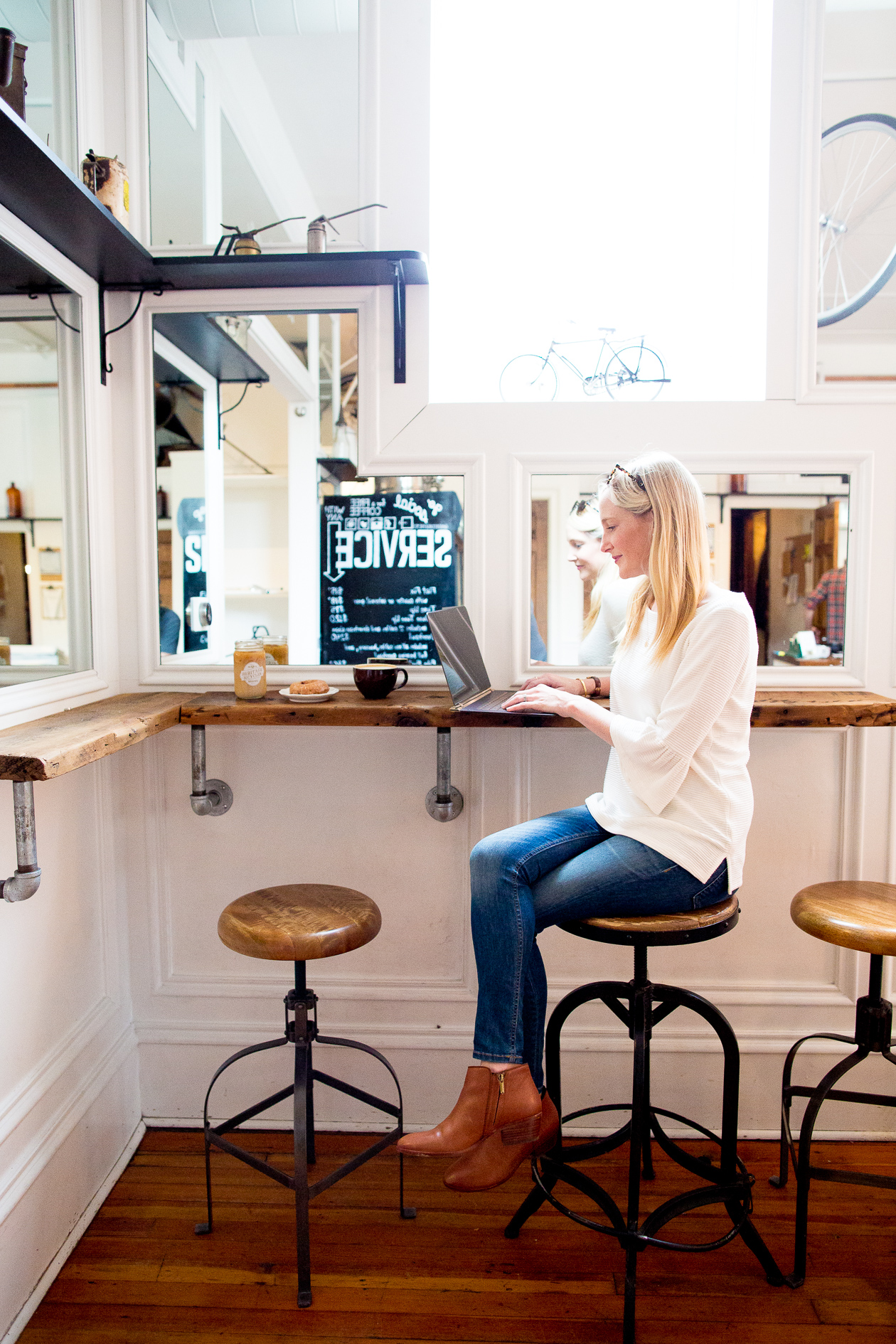 A few weeks ago, I wrote about how I've been setting aside time every day to work on some passion projects: leather-bound family albums as well as home videos. I'd said I wanted to tackle Emma's "first year" album first, but once I'd laid everything out, I realized we still had a solid nine months until the end of year one. ;) So instead, I finally made our wedding album–something I'd been meaning to do for SO long.
Before I start, though, I should mention that I recently found the most adorable coffee shop in Lakeview, the neighborhood right above Lincoln Park. It's called Heritage General Store, and it's actually a coffee and bicycle shop. Mitch is crazy into biking, so convincing him to accompany me up there this past Sunday was easy. :) We snapped these pics, grabbed doughnuts and coffee, and chatted up the bicycle repair guy about having his bike repaired. (The guy gets flat tires every week and we don't know why. It's so frustrating!) Isn't the shop stunning? I love how bright it is! (This is what I wore.)
Anyway, I recently finished the wedding album project at Heritage on my HP Spectre laptop, and I'm so happy with the results. It was a HUGE project, as I made edits to a lot of the photos. (Cropping, brightening, etc.) But doing it on the Spectre was ah-mah-zing. Its full high-definition, edge-to-edge Corning® Gorilla® Glass display makes editing fun. The resolution is breathtaking, and it totally helped me relive our wedding! (Looking for photo editing tips? See how I quickly and easily edit my photos here.)
I also plugged my earbuds into the Spectre and jammed out (not to kids' songs — haha) while working. I've mentioned this before, but the computer's custom-tuned Bang & Olufsen audio system is incredible. Right now I'm listening to a lot of alternative country, like Ryan Adams (surprise, surprise), the Jayhawks, Emmylou Harris, Loudon Wainwright, Wilco, etc. And I have to admit: the Spectre's sound system definitely inspired me to pick up my guitar again. Emma likes it! Poor thing.
While I've been an HP Spectre owner for a few months now, I'm still so impressed with the machine. I love that at only 10.4mm thin, it's super light and easy to transport, but I also truly think it inspires me to be more creative. As it features full Intel Core power, it runs my programs at lightning-fast speeds, and I no longer have to deal with the frustration of the "spinning wheel of death." (Anyone else hate that thing?! Brings back memories from my newspaper days…) And again, the Spectre's beautiful screen makes my photos come to life!
The next project I'm undertaking with my Spectre is a little site re-design. It won't be a complete re-design, but I'm going to be making a few adjustments that will hopefully make this blog a little prettier and easier to navigate. I can't wait! I'm going to be rolling out the updates in a couple of weeks, so if you have any suggestions on how I can make the site better, please weigh in! My Spectre and I are waiting! ;)
How would you use the Spectre to be more creative? Any suggestions on how I can make the Kelly in the City design/navigation better? What's missing? I'd love to hear!
This post is sponsored by HP, but all opinions are my own. As always, thank you so much for supporting the partnerships that keep Kelly in the City up and running!