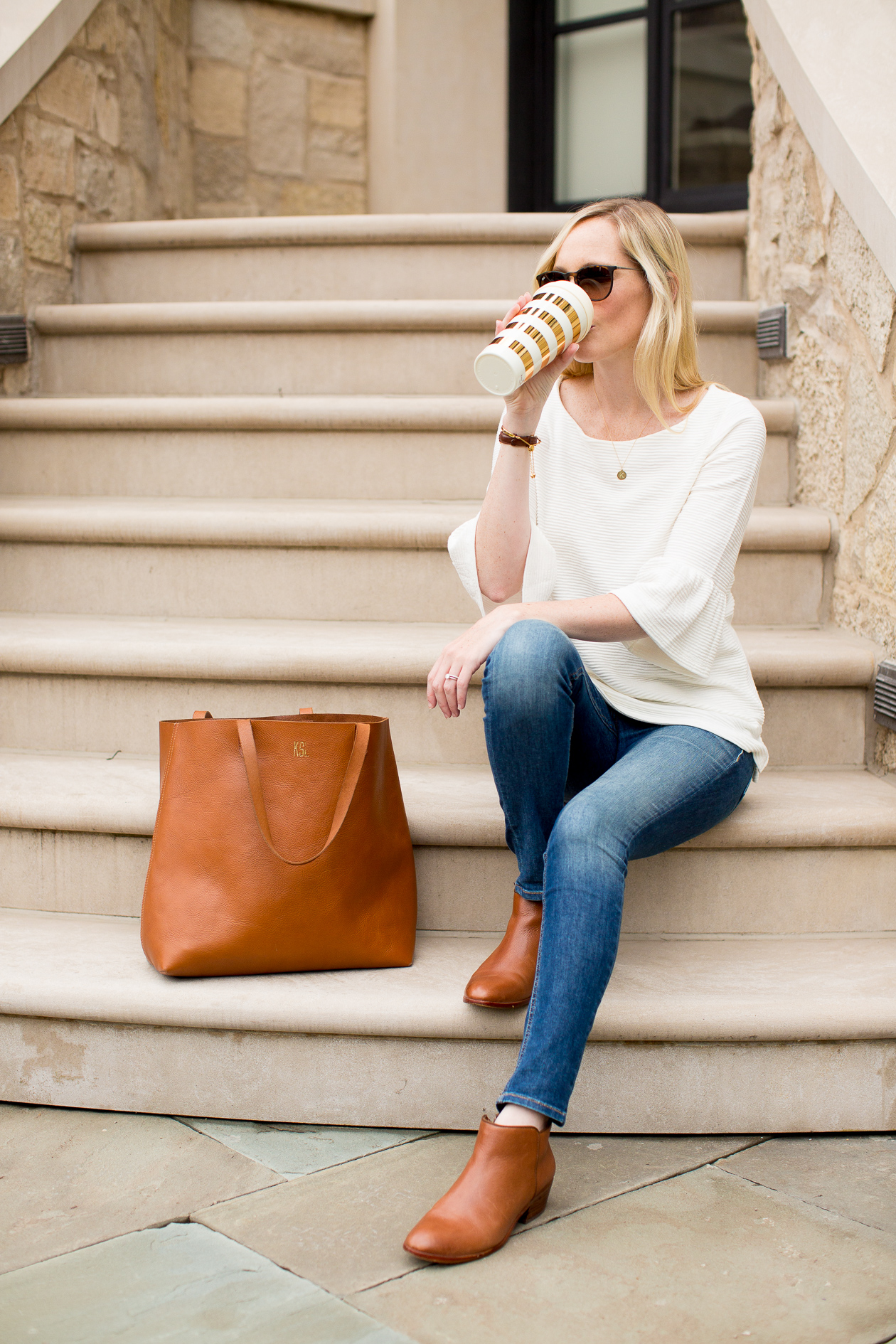 Bell Sleeve Top (Similar here and here, and I LOVE this.) / Keep checking back if you don't see your size in the top I'm wearing! They come back in stock frequently. I have the striped one, too, and it's adorable! FYI: Runs slightly big, so order your regular size or size down. I'm wearing an XS here, and I'm definitely carrying around some extra baby weight.) / Burberry Coat (It now comes in green! And oh my goodness. I LOVE this new quilted beauty.) / Sam Edelman Booties (Also in suede. I normally wear a size 7.5, but sized up to an 8. SO COMFY when you go up a 1/2 size, and they don't slip off! I also have these similar booties, which I'd recommend ordering your normal size in. They're equally as comfy — Maybe even more!) / Rag & Bone Jeans (THE BEST JEANS IN THE WORLD! Definitely considering ordering a second pair (maybe in black). They're super soft, don't stretch out, and minimize muffin tops like whoa. And, again, I'm carrying around baby weight! They run TTS.)

Accessories that make for great gifts: Madewell Tote / Kate Spade Necklace and Mug (Also love this one) / Ray-Ban Sunglasses / Monica Vinader Bracelet c/o
I am having a good week. :) On Monday, my mother-in-law drove up to Chicago to spend a couple of days with us and help out with Emma so I could get some work done. And yesterday, I had a girls' night with Jess and Blair at Summer House in Lincoln Park. (Much needed!) And today, my own mom is flying in from the East Coast for an entire week! I'm thrilled. I mentioned this yesterday on Instagram, but I'm really lucky to have such great family and friends who are so willing to step in when I need a little assistance or help. <3
The last time my mom was here, I was absolutely swamped with work. Because of this, I spent more time behind the computer screen than I wanted to, and I was heartbroken when she left as I felt like we didn't get enough quality time together. This time, though, I was somehow able to get my ducks in a row ahead of time… and we have a lot of really lovely days ahead of us as a result! Honestly, I just want to take a lot of really long walks around the neighborhood with Mom and Emma… and perhaps pick up some new baby clothing, as Girlfriend is growing out of EVERYTHING!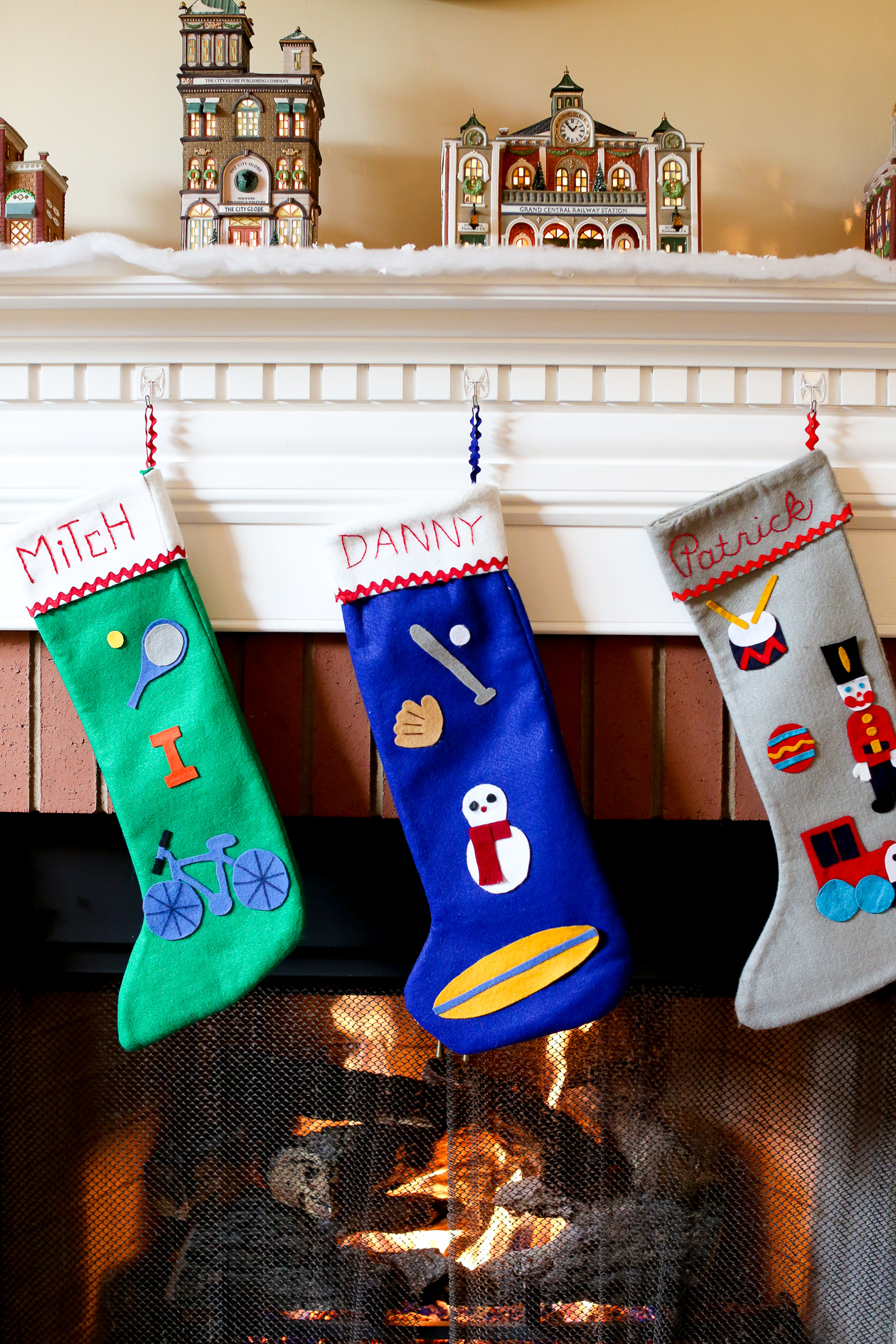 Baby gifts

Gifts for her

Gifts for him
Speaking of Mom, can I tell you the cutest story? For my birthday and Mitch's birthday (which are three days apart), she and Grammie are currently making us homemade felt stockings (shown in this blog post). They're a Gallagher/Sheehan/Tralka family tradition! The plan is to always spend Christmas at my parents' and my in-laws' houses, but to have the stockings stuffed to the brim for the kiddos when we arrive home in Chicago. It's all so sweet, and I'm incredibly excited to have our very own stockings for our first Christmas as a little family. Definitely checking out Nordstrom's baby section for stocking-stuffer ideas!
Anyway, the stockings totally have me thinking about holiday shopping. And when I think about holiday shopping, I think about Nordstrom. :) While yes, the vast majority of my clothing from this post is from the retailer (like this AWESOME top), I should also note that most of my accessories–which work so well as gifts–come from Nordstrom, too. This monogrammed piece? This tote? These necklaces? This mug? You're welcome; all your "girl gifts" are taken care of! (And see above for more gift ideas.)
Nordstrom is definitely my go-to for gifts during the holidays. (How are we already talking about the holidays?!) And I know I talk about this all the time, but it's for good reason. The retailer offers free shipping and returns no matter how much you spend. I also love that the company has gifts for everyone. One-stop shopping is key for this busy mama!
In other news, Chicago is having a very wet fall, and my hair is utterly disastrous because of it. I'm headed to the salon on Thursday for the FIRST TIME since July. (Just wait until you see some pics of Mitch and me this Friday. We're hot messes. Who wants to watch the baby so we can do some routine maintenance on ourselves?! Hah!) Really, though: I'm getting highlights again, as I'm sure a lot of us remember the time I tried to dye my hair brown and ended up with olive green locks. ;) But what about the cut?! I'm thinking about cutting it to my shoulders and getting some long layers. Time for a change!
Why does it feel like Friday yet it's only Wednesday? And who invented liquid soap and why?
;)
Outfit details:
Bell Sleeve Top (Similar here and here, and I LOVE this.) / Keep checking back if you don't see your size in the top I'm wearing! They come back in stock frequently. I have the striped one, too, and it's adorable! FYI: Runs slightly big, so order your regular size or size down. I'm wearing an XS here, and I'm definitely carrying around some extra baby weight.) / Burberry Coat (It now comes in green! And oh my goodness. I LOVE this new quilted beauty.) / Sam Edelman Booties (Also in suede. I normally wear a size 7.5, but sized up to an 8. SO COMFY when you go up a 1/2 size, and they don't slip off! I also have these similar booties, which I'd recommend ordering your normal size in. They're equally as comfy — Maybe even more!) / Rag & Bone Jeans (THE BEST JEANS IN THE WORLD! Definitely considering ordering a second pair (maybe in black). They're super soft, don't stretch out, and minimize muffin tops like whoa. And, again, I'm carrying around baby weight! They run TTS.)

Accessories that make for great gifts: Madewell Tote / Kate Spade Necklace and Mug (Also love this one) / Ray-Ban Sunglasses / Monica Vinader Bracelet c/o
This post was sponsored by Nordstrom, but all opinions are my own. As always, thank you so, so much for supporting the partnerships that keep Kelly in the City up and running!