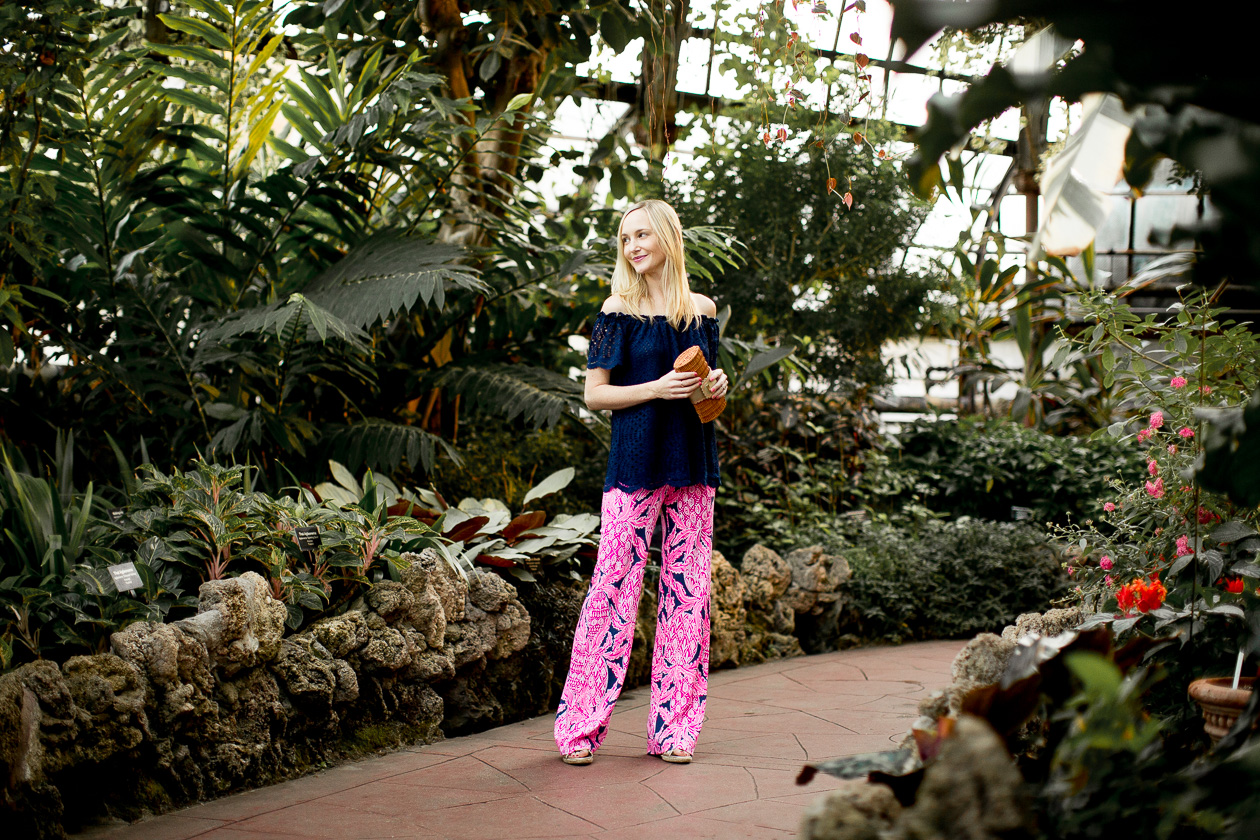 Lilly Pulitzer Pants (these are my new obsession, and lots of prints are currently part of the After Party Sale!), Off-the-Shoulder Top (Part of the sale in white and pink!) and Baby Shift (Shop the little girls' sale section here. Last day!) / Jack Rogers Sandals c/o (Exact style here, here, here and here.) / Vineyard Vines Clutch c/o (Super similar here, on sale!)
Update:
The top that I'm wearing in this post was just added to the sale (in white and pink)! :) My pants are also included (in different prints).

How did everyone make out at the Lilly Pulitzer After Party Sale?! I know that shoppers were a bit frustrated with the tech troubles yesterday, but it seems like everyone was eventually able to get onto the site and shop… which was the end goal, right?! :) And I love that there's still a ton of amazing merchandise available. Two other sites that are also offering big savings on Lilly right now are Zappos and its little sister, 6pm.com. I was really impressed with their competitive pricing as well as their selection!
In case you're wondering, I picked up this silk top, these pants (THE BEST — wearing them in today's post), this no-iron Elsa, and this lace top for my upcoming trips to Charleston (late February) and L.A. (April). I almost bought this navy blue dress, but I find myself wearing dresses less and less as a new mom, so decided against it in the end. Did you guys score anything you're excited about?! At various points today, I'll be checking in and updating this post with any important information about the last day of the sale. You can also follow along on my Facebook page!
But back to real life, bullet point-style. :)
I'm SO excited about the weekend. Because of the sale craziness, I feel like I've been somewhat absent from the blog this past week, and I can't wait to sit down and write some more personal posts. I owe you a "recovery" post regarding Emma's delivery, for example, but I have to say: I'm struggling. How does one write that without getting too graphic?! Workin' on it. Might just have to publish it with a disclaimer at the top.
It also goes without saying that I'm itching to spend some quality time with Mitch and Emma! Tonight, we're having a fun little get-together with Emily and Doug, who recently announced their second pregnancy. I love seeing Gracie and Emma together, and seeing Mitch and Doug together is almost as cute, haha. I've never seen two men bond like those two have! Seriously: at parties, they just wander off, Scotch in hands, and sit in a corner together and talk. It's the sweetest… in a very manly way. ;) Have I ever mentioned that Doug and Emily are the first friends we made in Chicago? We'll always be crazy thankful for how welcoming and kind they were. And we're truly grateful that they've become some of our best friends in this Chicago!
These photos were taken in the Lincoln Park Conservatory, which is where Mitch and I go when the weather gets intense in Chicago. If you live in the city, I can't recommend it enough. It's hot and humid but good hot and humid, and I feel like I'm on vacation when I'm there. The Garfield Conservatory is amazing as well! (Also: Emma is such a big smiler, but I think she was in total shock while we were there, on account of the sudden change in temperature. How cute is she looking up at the palms in awe?! Need to take this girl on an ACTUAL vacation soon. L.A., here we come!)
Jess is headed to Mexico today! Follow along with her via social media this weekend, and be sure to check her site next week for some AMAZING content. I love all the outfits she has planned!
DID YOU SEE THIS?! I'm ridiculous and apparently don't know how to upload a video to Instagram, thus rendering the square completely blank in my feed, haha. But aweeeee. I'm so in love! Definitely framing it!
Emma is becoming a little kid. She's so into toys right now! My in-laws got her the most wonderful activity center for Christmas, and she's been bouncing around in the thing all week. She's also really into her kiddy "iPod"–which just lights up and plays a couple of sounds–and anything that hangs down from her activity mat. She's also rolling like a champ! (Though only from front to back right now.) Favorite thing to do? Take a bath. You should see her splash around; so adorable!
Mitch recently bought a sous vide (Is that how you say it? Is it a noun?!), and it's the coolest thing ever. I'm the furthest thing from a chef, but this is basically how it works: you fill a pot with water, put the sous vide in there, and put your uncooked, vacuum-sealed food in. It comes out perfectly cooked. Some of the best at-home steaks we've ever had! (You can read more about how it works here.)
For Christmas, my parents gave me this giant faux fur blanket for our bed. I'm using it RIGHT NOW for the first time, and I'm already insanely impressed with the warmth. Eight-degree Chicago days, you've got nothin' on me! (Thank you, Parents! Love you!)
Mitch and I saw "The Girl on the Train" last night, and I was traumatized by it. I totally meant to read the book before seeing it, but you know: time. I wish I had… or at least read the synopsis beforehand. Anyone else unable to watch movies unless they're feel-good, happy films? I'm a nutcase, but everything just affects me SO much! Did I ever tell you about that time I saw "P.S. I Love You" in college and had to skip a class because I couldn't stop crying?  Or the time I saw "About Time" and… let's just leave it at that. YIKES. ;)
Did you see that Shaheen announced her pregnancy on her blog yesterday?! Shaheen, I am so, so happy for you and love you to pieces! I can't wait to see you and Trevor as parents; you're going to be absolutely amazing. Wishing you all the happiness in the world! (Girls' night SOON, kay?!)
Hope everyone has a wonderful Friday! Be sure to check back in a little bit. :)