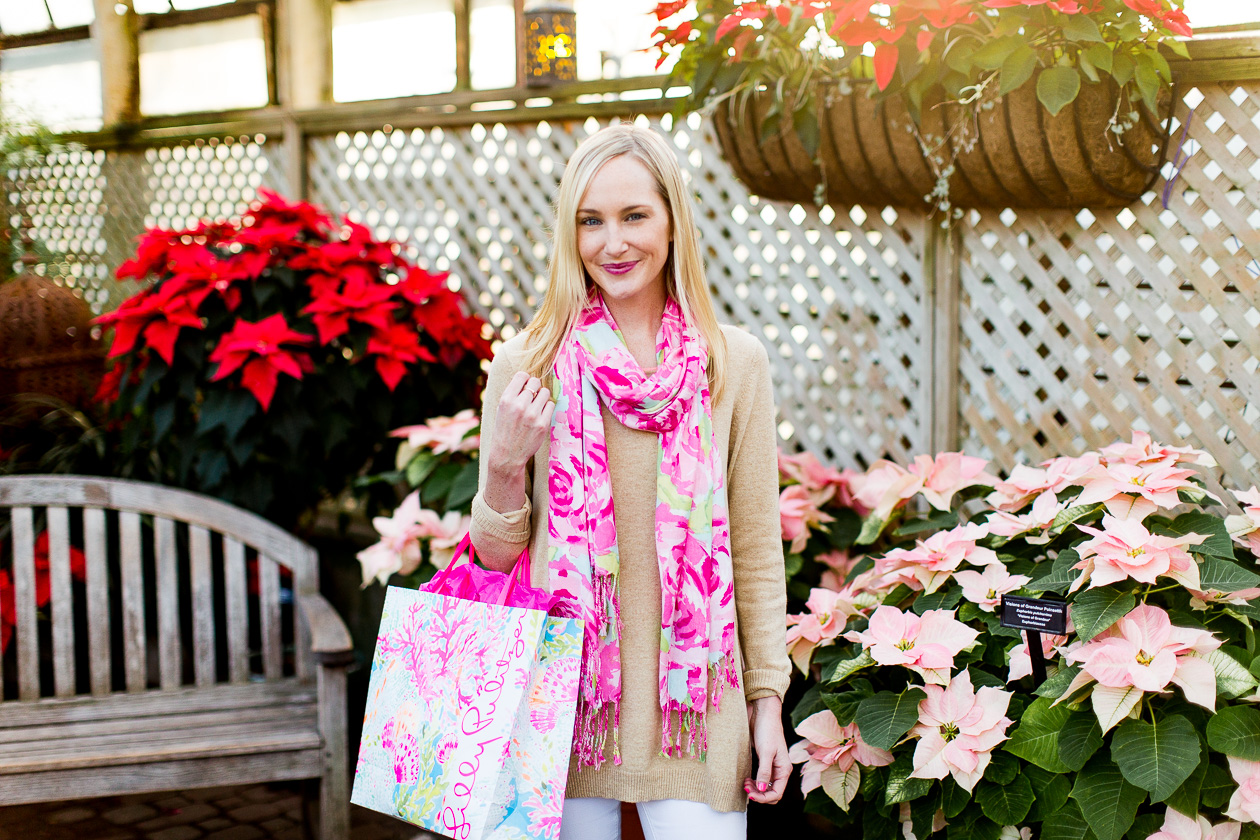 The Lilly Pulitzer After Party Sale starts today at 8 a.m. ET! Are you ready?!
Lilly Pulitzer Cashmere Sweater and Murfee Scarf (Old, but have you seen the new scarves?! There's a Chicago one! And there's a Philly one. KIM! I guess it's time for you to turn preppy…) / Rag & Bone Jeans / Stuart Weitzman Boots (Also available here in navy) / Emma's Baby Shift
9:45 p.m. ET:
Even more styles have been added to the sale! My favorites are this dress in the ever-popular "Ugotta Regatta" print, this popover, this maxi dress (WOW!) and this shift. See?! Told you everyone would get a chance to shop! Even those coming home from work super, super late. (My heart goes out to you. Buy a Lilly dress and go to bed. ;)

2:25 p.m. ET: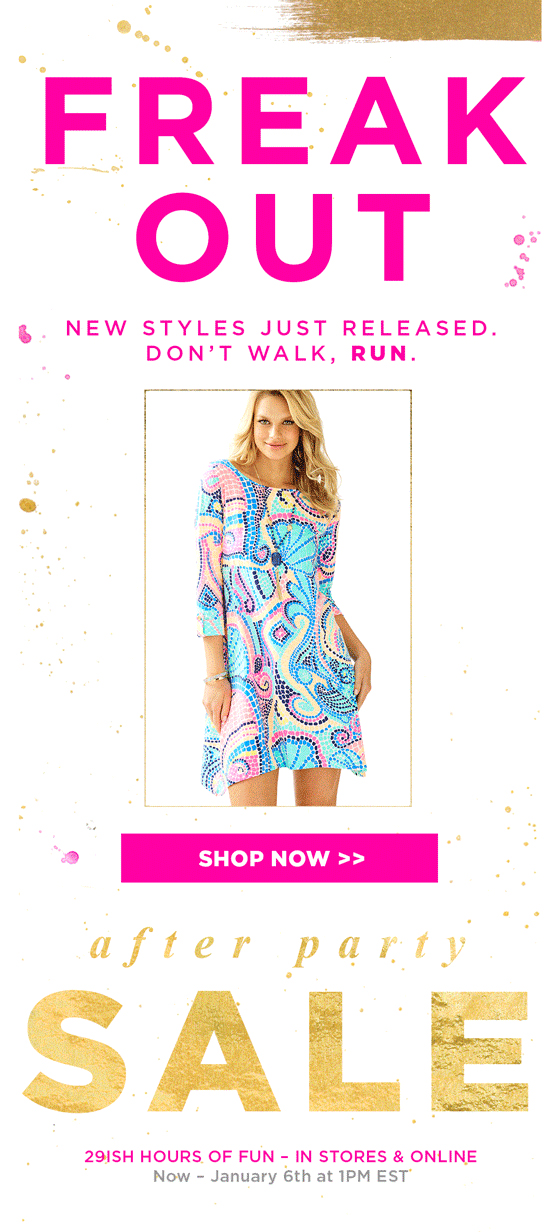 New items have been added to the sale! My eyes are on these ankle pants, this Essie dress (so flattering!), this white lace dress (SUCH a steal!), and this gorgeous blue shift.
1:45 p.m. ET:
I'm back! It's now 13 degrees (YES!) so I finally made it out of the house and to the nearest coffee shop for a change of scenery. (Mitch is running errands with Emma today.) A few things to consider if you're done shopping the sale: 6pm.com and Zappos are having BIG Lilly sales today! Definitely check 'em out. :)

(Also check out the 6pm.com sale)
11:40 a.m. ET:
Did everyone manage to get in?! If not, again: SO much inventory. You'll have tons to choose from, even if you can only try again after work. Below is what I scored. Okay, I actually ended up taking the navy blue dress out of my cart because I find myself wearing dresses less and less as a new mom. But what a DEAL! What I did buy: this silk top, these pants (THE BEST), this no-iron Elsa, and this lace top for my upcoming trips to Charleston and L.A. Please share what you nabbed!

What I scored
11:15 a.m. ET:
As for baby, the shifts are running from $29 to $34. My favorite is this one, which is available in all sizes.

11:10 a.m. ET:
Accessories! Not a ton to choose from here, but this wicker clutch for $79 is a must. I wish these pineapple sandals for $79 were available in more sizes, and a "Let's Cha Cha" bracelet for $19?! Grab it! There aren't a lot of scarves available.

11:00 a.m. ET:
I don't look great in shorts, so we'll skip that. ;) But I LOVE the selection of bottoms available! My FAVORITE is this pair of Palazzo pants for $49, which I wore in yesterday's post. They're amazing! I also love these travel pants for $49.

10:50 a.m. ET:
If you're still in line, DON'T freak out. There is SO much inventory, and most products are available in all sizes. I just went through all the dresses, and nearly every single dress I looked at was available in my size and tons of others. Below are my favorite dresses! (A Sloane maxi dress for $64; this navy number, this one, and this one, too, for $74-$79; this elephant dress for $79; this flamingo dress for $44; this Beacon dress for $44; this navy t-shirt dress for $34. <– Hoping to snag that last one!)

10:35 a.m. ET:
Back in. Below is an updated widget: I made it through ALL the tops. My favorites are a pink Elsa for $59, a pink sleeveless Bailey for $49, this Elsa for $79, this Essie, this silky top for $54, and this Essie for $19, and a crinkle Elsa for $49. (Definitely ordering that last one if they still have it in my size once I'm done rounding up!)
10:15 a.m. ET:
I got in! The site did crash for me, but I managed to round up some of the tops that are currently on sale. Prices are great! The Essie tops, which I wear all summer, are $19, so that's amazing. Anyone else get in?

9:45 a.m. ET:
Mitch went out and got me coffee (best husband ever), and I have a new wait time! I'm 6,675 in line. When I get in, the first thing I'll do is round up my faves for you so you can see what's being offered. Stay tuned!
9:05 a.m. ET:
Still in line. Doesn't that make you feel better?! It would seem that the site is experiencing some problems. Hang tight; the Lilly team will figure it out!
As Lilly says, don't refresh. Even if it looks like your page is frozen. I was technically in, but refreshed because I thought the page was frozen and lost my place in line. Learn from my errors! ;)
8:15 a.m. ET:
I was technically let into the sale, but I received a "Service is Temporarily Unavailable" message. I hit refresh, but am now just looking at the page that says "It is your turn. You're almost there. You will be redirected to the website as soon as possible." It says to not refresh your page, but I did, haha, because of the error message. Nothing happened. So don't refresh if you're seeing the same message; it seems that refreshing doesn't do anything anyway!
Also: As Tom Petty says, the waaaaaaiting is the hardest part. ;) But remember that it's just a sale, and if you're waiting, everyone else is likely waiting as well!
8:00 a.m. ET:
My number is 16,796… and I hit "refresh" RIGHT at 8 a.m. ET. So don't feel badly if your number is super high, too! Remember what I said in my Tips for Shopping the Lilly Pulitzer After Party Sale post: the line goes extremely quickly. While tying this paragraph, I've already seen my wait time go from "over an hour" to "18 minutes." So don't go too far away from your computer! (Though don't worry: you'll hear a "bing" sound when you're let in if you turn up your computer's volume.) GOOD LUCK! And check back shortly — I'm posting my favorites ASAP. :)
7:55 a.m. ET:
I'm up and showered and sitting in bed with my laptop, all ready for the sale! This couldn't come at a better time. It's currently 8 degrees outside.
While you wait, be sure to check out Nordstrom, Zappos, 6pm.com, and Amazon. Their stuff is discounted early! :)
12:00 a.m.:
Ironically enough, temps are at an all-time low here in Chicago. Okay, I might be exaggerating a little. But today's low is a whopping four degrees, so… yeah. It's kind of funny that Lilly Pulitzer–the designer that, for me, screams summer–would have its biggest sale of the year right now.
But I love it! While it's ridiculously freezing here, I just scheduled TWO BIG TRIPS: one to Charleston with my college girlfriends in late February, and another to Los Angeles/Palm Springs with Mitch and Emma in April. (Any LA region suggestions? I actually lived in Sacramento as a child, but I have very little knowledge of California and would love any recommendations! I've also never been to Charleston before.) So I'm definitely ready to break out the Lilly. Are you?!
If you're reading this before 8 a.m. ET, it's imperative that you log into your Lilly account now. ;) Because the After Party Sale is STARTING! Today, I'm going to be "live blogging" throughout the sale, so check back often for all the updates–including what I love most and what I scored.
Oh, and these photos were taken yesterday at the Lincoln Park Conservatory–where Mitch and I go whenever Chicago winters start to get to us. ;)
Happy shopping!
Shop the post:
Lilly Pulitzer Cashmere Sweater and Murfee Scarf (Old, but have you seen the new scarves?! There's a Chicago one! And there's a Philly one. KIM! I guess it's time for you to turn preppy…) / Rag & Bone Jeans / Stuart Weitzman Boots (Also available here in navy) / Emma's Baby Shift