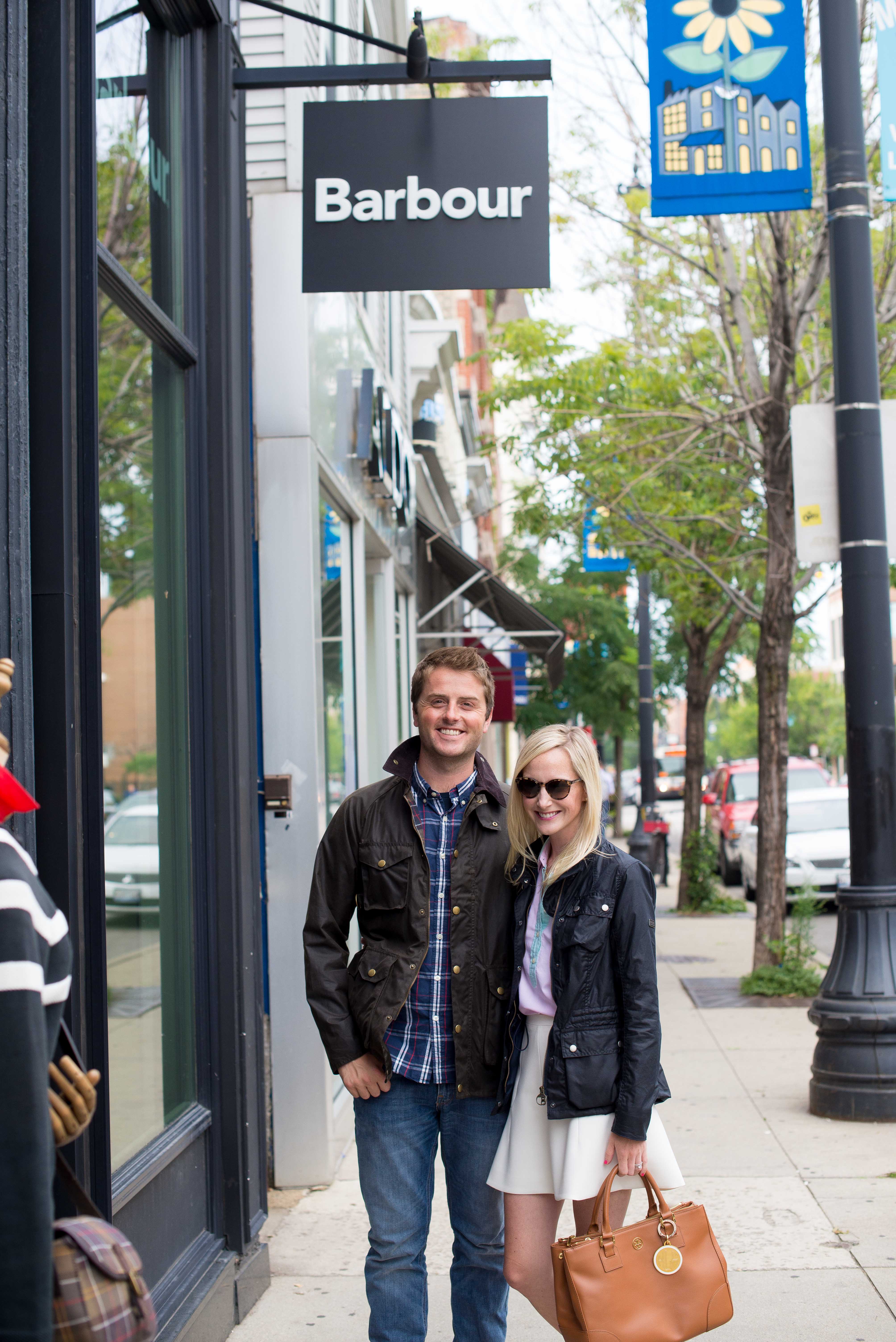 On Mitch: Barbour Jacket / J.Crew Factory Shirt (Old, similar here and here) and Jeans / Sperry Topsiders On Me:  Barbour Jacket / Vineyard Vines Oxford (c/o) / J.Crew Skirt — Also available at J.Crew Factory in white! / Jack Rogers Sandals / Tory Burch Tote / Cinco Powell Monogrammed Tag (c/o) / Kate Spade Sunnies (Old, newer styles here)
A few weeks ago, Mitch and I entered a raffle at Barbour's Lincoln Park store on Halsted Street during the Sheffield Garden Walk & Music Festival. (Such an awesome event. Live music, beautiful gardens, great food and drink, and amazing sidewalk sales.) And Mitch won.
This is funny for a number of reasons: While Mitch is the husband of a style-obsessed blogger, he's really not into fashion. I mean, it pains him to go shopping. A few years ago, he actually tried to pay me to do his back-to-school shopping for him! (Don't worry–I declined the money, haha. That would have been immoral. I did it for free, and loved every minute of it.) We also have an inside joke about how he's never won anything. Everyone wins something at one point in life, right? Not Mitch. Finally, the good people at Barbour couldn't read his handwriting and therefore had a very hard time getting in touch with him. (They had to go through all the entries to see if another entrant shared an address or last name with him, and finally found my number. So thoughtful.) Hahaha! ;)
I can't even tell you how excited he was. So cute. Even cuter is that Mitch–despite his aversion to shopping–had always wanted a Barbour jacket. I've caught him admiring them so many times! (In the past, I'd made a zillion attempts to surprise him with one, but just couldn't do it. I really needed him there with me, as he's super picky. Remind me to tell you the Ray-Ban story some day. Good grief.) Of course, being the best husband ever, he initially tried to give me the gift card… but I stood my ground, and convinced him to go pick out his very own Barbour. And it was a blast.
With the help of Emily O'Brien, Assistant Manager of the company's Lincoln Park store, and Wardell, a Barbour Stylist, Mitch selected and tried on a dozen or so jackets… and he reluctantly let me photograph a few of them for the blog, hehe. Emily and Wardell were fantastic–they were so friendly and knowledgable, and really listened to Mitch's explanation of what he was looking for. (According to Mitch, it was the only positive shopping experience he's ever had. I'll pretend I'm not offended. ;)) Anyway, we eventually narrowed it down to three jackets:
The Beacon Sports Jacket in Navy:
(Worn in by Daniel Craig in the James Bond film "Skyfall" in 2012. Mitch is also wearing the Net Shirt.)
The Ariel Jacket in Navy:
(Available at Orvis in black, too. He's also wearing the Steve McQueen Checkpoint Tee.)
…and The Fishing Bedale Waxed Jacket in Green:
(He's also wearing the York Shirt.)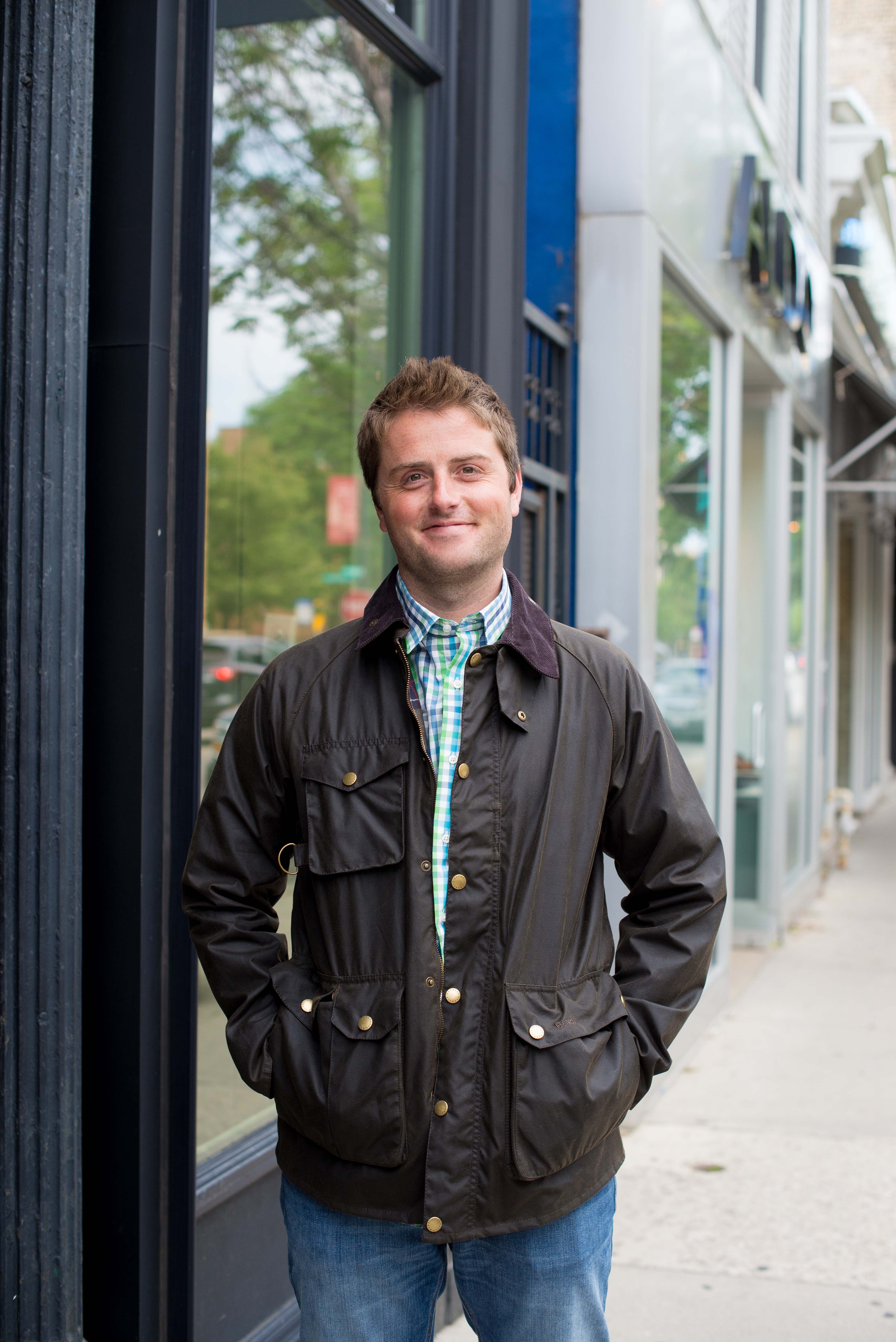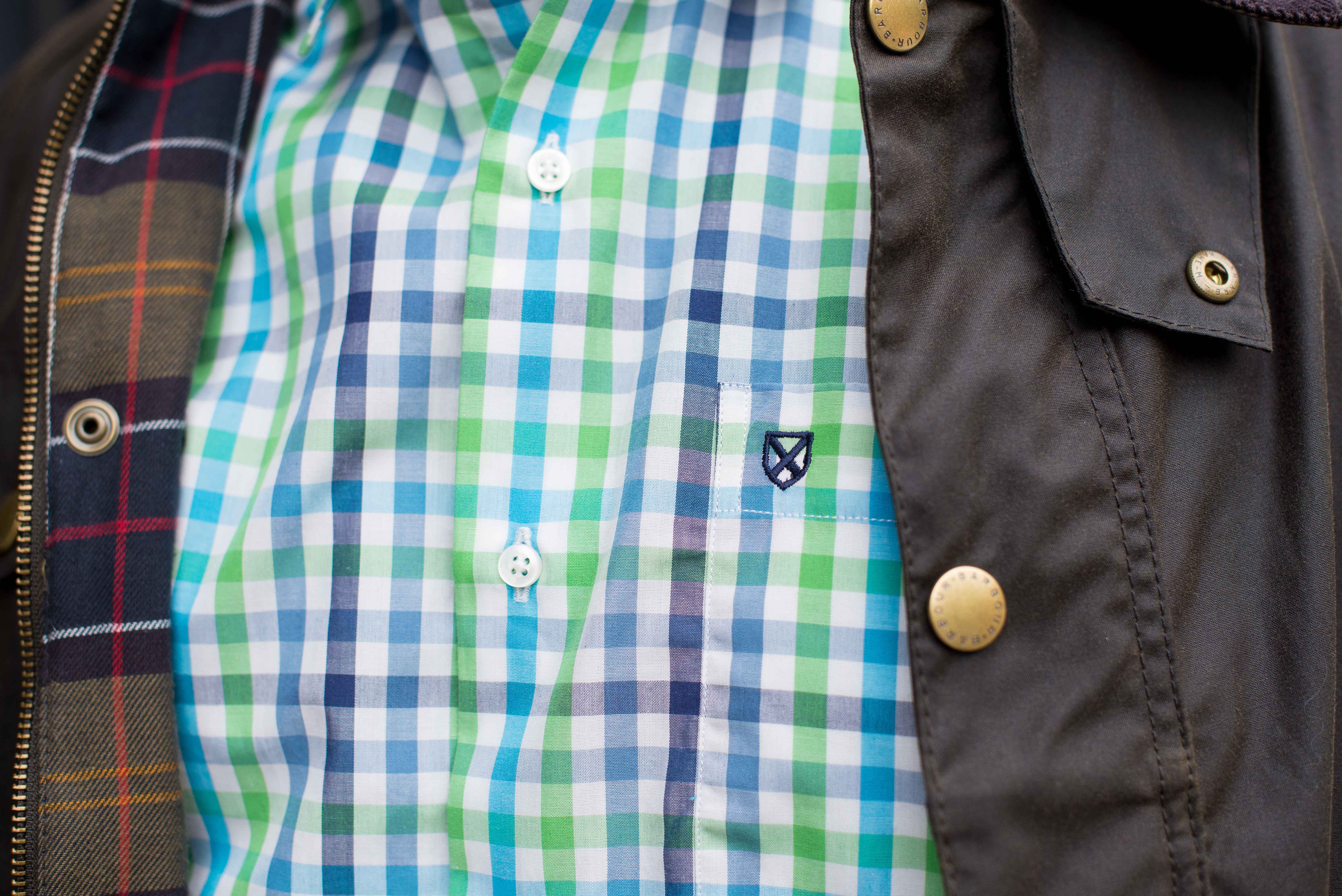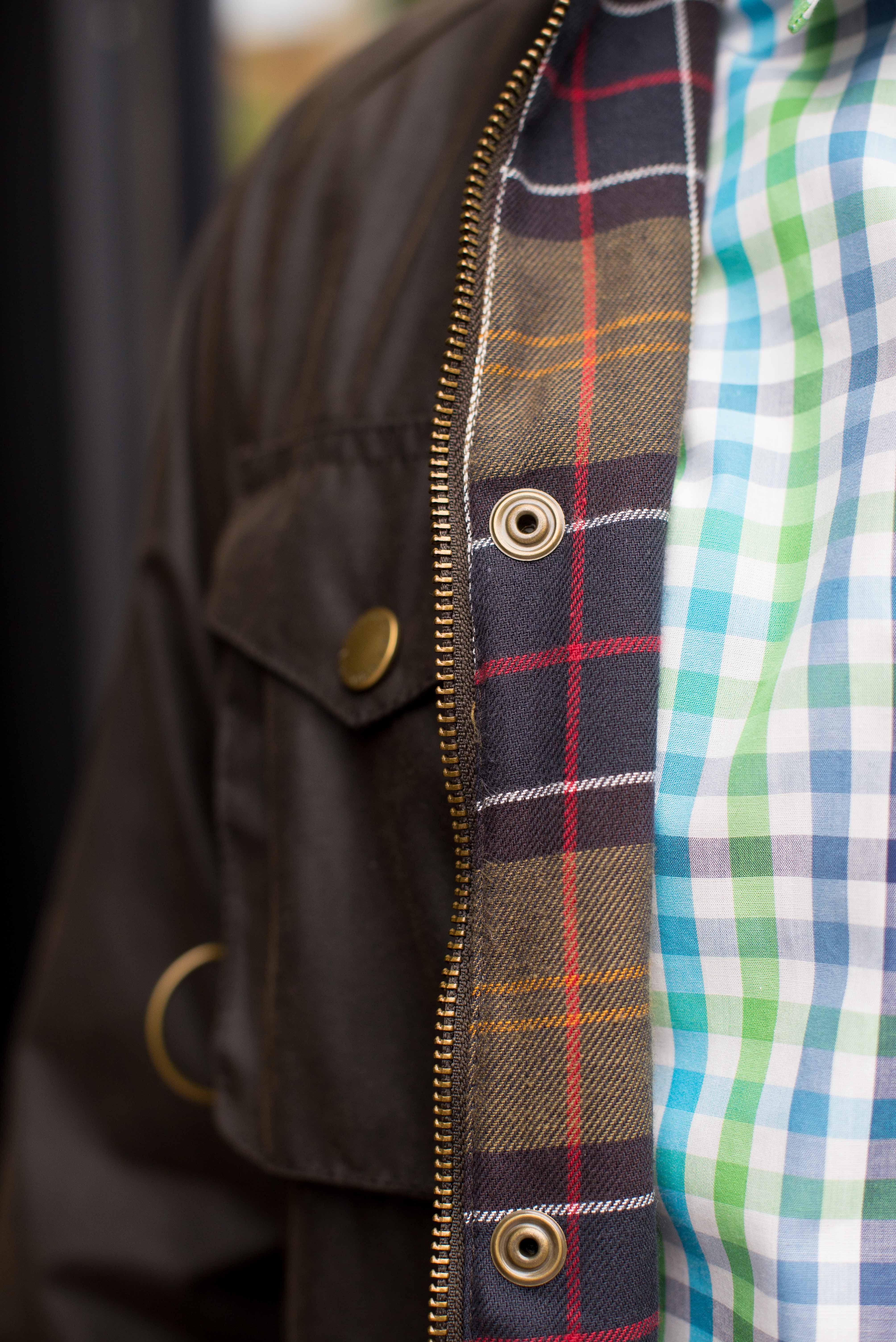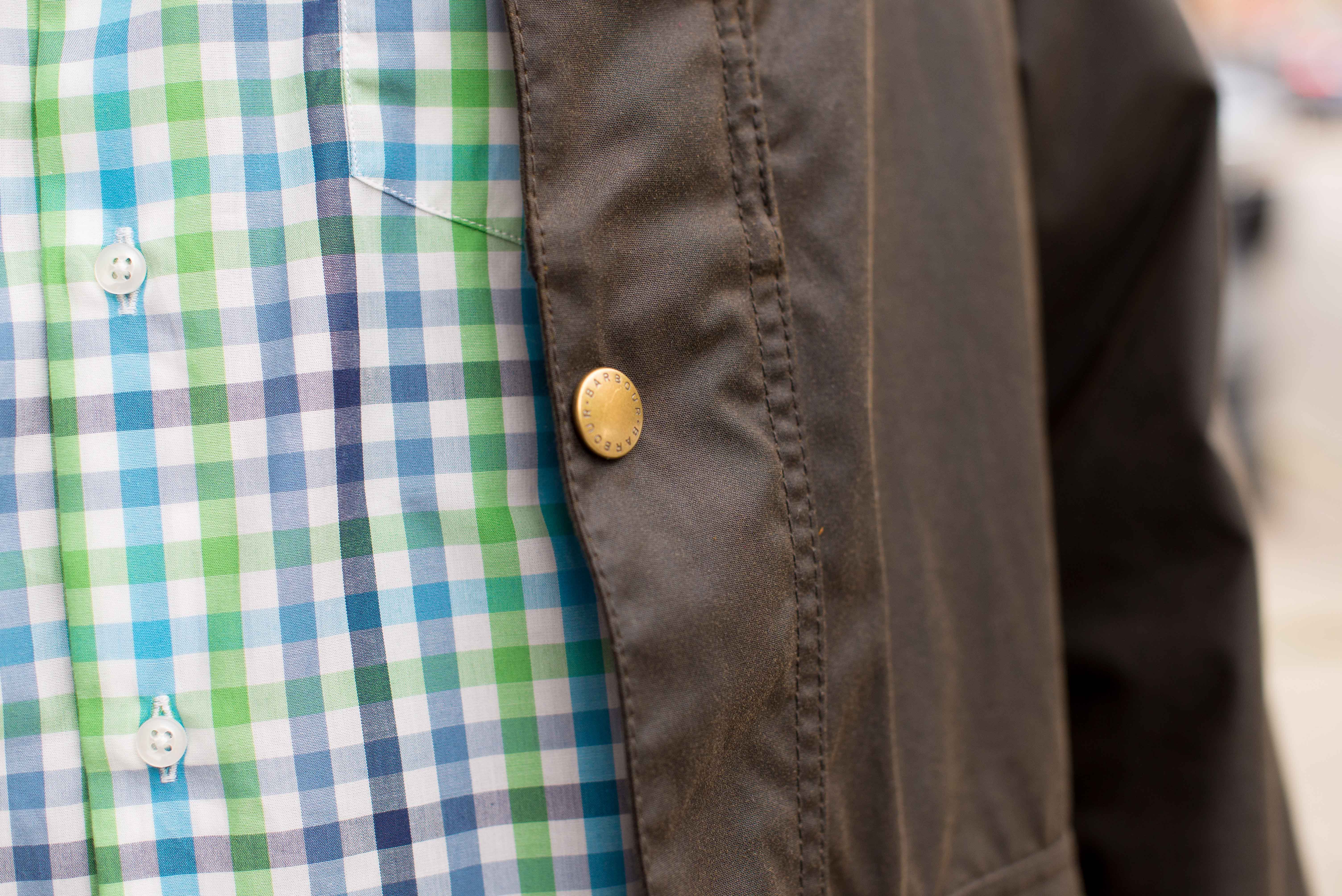 After (much) careful consideration, he decided on the last one–the slim-fit Fishing Bedale Waxed Jacket. A classic, in my opinion! It's made with that traditional Barbour Sylkoil waxed cotton everyone loves, and features a zip-and-snap close front, corduroy collar, and cotton tartan lining. I also love the fishing-inspired parts of the jacket, like the flap-close breast pocket, D-ring, and mesh and leather panel. Doesn't he look great?!
A huge thank you goes out to Barbour's Lincoln Park team, who couldn't have been more helpful, and to Mitch, who was such a sport about being featured on the blog. :) Oh! And I should mention that there's a huge sale in stores right now. A ton of items, like the Fishing Bedale, are 40 percent off! (You can take an additional 20 percent off if you spend $250 or more, too.) Act fast, though–the sale ends August 18th. And make sure to scroll down to the bottom of this post to see my favorites for both men and women!
Thanks again, Barbour!
For Men:
For Women: