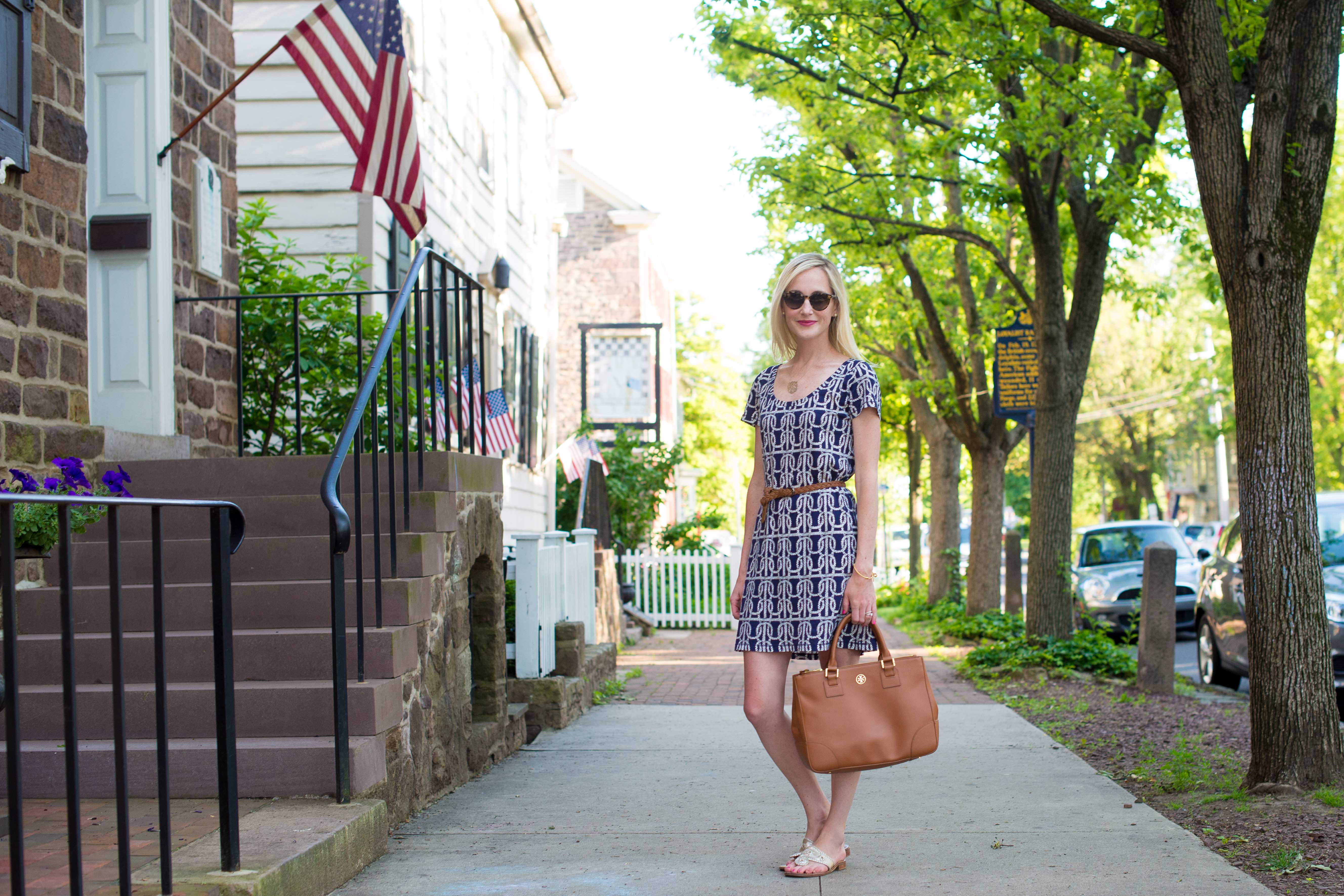 Dress: J.Crew Factory (On sale!) / Belt: Unknown, similar here / Sandals: Jack Rogers / Bag: Tory Burch, also available in mini version / Scarf: Unknown, similar here / Bracelet: Kate Spade (Sold out), regular version here and pave version here / Necklace: Paradise, similar here / Sunnies: Kate Spade / Earrings: J.Crew / Lipstick: Clinique (In "Pudgy Peony")
Can you believe it's June?! I have 15.5 work days left before school lets out for the summer–who's counting, right?–and I'm beyond excited. This past weekend was spent almost entirely outside with family and friends, and it now serves as a subtle reminder that there are many carefree, happy days just around the corner.
While I'm really looking forward to July and August, I'm also trying hard not to wish away the month of June. I do it every year, and yet it's often the most wonderful time of the year for me! I mean, sure, things can get kind of out of control at school. It's hot and sticky, the kids are antsy, and the teachers are worn out. It's hard not to daydream about the days when we don't have to be stuck on the Lex at 7 in the morning, dreading the chaos that will greet us in the South Bronx upon our arrival. But I also get to do some really fun projects with my students, and my classes seem to come together as little communities. (After months of trying!) After school, I spend my afternoons and evenings wandering around Manhattan in flip-flops… and the weekends?! Oh my goodness. I appreciate them so much, which is something I don't always do during the summer. (All the days kind of blend together!)
So what did I do with my few precious June days off? On Friday, Mitch and I sat outside at the Pilsner House and Biergarten with our friends Mike and Kara, and then grabbed dinner with them Hudson Tavern, one of our favorite local establishments. The following morning, we headed down to my parents' in Bucks County, Pennsylvania for my brother's engagement party. (More on that tomorrow! So fun.) Yesterday, we celebrated my father's birthday with a crab cake lunch on the back patio. (Happy birthday, Dad!) Dad went golfing with Patrick, and Mitch and I–both non-golfers–walked around Newtown, PA. (Where these photos were taken.) We met back at my parents' house later to have dinner and watch the Blackhawks game. When the game ended on the later side, we decided to stay overnight and make the morning commute to the Bronx from PA. (Crazy, I know!) I'm exhausted today, but happy. :)
What are you doing with your June weekends?!