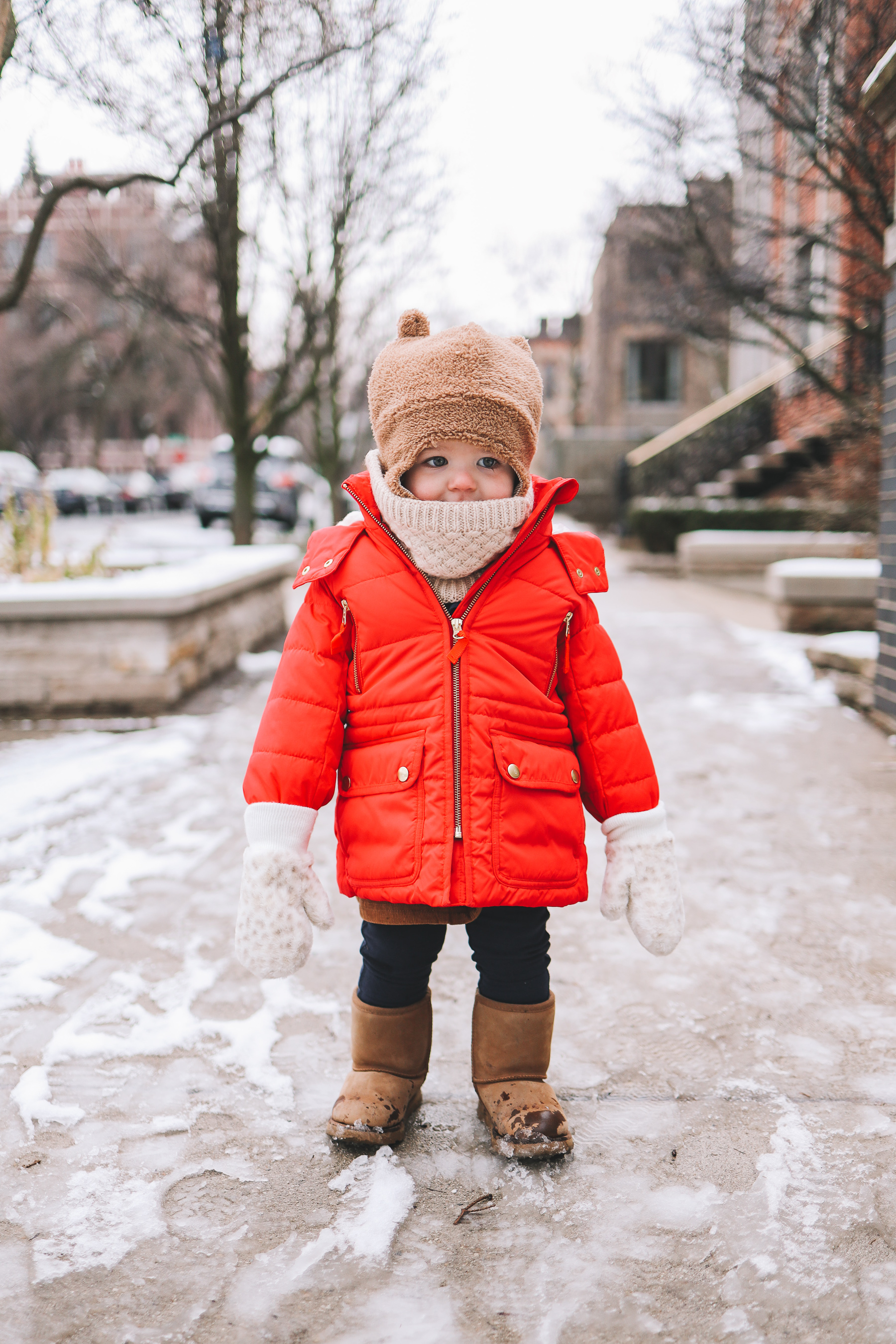 J.Crew Chateau Puffer Coat (SO WARM!) / Athleta Altitude Leggings / Puffy Sorel Boots Here and Here (Also love these!) / Emma's Patagonia (Cute colors in the toddler version, too! It goes up to size 5T.) / Lucy's Chateau Puffer Coat (She's wearing an XXS. Emma wears a small in the Chateau.) / Girls' Waterproof Ugg Boots / Lucy's Bear Hat / Favorite Face Masks / Emma's Hat (Newer) / Neck Warmers (Both girls and I wear them!) / Similar Ski Mittens / Hand Warmers / Barefoot Dreams Hat / Girls' Mittens / Noodle's Bow Collar / Emma's Leggings / Emma's Mask / Mitch's Bean Boots
We're getting hit with a ton of snow today, and the fam is very excited. So I thought I'd share some cute photos from our last snow day. :)
We didn't get quite as much as we'd hoped for, but we walked all the way to the park (no stroller!), ran around a snowy field with Noodle, failed at making a snowman (Lucy kept stomping on it 😆), and made it back home in one piece.
The photos of Lucy are my absolute favorite; no matter what I did, I couldn't keep her from pulling the bear hat down over her eyes. I mean, whatever… but I think she would have enjoyed it even more had she been able to see, haha! Kids. ;)
I'm definitely taking my camera along for tomorrow's adventures, so I'll be sure to post those captures soon!
Stay toasty, Friends. ♥️
Shop the post:
J.Crew Chateau Puffer Coat (SO WARM!) / Athleta Altitude Leggings / Puffy Sorel Boots Here and Here (Also love these!) / Emma's Patagonia (Cute colors in the toddler version, too! It goes up to size 5T.) / Lucy's Chateau Puffer Coat (She's wearing an XXS. Emma wears a small in the Chateau.) / Girls' Waterproof Ugg Boots / Lucy's Bear Hat / Favorite Face Masks / Emma's Hat (Newer) / Neck Warmers (Both girls and I wear them!) / Similar Ski Mittens / Hand Warmers / Barefoot Dreams Hat / Girls' Mittens / Noodle's Bow Collar / Emma's Leggings / Emma's Mask / Mitch's Bean Boots