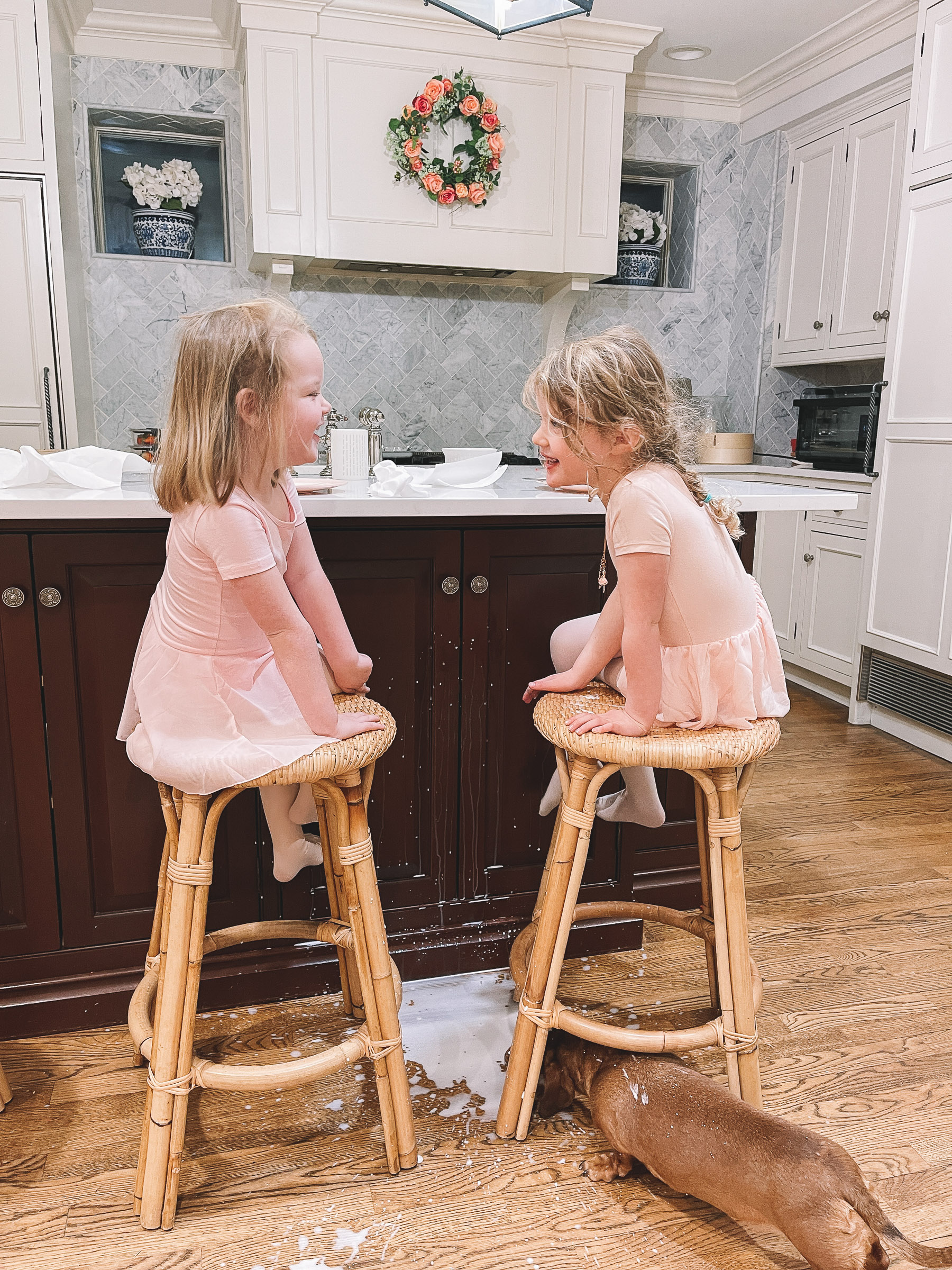 Emma's Leotard, Tights / Stools / Artificial Rose Wreath / Lanterns / Artificial Hydrangea / Planters
No tears—only giggles—over spilled milk!
Here are the first things that come to mind right now:
Emma had her first masked ballet and tap class last week! Guys. It was so wonderful. I think I mentioned this, but Mitch and I recently made the tough decision to not send Emma back to school because it seemed that most of her teachers weren't comfortable with the idea. Being teachers ourselves, we wholeheartedly support educators this year—and always! That said, we knew it would be tough for Emma to hear the news–she was so looking forward to going back—which is why we decided to sign her up for a 45-min masked, socially distant ballet and tap class with her best friend, Walker. The girls had such a blast, and I got to spend all afternoon/evening with them. I can't tell you how happy they were! They'll be going weekly throughout the entire winter.
It was in the teens here on Friday. SO COLD! I had planned on taking our outdoor Christmas decor down, but hahaha. Yeah right. Aaaaand it's still up. Whatever. Sorry, Neighbors.
I have a coupon code for the Always Pan! (HUGE PAN FAN over here.) Use "KELLYINTHECITY10" to take $10 off your order. Here's my full review, and here's a video of me using it!
The clip-on stroller speaker is working out so well with Lucy! I charge it every few days, and it links to my Spotify account on my phone. Lucy adores it. She sings for the entirety of our walks together! And while it hasn't pushed her to start talking yet, it can only help, right?!
Meena's new book came out. Check out this Instagram post I did on it!
Our paint is cracking and we need a new humidifier and I'm kind of freaking out. Eeeeek. The cracks are everywhere. We have one working humidifier going, but the basement one is broken. We have a call into the HVAC company and my fingers are crossed that we can get the situation handled sooner rather than later, because we're otherwise going to have a lot of touchup work to do. Has anyone had a similar problem?! Did the humidifier fix it?! (Or stop it, at least?)
I finally found a pair of the Athleta Altitude Leggings. They're awesome! Okay, I will say that they're not crazy flattering. But they're very, very warm—warmest I've tried so far—and they keep me cozy on walks. I would just not recommend sizing down. I ended up with a size small because the XS's waist was far too restricting. Hope this helps! Also, the Athleta girls' Chit Chat Leggings are GREAT. Emma loves them. I decided to invest in a few nice pairs of leggings that'll actually last instead of waving in the cheaper ones. Same amount of money, less frustration?
We currently don't have a show to binge-watch. We finished "The Undoing" and "The Queen's Gambit," and we are watching "The Crown"—but I really have to be in the mood to want to take on an episode of "The Crown." Help! What have you been enjoying?
We're up to our eyeballs in boxes for Mitch's business. The boxes are everywhere, haha. Both the garage and Mitch's office are packed. But it's really exciting! Mitch started his product development/investment company over a decade ago with his childhood best friend and a $200 investment. They've come so far and I'm so proud of them.
J.Crew came out with unlined loafers. These guys feature crazy soft (and unstructured) leather that requires no break-in time. They come in three colors, and they're all very functional! Love the classic camel but oooooh, the navy!
Still going strong on the "One House Project a Day" thing. Here's what I've been up to:

I tackled my office. I wouldn't say it's perfect, but it looks so much better!
I'm putting together an address book. Both in physical and online form. (The Minted address book is insanely easy to use. Highly recommend. It's also free!) I can't believe I'm saying this, but I've been operating off our wedding guest list for way too long.
I cleaned out the girls' closets, organized them, and donated clothing we don't use. Before I did this, I had everything hanging up… and it was a point of contention with Emma because she loves summer dresses. Now they're neatly packed away, and no more disagreements about what to wear. (She never even asked where they went. So funny!)
I cleaned out the junk drawer. Is there anyone reading who doesn't have a junk drawer?! Not having one is one of my ultimate goals in life, haha.
I washed my wool sweaters and silk tops. Did you know that The Laundress is on Amazon?! Their products allow you to wash your wool and silk clothing at home. Game-changer. I don't hand wash; I simply wash them on "delicate" and everything comes out great. Definitely simplifies life!

Upcoming "One House Project a Day" plans for this week:

Find bins for Emma's closet. I did Lucy's bins last year!
Clean out my closet and Mitch's closet. We've been trying to do this every season and I want to get a head start on the winter clean-out.
Organize the front hall closet. So many mittens all over the place.
Clean out the cabinets in my office and organize my photography gear. There's seriously a drawer full of appliance manuals and light bulbs. It's time!
TAKE DOWN THE OUTDOOR CHRISTMAS DECOR. Cringe.
Hang Emma's shelves for her books. My parents gave me the shelves that I used to have in my childhood bedroom, and I can't wait to display seasonal children's books there. I think changing them out every month will create some excitement around reading… and fine, bedtime. ;) This are what they look like!

The Red Wagon in Boston sent us lobster sweaters and I teared up. I ordered the girls new shamrock sweaters that fit, and the company surprised us with the lobster sweaters! It was so sweet. The Red Wagon has the BEST kids' sweaters. They make for such special gifts. Check them out here!
Check out The Tiny Tassel's Edith Dress. Isn't it beautiful?! I love the gingham but that Rainbow Row print… Take me back to Charleston! (Also, they're handmade!)
I'm so looking forward to having my parents and Grammie (fingers crossed!) visit once they're all vaccinated. I was able to see Grammie outside, from a distance, over the summer… but I can't wait to hug her and spend some real quality time with her. She and my parents were able to register for the vaccine, though no word on when they'll actually get it yet. My hope is that they can all fly out to Chicago this spring but we'll see!
Speaking of Grammie, my parents and aunt and uncle gave her the coolest Christmas gift. It's called the Pix-Star Frame, and it comes with its own email address. You give the email address to your family members, and then everyone sends along cute photos to populate the frame. It's such a great way to keep in touch during the pandemic! (Or when families are spread out.)
Best Emma quote of the week: "Dad, why do you have fur all over you? Is that adaptation?" I couldn't stop laughing.
These Old Navy herringbone leggings are awesome! I can't believe they're from Old Navy. Really like the pink color, too.
So are these lace-up Ugg boots that very much look like shoes. Seriously. If you can find them in your size, they're worth it. I LOVE my Uggs, but sometimes I'm a little embarrassed as to how often I wear them. The lace-up version looks a lot less like the traditional boot, and could possibly be confused with a normal shoe, haha. There's a men's version, too!
I'm so much calmer. It goes without saying that our country is quite the mess right now. But it is nice to no longer wake up feeling panicky or full of dread. Stepping away from the news for a few days also helped me calm down.
The famous Home Sweet Home Chicago Sweatshirt is back in stock. I love mine! It reminds me that warmer days are around the corner, and that Chicago is still awesome in the winter during a pandemic, haha. Oy.
One of these days I'm going to stick to 10. I CAN FEEL IT. 😆 Bye!