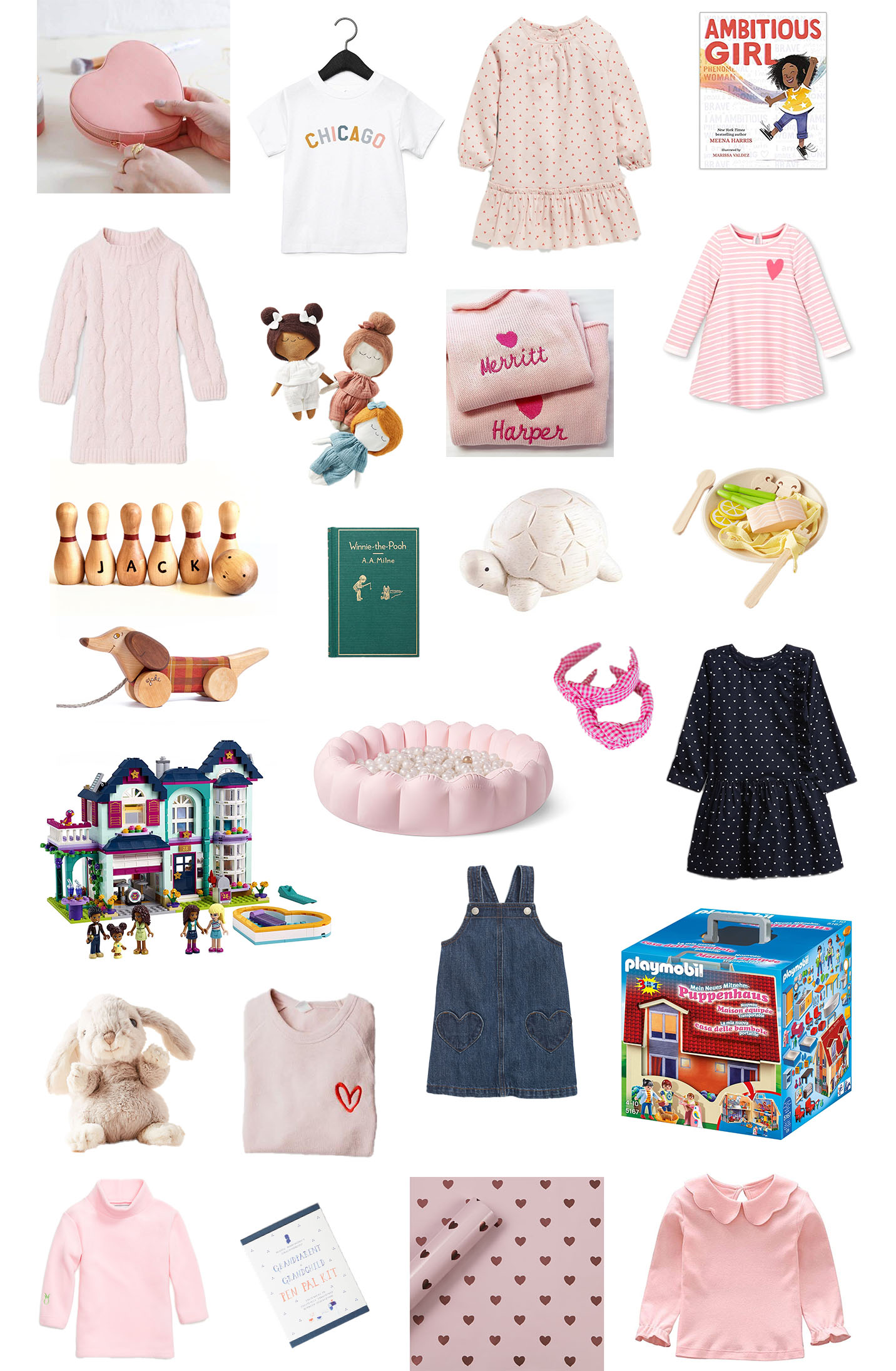 So many cute ideas for kids' Valentine's Day gifts this year!
Of course, I have two girls, and therefore my brain is focused on little girls. But I made sure to include a couple of things that I think little boys would love, too… specifically the bowling set and the Noodle pull-toy!
Here's what I love:
Heart Jewelry Case: Emma is so into jewelry and trinkets. She loves anything she can tuck her treasures away in!
Chicago Pediatric Cancer Tee: Designed by one of my best friends Danielle with her daughter Margot, this Alice and Wonder t-shirt directly benefits pediatric cancer research. ♥️
Pink Ruffled Heart Dress: I don't know. Old Navy has been on POINT lately. Who's in charge over there?! A+ to you.
Ambitious Girl: New book by @Meena Harris, Kamala Harris' niece! (Her first is Kamala and Maya's Big Idea, which continues to be a huge hit with Emma.)
Cable Knit Sweater Dress: The girls have these dresses and they're wildly soft and thick. A must-have for Chicago girls who prefer to wear dresses even in the winter. ;)
Plush Dolls: These dolls are adored by Emma and Lucy. They each have two, and they sleep with them every night. So important to not just have dolls and characters that look like them in their lives.
Roll Neck Heart Sweaters: I may have developed a bit of a kids' roll neck sweater obsession recently. These are darling!
Striped Dress: Another Target find.
Bowling Set: A toy, yes, but would also look awesome displayed on a bookshelf in a bedroom or play room!
Winne-the-Pooh: I saw this and fell in love. So many happy childhood memories!
Wooden Turtle: Who doesn't love a great wooden animal figurine? ;)
Pasta Set: This made me laugh. My girls love play food. One time, my dad pretended that he didn't know you aren't supposed to eat play food, and now Emma brings it up all the time, saying, "Pa doesn't know you can't eat play food." She makes this really sad, pitying face when she says it, too. It's phenomenal. 😆
LEGO House: Yay to LEGO! Not only is it a toy that they'll play with forever, it's also a bonding and educational activity for parents and kids. Emma and I built the Friendship Bus over Christmas, and while I wanted to gouge my eyes out at various point, I get a warm and fuzzy feeling when I now look at the thing.
Dachshund Pull Toy: This one is so much cuter than the one we have! THE PLAID SWEATER!
Pearl Ball Pit: Oh my gosh. The company just sent Emma and Lucy this ball bit as a little Valentine's Day surprise, and I am in LOVE. Friends, look closely. The balls are meant to look like pearls. I cannot, haha.
Gingham Headbands: Yay! The Tiny Tassel is well-known for these, and since my children have big heads, these totally work for them.
Navy Ruffled Heart Dress: This is such a good find! Something that can definitely be worn year-round, despite the hearts.
Fluffy Bunny: We gave Lucy this little bunny for Christmas, and he's so soft! Love him. Reminds me of my mother because she loves bunnies so much.
House of Shan Heart Sweatshirt: My new friend Shannon makes these adorable sweatshirts, and part of the proceeds go to charity. At the moment, sales are benefitting Betsy's Blankets. Love that so much.
Denim Jumper: You know all those long-sleeved t-shirts in your kid's closets?! They'll instantly look super sweet if you throw this little jumper over 'em. It's my best trick for making staples look cuter.
Playmobil Dollhouse: A great gift for toddlers!
Dudley Stephens Kids' Turtleneck: We couldn't survive Chicago winters without our Dudley Stephens kids' turtlenecks. They're such good quality that they all get passed down, too!
Grandparent/Grandchild Pen Pal Kit: Most of our kids are really missing their grandparents right now. What a heartwarming gift—and an activity! (Activities for the win.)
Heart Wrapping Paper: Swoop it up now because this kind of stuff always goes quickly!
Scalloped Top: Amazon find! Can't get over the outrageously awesome price.