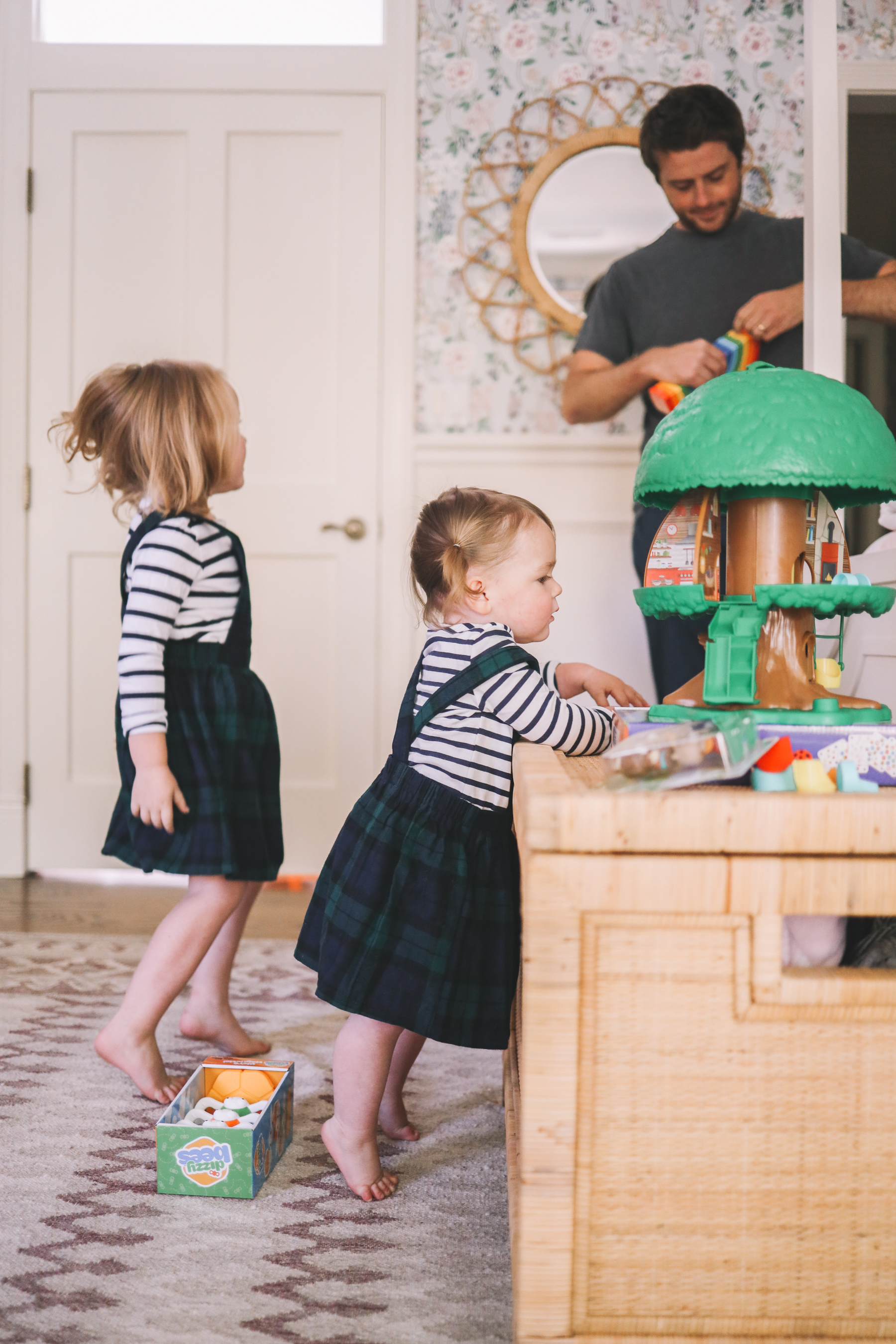 Mitch here!
Emma and Lucy (and Kelly, my wife) are toy fanatics. I'm not exaggerating when I say that they can wake up and play with toys for a solid 12 hours before going back to sleep. Which is tough because my toy-playing game is weak. Unlike my wife, I'm really only good for like five minutes as a Pink Princess Tea Party Guest no matter how hard I try. And now that the quarantine tea party has been extended indefinitely, I need to make some changes before I go totally NUTS. It's time for some new toys.
As I hinted at, Kelly loves toys. I find her researching toys late at night; tracking arrival times; and on more than one occasion, I've witnessed her playing with the toys by herself. Now there's nothing wrong with a woman of her advanced age playing with toys, of course. I just wanted to say that I've seen it happen.
Anyway, Fat Brain Toys is Kelly's current obsession, and today we're partnering with them to showcase their incredible selection just in time for the holidays. Fat Brain Toys isn't your average toy company. Each of their toys is thoughtfully designed to be stimulating and educational. And as former teachers, I'm very happy to watch my girls engage with developmentally focused activities. Fat Brain Toys are made with the highest quality materials like real wood and thick plastic, and as a result, our girls take good care of them. They're the favorites.
One very interesting thing about Fat Brain Toys that Kelly and I didn't notice but Emma and Lucy did: The toys work together. If you scroll through the photos in this post, you'll see that the company took great care in making sure that pieces from one set fit into pieces from another set, even though the sets are not marketed as such. For example, the little characters from the Timber Tots Tree House fit perfectly into the dimples of the Dimpl Digits game, as do they into the board from the Ladybug's Garden Memory Game. Emma used the Rainbow Arches Stack and Play to create an obstacle course for the Timber Tots, too.
I don't know. That was impressive. Most toys feel like junk to me these days. The girls are excited about them in the beginning, but they lose interest quickly and then we're living under a pile of 'em. These, though, hold their interest because of that complementary aspect. They encourage imaginatory play—the kind that keeps them engaged. And I'm pretty sure all parents could use more of that in 2020. ;)
Anyway! Before we get to our girls' picks, I just want to mention that you should use code "KELLY15" to take 15 percent off any Fat Brain Toys now until December 1st. Oh, and all toys—whether it's one or 15—on FatBrainToys.com ship with $3.99 flat rate shipping!

Emma and Lucy's favorites:
Dizzy Bees: Lucy is obsessed with stacking things now, and these magnetic stacking bees are perfect for her fine motor development. Kelly also enjoys stacking them.
Name Puzzle: A toy that doubles as cute room decor, Emma practices spelling her name over and over again with this one.
Timber Tots Tree House: The girls' imaginations run wild with this tree house, and as an added bonus, it doubles as a carrying/storage case for all the accessories! Hallelujah. No tiny pieces scattered across the house.
Dimpl Digits: Lucy likes to have this toy in her crib so she can practice and play when she first wakes up. Another great fine motor developmental activity!
Forest Friends Discovery Tree: This activity center is the perfect thing for Lucy-aged-kids who need to be engaged while standing. We actually keep ours in our front hall closet to pull out while we're all hanging in the living room.
Pound & Tap Hammer Bench: Who doesn't like bashing stuff with a hammer? Lucy and Emma battle over who gets to play with this one. Super well-made and a fun colorful activity.
Rainbow Arches Stack and Play: Emma's class was investigating rainbows when we got this one and she had a blast rearranging the puzzle of colors. Again, she also incorporates the pieces into play sessions with other Fat Brain Toys sets.
Ladybug's Garden Memory Game: Emma is so incredibly good at this game. I usually don't score a point and if I do, it's out of sheer luck. The first time we played, I got really worried that I was losing my mind and went into a sort of depression. She's obviously super smart, but I'm starting to suspect that she's studying the game boards at night just to mess with me. Either way, it's a great game, and I truly enjoy playing it with her!
Have fun shopping, and happy holidays! Get it done now so you can enjoy! ;)
Mitch. OUT!
Shop thee post:
In collaboration with Fat Brain Toys. All opinions are our own. As always, thank you so, so much for supporting the partnerships that keep Kelly in the City up and running!