As we recently passed the year marker here in our "new" home, I can't believe how many loooong projects we're wrapping up. And by that, I mean how many rooms are becoming presentable… depending on the day and the time of day, of course. 😉 So. Many. Messes.
(Btw: Did you catch our recent basement playroom remodel?!)
That said, I'm not sure a room is ever really complete. A home is ever-changing, just as we are! It has, though, been really fun to look back on the progress we've made. A year ago, for example, our living room looked totally different.
Also, I need to admit that it's 1 a.m. and I'm eating handisnacks in bed while typing this. That is all.
Before (Staging furniture)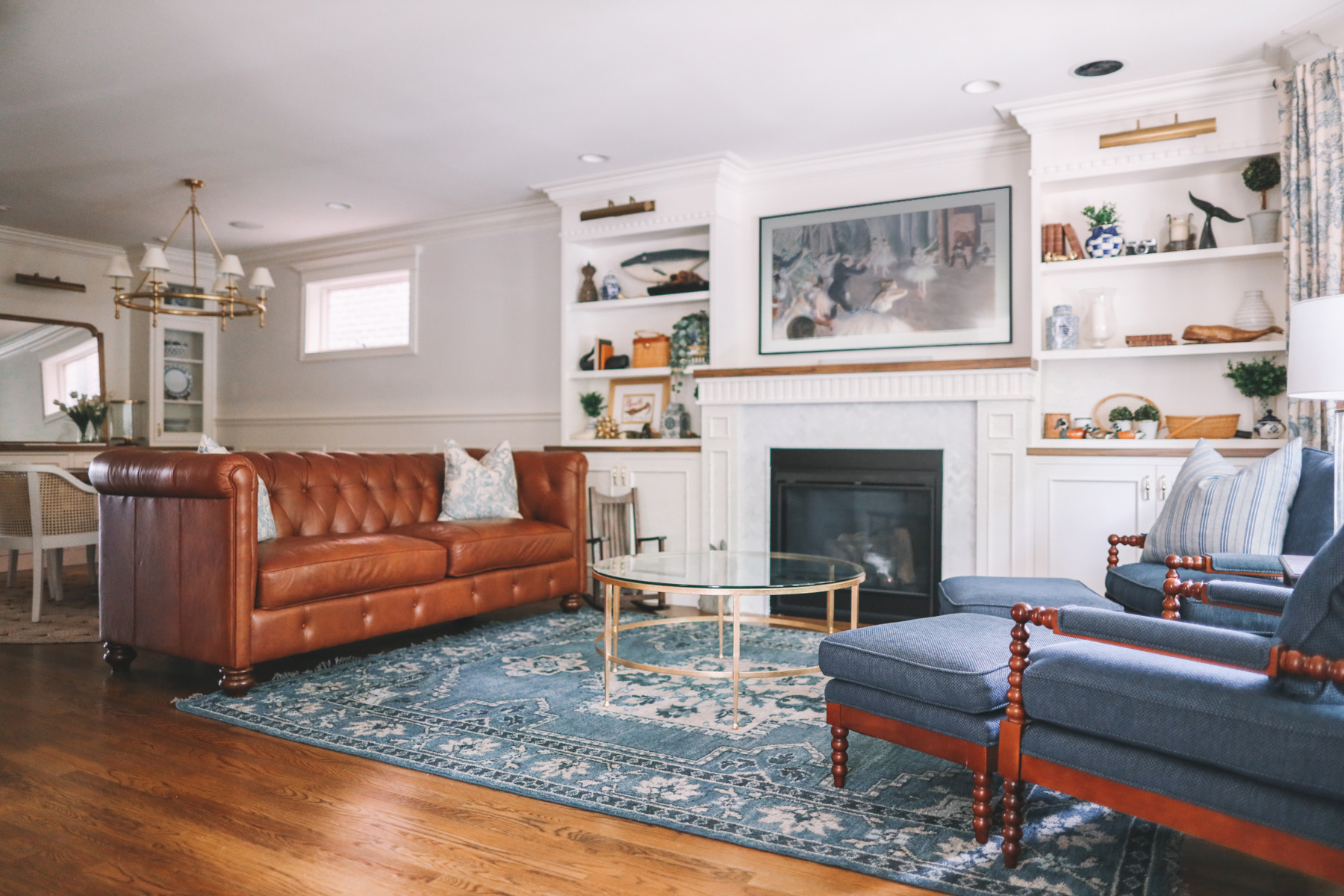 After (One year later)
I loved looking back on the below "before" photos today. (I believe we took them during the inspection when the staging furniture was still there.) We definitely put our (very tired) hearts and souls into making the living room our own, and while it isn't anything groundbreaking, it feels like us. :)
As always, I need to note that the room rarely looks like this. 🙈 Just as most people tidy before having company, I definitely tidied before these photos! Don't let the pics fool you; Mitch and I spend a lot of time cleaning up the chaos every night because we've lost control over here. 🤪 Even though we largely use our basement for play, there are normally a zillion toys strewn about the living room!
Anyway, we still have a few things left to do, but I couldn't help but share the room this week. And who doesn't like a solid "in progress" post?!
To do:
What we've done so far: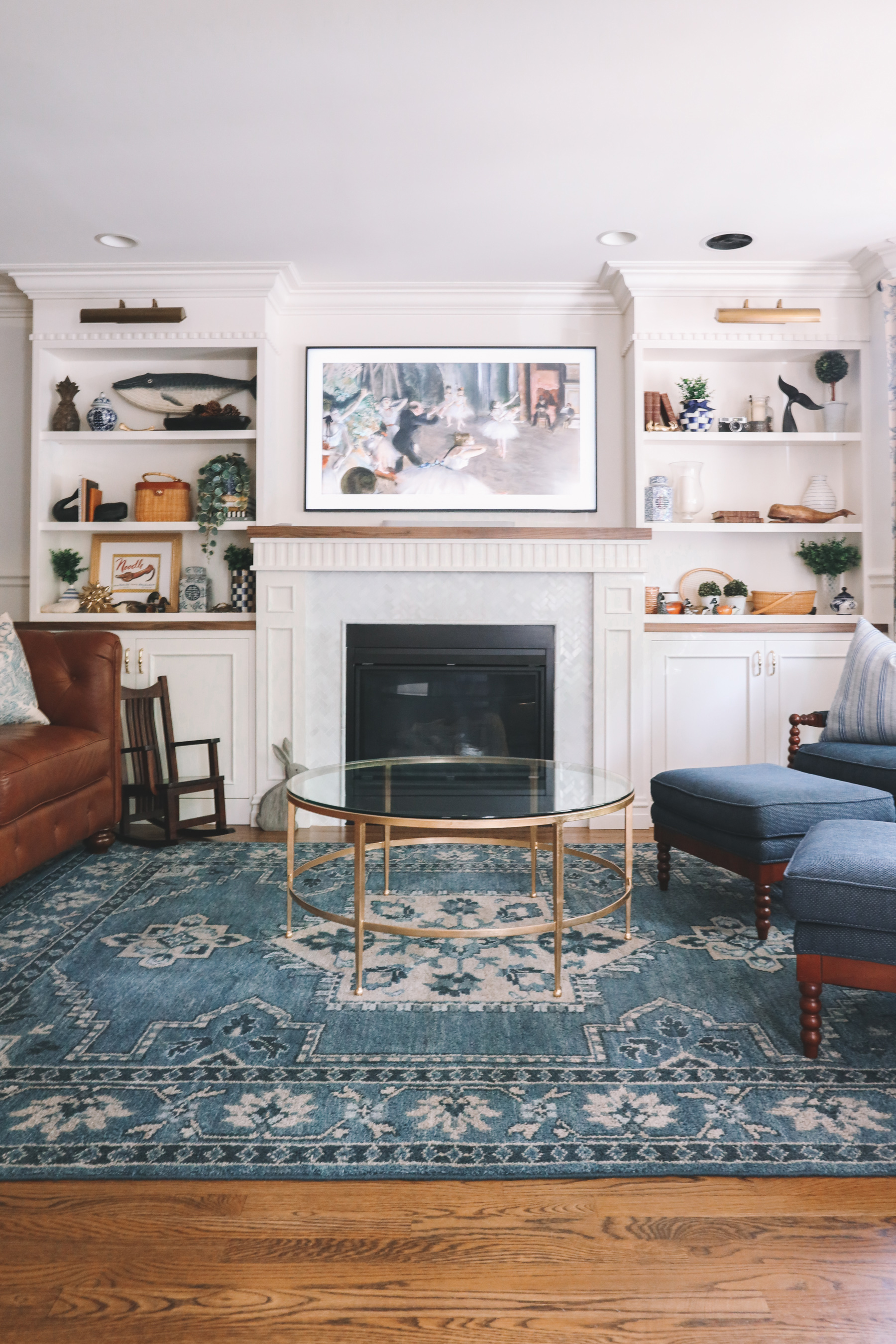 Fireplace, built-ins and wainscoting: Kira David Design
What a transformation! Mitch's biggest reservation about buying the house was that the first floor had a living room but not a family room, and envisioning where the furniture and TV would go difficult. There wasn't a wall for the couch, unit for the TV, or fireplace–what we loved most in our first home, on account of how rough Chicago winters are. (You can see our old living/family room here!)
But Kira, one of our very best friends and our designer, drew a sketch of how we could make the space super functional for our family… and we were sold. Narrow layouts are very common in city homes, and Kira is clearly an expert at making them work!
She helped us with so much–from where the couch would go to the shape of the coffee table–but I can't get OVER how beautiful the fireplace, built-ins and wainscoting turned out. We really wanted to keep the original style of the house, as we adore its late 1800s charm. And somehow she was able to make it look like the updates had been there all along! Note the molding at the top of the unit. Not sure how she was able to replicate that, but WOW! And the picture frame molding? So classic. I can't tell you how much we love everything.
The best part of this story, though, is that Kira and I had just had babies when we started this project. We were exhausted, and our texts back and forth weren't always coherent. 😂 But it makes the room all the more meaningful; it reminds me of that crazy, happy time–a time we'd dreamed about for years. Kira, we made it happen! I can't wait to raise our girls in the city together. So many years of happiness to come! Love you.
~
Paint: We used Benjamin Moore Ivory White #925, which is what the previous owners had the entire house painted in. I LOVE it. I'm kind of over the super white trend, and find myself leaning more toward more muted whites these days. "Ivory White" doesn't show yellow, but definitely know that it's a creamy white; one that you'd expect to find in an old house–not a stark white!
Hardware: This took forever. I ordered so many pulls and hated all of them. Finally found and went with Rejuvenation's "Opal" pulls in "Aged Brass" because they felt timeless. Thumbs up!
Picture lights: There were hundreds to choose from and it was crazy overwhelming, so Kira's awesome assistant, Sam, picked these out for us and I'm so grateful. They're perfect! Note: a perk of working with a designer is that they often get major discounts on products. We didn't have to pay full price for these, which was lovely.
Fireplace: This was a big project because we didn't have a fireplace or gas line to work with. And gas was a non-negotiable with us; we really wanted something easy and mess-free considering we had two kids! We ended up running an exterior gas line to the living room (about $1,200) and then installing an insert, which was around $1,500. (And now appears to be on sale, of course.) Oof, but hands down worth it. We use it CONSTANTLY.
Herringbone tile: Found this at Home Depot and very happy with it!
Wood: The mantel and bottom shelves are walnut, and Kira's crew handled this. I love how the walnut makes the rest of the unit pop!
Hallelujah! It took me a long time to get these right, and you can read all about it in this post. Long story short, the Walnut color looked black, so we exchanged them for the Pecan color. (And decided to go with Coco Tweed Blue fabric instead of Navy Ticking Stripe because it was more kid- and pet-friendly. Ballard is the BEST.) Over the moon about them. Worth every penny, as I know we'll have them for life! I also love that they work with every season and holiday. Very versatile! (Do know, however, that they can take months to arrive since they're custom!)
Side table: We needed a place to put drinks while watching TV and found this online in roughly five minutes. It's great! Looks old, which is nice. We have it in "Espresso" because I didn't want it to blend into the chairs, but "Honey Brown" is also gorgeous!
Lamp: The original inspiration for this lamp came from Pottery Barn. (Beautiful, right?!) I still might splurge on it one day, but moved one (very similar-looking!) RoomPlace lamp up from the basement for the meantime. Looks fabulous… so maybe not!
Faux plant: With the exception of our front yard, we recently went faux with plants everywhere else, and we're so happy about the decision. I know. Real is better. But I need to be honest: life with little kids is absolutely wonderful, but it's also challenging–and we have very little free time, resulting in dead plants. No matter what. 🙈 When the girls get older, I know we'll switch back because there's just nothing like the real thing. For now, though, faux sure looks better than dead. ;)
Old pillow: I think this came from HomeGoods!
Ecstatic doesn't even begin to describe how happy we are with our scratch-proof leather couch purchase. We were obsessed with our scratch-proof leather couches in our first home; you can read all about them in this post. But since the new living room didn't have room for two sofas, we put those in Mitch's office… and having always wanted a Chesterfield, went with this one (made of the same scratch-proof leather) for the space!
Boom. They're incredible. And the couch actually doesn't scratch or stain. Everyone in my family has either the Landry or the Chesterfield in "Steamboat Chestnut," and we all call them the "Magic Couches." Because they are! Our miniature dachshund, Noodle, hasn't scratched it once, and literally anything that the girls have spilled on it has wiped right off without leaving so much as a mark. It's impervious. Even to puke. (Sorry.)
Note: the product images don't do the couches justice, as some of them are clearly computer-generated. They look AMAZING in real life, and they're wonderfully comfortable! And I know that it's scary to order furniture that you can't see in person, but I've never had a single reader who was dissatisfied with them. Best. Couches. Ever.
The one update we made was switching out the modern legs for these classic ones. Very little money for a big visual upgrade!
The pillow covers match our $45 curtains, which I talk about next!
Please excuse this iPhone pic and the terrible rainbow. ;) We tried.
I originally got quotes for custom curtains, but couldn't stomach the price tag. I randomly stumbled across these $45 standard toile panels on Amazon, though, and took a chance–and GOODNESS. They're stunning. I love that they feature pictures from Aesop's Fables, and in my opinion, they almost look custom?! I don't know. I'm no curtain expert but I love them so much. The company is called Maison d'Hermine, and it's timeless yet affordable. They have so many great classic curtains, and everything is available via Amazon Prime!
Note: We have the curtains in "Blue," not "Denim." Here are all the colors and lengths!
Also, copying and pasting this from the beginning of the post:
Half the people I ask like how the curtains puddle on the floor, and the other half vote to have them hemmed so they're a quarter inch above the floor. I kind of agree with the latter, but there's a pandemic… so for now, they're going to puddle!
What do you think? This article is very helpful, btw!
Foyer
Ceiling mount chandelier: I wanted something that looked vintage but I didn't have a ton of ceiling height to work with. When I spotted this, it was love at first sight.
Secretary desk: The goal was to find a beautiful antique for this space, but I really didn't have the time to look for one, even pre-pandemic. So when I found this (in Olive Ash Burl), I was thrilled! Unfortunately, though, it's much too short for the wall and it looks weird. I put the ducks on top of it to give it some height, haha, and it is growing on me. But yeah. It's short.
Large ducks/small ducks: I'm not sure if I've ever divulged this, but I freakin' love ducks. Huge duck fan. Duck decoys, wooden ducks, real ducks–any kind of duck and I love it. I think the love comes from my childhood, as Make Way for Ducklings was one of my favorite books… but I also think it's because I spent a LOT of time in Central Park in my New York years, just sitting and looking at the ducks, pondering whether I'd ever figure my life out. I have a pretty large collection 😂, but these new ones are probably my favorite. I bought them for my mom and mother-in-law for Mother's Day, too; big hit! (Though they aren't quite as duck-obsessed. 😜)
New Yorker print + frame: Mitch and I collect New Yorker covers, and this is our most prized one. (Also here. Note: that links to a print, not an original.) It shows the world from the perspective of a New Yorker. I truly used to feel like that (which I now realize is CRAZY), but I love that Chicago is out there in the distance. For me, it's a nod to both chapters of my life, and a reminder that there's so much adventure ahead. Life isn't about where you are, it's about who you're with. Mitch's mom actually tracked down an original cover for us, and we had it framed by Framebridge. (Mitch eventually wants to have it re-framed in the Marquette. I agree that it would look nicer. The black worked really well for our first home, but the gold seems more fitting here!) This is the New Yorker cover I have my eye on right now. ;) I also really love this one because it reminds me of falling in love with Mitch!
Wreath: It's old from Target, but I just got this faux one for year-round use!
Chinoiserie planters on front stoop: I don't think these are intended for outdoor use, but we kept them on our front stoop over the winter, and they did just fine. Make sure to buy them on sale, though!
Triple ball topiaries: Darby Home via Wayfair carries the BEST faux topiaries. They look so real! Ours go in and out of stock, but there are so many options.
Indoor mat: The previous owners left this behind and I love it! So grateful, as it protects the floors at the entrance of the house–especially during Chicago winters. I think it's from Frontgate, but not 100 percent sure.
Outdoor mat: Have this monogrammed with an "L" on it. So cute!
Bookshelf decor
MacKenzie-Childs vases: The brand is one of my favorite partners this year. I've fully embraced the Royal Check!
Decoy ducks: Copying and pasting from above! I'm not sure if I've ever divulged this, but I freakin' love ducks. Huge duck fan. Duck decoys, wooden ducks, real ducks–any kind of duck and I love it. I think the love comes from my childhood, as Make Way for Ducklings was one of my favorite books… but I also think it's because I spent a LOT of time in Central Park in my New York years, just sitting and looking at the ducks, pondering whether I'd ever figure my life out. I found these at a thrift fair near my in-laws' lake house, but if you're looking for similar ducks 😜, try Wayfair, Crate and Barrel, Amazon, Etsy and eBay.
Whale tail: We also have a whale issue. We live in Chicago. It's stupid.
Noodle book cover + frame: Mitch gave this to me ages ago, and I finally had the cover framed this year! I can't believe how great it is. I ALSO CAN'T BELIEVE THE PRICE FOR THE PAPERBACK. 😂
Spikey ball: I don't think this is the exact one we have, but it's pretty close.
Ginger jars: These are from a bunch of random places, but I find ginger jars at thrift stores, HomeGoods, Etsy, Williams Sonoma, and Amazon.
J.McLaughlin woven bag: I love this bag so much that I can't bring myself to use it, haha. It's on display at all times!
Brass wishbone: Read this story about the significance of the wishbone.
Whale book ends: We need help.
Brass animal figurines: Vintage. We find them via Amazon, eBay and Etsy.
Faux trailing plant + planter: This thing is SO lifelike. Definitely our best faux plant. I have two, but would love one for my office!
Topiaries: These are old but I really recommend Darby Home for topiaries! Though these and these look great as well.
Picture lights: There were hundreds to choose from and it was crazy overwhelming, so Kira's awesome assistant, Sam, picked these out for us and I'm so grateful. They're perfect! Note: a perk of working with a designer is that they often get major discounts on products. We didn't have to pay full price for these, which was nice.
BroyHill whale: Can't seem to find it anywhere, but you can find a ton of great whales here. (I'm nuts.)
Wooden pineapple: This is old, but love this little guy!
Wooden bunny: Same, but this one is so cute! Love this one, too.
Tennis racket: I found this on Etsy!
Striped vase: Mine is old, but just found this and LOVE IT.
Camera: Sad story. I sold my first camera–a beloved film Canon AE-1–back when I was broke in New York and trying to make ends meet. We found this old camera at a thrift store a few years ago and I'm hoping to find an AE-1 one day, too. :) They're on eBay and Etsy but way too expensive for something I'll never use!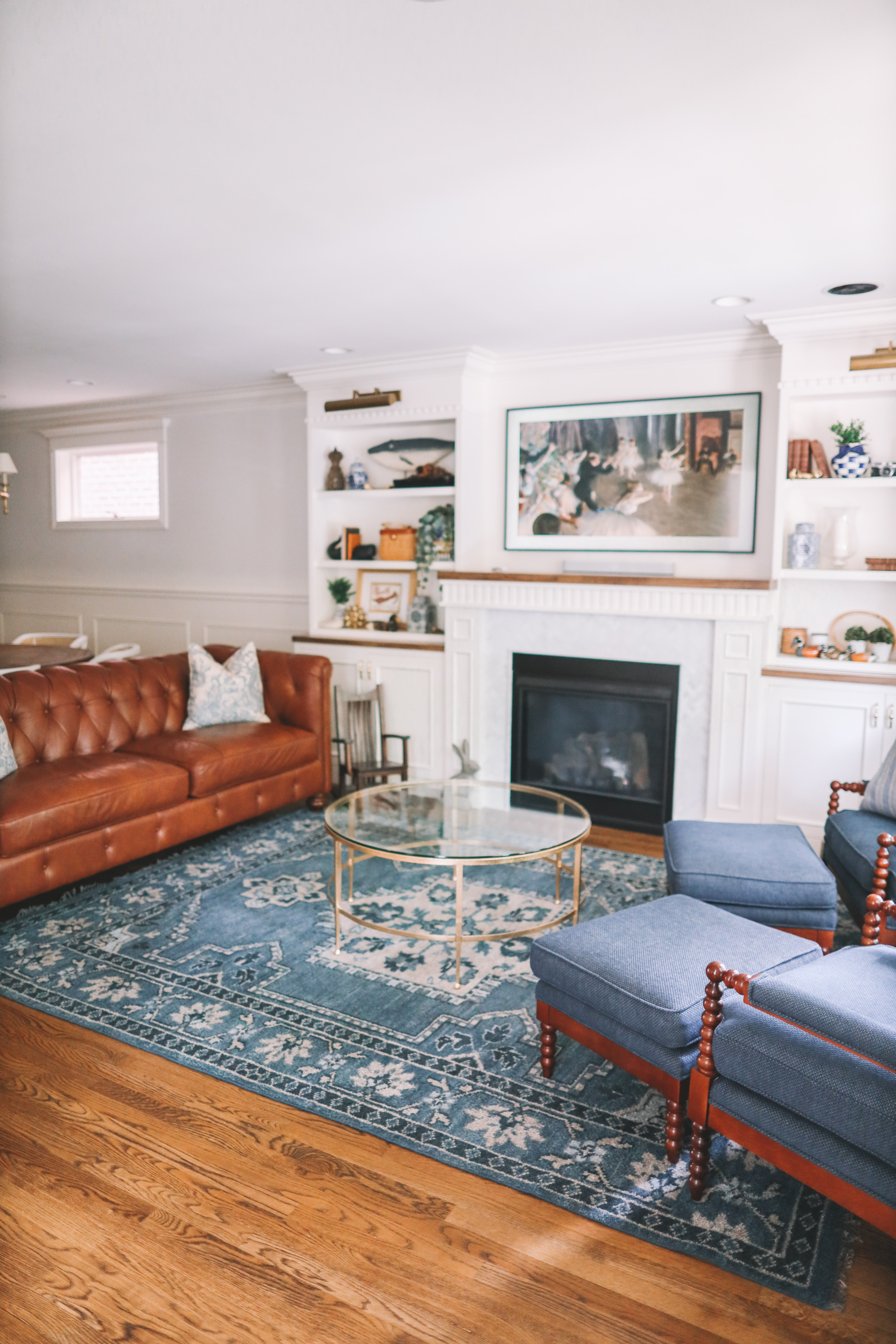 Rug
I'm just copying and pasting this from the beginning of the post:
I am deeply saddened by this, haha. (I laugh but I'm also serious.) We've had this discontinued rug from Pottery Barn for years, and I adore it. (This is what I think the company replaced it with, in case you're wondering.) In our first home, it was in a super high-traffic area; you opened the front door and you stepped right onto it because there wasn't enough space for a mudroom. And yet one dog and two children later, it's still with us! I'll say that it looks a LOT better in photographs than it does in person, though. It's stained, frayed and matted, and it smells very strongly of vinegar because one night, in a fit of quarantine NOTHING-IS-CLEAN-EVERYTHING ragey-ness (new word?), I disregarded explicit directions and dumped an entire bottle of scented vinegar on it because I was convinced that it would make the rug look and smell like it did when I unwrapped it back in 2015. Spoiler: it did not. And now we're here. I know I could send it out to be professionally cleaned, but I've done this in the past and now realize the unlikeliness that an extremely worn rug will come back looking much better. I'm bummed, but I ordered a new rug through my ongoing collaboration with Serena & Lily, and my hopes are high that I'll love it as much as our current rug! Will update soon. (They actually look very similar! Our house is pretty dark due to its proximity to neighboring houses, so maybe the lighter blue will brighten things up, too!)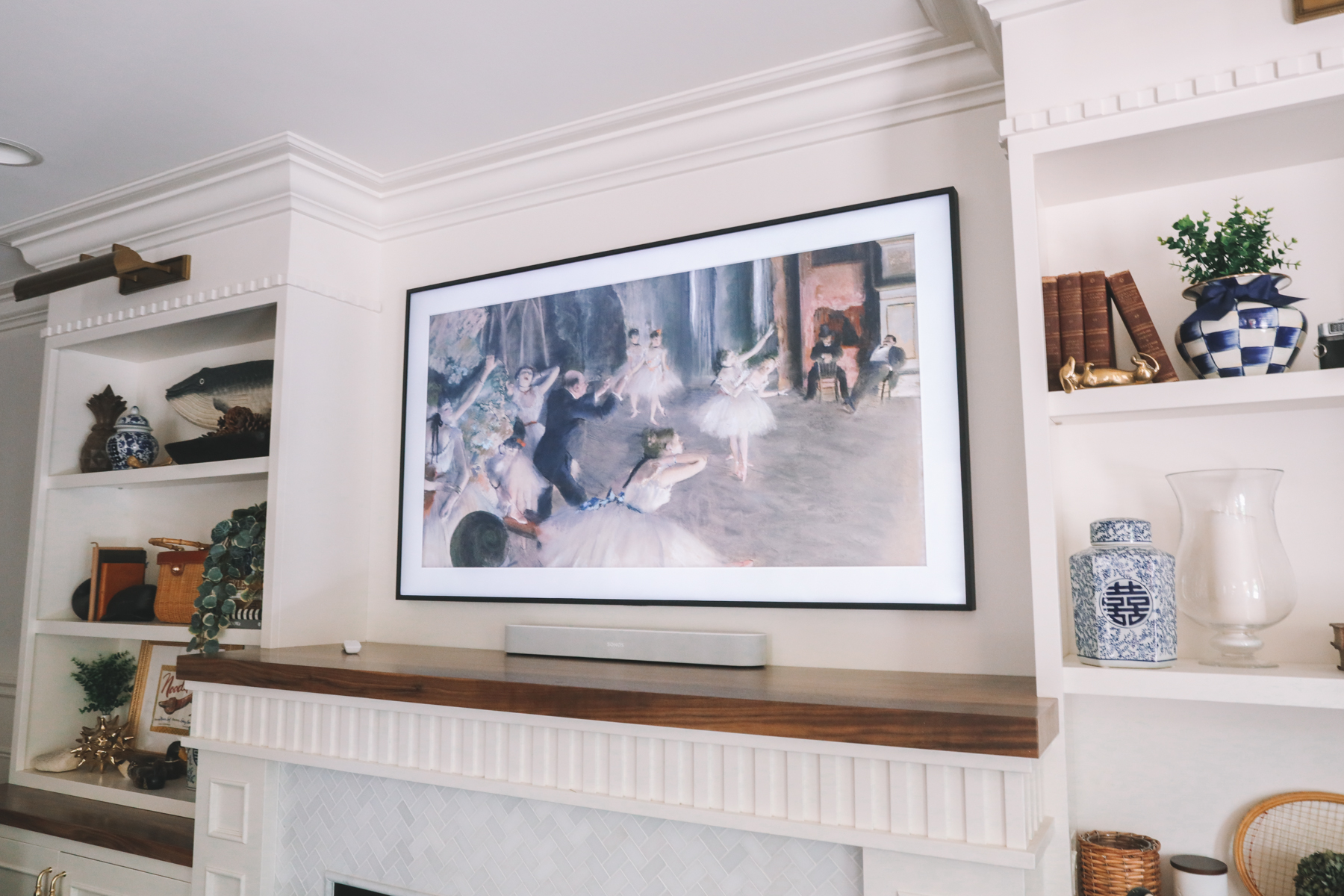 Mitch is almost done with his post on this! He's writing it because he can speak far more intelligently about the subject matter, but a few things I really like about the Frame:
In photos, it looks very much like framed art. It's certainly less realistic in person, as it has a glow. But you can adjust the settings and make it dimmer, which is very helpful, and let's be serious: it is a visual upgrade!
We can put the girls' artwork up, which is fun for the whole family. Emma is so excited when we do this!
It's "smart" on its own; you don't need an Apple TV. Of course, Mitch has one in the basement because he lives for that stuff. But we don't have one for the living room, and it works just as well, in my opinion! Very easy to operate.
In short, my opinion is that it isn't as spectacular as advertised–you're not tricking anyone that it's an actual framed piece of art–but it looks MUCH nicer than a regular TV above the mantel. Glad we did it!
As for the speaker, this also isn't needed. Mitch just apparently collects speakers. Men. ;)
This took us FOREVER to find. Kira explained that we needed a round coffee table to break up the linear layout of the room, which made total sense once she explained it. I wanted to find something brass and somewhat feminine to balance all the dark furniture, and I was so excited when I found this! It's exceeded my expectations thus far.
Note: It's obviously not kid-friendly, but we move this into the foyer literally every morning, and then move it back at night. I know. It's ridiculous. BUT I JUST WANTED SOMETHING ADULT, YOU KNOW?! 🙈 (Don't worry: the coffee table in the playroom is very kid-friendly.)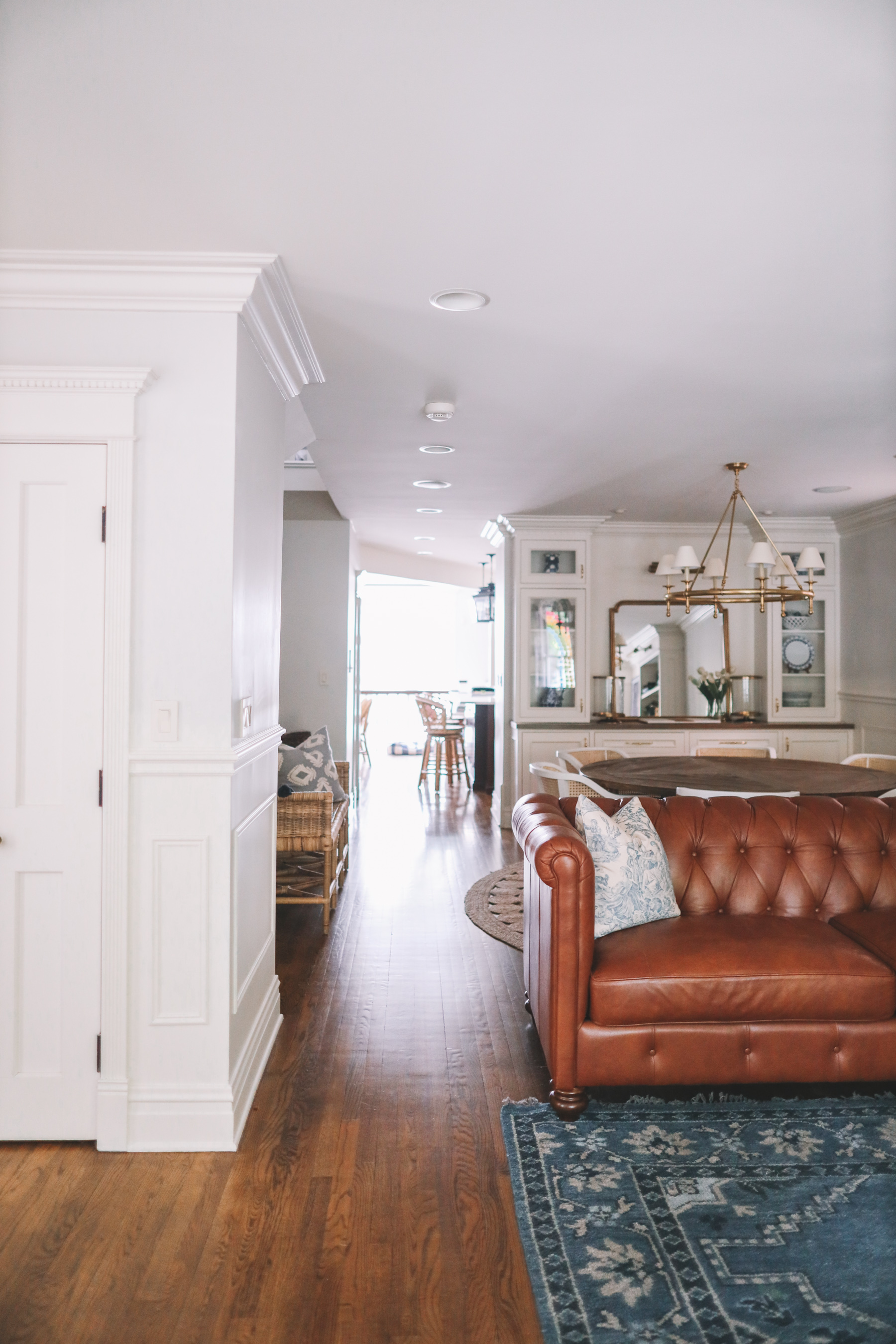 PHEW! Okay. I think that's it. If you're looking for dining room details, you can find them here… and if you made it this far, thanks for reading!
Can't wait to show you the new rug soon!