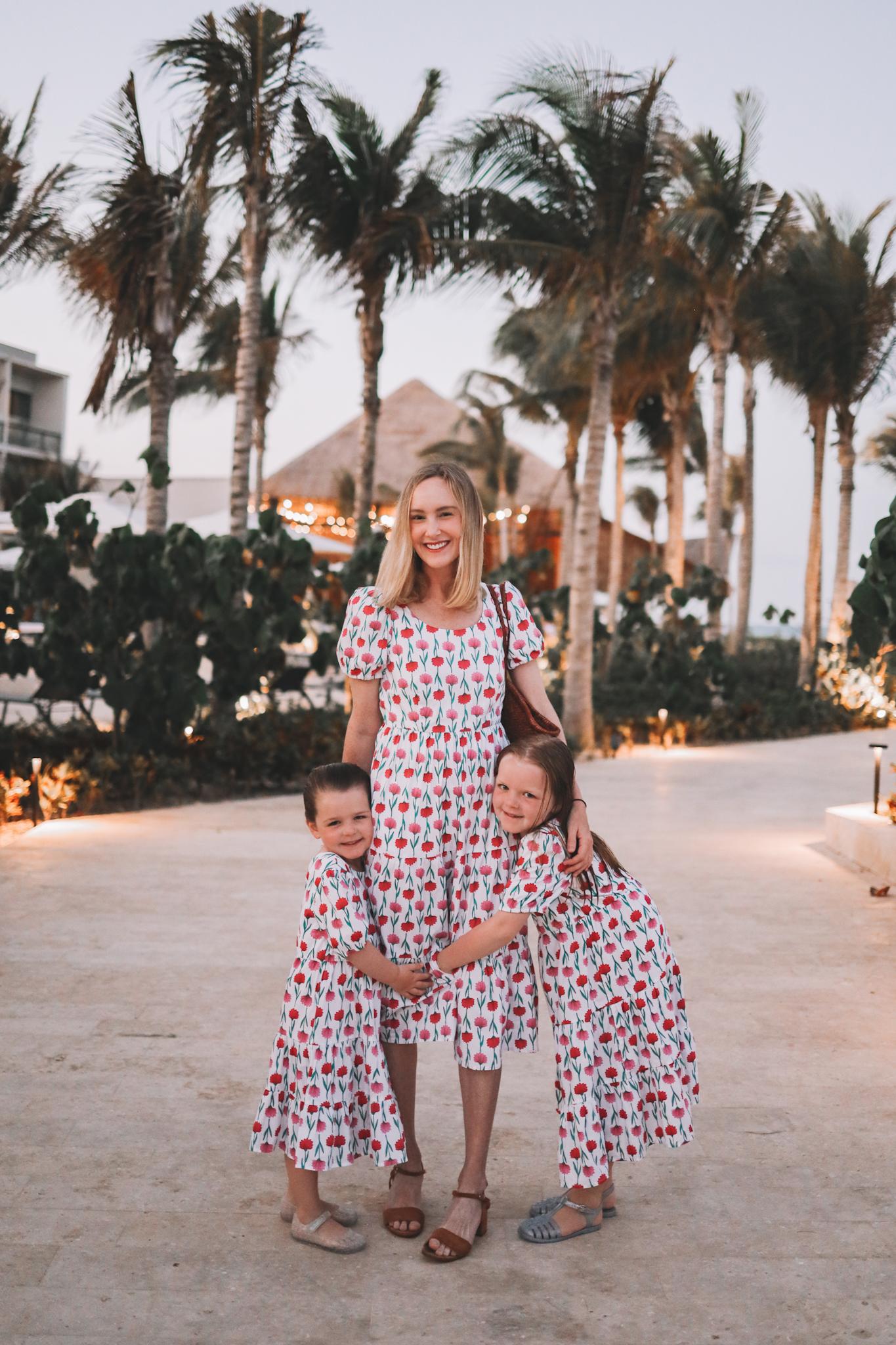 Women's Pink Flower Dress (On sale!) / Girls' Pink Flower Dresses (Also on sale!) / Dragon Diffusion Tote (J.Crew's new Market Tote is gorgeous and way more affordable!) / J.Crew Suede Sandals (Newer version linked.) / Dana Rebecca Bar Necklace / Girls' Jelly Sandals
I'm taking a wild guess as to whether these flowers are actually geraniums, but does it matter?! They're the sweetest. And even though the girls and I couldn't get Mitch into a geranium-printed piece, he did agree to wear pink, which was fun. 😆 Oh, and that photo of Lucy hugging Emma? *Sends to photo printer.*

Dying at the sunblock that we clearly coudn't get out of the girls' hair, btw. This was the last night of our trip, and we had just given up. 😜
Anyway, the dresses come in both women's and girls' sizes, and while I normally don't do the whole matchy-matchy thing with them anymore, I had to this time! They run totally true to size; they have pockets; and they're cotton, which made them perfect for this toasty night.
(I type as freezing rain falls outside my window. SOS.)
The dresses are on crazy sale right now, so I wanted to highlight them before they sell out!
xoxo
Shop the post:
Women's Pink Flower Dress (On sale!) / Girls' Pink Flower Dresses (Also on sale!) / Dragon Diffusion Tote (J.Crew's new Market Tote is gorgeous and way more affordable!) / J.Crew Suede Sandals (Newer version linked.) / Dana Rebecca Bar Necklace / Girls' Jelly Sandals