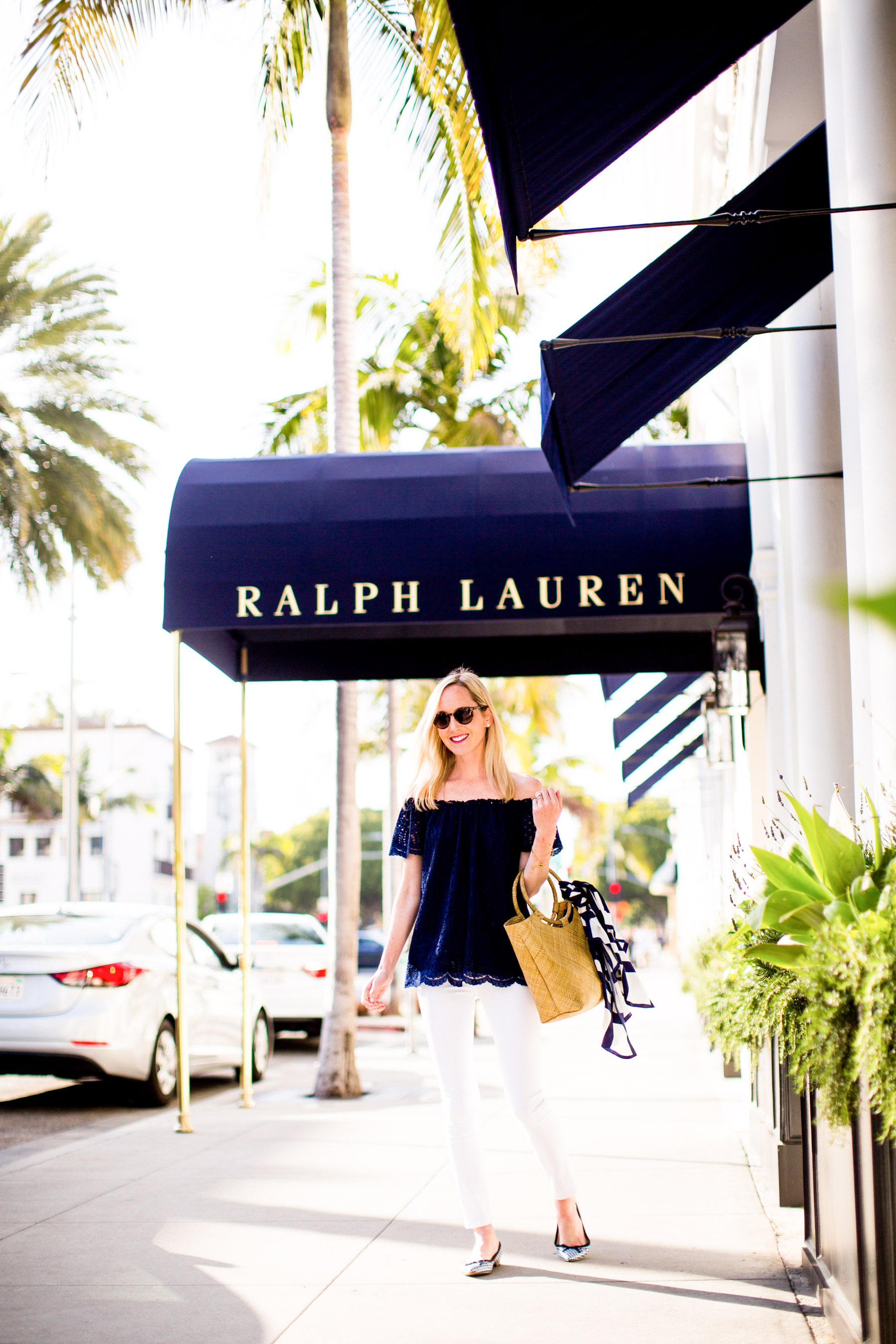 Gingham Flats (40 percent off today with code "4MOM"! Here are the sandals.) / Lilly Pulitzer Lace Top (Sold out, but there's a newer, nearly exact top in white! I also have this one and this one and LOVE them!) / Rag & Bone Jeans (Also available here. And as you guys know, I'm obsessed with the "Capri" cut!) / Tuckernuck Tote c/o (Also in blue!) / Banana Republic Gingham Scarf (On sale!) / Replacement Sunglasses (Finally!) / Monica Vinader Bracelet c/o / Burberry Jacket
Happy Friday! Comin' at you from my pajamas on my couch with a baby on my lap, but doesn't this look lovely and like I totes have my act together all the time?!
Mitch was super interested in visiting Beverly Hills when we were out in California, so we spent a day driving through the hills, exploring the neighborhoods, and "shopping" on Rodeo Drive. I put that in quotes because come on. ;) It kind of puts Fifth Avenue to shame!
I wish I'd taken photos of the houses north of Sunset because they were TRULY insane. But I think I was too in shock to even think about picking up my camera. We just kept on shouting, "Look at THAT!" "Oh my god." "Is that thing real?!"
Rodeo Drive was pretty interesting, too. Guys, the people watching. And we DID see a famous person! Although we have no idea who she was, and still can't figure it out. (Bravo, Larkins.) But people were really freaking out.
Anyway, I probably wouldn't want to live in Beverly Hills, but it was definitely something I'll never forget. And I really enjoyed visiting the Ralph Lauren store. All the navy.
In other more down-to-earth news, I've now moved to the kitchen table to finish blogging while Emma loses her mind because she got up too early. (Don't worry: Mitch is tackling the situation, haha. Thank goodness for his 9 a.m. start time at work!) So I apologize if this post doesn't make much sense. BUT: My favorite gingham flats are 40 percent off today when you use code "4MOM." They're ridiculously comfy, and far better than other pairs I've tried! They run TTS and they have my highest recommendation.
They're also like a millionth of the price of the typical shoes you'll find on Rodeo Drive. ;)
Happy Weekend, all!
Shop the post:
Gingham Flats (40 percent off today with code "4MOM"! Here are the sandals.) / Lilly Pulitzer Lace Top (Sold out, but there's a newer, nearly exact top in white! I also have this one and this one and LOVE them!) / Rag & Bone Jeans (Also available here. And as you guys know, I'm obsessed with the "Capri" cut!) / Tuckernuck Tote c/o (Also in blue!) / Banana Republic Gingham Scarf (On sale!) / Replacement Sunglasses (Finally!) / Monica Vinader Bracelet c/o / Burberry Jacket