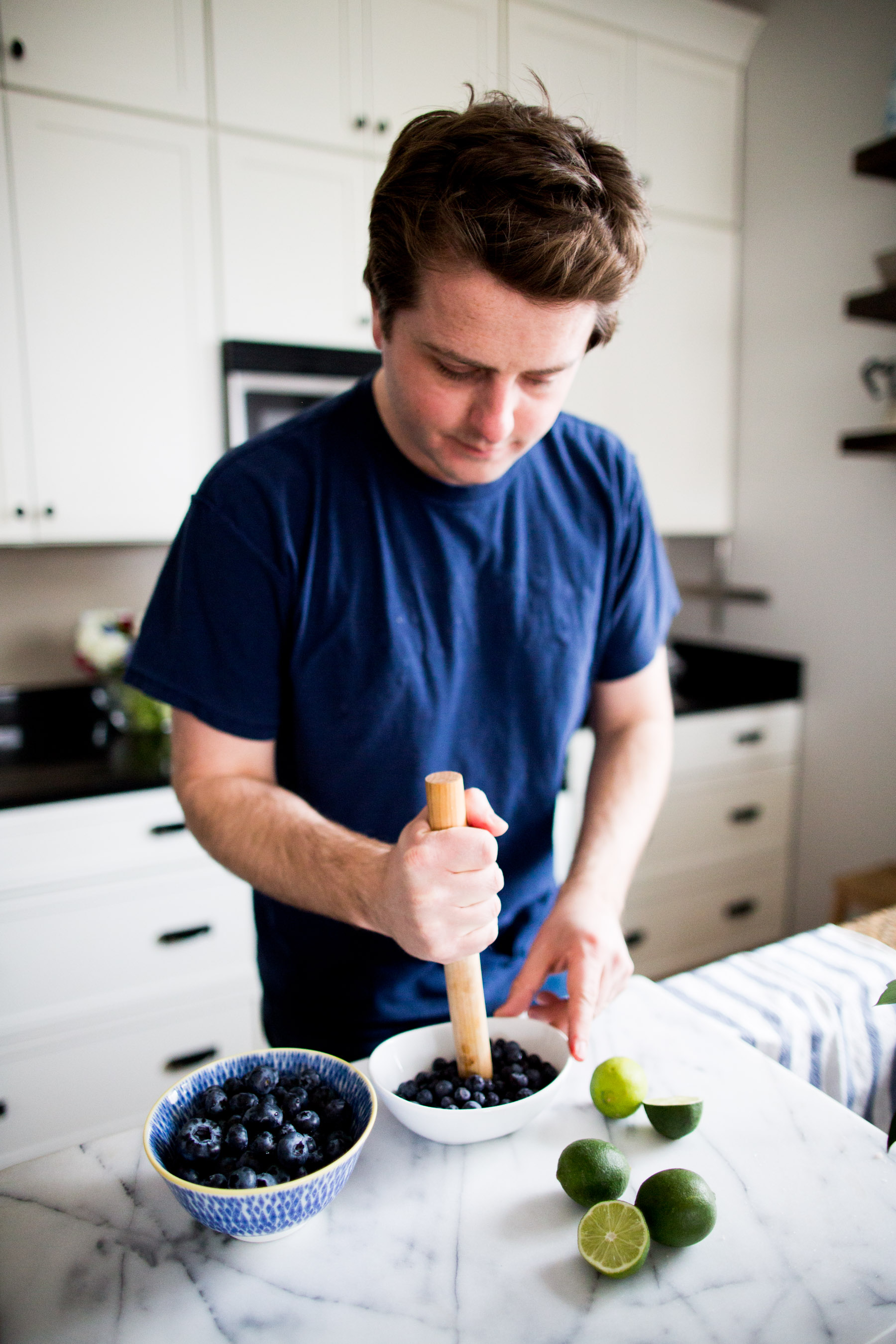 Mitch here!
I was inspired by Kelly's recent "One Month Challenge" post and asked myself a question: In what simple ways can improve my life?
Sleep more! Wake up earlier! Detox! Retox! Exercise! Relax! Keep a journal! Live in the moment! Lose weight! Body acceptance! Woodworking! Not Woodworking! 
Trying to make little improvements like these is harder than ever right now. Especially considering the fact that the words "free" and "time" have quickly disappeared from my vocabulary. These days, the closest thing I have to free time is my 15-minute commute. Which is glorious. I'll admit that I sometimes circle my school a few times to finish a podcast or enjoy my last few sips of coffee with a clear mind.
So with not much real time to spare, I decided that I needed to repurpose an ordinary daily task into an enjoyable hobby.
Cooking!
Until recently, I felt like I was missing something when it came to cooking. My friend, Tom, cooks. Like, this guy cooks. And he genuinely likes it. Tom is the kind of guy who goes to a fishmonger after work because he heard the trout was fresh. And let me tell you: Tom's cooking hobby does not stem from excessive free time. The guy is one of the hardest workers I've ever met.
"Cookin' with Mitch" is for the rest of us–the "Not Toms" out there who would only eat trout if someone else cooked and deep fat fried it for us. Actually, nah. I'd never eat trout.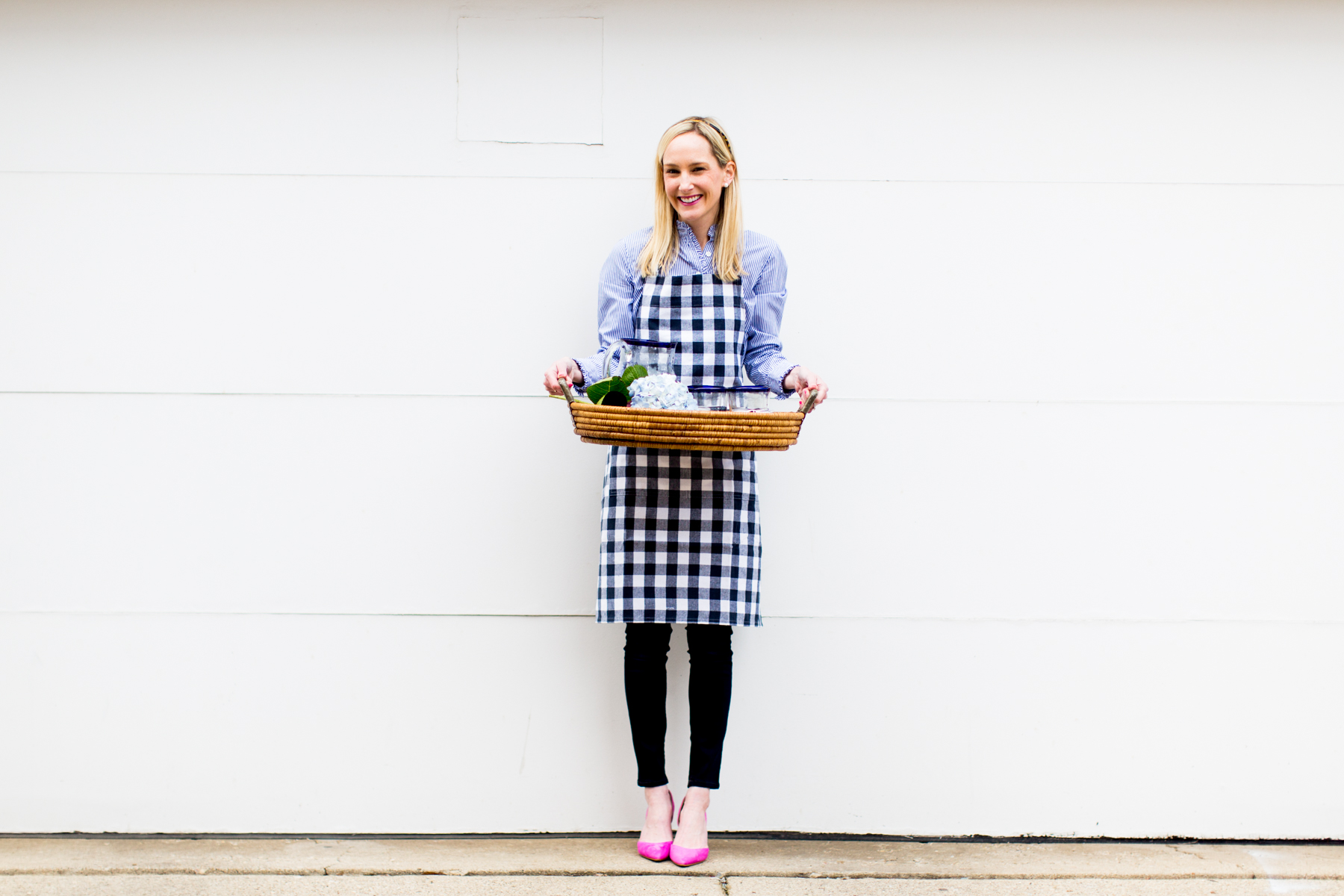 Here's Kelly merely holding the drinks. But doesn't she look like she made 'em?
Wearing: Gingham Apron / Pink Pumps / Dark Skinny Jeans / Vineyard Vines Button-Down c/o (Old, similar here, here, here and here)
Also, yes. Let's acknowledge the eyebrow-raising part of this: I think it's a pretty well-known fact that Kelly is not a foodie. I'd been telling Kelly for years to start doing recipes on the blog, but in her defense, her favorite "meals"–crackers, frozen pizza, Kraft mac n' cheese, and mozzarella cheese–don't exactly make for compelling content. So don't be too sad. Mitch Larkin is writing these posts, and they're going to be a lot of fun!
Anyway, "Cookin' with Mitch" recipes will fall into the center of the following Venn diagram categories: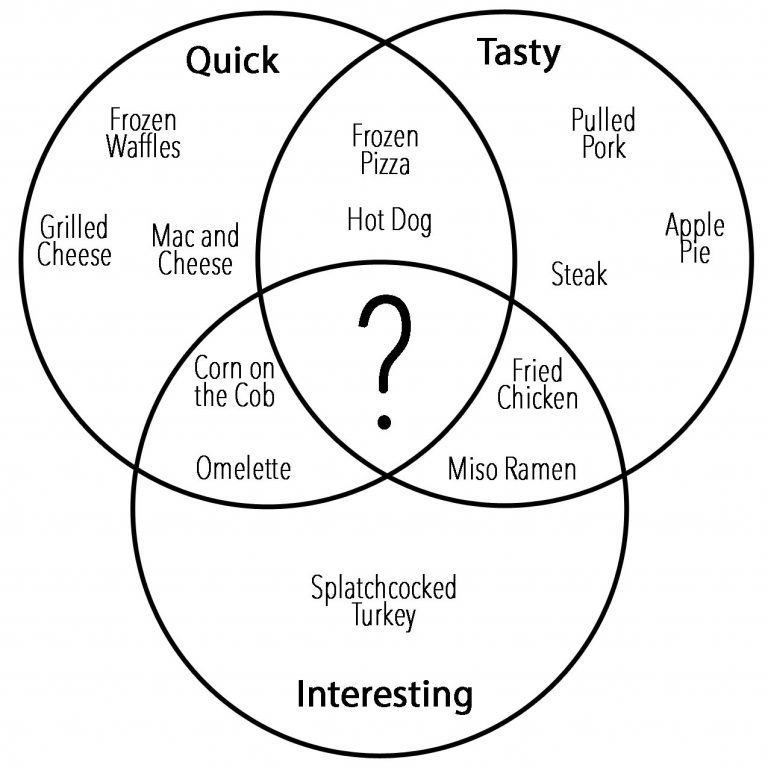 Yep. Middle School Math Teacher right here.
Quick
I'm hungry and juggling a baby at dinner time. And I'm cheap. Any recipe I'm throwing together must be simple. Get this straight: I'm not splatchcocking anything in this column. The name of this column isn't "Splatchcockin' with Mitch." Don't even bring up spatchcocking again 'cause it's not happening.
Interesting
This is a self-improvement journey! Nobody writes blog posts about frozen waffles. New ingredients, techniques and flavors are all welcome.
Tasty
New flavors, techniques and ingredients often taste like crap, though. Cookin' with Mitch offers you a "no crap taste" guarantee. How could you pass that up?
Peapod
Let me take another meandering digression to tell you about my love for Peapod, which I'm teaming up with for these posts. And let's flash back to March, when I was starting to get serious about a cooking series.
There I was, about to launch a column where I hoped to engage in a journey of culinary discovery, to challenge myself to rise above freezer food, and to embrace to difficulty of preparing a proper meal. I was overwhelmed. Very little time to shop, and what would happen if I forgot something? What a fiasco oh my god this probably wasn't a good idea oh well I guess it's time to throw in the towel.
And then I learned that all I had to do was lean over on the couch, tap my finger a few times, and have the exact groceries–everything on my list–appear at my doorstep in a jiffy.
I wish my mom had Peapod in 1995. Reasonably priced groceries, low delivery fees, great selection, easily scheduling, and friendly delivery drivers? Sign me up. Actually, I did sign up. ;)
It took me about 10 minutes to grocery shop this week and I didn't leave the couch! And all jokes aside, that means more family time and–gasp–maybe even some free time.
If not for Peapod, I probably couldn't have pulled off this first "Cookin' with Mitch" post. So without further ado I present to you… my FIRST RECIPE!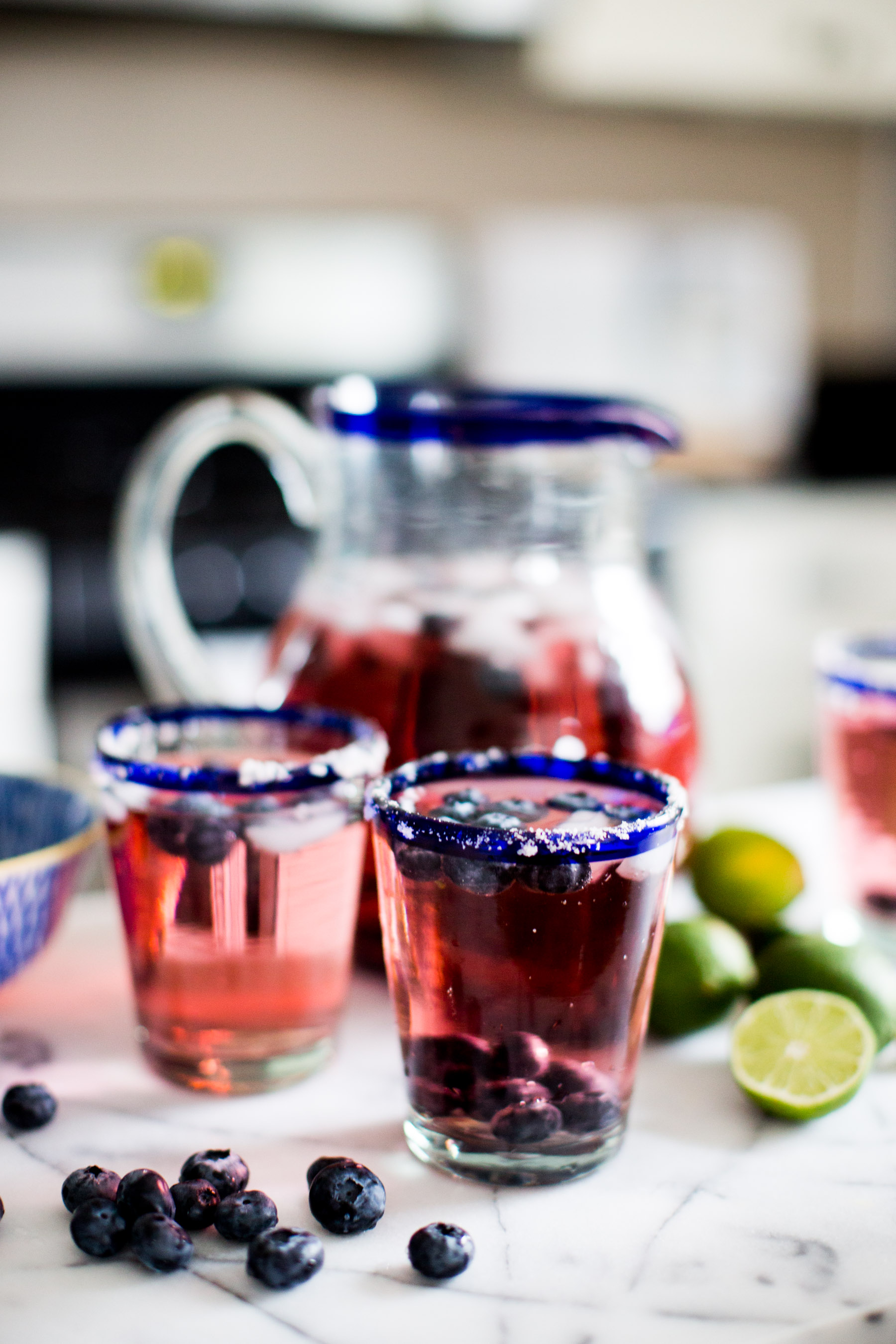 Blueberry-Infused Margaritas!
Okay. I cheated. Making margaritas probably isn't considered to be cooking. But margaritas are awesome, it's almost Friday, and these particular margaritas gave me the perfect excuse to get loaded. (Kidding.)
Recently, I was tasked with creating a cocktail to bring to Tom and Kira's for a dinner party. Obviously Tom was in charge of the food (not trout, thank god) so I graciously offered to create a drink, for myself to drink, while Tom cooked and then I ate what he cooked… in his house.
(Also, I should mention that I definitely practiced before going over so as not to embarrass myself. I tested out the recipe on Patrick and Kim when they came to visit.)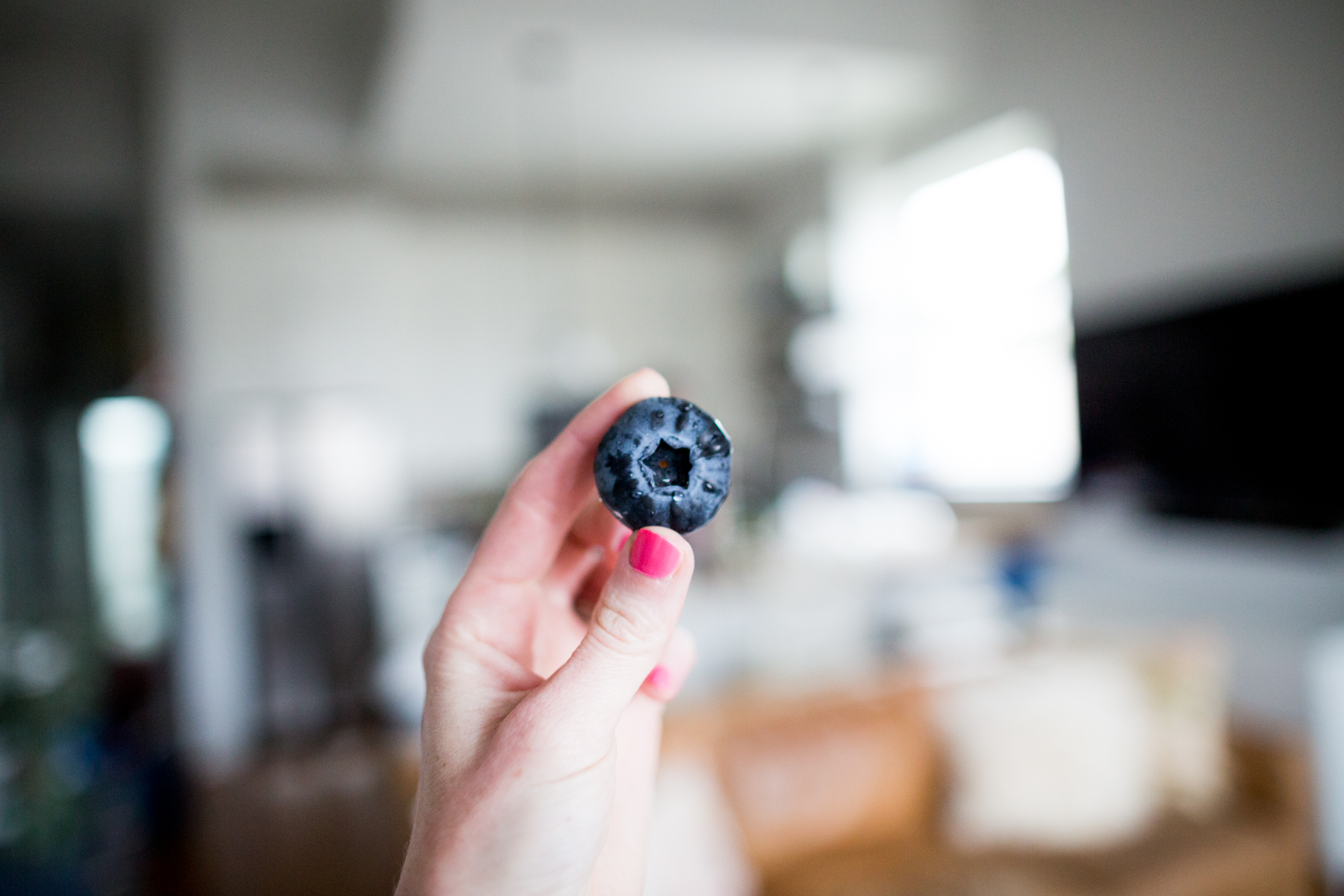 Putting booze in a glass hits both the easy and tasty aspects of "Cooking With Mitch," but we need to scratch that interesting itch, too. How can one drink tequila while the sun is up and play it off like it's an effort at self improvement? Infuse that thing with blueberries is how! There's real fruit in this drink, my dear Kelly in the City readers. Look at how huge that blueberry is! Blueberries are a Super Food, and tequila makes you feel super. Now this is #cookinwithmitch!
To start things off, this recipe gave me the opportunity to muddle. Muddling, it turns out, is just mashing stuff with a blunt object. (Do we really need a special word for this?) No need to go out and buy an actual muddler. Just mash a bunch of blueberries and strain to get at that delicious blueberry juice. I was making a pitcher's worth of margaritas so I used 18 ounces of blueberries… and I left some little blueberry chunks in the mix because who doesn't like blueberry chunks?
This recipe really is simple. Blueberry juice, triple sec, tequila and lime juice, but I used fresh limes because I'm now a food blogger. (Wish I could go back to my 21-year-old self and tell him this would happen…) And because I had no idea what I was doing, it took about half an hour to get the salt on the rim of the glass. But don't let that deter you from making this recipe. Just plan a little extra time in there for your Salt Rim Lovers.
It may be the margaritas talking, but people were all excited about these drinks. People gave me high fives. I really made the day. Want to try 'em out for yourself? Below is the recipe!
Mitch. Out.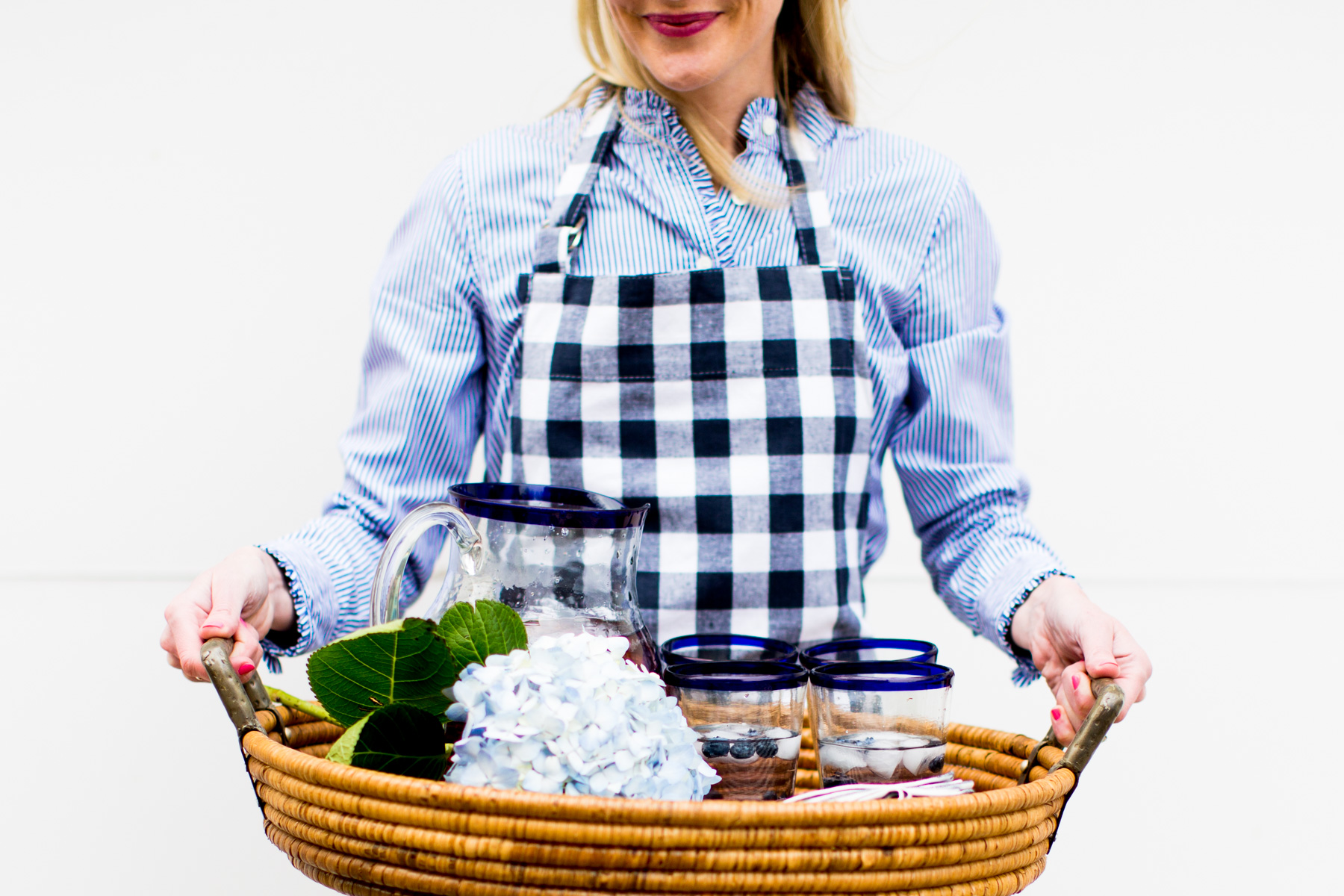 How to Make Blueberry-Infused Margaritas
Total Prep Time: 15 minutes (Serves 6)
Ingredients
3 6-ounce packages of blueberries
The beautiful blue juice of 5 limes
2 cups of tequila (Or, you know, more.)
1 cup of Cointreau
Rock salt for cup rims
Ice
Wearing: Bow Mules / Favorite White Skinny Jeans / Chambray Shirt
Directions
Muddle (meaning mash) blueberries to release juice. Strain away skins and seeds to taste.
In pitcher, mix in lime juice, tequila, blueberry juice, Cointreau and ice.
Pour into salt-rimmed glasses, drink, and wait for the fun to begin.
In collaboration with Peapod. As always, thank you so much for supporting the partnerships that keep Kelly in the City–which, come on, should PROBABLY be renamed "Kelly and MITCH in the City"–up and running!