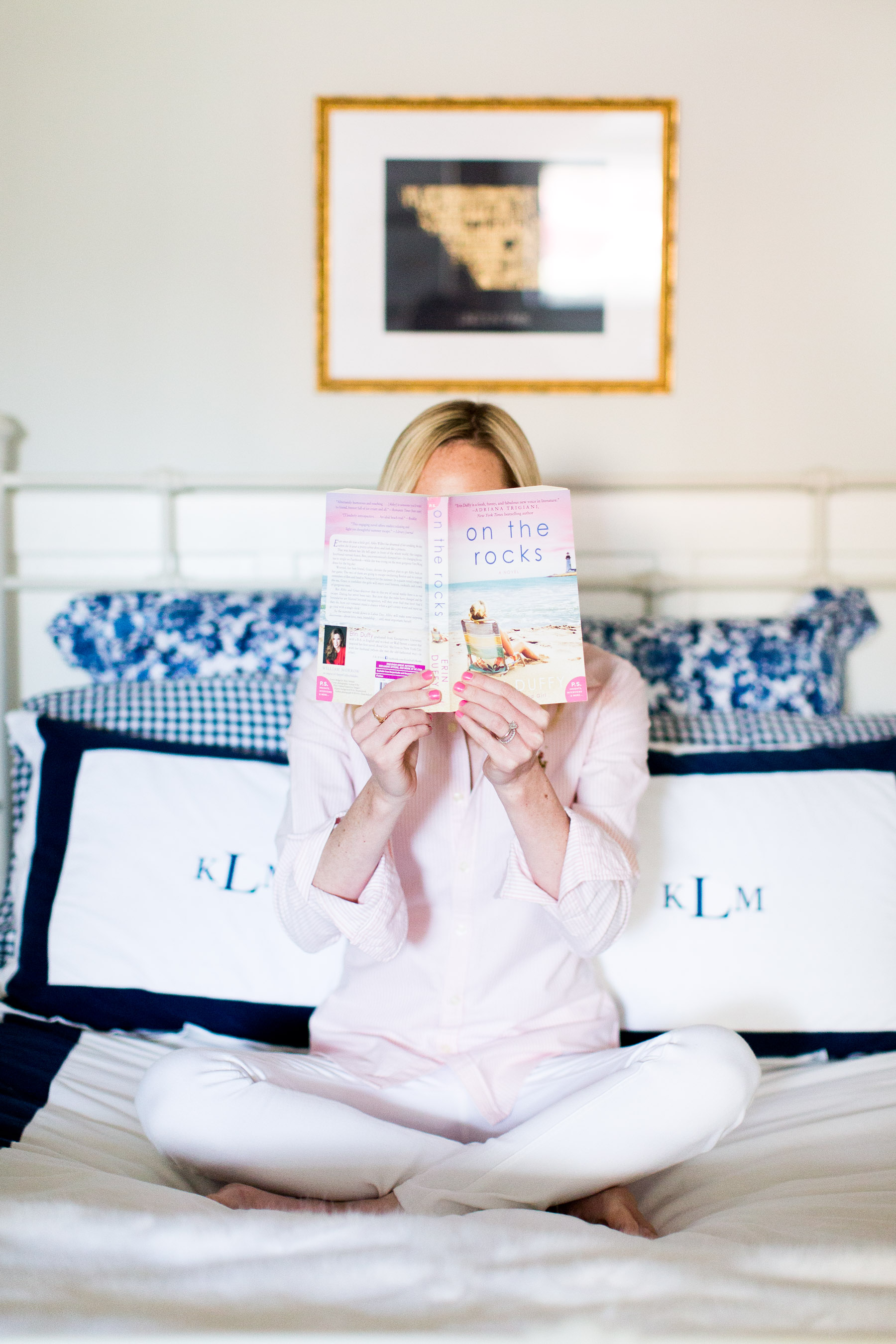 Wearing: Talbots Gingham Flats (Similar here and here) / Warby Parker Glasses c/o / Rag & Bone Jeans (Best white skinnies in the world…) / Ralph Lauren Oxford (Also love this one, this one and this one.) / Holding: Kate Spade Mug
Bedroom Details: Britt Ford Framed Map / L.L.Bean Bed and Rug c/o / Lands' End Duvet and Shams / Birch Lane Bench / Ginger Jar Pillow (Similar here) / Ralph Lauren Shams and Striped Pillow (Old) / Birch Lane Night Stands / Similar Lamps here, here and here / Gingham Bedsheets (Also love these! This set was the original inspiration.)
Top of the evenin' to ya! I was in need of some quality time with my little family last night and I took Emma toy shopping today, which is why I'm a solid 20 hours late on today's post. ;) So worth it, though. Every once in a while, it's nice to unplug and simply be, you know? And now, here I am, writing this (and, okay, finishing up some overdue freelance work) as Mitch plays with Emma, and I'm relaxed and happy and enjoying it. I can't even imagine what our upcoming weeklong vacation is going to do for me!
Anyway, if you read this initial post and then this "update" post, you might remember that today marks the conclusion of the One-Month Challenge! Yes, it's a bit ironic that I'm posting this late, when the One-Month Challenge was all about getting my act together. But it was also about being a happier person, and I'm wearing a smile right now. So let's dive into how it went, what I learned, and what I'm planning to do going forward. :)
How it went
Getting up at 6: Like I mentioned in my update post, I found that I am happiest when I set the alarm on the earlier side, work from bed for a little while, and then shower and get dressed before 7. How often did my feet actually touch the floor at 6? Almost never. But those eyes were open!
Working during the morning nap and only working: SO MUCH EASIER when I get up on time! Before, I had a zillion things to do during the morning nap. I needed to shower, get dressed, eat, clean things up, and work. Because I had too much on my plate, one of those things suffered every day, and I was unhappy as a result. Getting up early allowed me to shower, get dressed and tidy all before Emma woke up… and I could actually work during the afternoon nap.
Taking a morning walk/visiting the park & running an errand in the afternoon: I half failed at this one. If I took a morning walk, I couldn't squeeze in an afternoon one, and vise versa. More about this in the "What I learned" section below.
Working on correspondence during the afternoon nap: Halfway through the challenge, I realized that this wasn't happening, so I started responding to a few personal and reader messages during every afternoon nap. Most of the time, though, my work from the morning nap overflowed into the afternoon nap, and therefore I could only respond to one or two. But I carved out time, and I'm proud of myself for making a dent.
Embracing solo hobbies: Yassss! I so did this. Not once did I go on a personal photo shoot or open my laptop to write for myself, but I did read a book and/or played the guitar every day. And can I tell you? Emma LOVES the guitar. I sing, she shrieks, and occasionally she'll pluck at the strings. I'm pretty crappy and need to take some lessons, but MAYBE I'll get the guts to record the two of us goofing around one of these days. ;)
Working at a coffee shop one night per week: I went to a coffee shop a couple of times, and the other two times I just went to our master bedroom and worked from bed. More on why I did that below.
What I learned
My mornings are so much nicer when I've tidied up the night before, and when I play music in the bathroom while I shower. Seems like such a little thing, but I found myself getting super overwhelmed in the morning if I had to tidy in addition to making the bed, showering and getting dressed. I'm sure that makes me sound like a lunatic, but there it is. ;) I like having very little on my plate at 6 a.m., as I'm just not a morning person! Also, that music? Life-changing. Mitch set up an Echo in one of our cabinets, and I simply open the cabinet and tell the little Echo to "play country music hits on Spotify, please" every morning. I love my showers even more now! I also got this rug for the bathroom, which makes my cold feet happy. (Anyone else into putting Persian-looking rugs everywhere?)
I can't work in a messy environment. I really can't. I'm less productive, and I just keep thinking about how disorganized I am and then I start feeling like a complete failure at adulthood. Talk about spiraling into a pit of despair over a few displaced dishes and toys. ;) Something that's helped is that now that Emma is older, I can plop her down with some toys and tidy the room we're in. It probably only takes 15 minutes, and it provides me with a larger block of dedicated work time later.
Two out-of-the-house daytime activities is too much. Never going to happen during the school year, when Mitch is at work during the day. The first week, I tried SO hard to make it happen, but then I realized that it was making both mother and daughter unhappy. Emma was too tired; I was falling behind on everything. We were also insanely cold. (Brrrr, Chicago!) Now, we usually have one outing per day, and we just try our best to mix it up. Some days, we run errands; other days, we go to the park. Sometimes we just stroll around and wander in and out of coffee shops and stores for a few hours. It's awesome, and I've learned that it's not about getting out of the house twice; it's about getting out of the house for a larger chunk of time, and enjoying that time.
I'm ridiculously behind on correspondence, and it's going to take a while to catch up. I honestly thought that I'd be fully caught up once the One Month Challenge came to an end. HA! I've learned that one month of chipping away at my email and phone nightmares isn't going to fix everything. But I've definitely noticed that my inbox has become MUCH more manageable now that I've committed myself to responding to a few messages every day. I'm slowly making progress, and the guilt is slowly lifting from my shoulders, haha. I'm also having some great conversations with family, friends and readers! That said, I'm so sorry if I haven't gotten to your messages yet. If I asked a Magic 8 Ball whether I'm still a hot mess, its response would be, "It is decidedly so." ;)
Solo hobbies make me VERY happy. Wow! I can't believe what an impact this has made on my happiness. Again, I didn't do any personal writing or shooting. But I did pick up the guitar and I did get back into reading, and both have been amazing for the heart, mind and soul. I look forward to my book every day, and play time is a bit more enjoyable for me now that I'm playing guitar during some of it!
Once-weekly night work sessions are a must. But they don't necessarily need to happen at coffee shops. While all-day coffee shop sessions (when my mother-in-law is watching Emma) are legit, two-hour ones require more preparation and "commuting" than they're necessarily worth. Spending a couple of hours in our bedroom with headphones on is often a better use of my time.
Moving forward
It would be easy to pat myself on the back for these efforts and go back to my old lifestyle now that the month is over. And I'll admit that I've definitely considered it. ;) But I'm happier, and because of the Challenge, I've learned a lot about myself. I've also learned that small tweaks have the power to make my life more enjoyable. So here's my revised (second) One-Month Challenge changes:
Continue getting up early, but be kinder to myself. Since Emma is currently a late riser, I'm not sure if a 6 a.m. wakeup call is completely necessary. Setting the alarm for 6:30 and being completely showered/dressed by 7:30 is a great compromise, and I'll definitely be ready before she wakes. It also sounds slightly more civilized…
Get ahead during the morning nap: Because of the One Month Challenge, I was able to catch up on outstanding partnerships and freelance work, and I no longer feel like I'm drowning. The new dream would be to get a few days ahead. (I'd say a week ahead, but hahaha.)
Come up with a schedule for walks: I love our walks, and the Challenge definitely helped us get out more. But from the beginning of it, I never had a plan for them. It was just kind of life, "Bah! What do we need to accomplish outside of the house today?" — which was fine, but I think it'd be so much nicer to map things out on Sunday night. Monday: Food shopping // Tuesday: Park // Wednesday: Dry cleaner, pharmacy and post office.
Get better with correspondence: I want to up the ante on this one. I was actually talking to my friend Meg, another new mom, the other day about this issue, and I think it's something that a lot of mothers battle. We desperately want to be in touch with the people we love, but a lot of times, we can only respond with something short because we have a baby in our arms or we're doing laundry or we're cleaning or we're working or… you know. So we don't respond, promising ourselves that later, we'll write the response we really want to respond with. And then it doesn't happen, and then we feel terrible, and completely disconnected from our friends, families, blogs–the world! Right now, my only solution is dedicating a solid hour to correspondence every day. But if you're a more seasoned mom, do you have any advice? Meg and I would love to hear!
Place more importance on "me time." That used to make me feel like a horrible person. I thought that as a mother, I should want to give, give, give for 100 percent of my day. But I've found that when I get some "me time," I am a better mom, a better wife, and a better entrepreneur (for lack of a better word). Tomorrow, I'm going to share a bit more about this and about how I'm going to make all four of my solo hobbies a part of my life for the month of April. :)
Have you made–or are you in the process of making–changes to your lifestyle? What kind of an impact have they made or do you hope they'll make?
Shop the post:
Wearing: Talbots Gingham Flats (Similar here and here) / Warby Parker Glasses c/o / Rag & Bone Jeans (Best white skinnies in the world…) / Ralph Lauren Oxford (Also love this one, this one and this one.) / Holding: Kate Spade Mug
Bedroom Details: Britt Ford Framed Map / L.L.Bean Bed and Rug c/o / Lands' End Duvet and Shams / Birch Lane Bench / Ginger Jar Pillow (Similar here) / Ralph Lauren Shams and Striped Pillow (Old) / Birch Lane Night Stands / Similar Lamps here, here and here / Gingham Bedsheets (Also love these! This set was the original inspiration.)