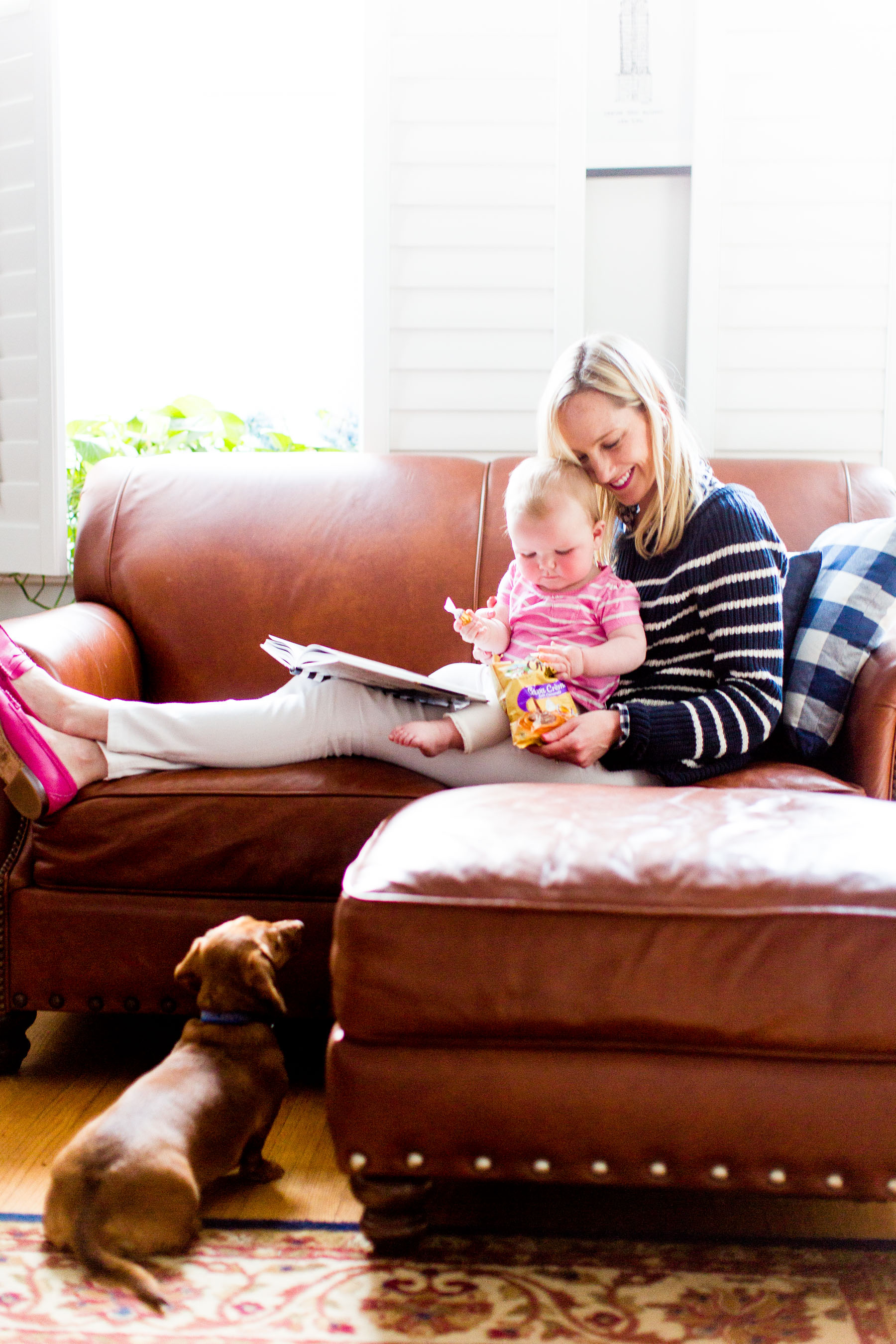 Pink Loafers (They're back! Also love these mules. And, of course, the bow mules.) / White Skinny Jeans (So soft and don't stretch out. Worth the investment! They come in ankle cut now, too.) / Old Sweater (Similar here, and I'm so in love with this navy striped sweater.) / Gingham Button-Down (Perfect for layering on cold spring days! This one is super similar, I love this off-the-shoulder number, and I love this peplum gingham top — coming to the blog next week! Oh — and this one. SIGH.) / Burberry Jacket (Now comes in pink!)
The above photo is one of my favorite photos of all time. Elements-wise, it's not a particularly "good" one; it's blurry and grainy, and I'm looking pretty tired. But it's a great depiction of what my days are like, and think it perfectly captures how love-filled they are, despite the imperfections and messes and chaos and exhaustion. ;)
While I didn't get yesterday's post on the conclusion of the One-Month Challenge up on the blog until late last night, I thought I'd take some time today to talk a little bit about what "me time" looks like right now, and how I want it to look during the month of April. :) Because, ladies an gentlemen (Dad?), I have some grand plans.
If I learned anything from the Challenge, it's that I love being a mom, but carving out time for myself is ridiculously important. For a while, I thought I was being a bad mother for wanting that. Like I said in yesterday's post, though, I've found that I'm a better mom, wife, friend and person when I'm able to take care of myself, too. So today, I'm teaming up with Werther's Original and the company's new Cocoa Crème Soft Caramels to delve into this topic a little more!
Before I start, though, I have to tell you about these new candies. I've been partnering with Werther's Original for a long time now, and Mitch and I have both become huge fans. The Cocoa Crème Soft Caramels, though, are our absolute favorites. They have this amazingly creamy chocolate filling that's wrapped in caramel, and they're made made with real butter, fresh cream and rich cocoa crème. Werther's recently sent us a bunch of them, and while we definitely love 'em on their own, we also love putting them in our coffees, in brownies (love late-night baking), and in our waffles. What? Coffee, brownies and waffles are SO much better with chocolate caramels in 'em! And I have to say: they definitely offer a moment of escape from busy days. :)
So without further ado, here's what what "me time" currently looks like, and how I'm hoping to change it:
Guitar
I should preface this by saying that I am absolutely terrible at guitar, but I love it, and I can't believe that I'm finally getting back into playing. It really makes me happy. I've been playing a lot of Kelsea Ballerini and Maren Morris… and I just learned how to play "Angel from Montgomery" this past week. Yes, I do this while I'm with Emma, so maybe it doesn't fully qualify as "me time." But it sure feels like it!
Emma and I have been having a blast with the guitar during our morning playtime session. I drink coffee (with my Werther's in it) and she drinks her bottle, and we just kind of jam out and sing together. We've been having so much fun with it that Mitch decided that he needs to learn. He's already mastered eight chords!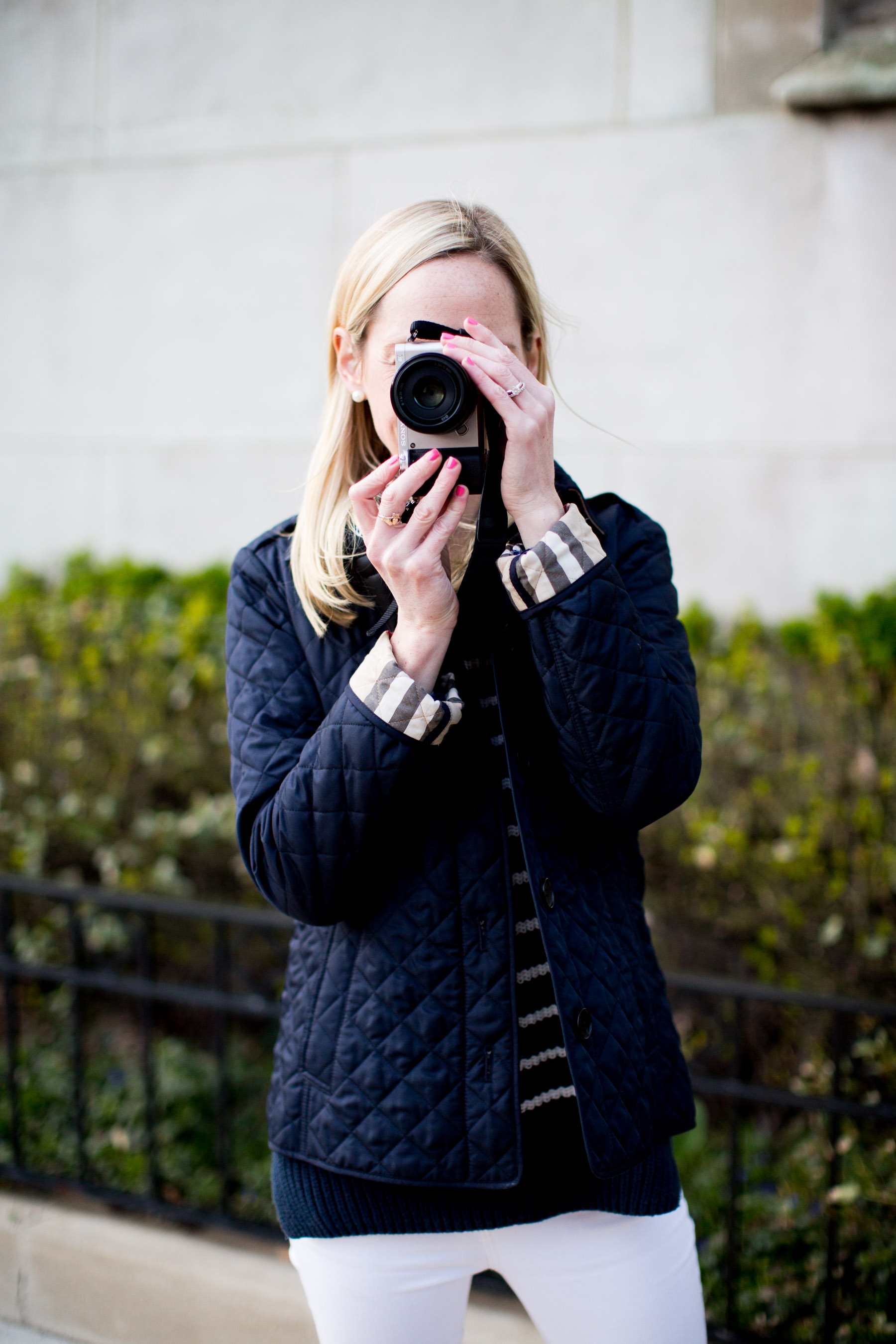 Photography
This is something I want to integrate into this month's "me time." I think a big part of my struggle has been the weather, but Chicago is set to warm up next week, so my hopes are high. I can't wait to break out my Sony, and photograph Lincoln Park in the spring. (My tiny camera is so much easier to carry than my giant DSLR!) I'd love to do a side-by-side comparison of the mirrorless camera vs. the DSLR. Wouldn't that be fun?!
Reading
Right now, I really only get 15 minutes of reading right before bed. But I'm going to make a concerted effort to read for an additional 15 minutes in the morning over coffee. (Are we sensing a pattern here?) I'm currently finishing up The Swans of Fifth Avenue and On the Rocks. (Always like to have two books going!) I've been making slow progress, as there are only so many pages you can get through in 15 minutes, haha. But I'm heading to California on Saturday and my hopes are high. Any recommendations for my next two?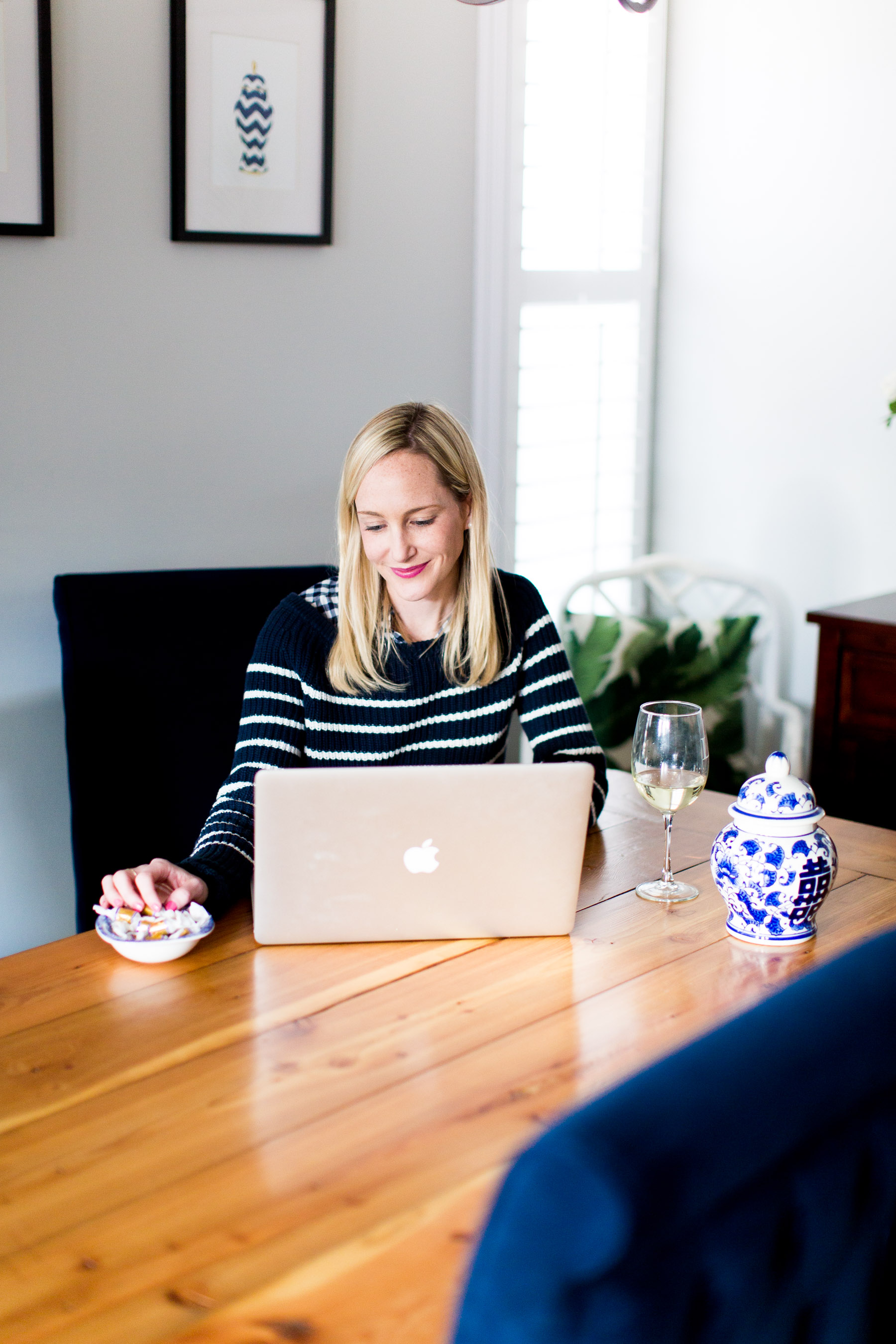 Writing
While I suppose this blog kind of counts as writing, I really want to get back into writing fiction–something I did all the time before Kelly in the City came into existence. I don't have any lofty goals here; I just want to write for myself. But I'm excited to get back into the swing of things. I might switch off with reading and writing on an every-other-day basis. I know: it'll take me even longer to get through a book, but that's okay, right?! It's not a race…
Other considerations
When the weather improves, I'd like to start jogging with Emma (obviously in a stroller). I think it would be such a great start to the day, but I must admit that I'm not sure how showering afterwards would go. Yes, I could do it during nap time… but what would happen to my dedicated work time?! Maybe I could do this once per week?
I'm going to yoga with my girlfriends soon! They're all really good at it, and I haven't done yoga for at least five years. But I'm excited to give it a try. And even more excited for brunch afterwards.
I want to start going to home decor stores. Not necessarily to shop, but to get out of the house and to get design ideas. My friend Kira has recently sparked a love for interior design in me, and it's also spring–when I always get the bug to change things up in our home. To boot, I happen to live in a neighborhood that has a lot of home decor shops. Can't wait to check 'em out!
~
I absolutely love the message that Werther's Original is currently sending: that you deserve to take a moment for yourself every day. The best part? For the next five weeks, Werther's fans can enter to win some amazing weekly prizes just buy visiting the company's website. Be sure to enter; you could win a Luxury Spa Getaway for two in Naples, Florida! Werth it. ;)
Shop the post:
Pink Loafers (They're back! Also love these mules. And, of course, the bow mules.) / White Skinny Jeans (So soft and don't stretch out. Worth the investment! They come in ankle cut now, too.) / Old Sweater (Similar here, and I'm so in love with this navy striped sweater.) / Gingham Button-Down (Perfect for layering on cold spring days! This one is super similar, I love this off-the-shoulder number, and I love this peplum gingham top — coming to the blog next week! Oh — and this one. SIGH.) / Burberry Jacket (Now comes in pink!)
This post was sponsored by Werther's Original, but all opinions are my own. As always, thank you so much for supporting the partnerships that keep Kelly in the City up and running!