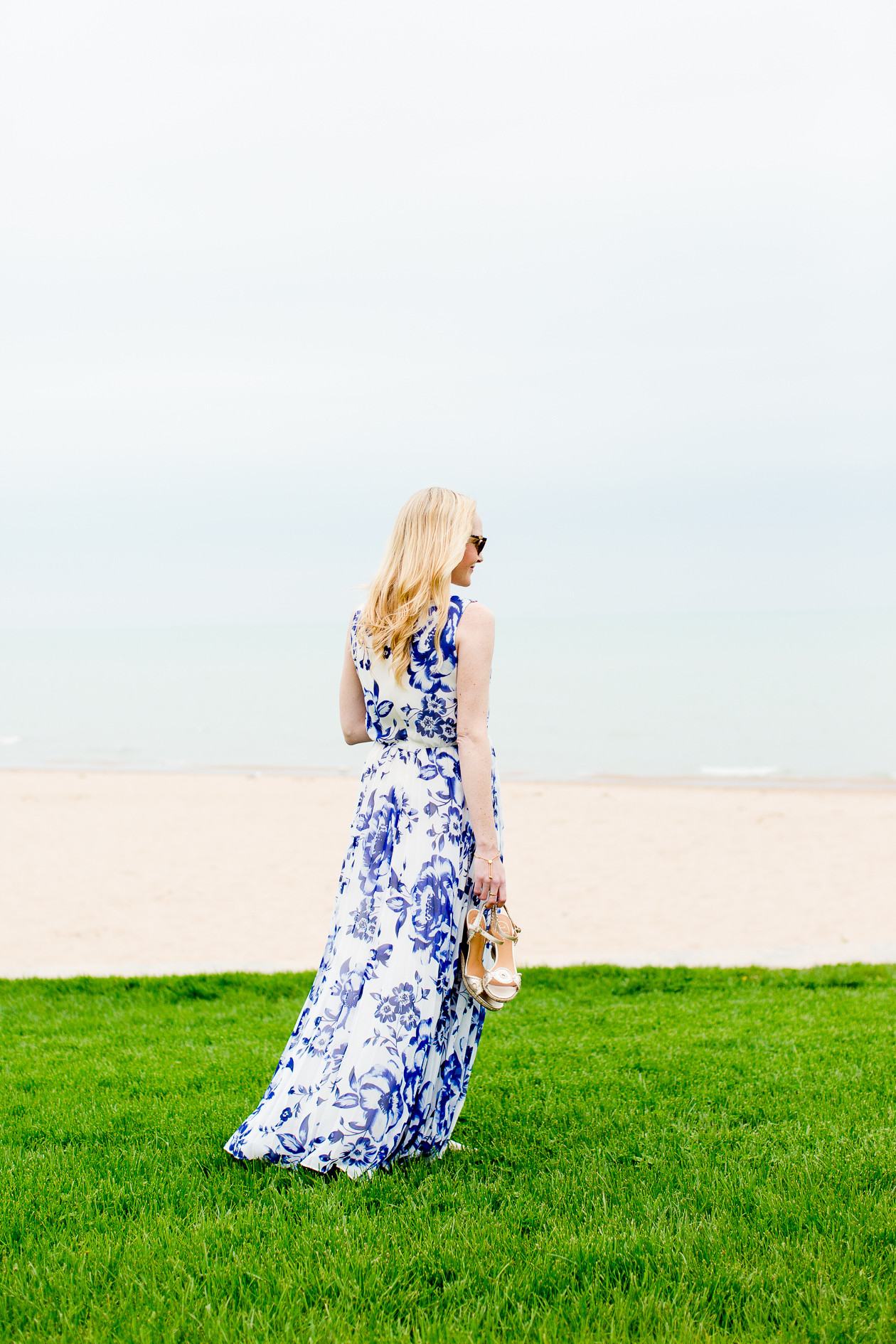 Eliza J Maxi Dress c/o Nordstrom / Monica Vinader Bracelet c/o / Jack Rogers Wedges / Similar Sunglasses

Over the last year, I've completely fallen in love with Nordstrom's Eliza J collection. While classic, preppier dresses tend to be on the pricier side, the brand is surprisingly affordable… and the dresses are absolutely adorable! I find myself constantly checking in with Nordstrom to see what's just in, and I nearly always fall in love with something new. (Above are some of my faves!)
Monday was the perfect excuse to break out my new Eliza J dress, since Mitch had off from work. (His principal gave him the day, as he'd taken his students to D.C. over the weekend and returned really late Sunday night.) We've been pretty stressed lately, so I took the day off, too.
The story:
The contractor who is finishing our master bathroom had to go back to his home country for immigration reasons and won't be back for three weeks. (He also jokes that it's possible he might not be let back into the United States. Not funny, Sir.) And the other contractor, who's halfway through the fireplace renovation, simply up and disappeared. Like, we haven't seen him in 10 days, and he won't pick up his phone, answer texts or respond to emails. Swell.
In the grand scheme of things, this is not the end of the world. But we've been under construction since early September 2015, and we're tired. We're also starting to panic, as we have three months left before the baby comes, and we haven't even started on the nursery's construction. (We need to move a door and put down hardwood. But with what contractor?!) Of course, the baby could easily sleep with us for a while. But we both want to fully enjoy the first few months with our little one, and we don't want to deal with all this during that time.
Sigh. The house is a construction zone, and kind of depressing to hang out in all day… so on Monday, Mitch and I decided to get a little dressed up, spend some time on the lake (since I'd had so much fun there over the weekend!), get sushi, and window shop downtown. It definitely got our minds off things, and helped us remember that things aren't that bad. Perspective, perspective!
Still not sure what we're going to do about the contractor who vanished into thin air, but we're going to make a decision on that this week. And we're making an effort to get out as much as possible, so as not to be constantly surrounded by our dilemma. ;) One day, we'll look back on this and laugh, right? (Can anyone else commiserate? Any other horrible contractor stories?!)
Anyway, be sure to check out Nordstrom's Eliza J collection. As I mentioned in yesterday's post, Nordstrom is undoubtedly the best retailer for dresses! The selection is amazingly extensive, there's a wide range of prices available, and you can always find a dress for whatever occasion you're shopping for. And with free shipping and returns, shopping is guilt- and worry-free! Shop my other favorites below. :)
Other maxi dress picks from Nordstrom:

Other dress picks from Nordstrom:

Shop the post:
Eliza J Maxi Dress c/o Nordstrom / Monica Vinader Bracelet c/o / Jack Rogers Wedges / Similar Sunglasses

This post was sponsored by Nordstrom, but all opinions are my own. As always, thank you so much for supporting the brands and partnerships that keep Kelly in the City up and running!