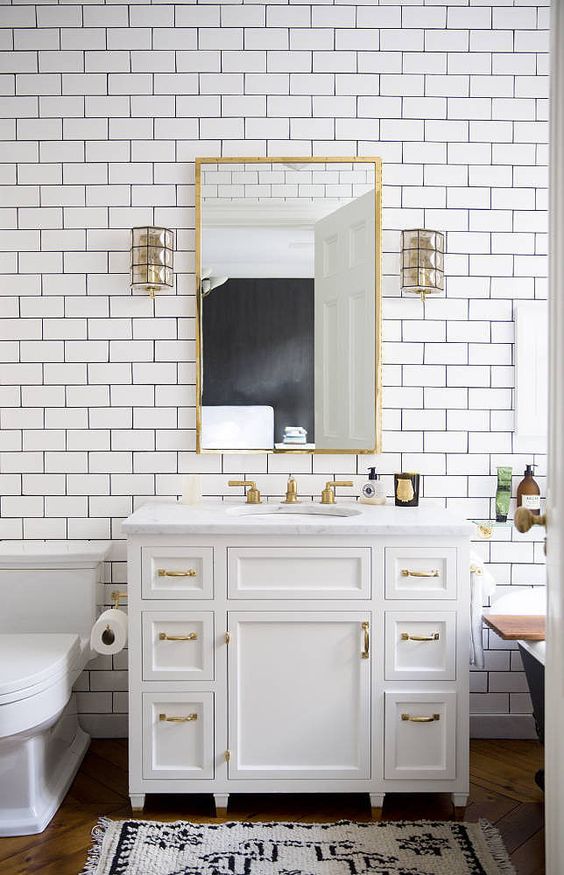 It feels really good to finally be honest about everything: I am very nervous construction won't be done before the baby arrives.
While I've written dozens of posts about our renovations over the last seven months, the real reason I'm always so panicky and frustrated about 'em is because there's a LOT more to do. We're just about finished with the master bedroom (just need to caulk and paint at this point!), but then we need to start on the master bathroom, fix the staircase and tackle the nursery/guest room project.
The plan is to turn the current office into a guest room and the current guest room into a nursery. The only problem is that both rooms are configured a little strangely right now. There's no door on the office, and to get to the nursery, you need to walk through the office. (We want our parents to come and stay frequently, and walking through the guest room to get to the nursery is no bueno!) So we need to close up the nursery's french doors and install a single door closer to the front of the house, and install a door for the guest room. Oh, and rip up the nursery's carpeting and lay down hardwood.
NO BIG DEAL.
It'll be fine. ;) I'm just feeling a little overwhelmed and kind of sad I can't start thinking about nursery decor yet. (Mitch says I'm nesting, haha.) It'll happen, though.
But first, we need to get this master bathroom done! Construction is set to start on Monday, and Mitch and I are really excited. Our contractor hired an extra guy who supposedly has a more flexible schedule, so we're hoping that project number two of four moves a bit faster than the first one did!
The general look has been settled, but we still need to decide on a few things. Which is why BuildDirect's "Spring into Action" Sale falls at SUCH a great time.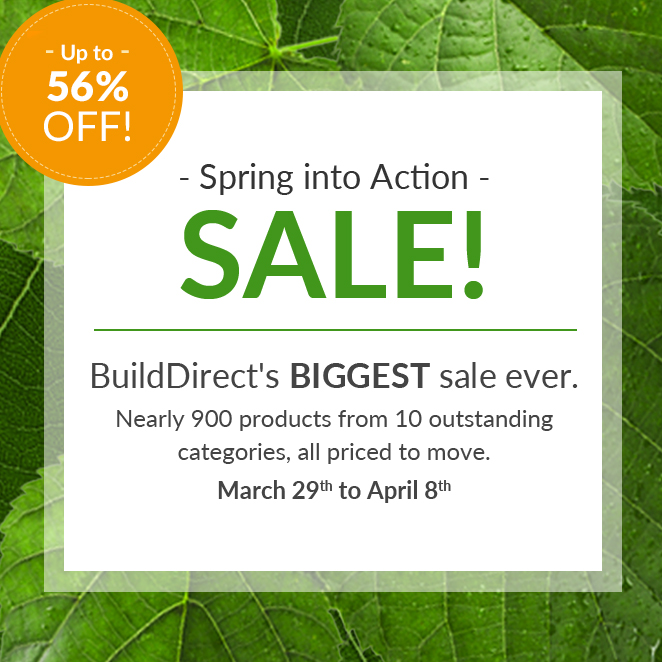 You might remember, but BuildDirect's Home Marketplace, the world's largest marketplace for home improvements, is what we're using for the flooring in both the master bedroom and master bathroom. (I stressed this in my last "update" post, but oh my goodness, guys: we're thrilled with how it came out in the bedroom, and know it's going to be look incredible in the bathroom, too. Fingers crossed that I can share the "final reveal" soon!) We went with the company because its new Home Marketplace connects homeowners directly with home improvement product suppliers to ensure that costs stay low. (We were really frustrated with the small selection and high prices we found at brick-and-mortar stores!)
BuildDirect's "Spring into Action" Sale, which starts today and ends on April 8th, includes nearly 900 products from 10 categories. During this time, you can save up to 56 percent on wood flooring, outdoor, decking, tile flooring, kitchen and bath, vinyl flooring, molding and accessories, carpet flooring, siding and doors.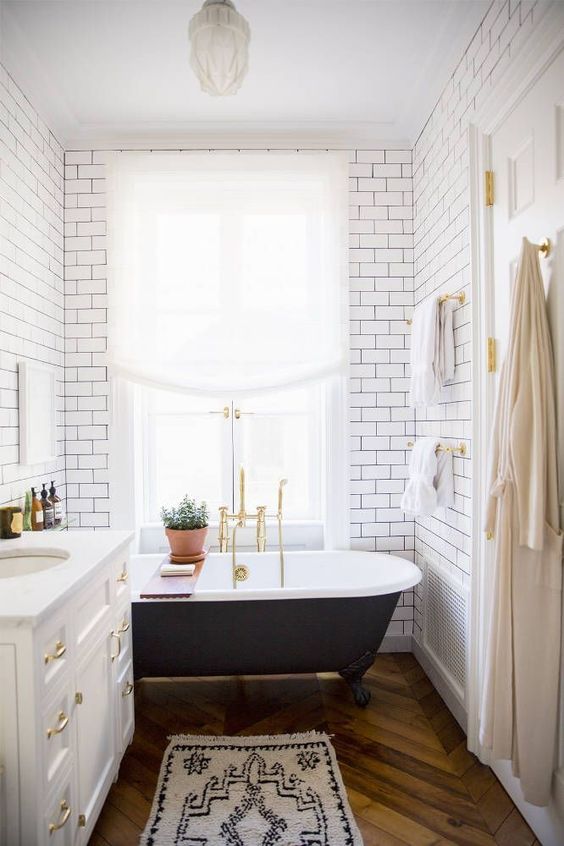 The original inspiration photo from Alison Cayne's West Village townhouse / Brittany Ambridge
Anyway, here are a few things we've settled on for the bathroom:
Flooring
Like I said before, we're continuing the porcelain wood-grain flooring into the bathroom because we like the continuous feel. I've also completely fallen in love with the look of hardwood floors in bathrooms! (We're just realistic, and know that actual hardwood would get ruined very quickly.) Side note: BuildDirect's tile flooring is up to 42 percent off, its wood flooring is up to 42 percent off, its vinyl flooring is up to 30 percent off, and its carpet tiles are up to 34 percent off!)
Subway tiles and dark grout
We're going with white subway tiles and dark grout for the shower, which is pretty bold for us. :) We've decided on Hammersmith subway tiles, I think, but there are lots of other options out there, too. WHAT SIZE, though?!
Vanity
Eeeee! I LOVE the vanity. It was a pricey purchase, but we really wanted Carrara marble, and something that looked like Pottery Barn vanities without the outrageous price tag.
Cabinetry
We're knocking out a couple of walls and installing a TON of "shaker style" cabinetry for storage. This was Mitch's idea, and I think it's genius.
Window
This is a little crazy, but we're considering installing a window in the bathroom. It was bricked over a long, long time ago, and we'd LOVE to have some natural light in the space!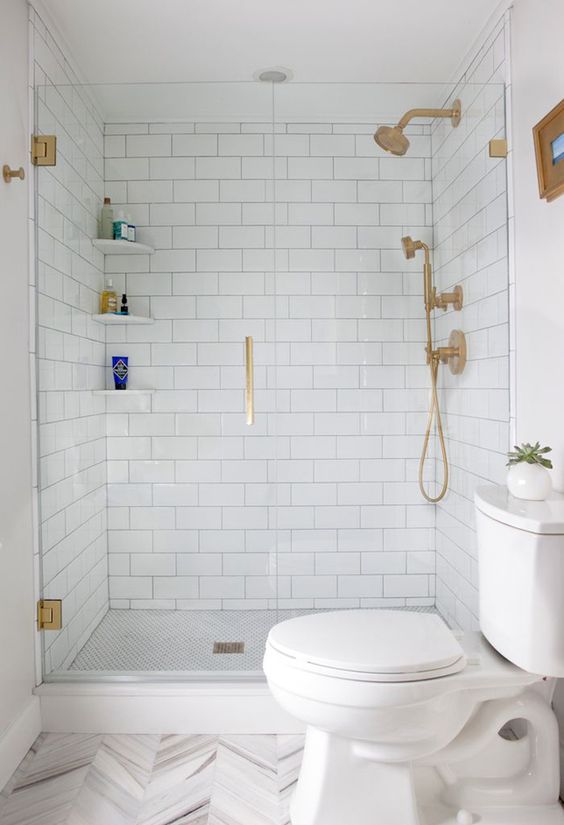 And here are a few things we haven't yet picked out:
Fixtures
We want gold/brass fixtures, but there are so many options out there! Truthfully, we haven't even started looking yet. Any recommendations?
Shower door
We removed the zillion-pound tub that was previously in the bathroom and are purchasing a frameless shower door soon. Waiting to hear from our contractor about what size to order, though.
Hardware
We'd like to replace the hardware on the vanity and storage cabinetry so it matches the gold/brass fixtures, but again: haven't started looking yet. Likewise, we need to find gold/brass hinges/attachments for the frameless shower door, which we can't find ANYWHERE. Any ideas on that? Maybe we just need to spray paint the hinges/attachments?
Shower floor
I'm thinking tiny Carrara marble tiles to complement the vanity countertop, but I'm not sure. Maybe something like this. Thoughts? (Also, what color grout? Since we're going with dark grout for the subway tile, I'm tempted to go dark for this, too. It would also be much easier to keep clean! But would that look weird? Actually, after some quick Pinteresting, I think we need to go white and just become BFF with bleach.)
Walls
Help! We did some board and batten walls in the bedroom. Should we continue with that style in the bathroom? Or should we go with traditional wainscoting? Or should we leave the walls bare? Or should we do continue the subway tile from the shower out into the rest of the room and do some half-walls? Confusion.
Inspiration: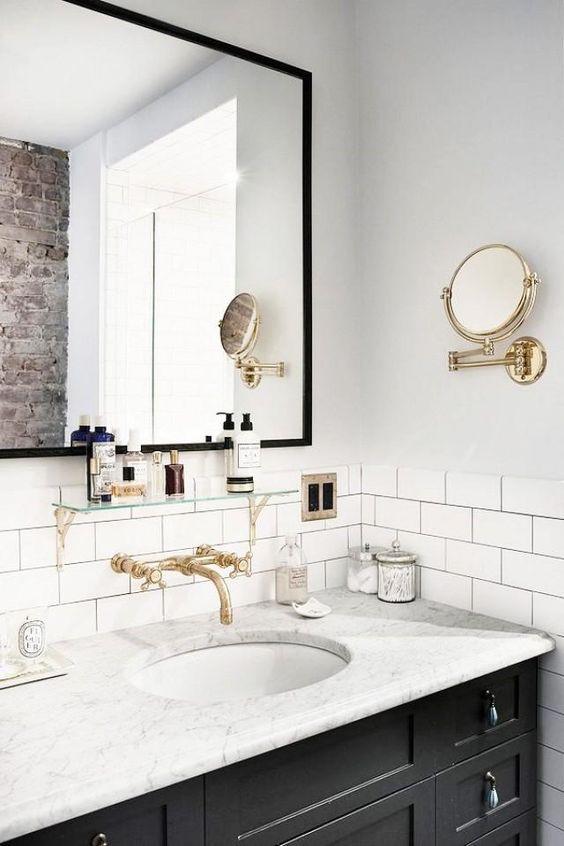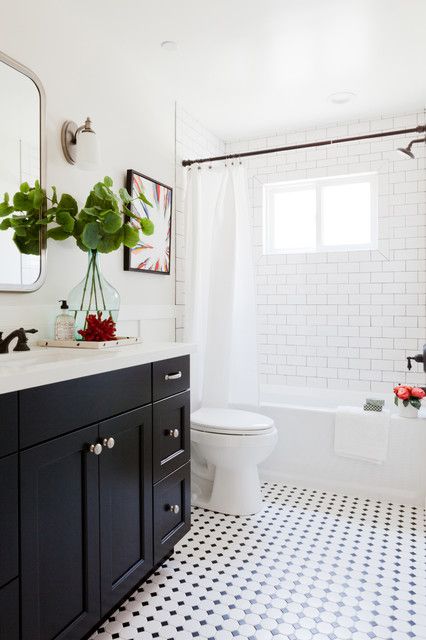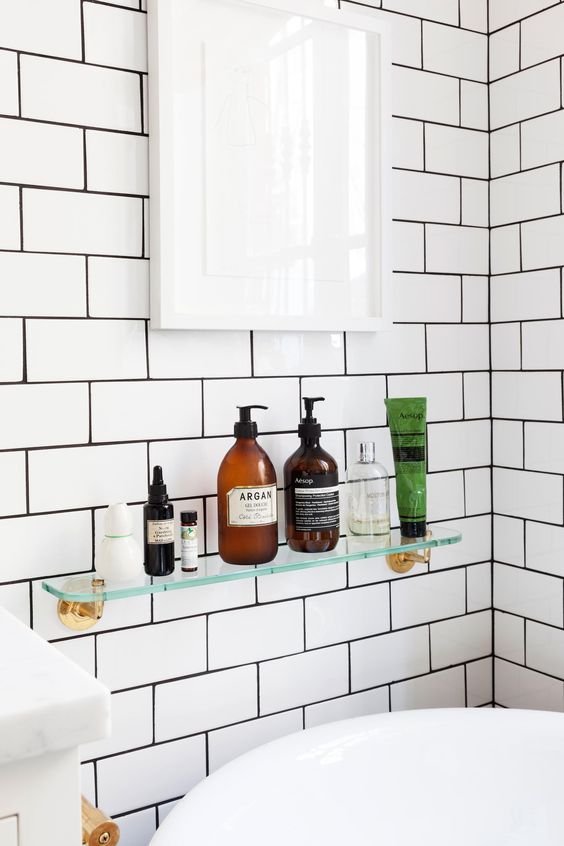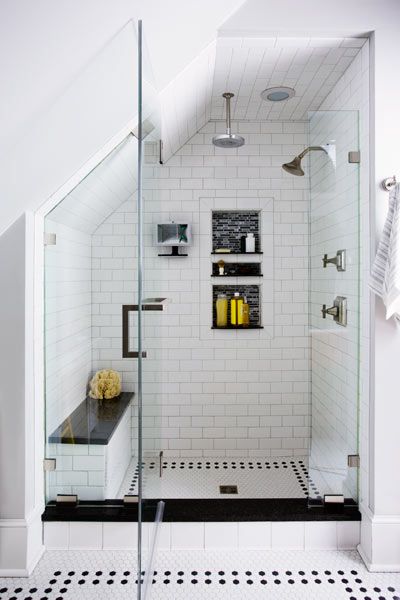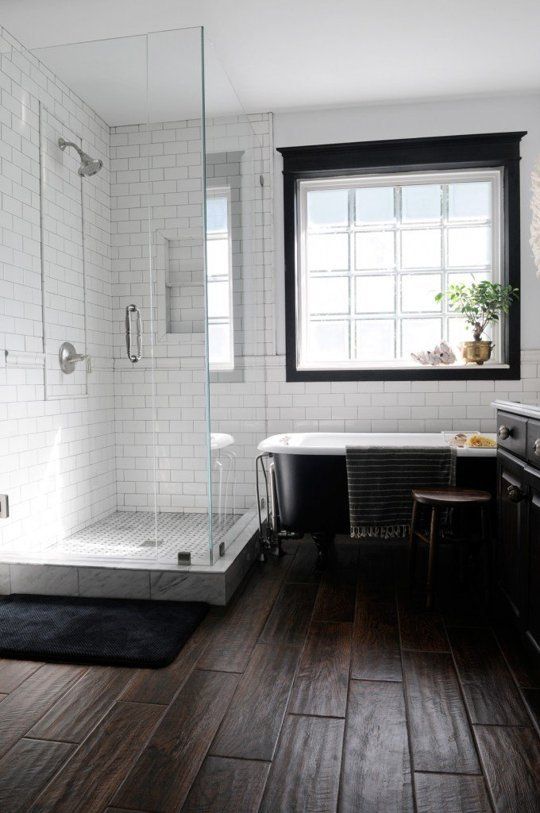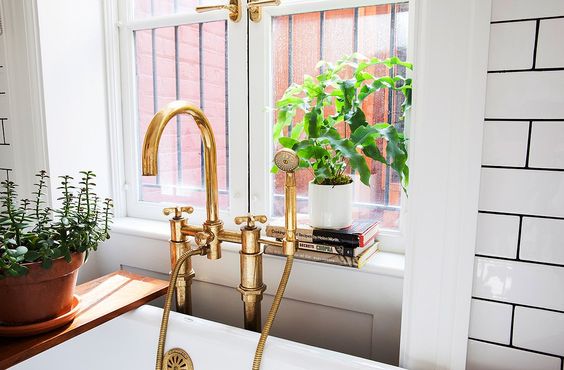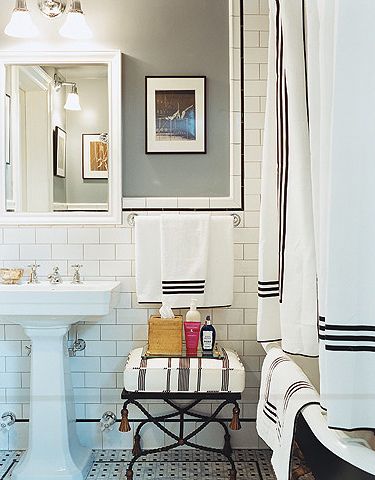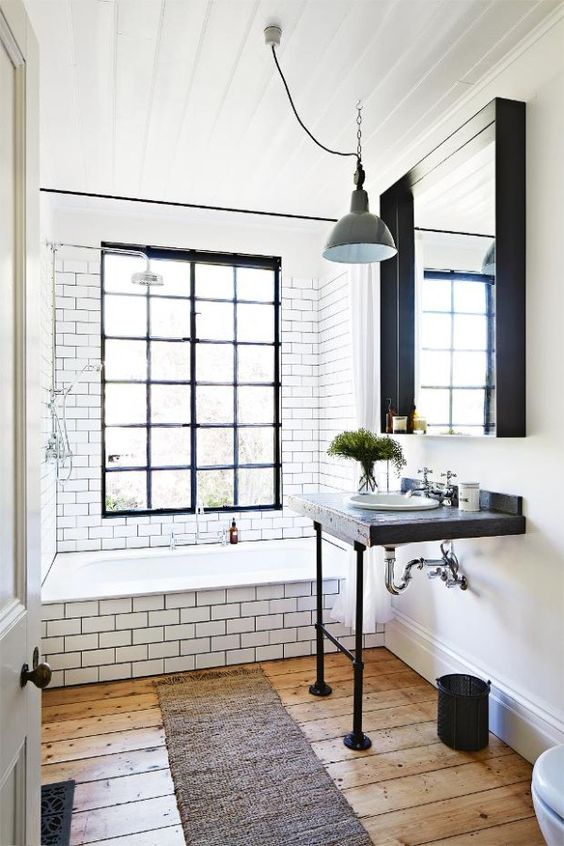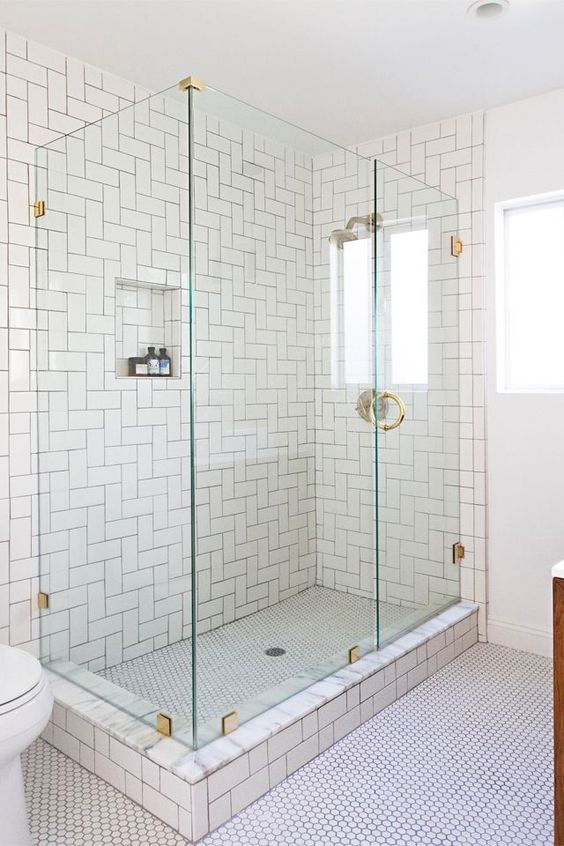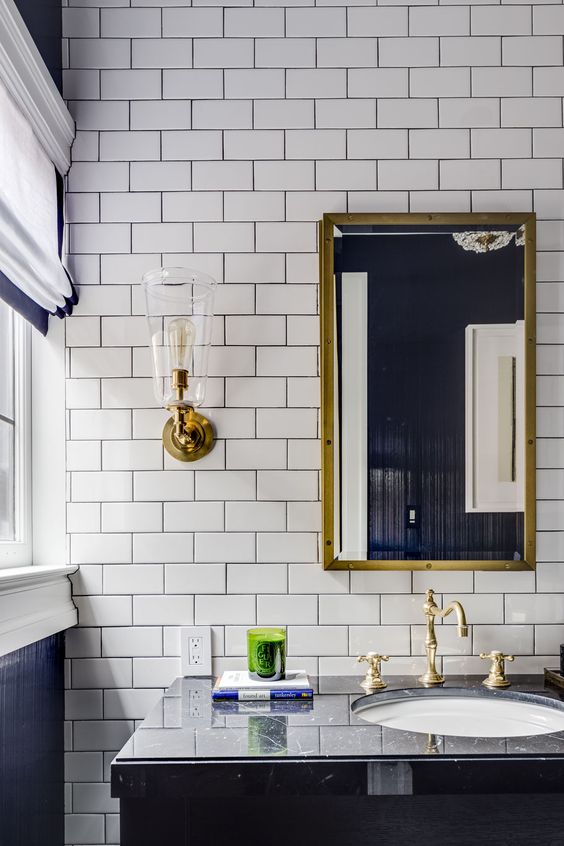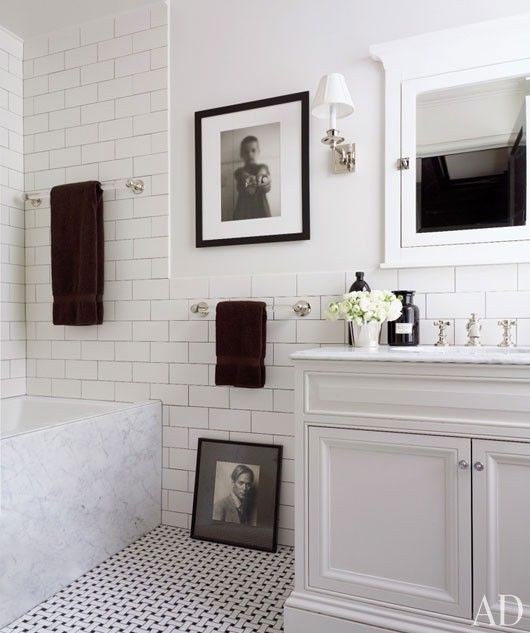 If you guys have any suggestions or opinions, Mitch and I would LOVE to hear them. You've been so helpful with all of our home renovations, and we really can't thank you enough for weighing in! You've made the big decisions a lot less nerve-wracking. :) Thank you in advance!
Disclosure: While BuildDirect's Home Marketplace is providing the flooring for this project, Mitch and I had decided to go with BuildDirect before the partnership was formed. As always, thank you so much for supporting the collaborations that keep Kelly in the City up and running!