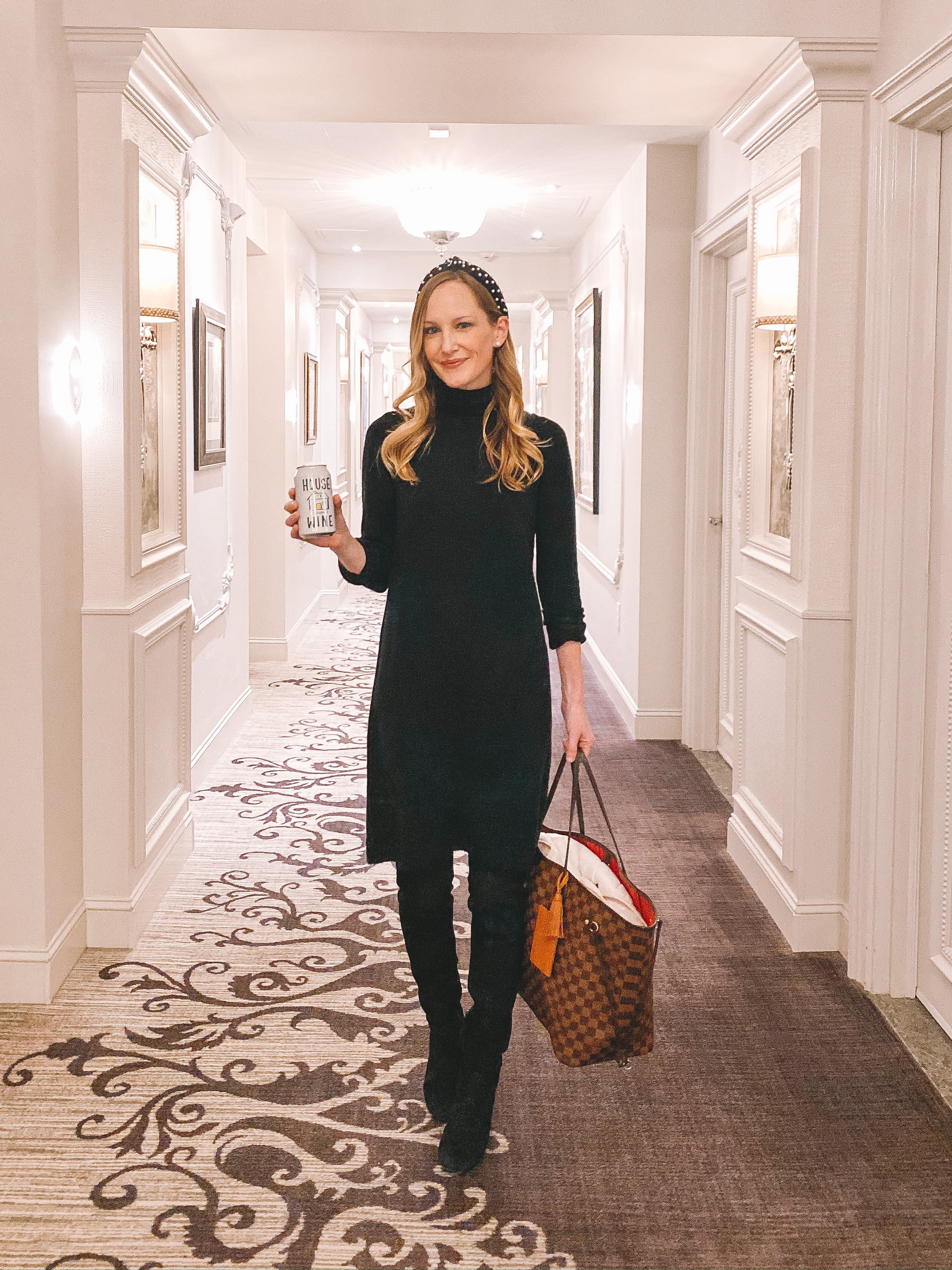 J.Crew Factory Super Soft Sweater Dress (Size down. Here's J.Crew's Version! Similar fit; more billowy sleeves.) / 3 for $12 pearl headbands / Similar Over-the-Knee Boots
This is what I like to call on-the-fly blogging. Didn't really intend on shooting or posting this outfit (hence the random canned wine 🙈), but it was so amazingly cozy for last night's dinner in Charlotte that I wanted to highlight some fantastic pieces!
Note: I'm typing this on my phone in the car, so please excuse… everything. 😂
J.Crew Factory Super Soft Sweater Dress: I cant recommend this dress more. I bought it a few months ago mainly so I'd have a dress to wear to events in the dead of winter. It's been a while since I'd worn a sweater dress, and my hopes weren't high. ;) But I'm OBSESSED. First of all, it's a steal. Second, it's ridiculously flattering. (Size down, but the dress falls perfectly.) Third, it unbelievably warm. I'm normally freezing in restaurants and I was totally comfortable for the entirety of dinner last night! Anyway, I loved the dress so much that I decided to order the J.Crew's versionto compare, and I honestly can't decide which I like better. They both have a similar fit and feel to them, though I suppose that Factory's version is a tad slimmer… and J.Crew's version has billowy sleeves that look GREAT when pushed up. Definitely interested in investing in a couple of other colors! Dressy clothing that feels like PJs for the win. (Btw: Wearing a size XS here. I normally order tops and sweaters in a size small.)
3 for $12 pearl headbands: My friend Liz recommended these, and they're so cute! Headbands rarely work for me because they tend to give me headaches. But these are loose enough that they don't hurt yet secure enough that they won't fall off. Huge fan, and I received so many questions about the one I wore last night!
Similar Over-the-Knee Boots: I never go on a trip without these. They're amazingly versatile since they can be worn with jeans, leggings, dresses and skirts. They also add a lot of warmth to any outfit. Mine are old, but there are so many great options out there right now. My favorites are the ones that have low(ish) chunky heels because they're comfy enough to wear all day yet they also provide some height!