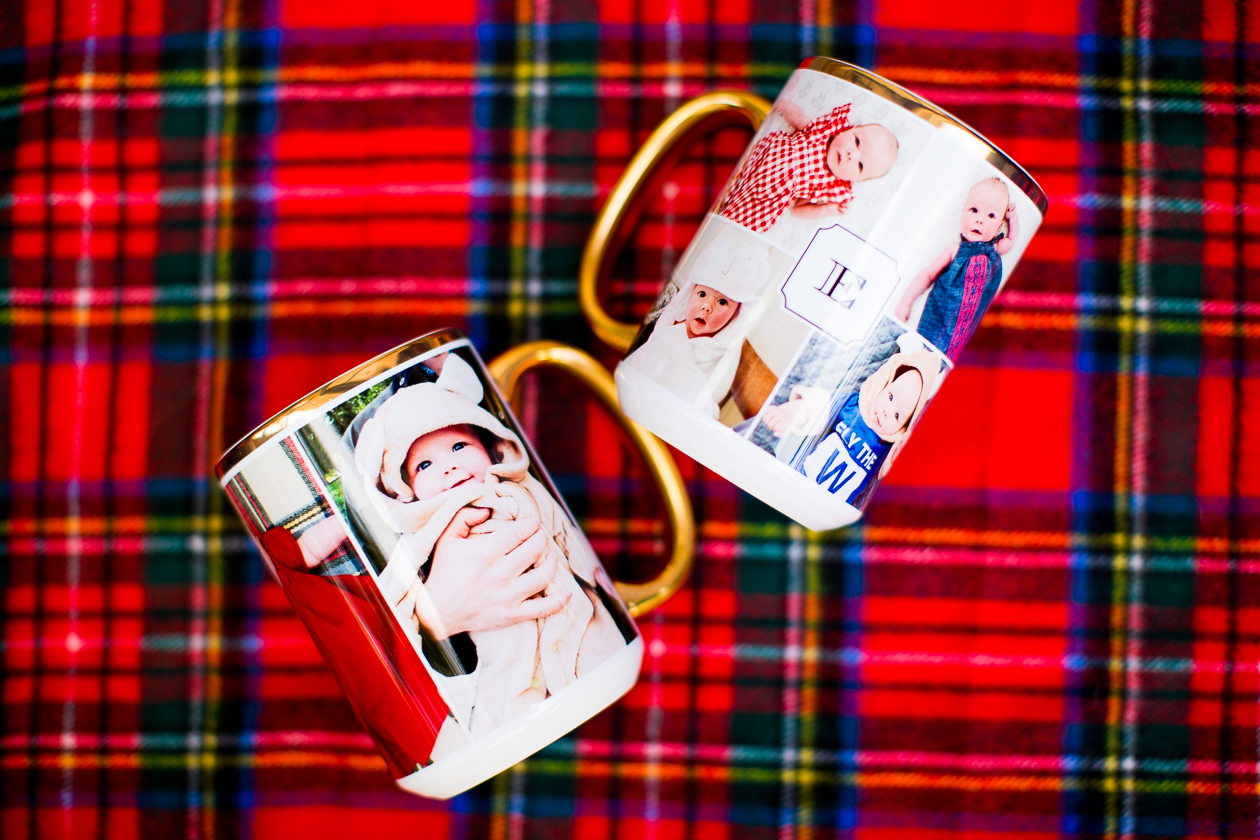 Mitch, Mom, Dad, John and Lisa: Please don't read this blog post! Emma wants you to be surprised on Christmas morning. :)
Without a doubt, this Christmas will be the most magical of my life. I was pretty sure that nothing could ever top last year–see us tell our parents we're pregnant in the video in this post–but I can't explain just how excited I am for Emma's first Christmas. She'll be meeting a lot of friends and family members for the first time, and I'm just beside myself about… well, everything. I can't wait to dress her up in her holiday outfits (I'm thinking this and this for Christmas Eve, this for Christmas morning, and this for Christmas day!) and I can't wait to pick out our tree at the nearby market in Lincoln Park and trim it together. Mom and Grammie are making us felt stockings–a Sheehan family tradition; see a few of them in this post!–and we're planning on taking Emma into New York for the first time to see the windows and roam our favorite neighborhoods. We also want to take her to sit on Santa's lap!
I'm ridiculously excited about all the gifts that Emma is giving, too. I know: it's truly unbelievable that a three-month-old baby could be so thoughtful and think of (and verbalize) gift ideas all on her own, but what can we say? She's clearly advanced. ;) In all seriousness, though: Shutterfly made it so easy for us to make some amazingly sentimental and gorgeous presents for Emma to give to the people she loves!
Before we get to the presents, though, let's start with the holiday card. Usually, Mitch creates his own card using Photoshop, and it comes out great. (He's a gifted designer!) Last year, though, we didn't end up doing it, as I was suffering from some extreme morning sickness and life was just a little too crazy with all the house renovations. And I have to say: I was a little sad about it!
This year, there's still not enough time for something like that. There's simply a zero percent chance that we'll find the time to shoot, design and print our own card while working and caring for an infant. Heck, I barely have time to check my email. ;) But this season, our friends and families will be getting greeting cards from us, because I found the perfect one on Shutterfly, and creating it took less than five minutes! And, I mean, how perfectly preppy is that plaid?!
A cute story: Mitch and I tried to take our Christmas card photo on a couple of occasions, but it just wasn't working. First, there was this adorable attempt on the beach by a 60-year-old man. And then we tried to do it out on the lake on this night, but we couldn't find anyone to snap the pic. We tried to schedule some time with a photographer, but that fell through, too. Finally, we got all dressed up on a random (very warm) Saturday morning and decided to just snap it on our own in the neighborhood.
Here's everything we had going against us:
We were using a tripod, but had lost the remote. This meant I had 10 seconds to focus on everyone, press the shutter, and then sprint into the frame and make myself look presentable.
Emma is three months old and coincidentally always gets hungry during shoots. We have a LOT of family pics of Mitch and me smiling, and Emma in hysterics or drinking a bottle. ;)
Noodle is adorable, but she's quite the spaz. It usually takes 50 snaps and someone holding up a giant dog bone behind the lens in order to get her looking at the camera.
It was windy. It's always windy here.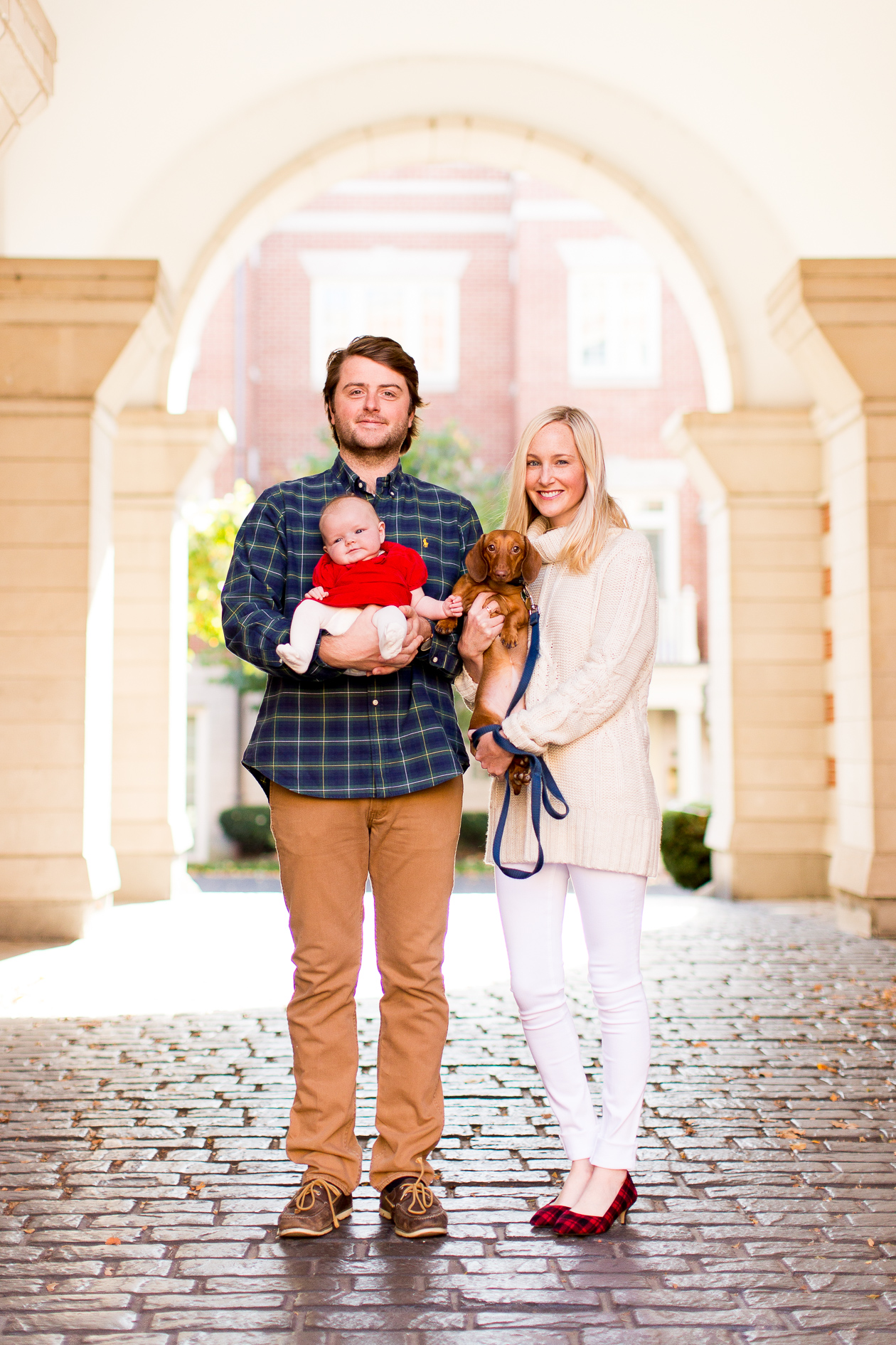 Wearing: Cable-Knit Sweater / Rag & Bone Jeans (Softest white jeans ever! But I need to get them hemmed.) / Plaid Pumps (But totally ordered these for Christmas!)
Emma's wearing: Bow Dress
BUT WE DID IT. In one try. I think it's because we stood in an archway, and the only interesting thing for the baby and dog to look at was the tripod. But it was nothing short of a miracle, and Mitch and I couldn't stop laughing about how easy it was. Once we packed everything up, we headed back to the house and ordered the card in–like I mentioned before–less than five minutes. It was the least stressful experience that I've ever had with creating a Christmas card, and you'd better believe that we're going with Shutterfly from now on!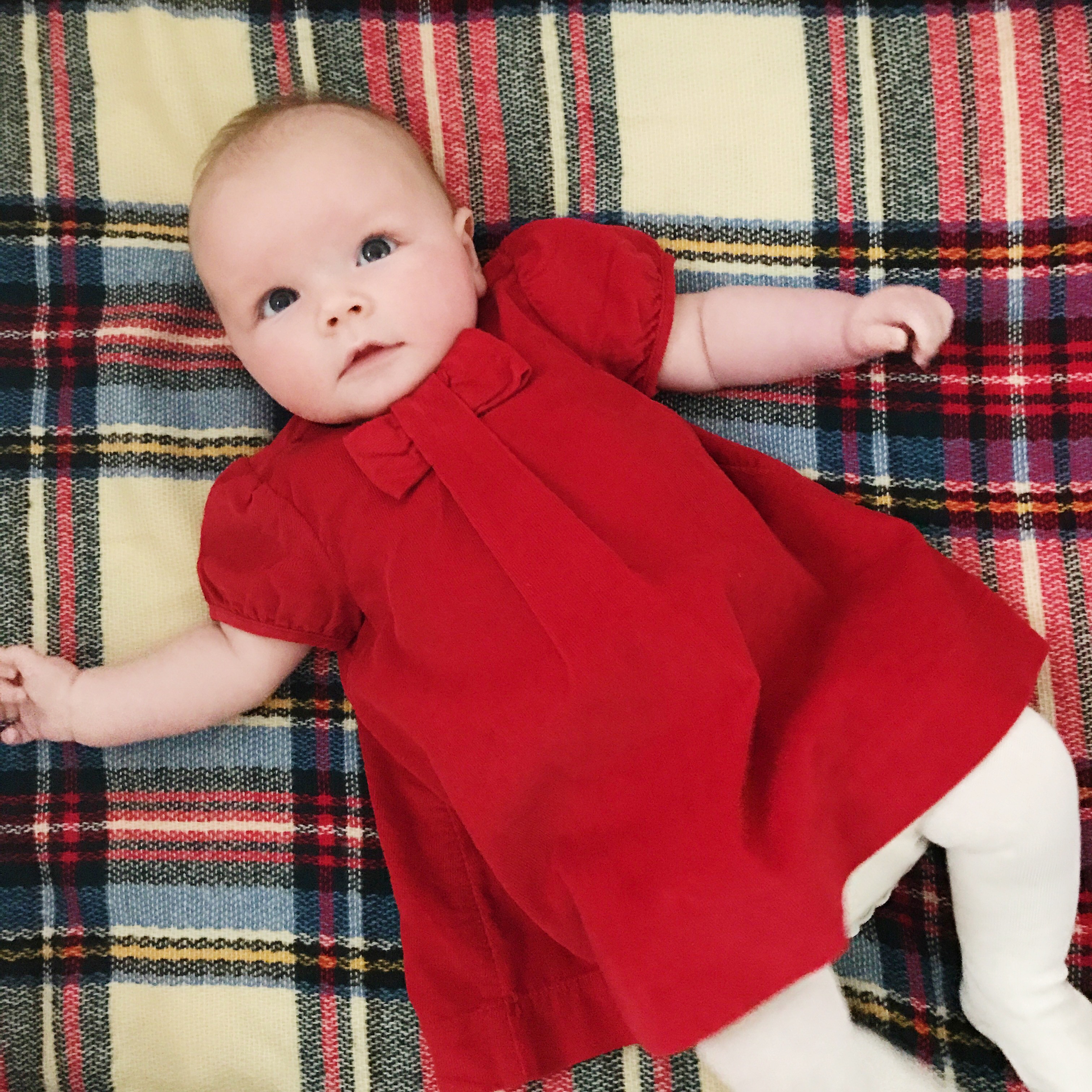 This is how easy it was:
I selected the card and uploaded three images that I wanted to include. (The tripod family photo, a pic of Emma in her bear Halloween costume, and an adorable Instagram snap shown above.) Then I selected the format that I wanted: one portrait and one landscape on the front, and one small square on the back with a text area below. I dragged and dropped the photos into their places, typed in our names, and included Emma's birth information under the square on the back. (We never got around to sending out birth announcements, so we figured that this could double as a Christmas card and birth announcement!) Then I selected an envelop color and envelop liner, and clicked "order." Again: the entire process took me less than five minutes!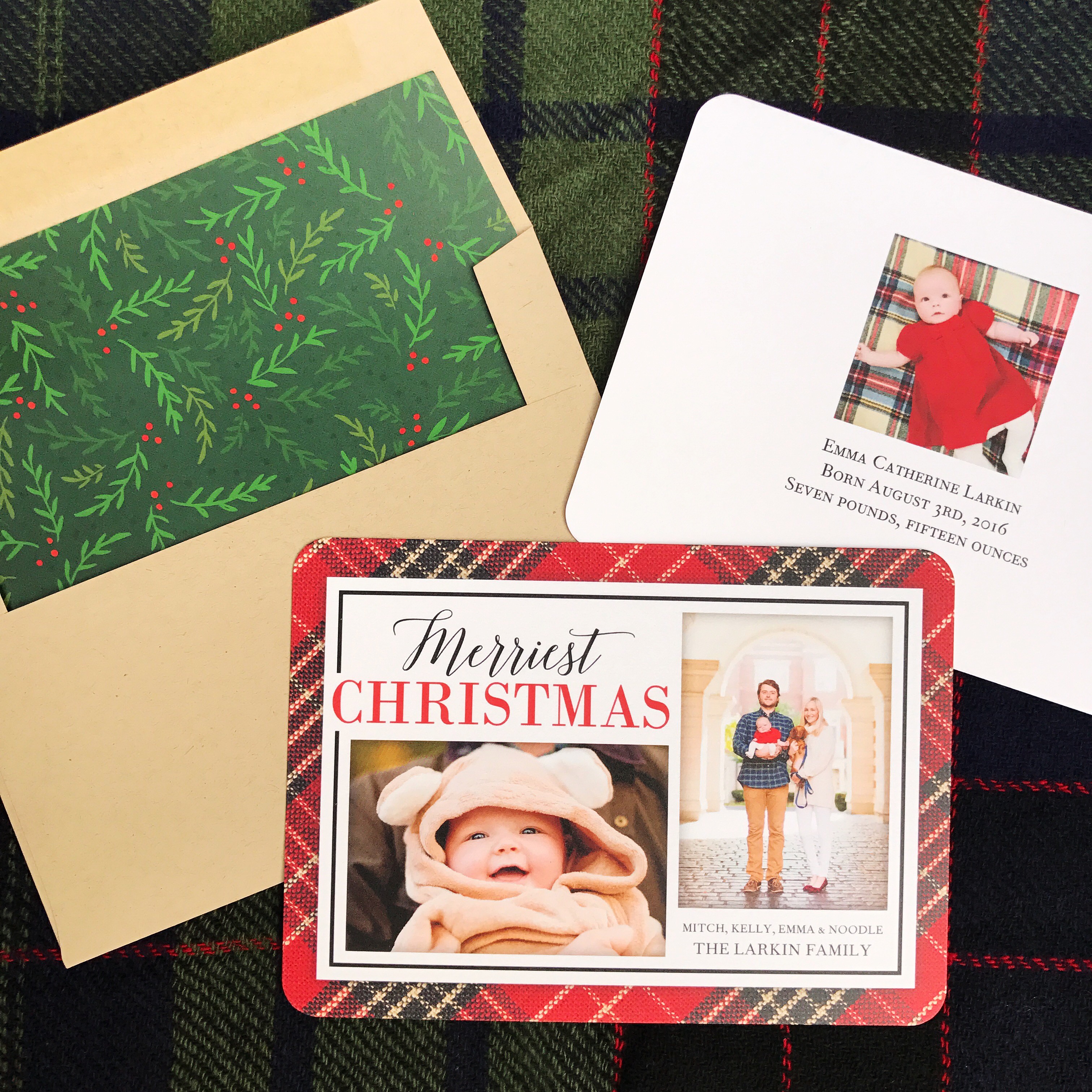 Isn't it just the cutest? I'm so in love, and I can't wait to send it out to our family and friends after Thanksgiving. Look at us! For the first time ever, we got a holiday-related task done early. Thank you, Shutterfly!
Interested in ordering your holiday card through Shutterfly? There's a huge range of designs to choose from! My favorite categories are Iconic, Rustic, and Merry & Bright. And there are so many fun stationery components you can personalize, like the envelopes, liners and address labels. The cards themselves are customizable, too. For example, you can choose between paper type (Signature Cardstock, Photo Paper or Pearl Shimmer Cardstock) and trim options (Square, Rounded, Bracket, Ticket or Scalloped).
After that, Emma and I ordered a bunch of presents. As you guys have probably noticed, I post a lot of photos of Emma on Instagram. The snaps are some of my most-loved pictures of her, but as they're all in a square format, I always assumed meant that I couldn't really do anything else with 'em outside of social media. But Shutterfly has so many gift options that utilize the popular square photo formatting, and I love that we're now able to give some of our favorite memories to our families! So meaningful.
A few presents we made with Emma's Instagram pics: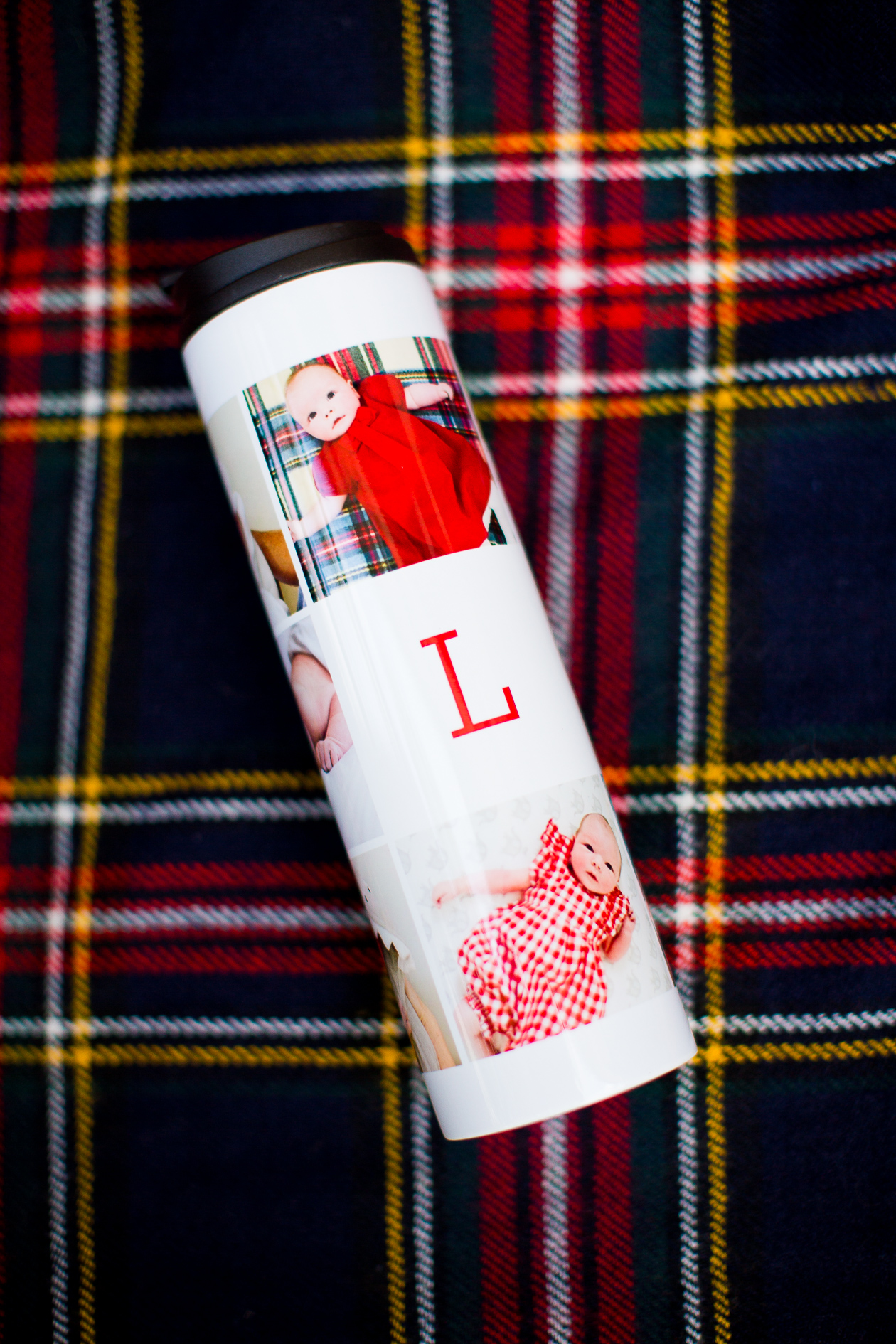 Monogrammed Travel Mug: Emma is giving this to her daddy! As you know, Mitch has a very demanding job, and sometimes it's really hard for him to leave our little family in the morning. (It's the "Sunday Scaries" but every day.) The one thing that seems to get him through is coffee! Right now, he's using a plain stainless steel travel mug… but how cute is the one that Emma made for him?! Now he can look at her smile all day. :)
"Even Squares" Frame: We ordered two of these, and they're going to both sets of parents. I got the idea when my mom called a few weeks ago and told me she needed me to send her some photos of Emma that she could frame.
Both of our families have great "family text" chains, and we text each other constantly. We love it, as it's a great way to both stay in touch and share photos of Emma. Now some of the families' favorites are preserved forever!

Traditional Monogrammed Mug and "Gallery of Three" Mug: Since drinking coffee is such a big part of our visits home to both families (seriously can't even count the number of pots we all go through every morning!) we thought some cute "Emma mugs" were in order. I adore how they came out!
Creating everything was just as easy as creating the holiday cards: choose from a couple of options like font, color, layout, etc; upload photos; drag and drop the pics into place; and order. And can you get over how professional and beautiful the final products are?! Emma is SO excited about giving them to her Daddy and grandparents on Christmas. (And don't worry: Mitch, my parents and my in-laws all promised that they wouldn't read today's post!)
Anyway, I can't recommend using Shutterfly more. New parents aren't the only people who are short on time during the holidays… am I right?! It's the most wonderful time of the year, but it can also be the most stressful time of the year. With so many gifts–and our holiday cards–crossed off our list in November, we're setting ourselves up for the best Christmas yet. :)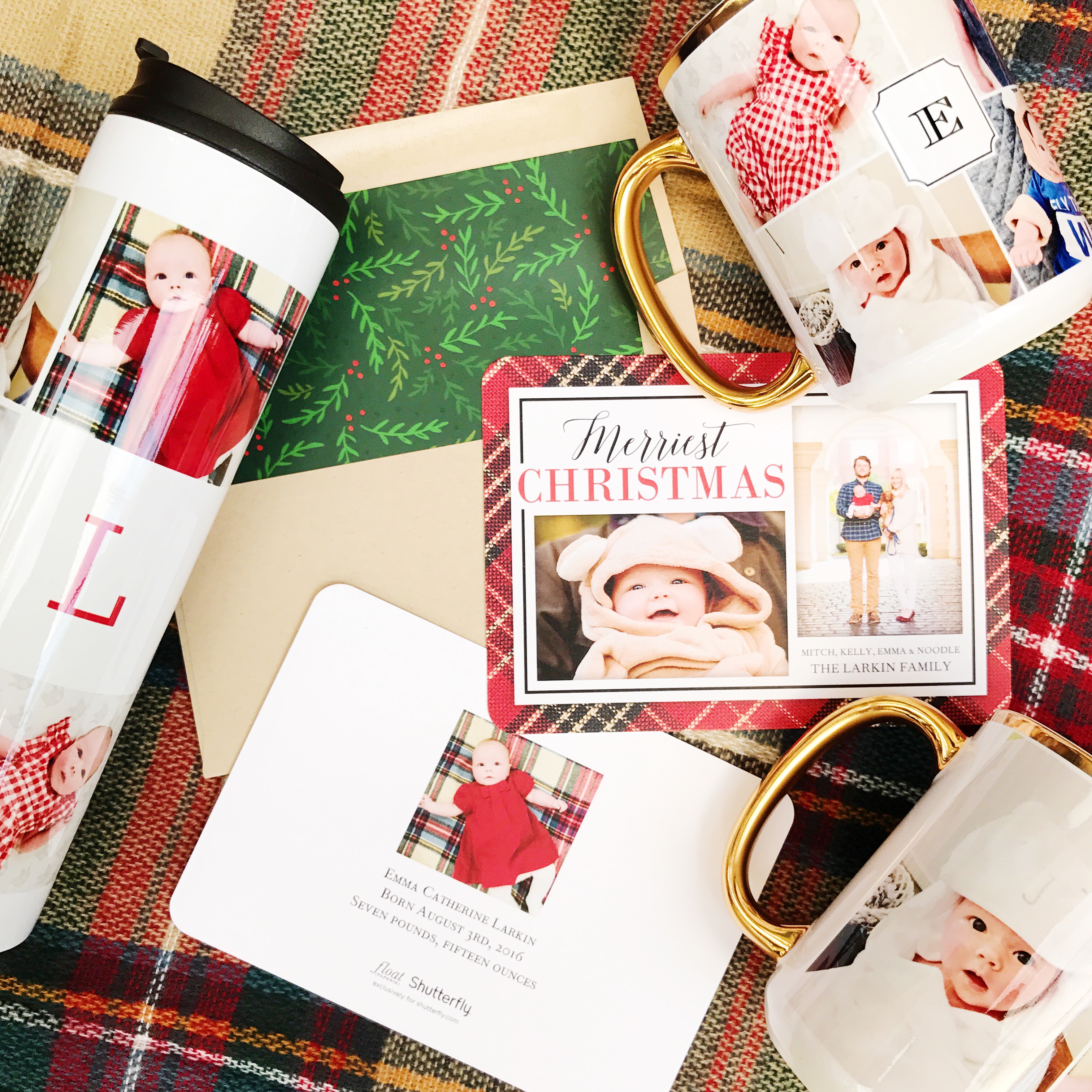 What are looking forward to most this holiday season?
This post is sponsored by Shutterfly. Share and celebrate your family milestone. Shop Shutterfly for personalized holiday cards and gifts that are unique, meaningful and just the way you want.
And as always, thank you for supporting the partnerships that keep Kelly in the City up and running! Without you, this site wouldn't be possible. :)