Joules Women's Harbour Shirt and Joules Men's Harbour Shirt c/o / Gap High-Rise Jeans / Sperry Loafers (Also have and love the camel suede version!) / J.Crew Beret / Men's Mime Accessories / Women's Mime Accessories / Red Suspenders / Mitch's Dark Jeans / Mitch's Polo Sneakers / Face Paint (Crayons seem small but it's more than enough!)
I have no words. 😂
Actually, yes I do.
Mitch: "You're just not cut out to be a mime."
Kelly: "Was it something I said?"
Mitch: "Yes."
Hahaha!
Yesterday morning, I shot an Instagram project for Joules, and I laughed so hard once I had the chance to cull the photos.
The whole thing was so much fun, but it was also such the challenge, as Chicago public school teachers are currently on their fifth date of striking (and Lucy hasn't come off the daycare waiting list yet).
So at the moment, we're just trying our best to get by over here. 😜 For this collaboration, it meant shooting while we were trying to feed the girls breakfast, directing a crew of movers up the stairs and into the right room with a new bed, fielding phone calls from Home Depot because the tile guys never showed up to install the backsplash, and rescheduling a downtown meeting because it just wasn't in the cards. (Any other moms out there constantly overestimating how much you can do in a day? GUILTY.) Oh, and our camera also refused to pair itself to our new phones, so that made for some fun tripod adventures. 🙈
But WE DID IT. And we laughed so much throughout the whole thing. In all seriousness, though, we're *speechless* (😉) about how many costumes we can get out of our classic striped Joules Harbour Tops! Favorite photo is #2, where "Mitch the Criminal" looks thrilled and I'm clearly like "omgomgomg are we going to get caught what are the repercussions for something of this nature how many years in prison MAYBE WE SHOULD GIVE IT BACK." 😂 Then again, I also really love the mime pics in which Mitch's white face paint is all over his outfit. Though I did get it all over my inside of my beret… so I guess I *really can't talk.* (See what I did there? 😉)
The point of this little photo series was to show how many costumes you can get out of just one classic and super preppy shirt… and I have to say that I was pretty amazed by the results of the challenge! We simply used pants and shoes we already owned, and then bought a few costume-specific accessories for each "look" via Amazon, each of which cost no more than $15. (Side note: How did people parent and do Halloween before Amazon? I'll never know…)
Anyway, it was such a quick, easy and painless way to tackle Halloween costumes… and if you're at a loss as to what to "be," consider some of these looks!

Above are my favorite products from the shoot as well as the accessories for each costume, which we found via Amazon. Again, would love to know what you're planning for Oct. 31!
Joules Women's Harbour Shirt and Joules Men's Harbour Shirt c/o / Spanx Faux Leather Leggings / Sperry Loafers (Also have and love the camel suede version!) / Mitch's Dark Jeans / Mitch's Polo Sneakers / Bank Robber Accessories
Joules Women's Harbour Shirt and Joules Men's Harbour Shirt c/o / Gap High-Rise Jeans / Tuckernuck Red Ballet Flats / Women's Sailor Accessories / Men's Sailor Accessories / Mitch's Light-Colored Jeans / Mitch's Polo Sneakers / Kelly's Sunglasses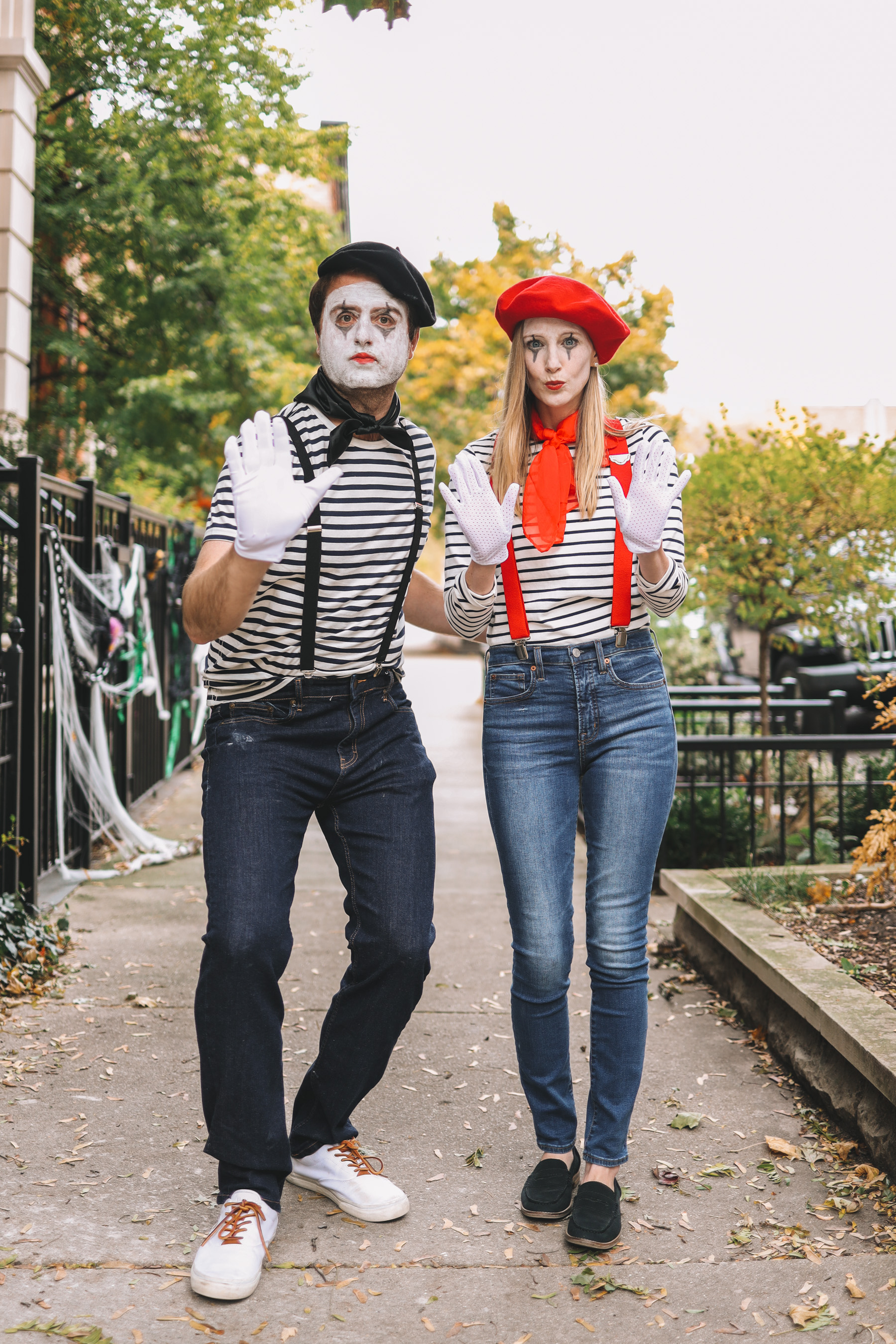 Joules Women's Harbour Shirt and Joules Men's Harbour Shirt c/o / Gap High-Rise Jeans / Sperry Loafers (Also have and love the camel suede version!) / J.Crew Beret / Men's Mime Accessories / Women's Mime Accessories / Red Suspenders / Mitch's Dark Jeans / Mitch's Polo Sneakers / Face Paint (Crayons seem small but it's more than enough!)