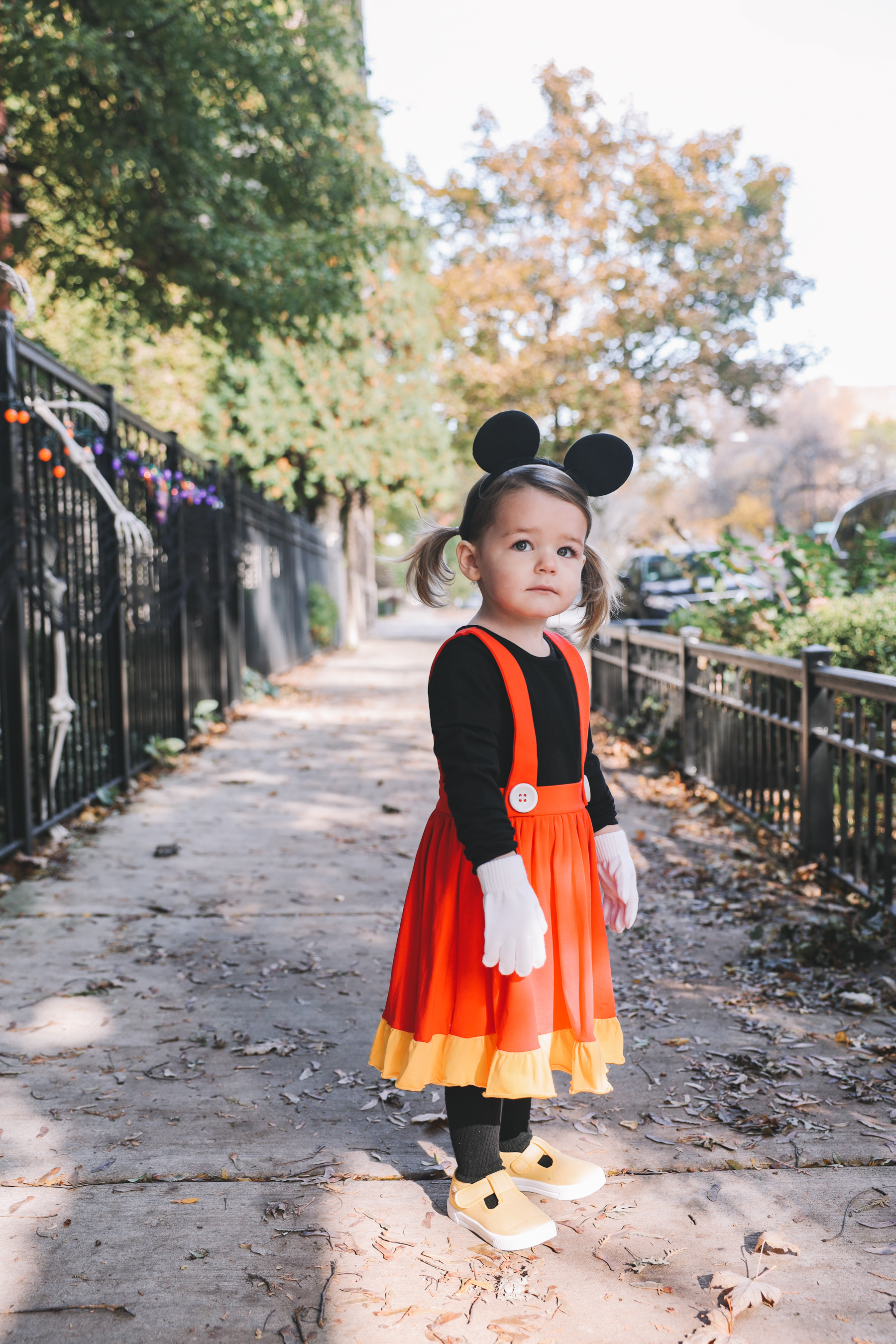 Toddler/Girls' Mickey Mouse Halloween Dress Costume / Long-Sleeved Black T-Shirt / Ears / Tights / Yellow Sneakers / Gloves
Okay, cutest story (which you may already know if you read the blog regularly):
Lucy wanted to be Mickey Mouse for Halloween, but she wanted to wear "a dress like Emma." And no, she did NOT want to be Minnie Mouse; when I proposed that idea, she literally screamed in horror. 😆 Listen, I love it. Who says a little girl has to be Minnie?! She doesn't! I'm really freakin' proud that Lucy was insistent on being Mickey—but where to find such a costume? (Note: I had no interest in learning how to sew, haha.)
ETSY, obviously! I found the perfect costume from the small business Only Little Once Designs. And let me tell you: Their stuff is incredible. (Btw: OLODesigns also makes a Minnie costume.) I can't get over how wonderfully the dresses are made, or how timeless-looking they are. Sure, Amazon princess dresses are great! And we have a bunch. But for Halloween or other very special occasions, OLODesigns knocks it out of the park.

We're hoping to do Disney again this year, and I will once again bring each girl a princess dress since the Bippity Boppidi Boop Boutique is way pricier!
Also, how perfect is this Nutcracker-inspired nightgown for the holidays?!
Anyway, Lucy loved her costume and had the best time trick-or-treating. She kept cheering, "I'm excited for Mickey Mouse Halloween!" It made me tear up a few times! Also, I have to tell you that whereas Emma was pretty shy about going up to the candy chutes, Lucy went back to the same chutes again and again, sticking her bag underneath them and saying "I did it!" every time. Luckily the homeowners got a kick out of it. ;)
We love you, our little Lucy Mouse!
Sizing info: Lucy is 2.5 years old, and she's wearing a size 4 here. She's on the bigger side, but I also wanted her to be able to get at least a year or two's wear out of the dress!
Shop the post:
Toddler/Girls' Mickey Mouse Halloween Dress Costume / Long-Sleeved Black T-Shirt / Ears / Tights / Yellow Sneakers / Gloves