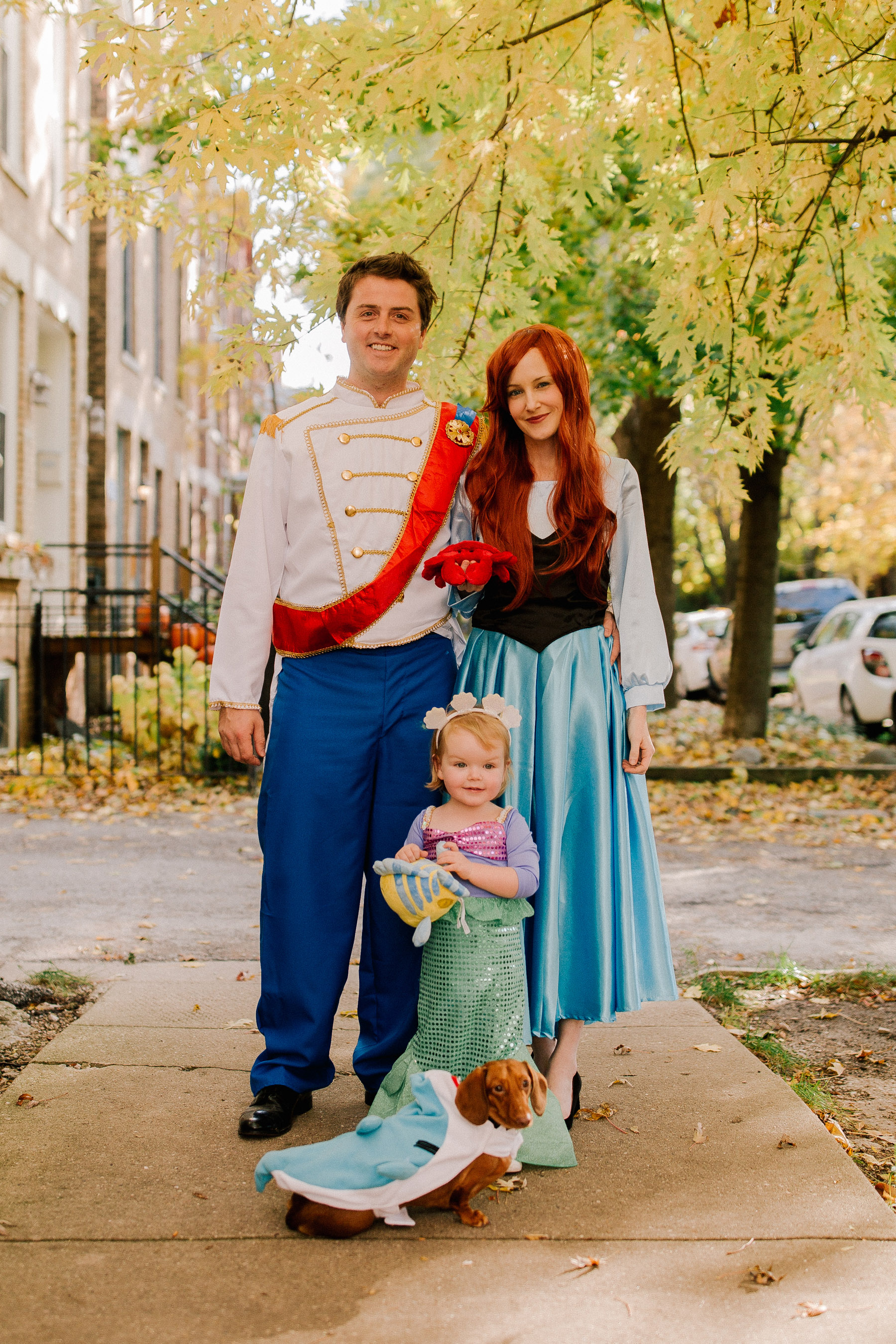 Prince Eric / Toddler Ariel / Adult Ariel + Wig / Shark / Flounder / Sebastian
Woops. A few weeks late but better late than never, right?! I mean, I had to share, because I'm pretty sure this past Halloween was the best day of Emma's life. 😂
Little Mermaid Halloween Costumes
If you've been reading here for a while, you know that Emma is obsessed with "The Little Mermaid." She tends to go through phases of obsession; first it was "Moana," then it was "Enchanted," and finally "The Little Mermaid." I actually think we're at the tail (haha) end of our mermaid craze, and we might be moving on to "Love Monster," which is a children's book series. But we asked Emma what she wanted to be for Halloween for the longest time, and the answer was always "MERMAID!" So that was that!
I really wanted to make the costumes by hand, because my mom made my Ariel costume when I was a kid, and it was perfect and so special–and I wanted to be able to do that for Emma. But… you know: life. (Also an inability to operate a sewing machine.) So instead, we ordered everything via Amazon and eBay a solid 1.5 months in advance, and it was SO nice to not worry or need to run around the city last-minute looking for everything.
It was also really affordable…
Emma's costume was $16, mine was $34 + the $14 wig, Mitch's was $37, and Noodle's was $8. (We tried to get a King Triton costume for Mitch, but everything was absurdly expensive. Now, of course, there are so many options!) And I'll say that even though we purchased our costumes, the day was just as special… which was a nice little reminder to focus on what's really important. Emma didn't care whether Mommy made or bought her costume; she just wanted to feel like a princess and have fun with her parents and friends. :)
And guess what? Emma's $16 costume was fabulous! It was a one-piece, which made things easy, and it was polyester, so very comfy. The little girl was in heaven, and I loved seeing the magic through her eyes.
PeeWee Celebration
Emma's half-day peewee program, which is kind of like a pre-school, threw the most wonderful celebration. Getting there by 9 a.m. in costumes was a little challenging, but everyone made it… and the kiddos painted pumpkins, marched in a parade, and went trick-or-treating around the club. The parents came to watch the parade and help the kids trick-or-treat, so you can see everything in my "Halloween" highlight on Instagram Stories. The cutest, right?!
Mitch and I can't believe how wonderful PeeWee has been for Emma, and we can't imagine life without it. Her social skills have advanced, she's learned a ton, she's becoming so much more independent and adventurous, and she's made wonderful friends. As have we! It's really helped us meet other young families in Lincoln Park, and I'm forever grateful for that as well the PeeWee staff, who care for the kids like they're their own. :)
Pizza Party
After PeeWee, we ran home to clean the house which was a TOTAL disaster. I'll tell you: never have I felt so short on space in my life–including that time I lived in a 400-sq-ft apartment in NYC–than I have right now, haha. We certainly need to move in the next year; we're in desperate need of a play room and additional living space. For now, though, we're just trying to stay on top of the toys and clutter as best we can… and I really couldn't believe how quickly we whipped the place into shape!
Our friends arrived around 3 p.m. for a little pre-trick-or-treating party. Life has changed so much over the last couple of years! It wasn't long ago that we were having house parties that lasted until 3 a.m., but now we do things like host kiddie Halloween pizza parties. ;) But it was so nice to have Blair, Rob and Owen; Shaheen, Trevor and Zain; and Jess and Neal (and Noodle, haha) over like the good old days. I wish I'd taken some photos of the party, but you can see it in those IG Stories! Lots of laughs and a little catching up, as it's difficult to really talk when you have three toddlers running around and a miniature dachshund trying to steal their pizza. ;)
Trick-or-Treating
We started out strong, but it took us roughly 10 minutes per house, so we only made it down our block and then halfway up the other side of it.  😂 And amidst all the events, poor Emma hadn't been able to take a nap, and ended up having a little meltdown. So tired!
We went home and tucked her into bed in her mermaid pajamas… and through her tears, she told us that she'd had a great Halloween. (The sweetest.) We hung out with our friends a little longer, but everyone needed to leave around 7:30 for bedtimes, of course. It seriously felt like one of those 3 a.m. nights at that point, though, so that was fine, haha.
Oh, and Prince Eric and "Ariel with Legs" crashed on the couch almost immediately. ;)
All in all, I think it's fair to say that we crushed Halloween!
We got no troubles
Life is the bubbles!
Under the sea…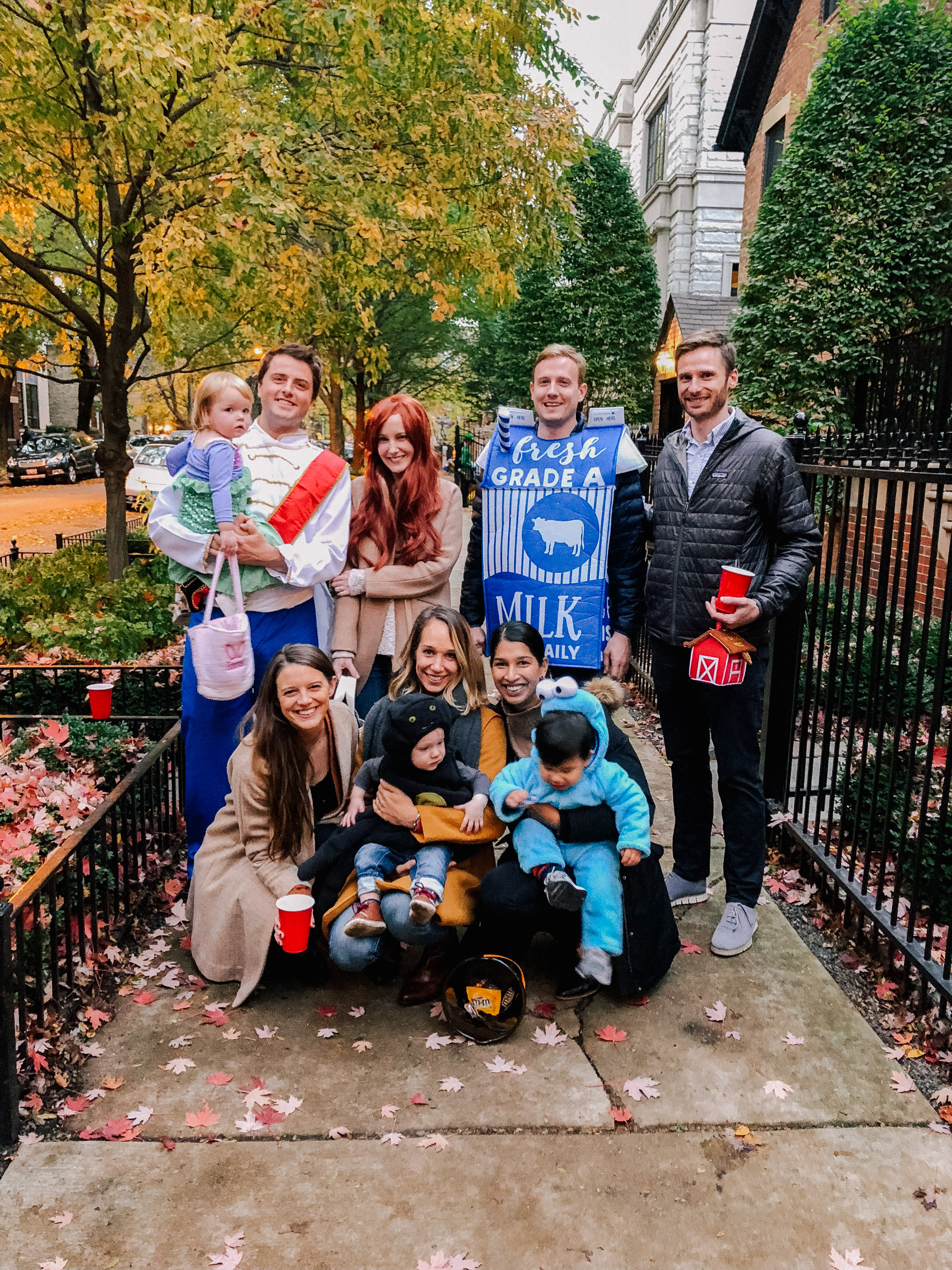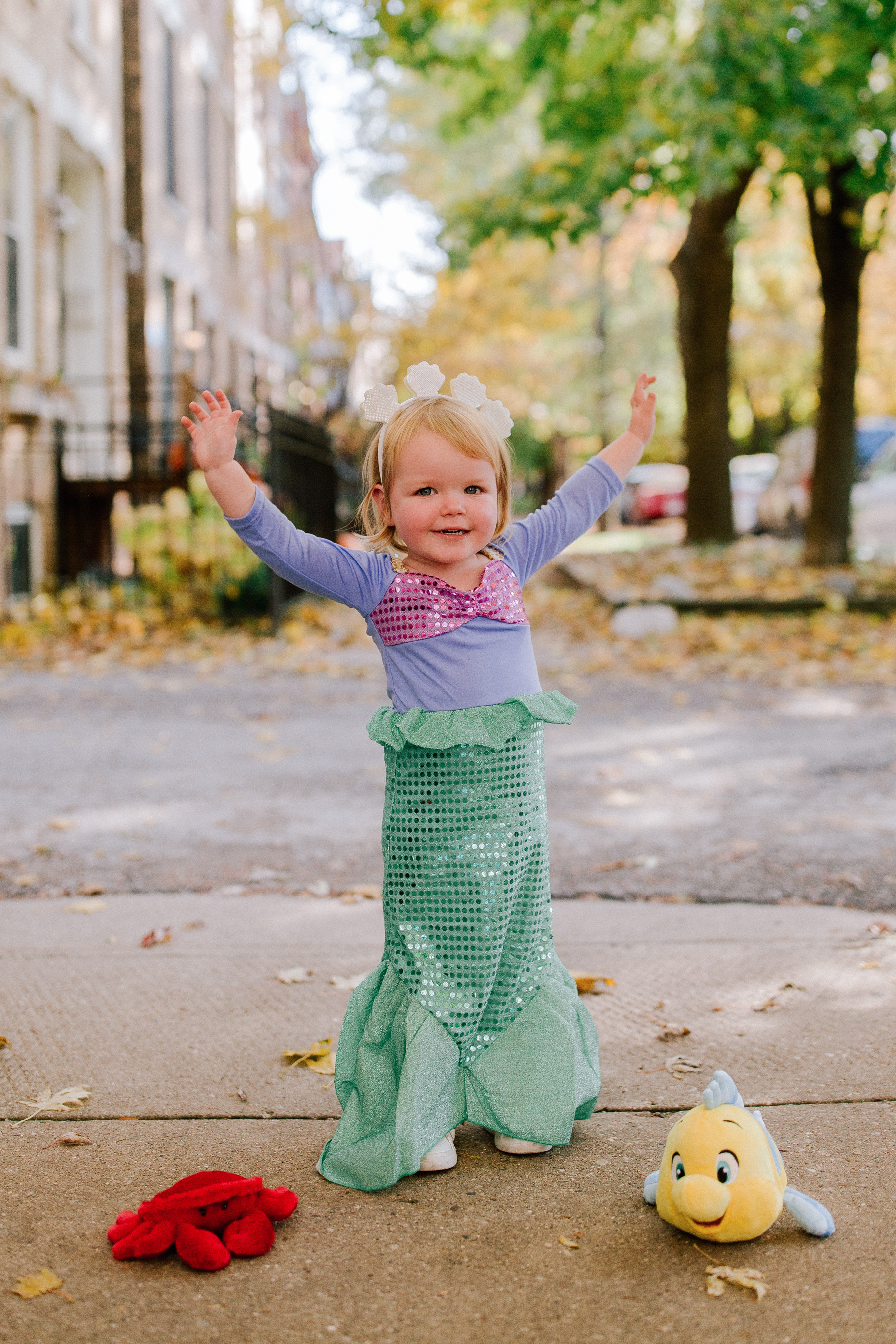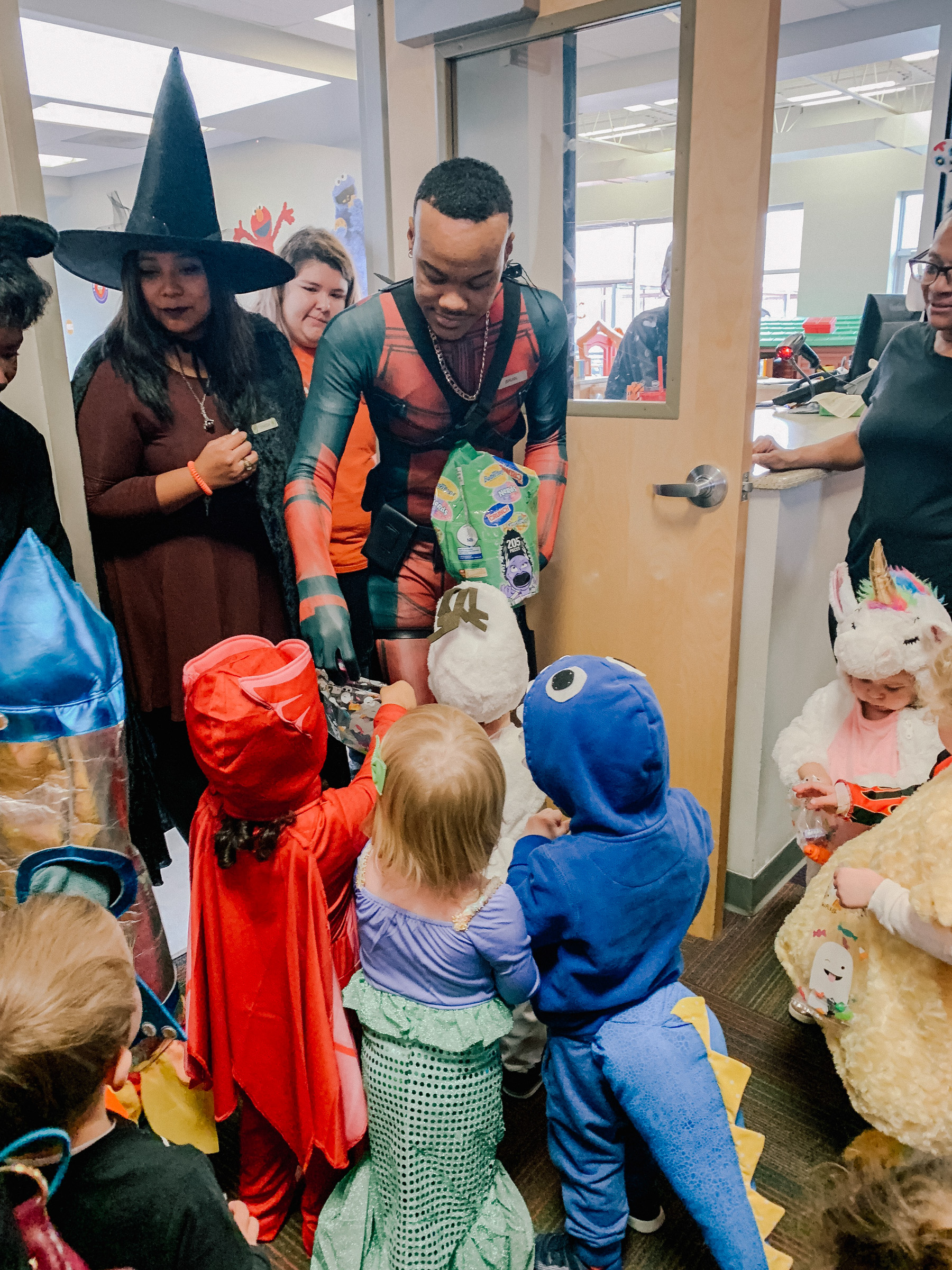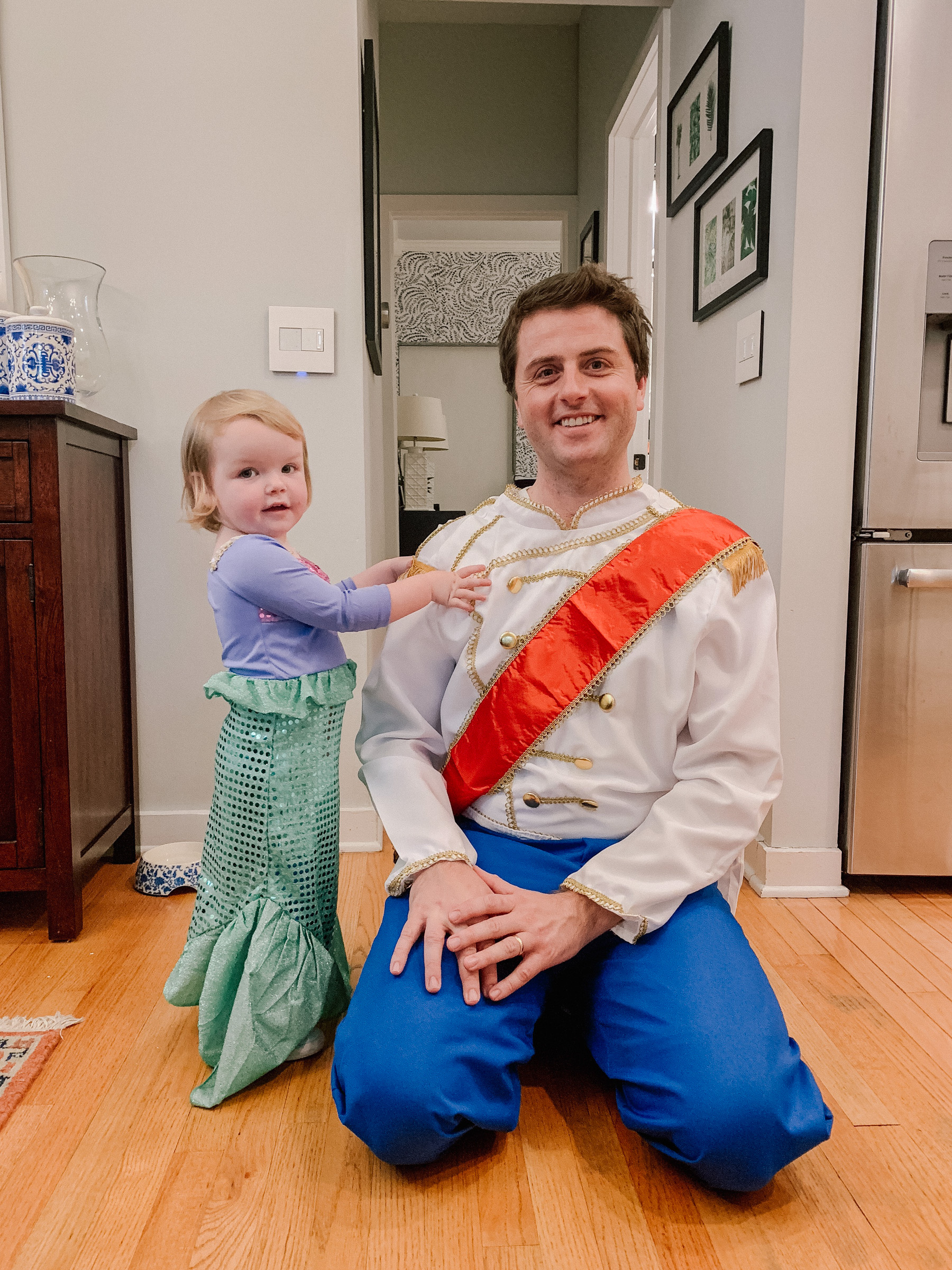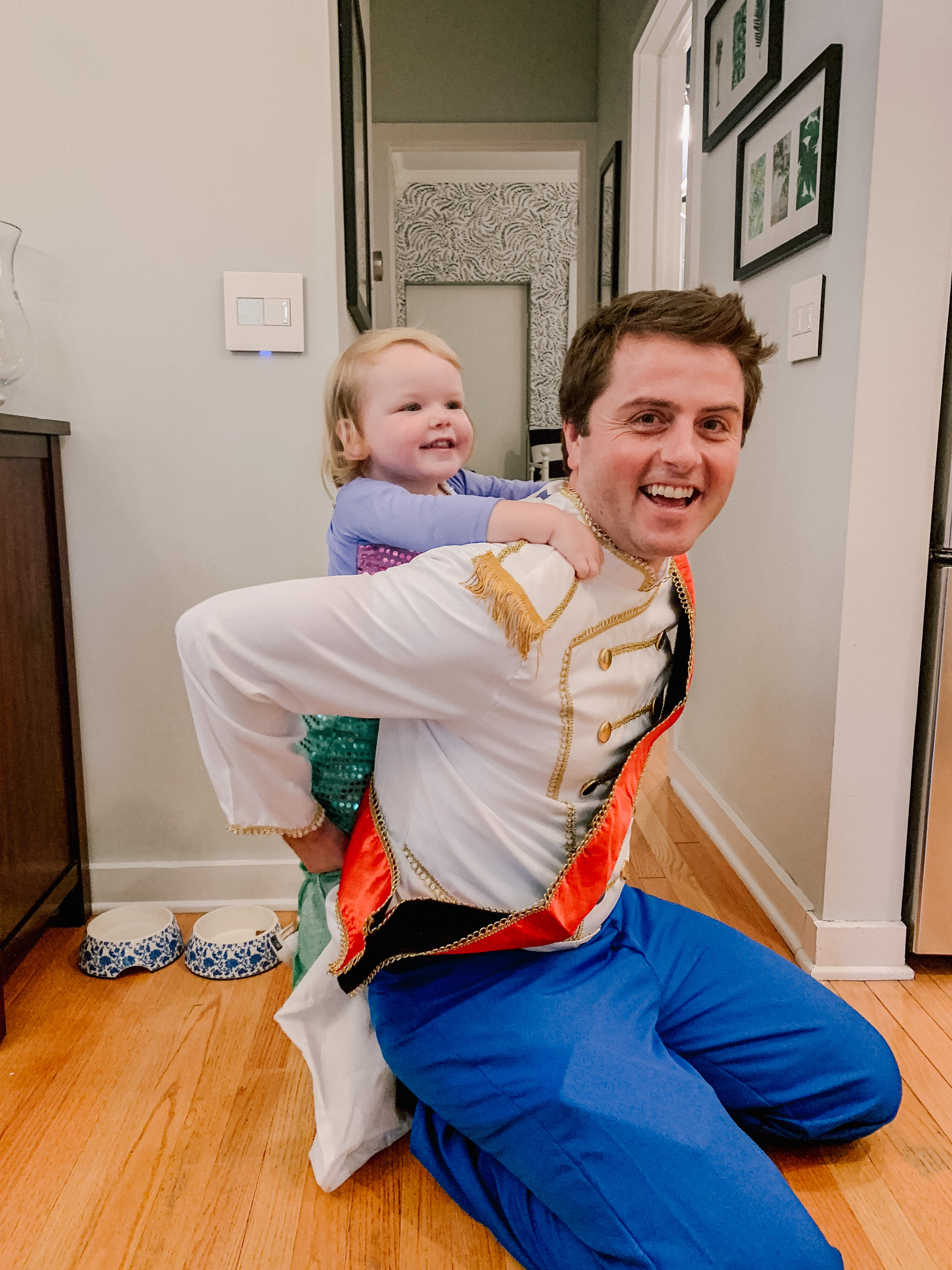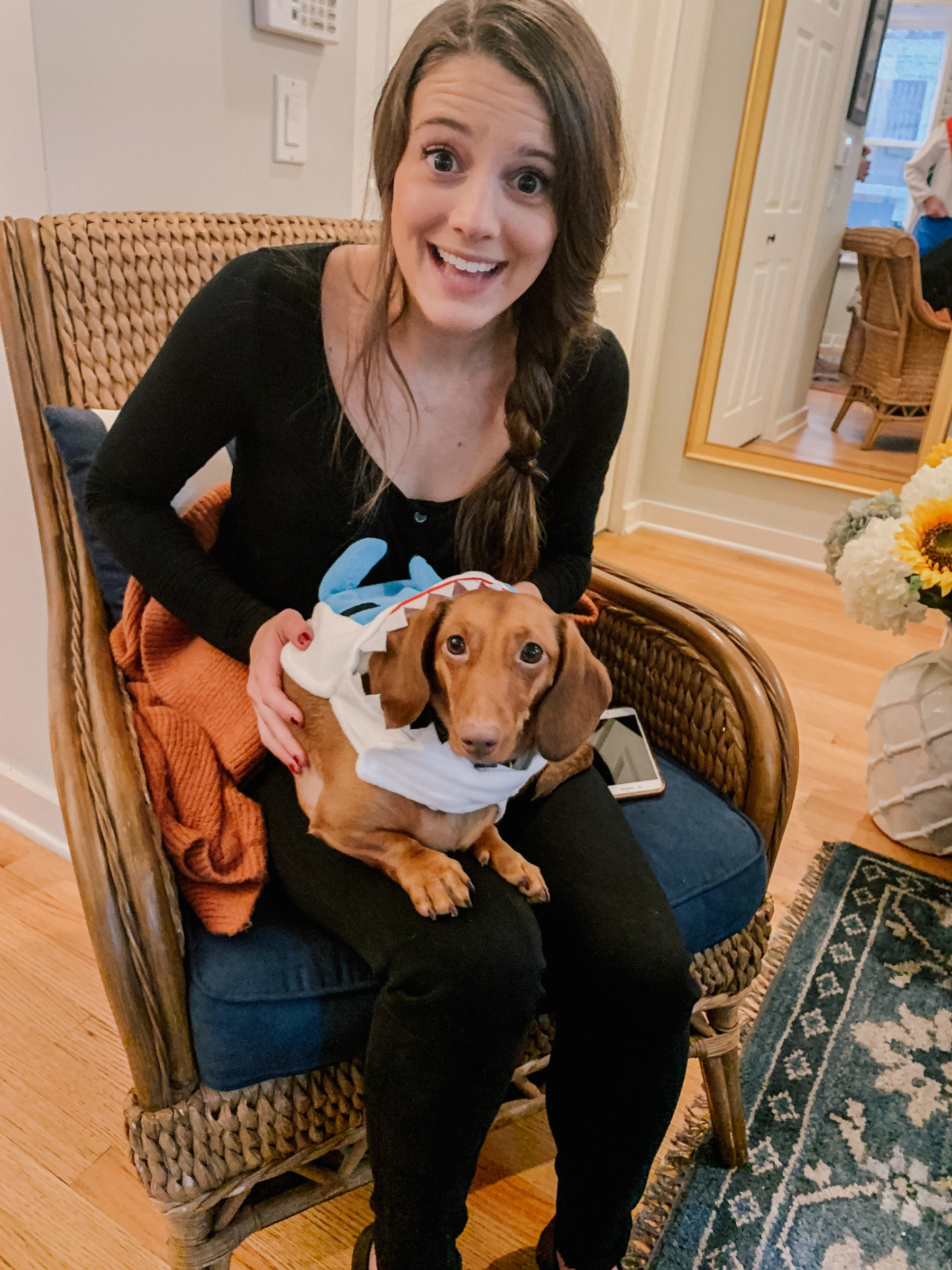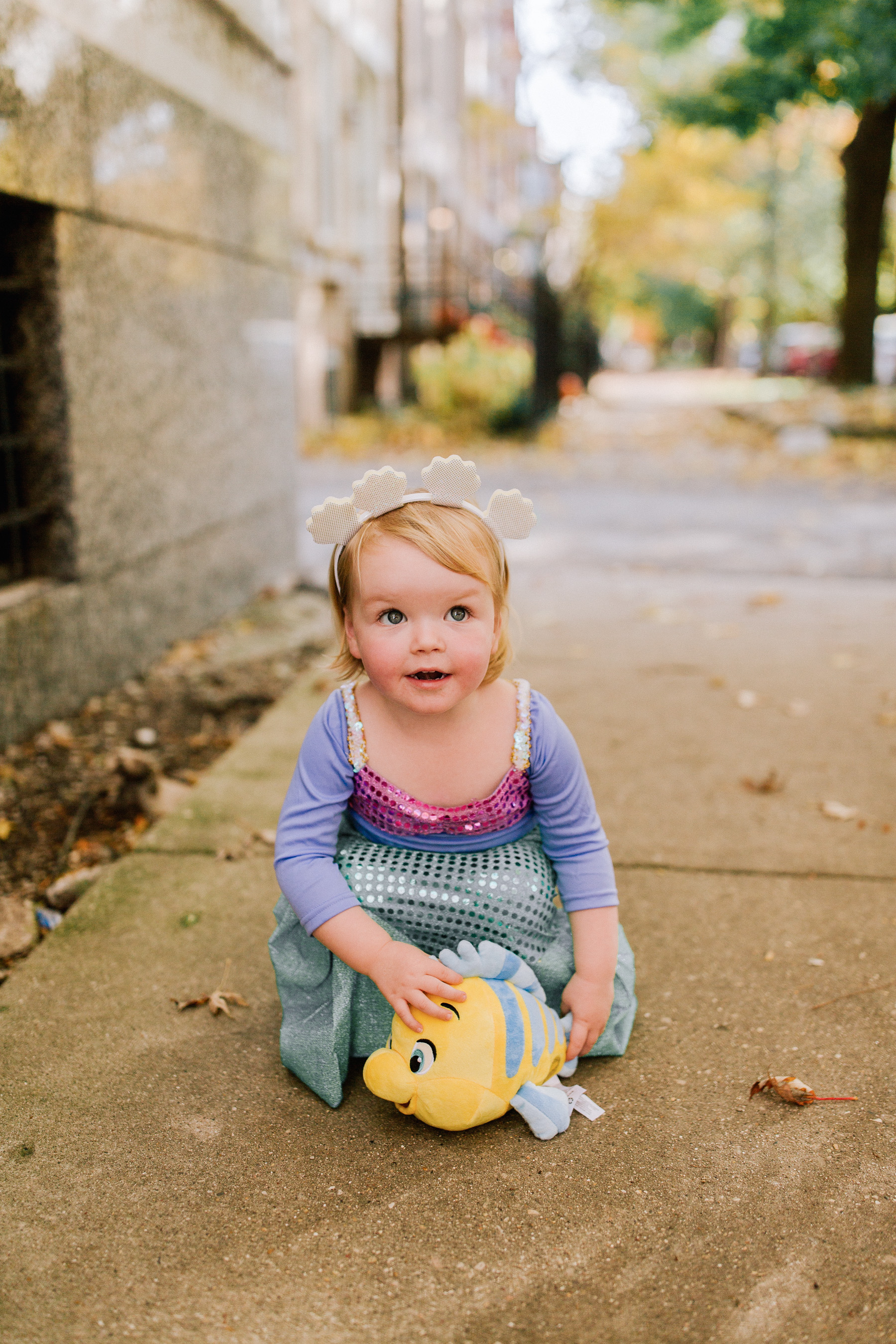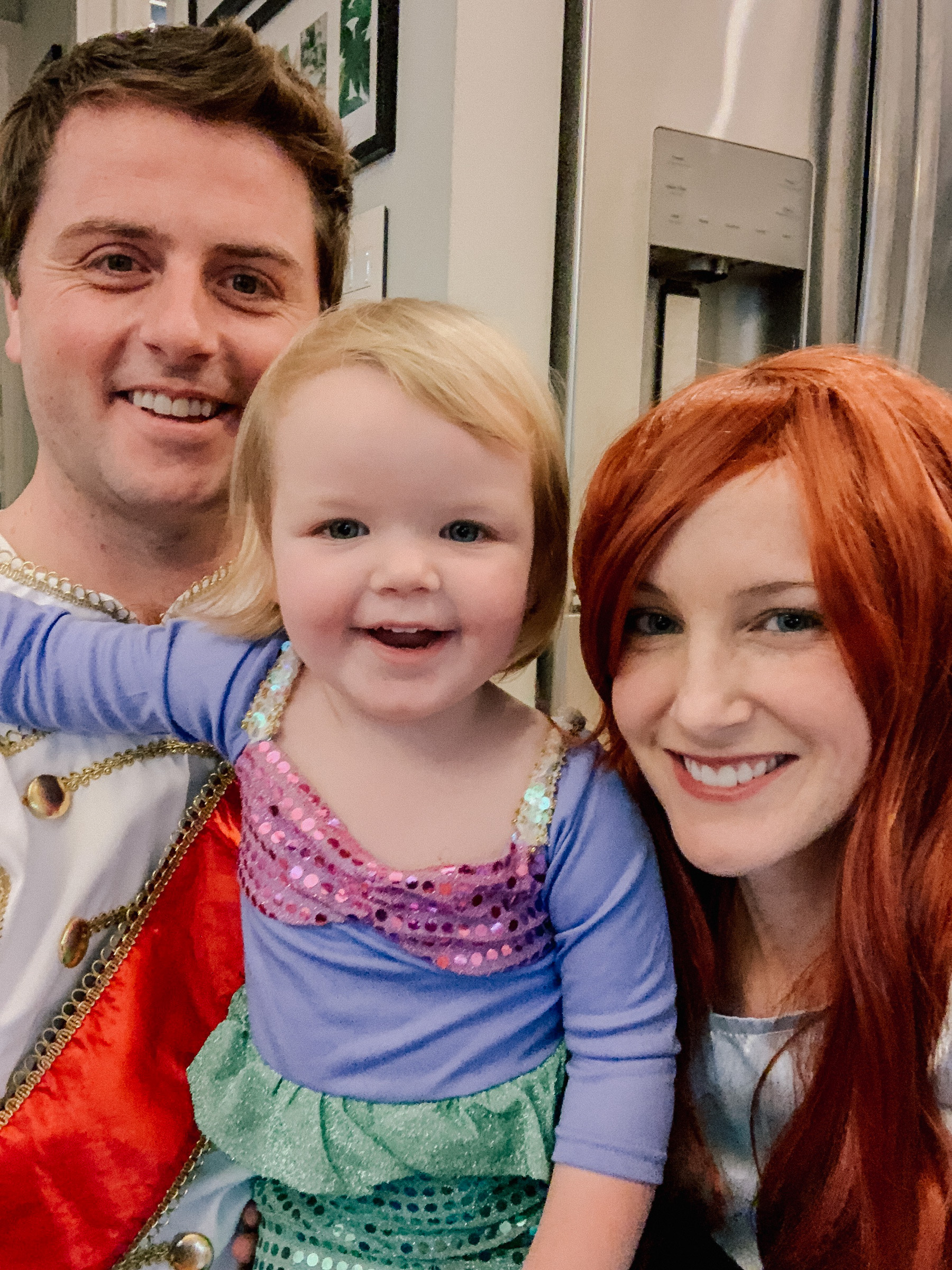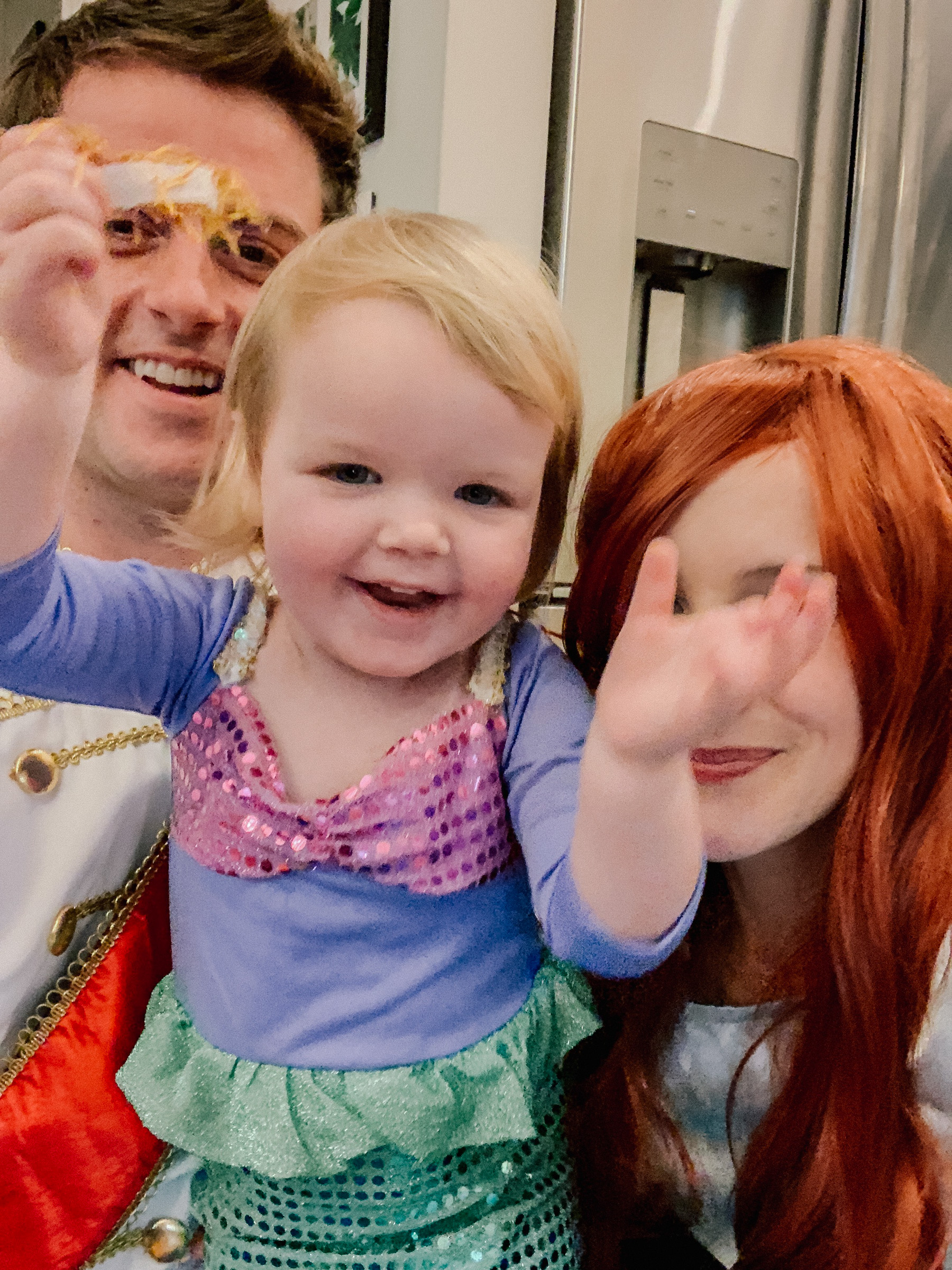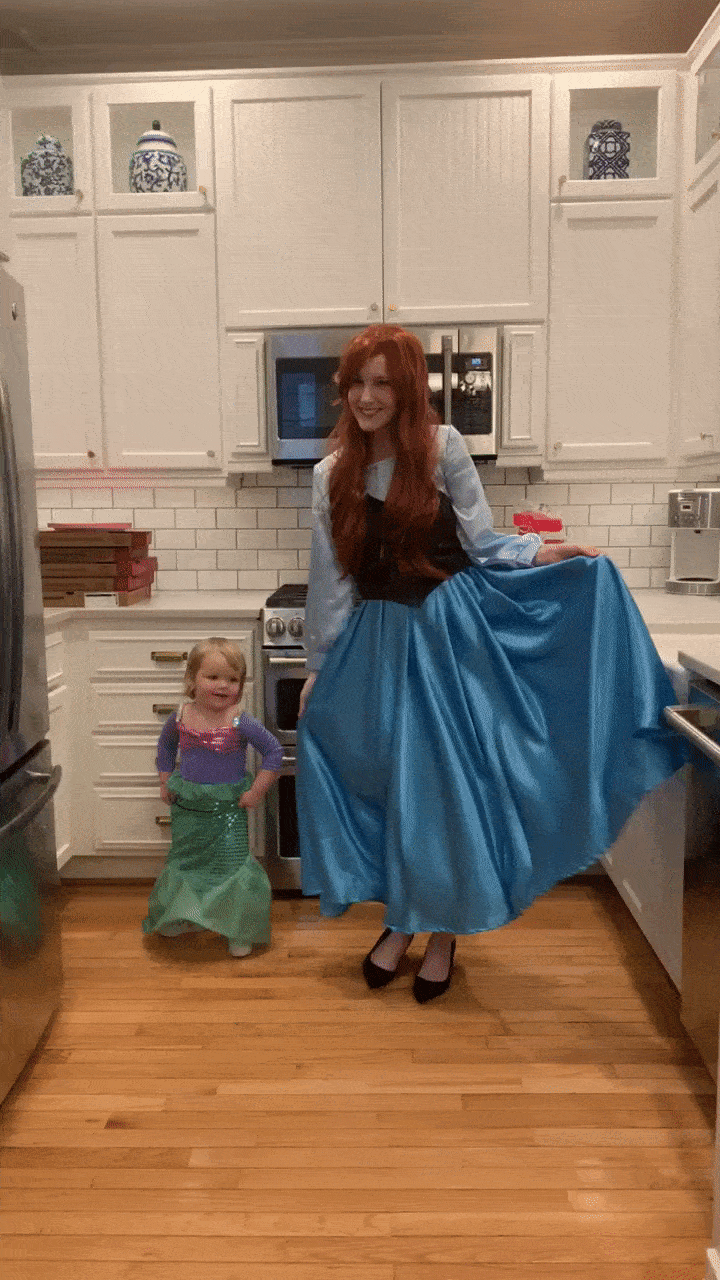 Costumes:
Prince Eric / Toddler Ariel / Adult Ariel + Wig / Shark / Flounder / Sebastian