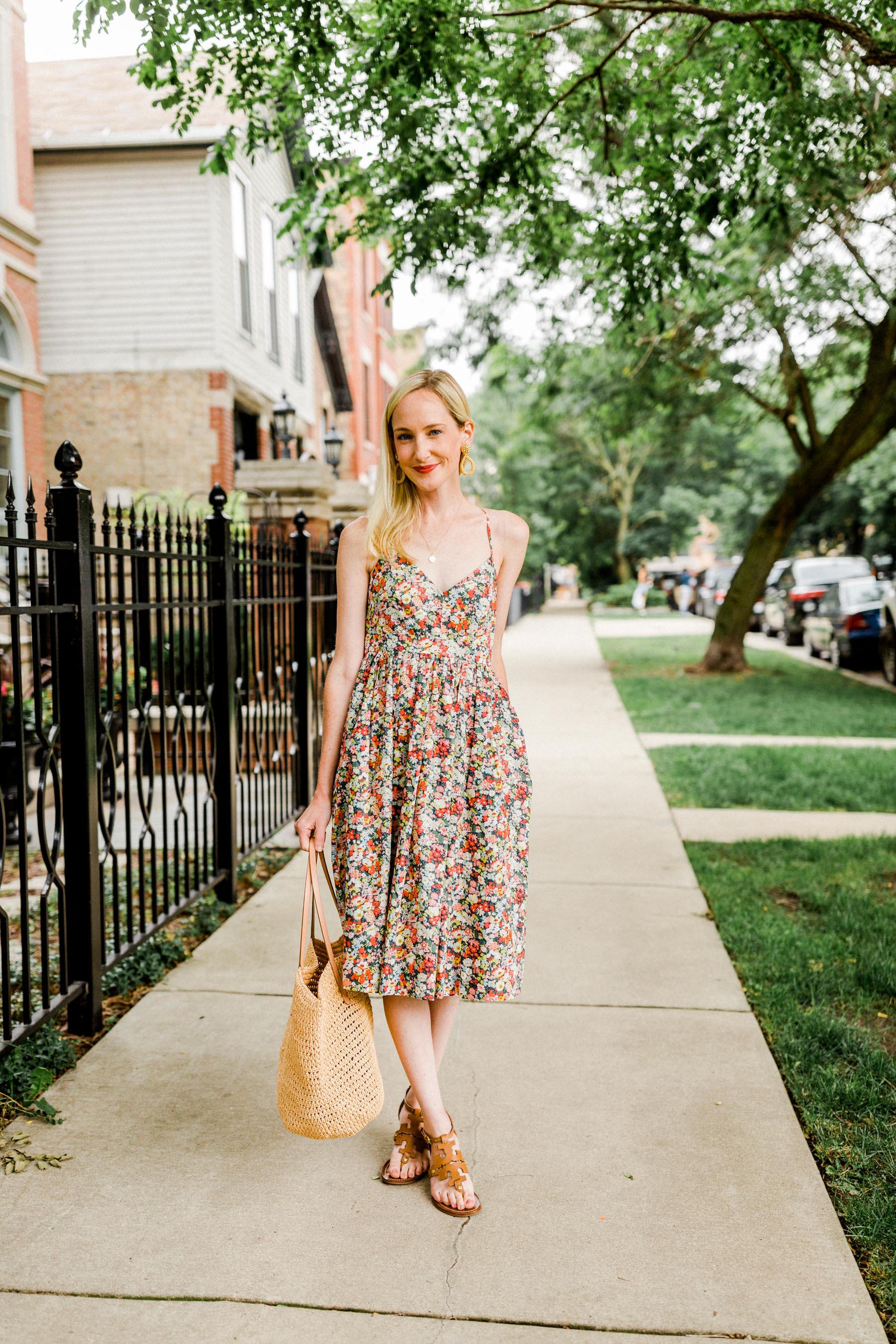 Liberty London Dress (Sold out, but the top, shorts, and pajama set are still available!) / Tory Burch Sandals (Old, but this current pair is my fave. Also similar here and here, and love this tortoise pair.) / J.Crew Tote (Such a steal!) / Lisi Lerch Earrings (Lisi Lerch is also available at Tuckernuck!) / Initial Necklace
Liberty London reminds me of my childhood. I remember jackets and overalls lined with the company's iconic patterns, and dresses with giant Peter Pan collars. It brings me back in the best possible way, and I really gravitate toward Liberty London-esque patterns for my own daughter. I mean, it's ultimate sweetness, right?!
I'm a little bummed that I waited so long to post these photos since the gorgeous dress I'm wearing is sadly sold out. :( BUT the top, shorts, pajama set and pumps are still available! So there's that. ;) And J.Crew is currently carrying a ton of other products in LL prints, too. I obviously adore this skirt which I wore here, and I have my eye on this dress and this dress, too.
Anyway, I wore this recently to Jess' second-to-last wedding dress fitting. It was SO unbelievably fun. I can't even tell you how gorgeous the girl is going to look on the big day… not that there was any doubt. ;) But seriously: her gown is out of this world, and it's completely custom! She's going to do a full blog post on the process of having a wedding dress made for you… but let's just leave it at this: it's like Mrs. 'Arris Goes to Paris but a zillion times cooler. I'm crossing my fingers I'll be in Chicago for the last fitting!
In other news, we're headed back to the city today. We've had a wonderful vacation; I actually did all my work before leaving so I could have a completely work-free trip… and it was incredible. I'm remembering this wonderful feeling, and I'm going to do everything in my power to get my all my stuff done before our trip out to Denver in a couple of weeks. :)
Hope you had a great holiday with friends and family. <3 In case you missed it, here's what's been going on around here as of late:
xoxo!

Shop the post:
Liberty London Dress (Sold out, but the top, shorts, and pajama set are still available!) / Tory Burch Sandals (Old, but this current pair is my fave. Also similar here and here, and love this tortoise pair.) / J.Crew Tote (Such a steal!) / Lisi Lerch Earrings (Lisi Lerch is also available at Tuckernuck!) / Initial Necklace