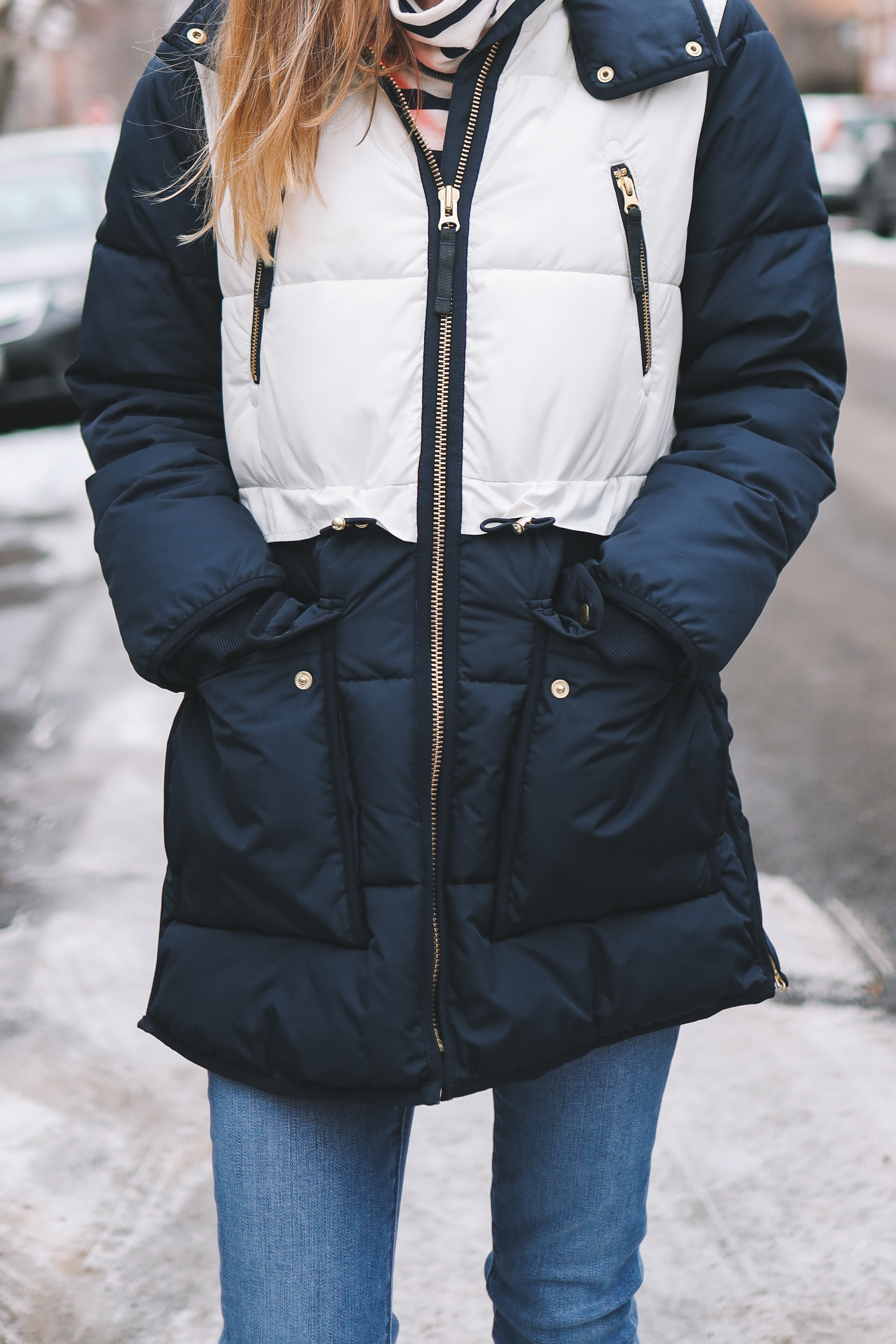 Solid J.Crew Chateau Puffer Jacket and in Navy/White Combo (Wool version here and girls' version here.) / Roadtripper Jeans (Comfiest line of denim ever!) / Nordic Boots / Striped Vintage Terry Turtleneck (Size down. LOVE IT! Gray and black solid versions on crazy sale here. Lighter speckled gray here. Solid pink, camel, white and green here.)
I am the official spokesperson for the J.Crew Chateau Puffer Jacket.
JK, I'm not. That's not a thing. 😆
But I am a fangirl, and I shall continue to show you the jacket in all the colors—okay, not all… but a lot—from now until Chicago does not look like a scene from Frozen.
Seriously, though: It's phenomenal. Here's everything you need to know:
It runs big, and you should go down one size. Please believe me on this one, haha. Whatever you would normally order, simply go down one size! I thought I knew better than the reviews and what happened? I had to exchange. Don't be me! ;)
It comes in several solid colors and in this navy/white color block combo. Be aware that the pink color is on the neon side, in an awesome way… and the red is way more orangey/reddish in real life. I think the most versatile colors are the black and olive green, but the brighter colors are very effective in lifting spirits during these gloomier months! (Btw: There's a little girls' version, too!)
It was inspired by the best-selling wool Chateau Parka. In my opinion, though, it's better. Because of the below bullet point.
It's lightweight yet ridiculously warm. My hopes were not high with this jacket, but LO! It's insulated with PrimaLoft, and it actually keeps me toasty in the dead of winter in Chicago. And as you know, that's saying something! It's like a gift from the gods. Mind = still blown.
The removable hood is lined with wonderfully soft shearling. That's so nice when the wind is particularly biting. Every bit of extra coziness is always appreciated!
It features gold hardware. It's very sharp-looking! The detailing doesn't go unnoticed, and I get a ton of compliments from masked strangers every time I wear it. ;)
It has tons of pockets. Great for stroller/dog walks and playground runs when you don't want to carry a bag. Heck, I can pretty much keep the whole family's mittens in those front two pockets.
It cinches at the waist. It's very flattering for a puffer coat! If you're not interested in looking like the Stay-Puft Marshmallow Man but need the warmth of a good puffer, this is the jacket for you.
It features thumb holes. I keep on forgetting to use these but people swear by them for warmth and the coziness factor!
It's machine-washable. HELLO. This is awesome. I'm constantly having to pick up my very short-legged dog, and it's always a mess. Throwing the jacket in the washing machine is a game-changer!
Shop the post:
Solid J.Crew Chateau Puffer Jacket and in Navy/White Combo (Wool version here and girls' version here.) / Roadtripper Jeans (Comfiest line of denim ever!) / Nordic Boots / Striped Vintage Terry Turtleneck (Size down. LOVE IT! Gray and black solid versions on crazy sale here. Lighter speckled gray here. Solid pink, camel, white and green here.)