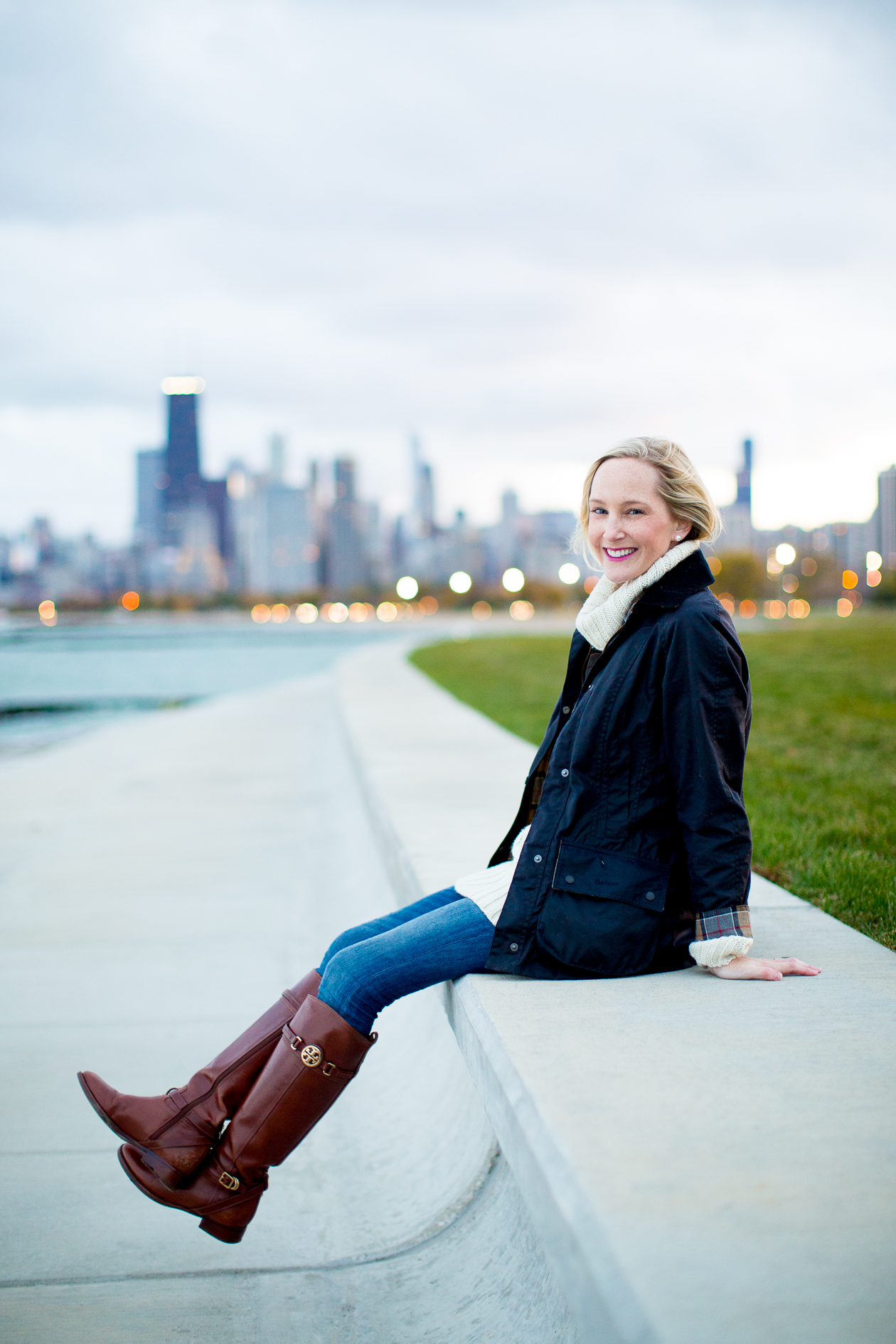 Cable Knit Turtleneck Sweater (I'm wearing a size small. I also love my fisherman sweater, which comes in a tunic version, and this one! So soft!) / Tory Burch Riding Boots (Mine are an older version. Also available here and here) / Rag & Bone Jeans (On sale! I now own two pairs. I promise I'm clean, haha.) / Barbour Beadnell c/o (Also available here — And I LOVE the quilted version, which is available here, too. Read my review of the quilted one here and the wax one here.) / Daniel Wellington Watch c/o / Emma's outfit is from Baby Gap / Similar to Mitch's jacket / Similar to Mitch's shirt (Also love this one, this one and this one!)

I know it's 8:30 p.m., but I wanted so badly to share these photos. :) I just can't get enough of Emma and her Daddy!
As we hosted our annual Halloween party last night, we decided to take today nice and easy. After grabbing lunch, we took a nice, long walk to Lincoln Park (the actual park, not the neighborhood) and stayed there until the sun set. Emma was all smiles, and I'm SO excited about the pics I snapped of her cheesin' with Mitch.
I love these two more than words could ever explain, and I so desperately wish I could pause time and have so many more months of fall.
As for my "outfit," I have to admit that these kind of looks have been on rotation a LOT lately. Favorite jeans, a Barbour jacket and an easy cable-knit sweater are my staples, and I can almost promise you that you'll see me in zero dresses this fall. ;) I'm just not feelin' it this year. Life is busy and crazy in a good way, and I want to be rolling around in the grass with my little baby and doing tummy time on our play mat and not worrying about spit-up and wrinkles and whatnot.
Easy fall looks, you make me happy. ;)
Over and out! Tune in tomorrow for some SUPER cute photos from our Halloween party!
Shop the post:
Cable Knit Turtleneck Sweater (I'm wearing a size small. I also love my fisherman sweater, which comes in a tunic version, and this one! So soft!) / Tory Burch Riding Boots (Mine are an older version. Also available here and here) / Rag & Bone Jeans (On sale! I now own two pairs. I promise I'm clean, haha.) / Barbour Beadnell c/o (Also available here — And I LOVE the quilted version, which is available here, too. Read my review of the quilted one here and the wax one here.) / Daniel Wellington Watch c/o / Emma's outfit is from Baby Gap / Similar to Mitch's jacket / Similar to Mitch's shirt (Also love this one, this one and this one!)