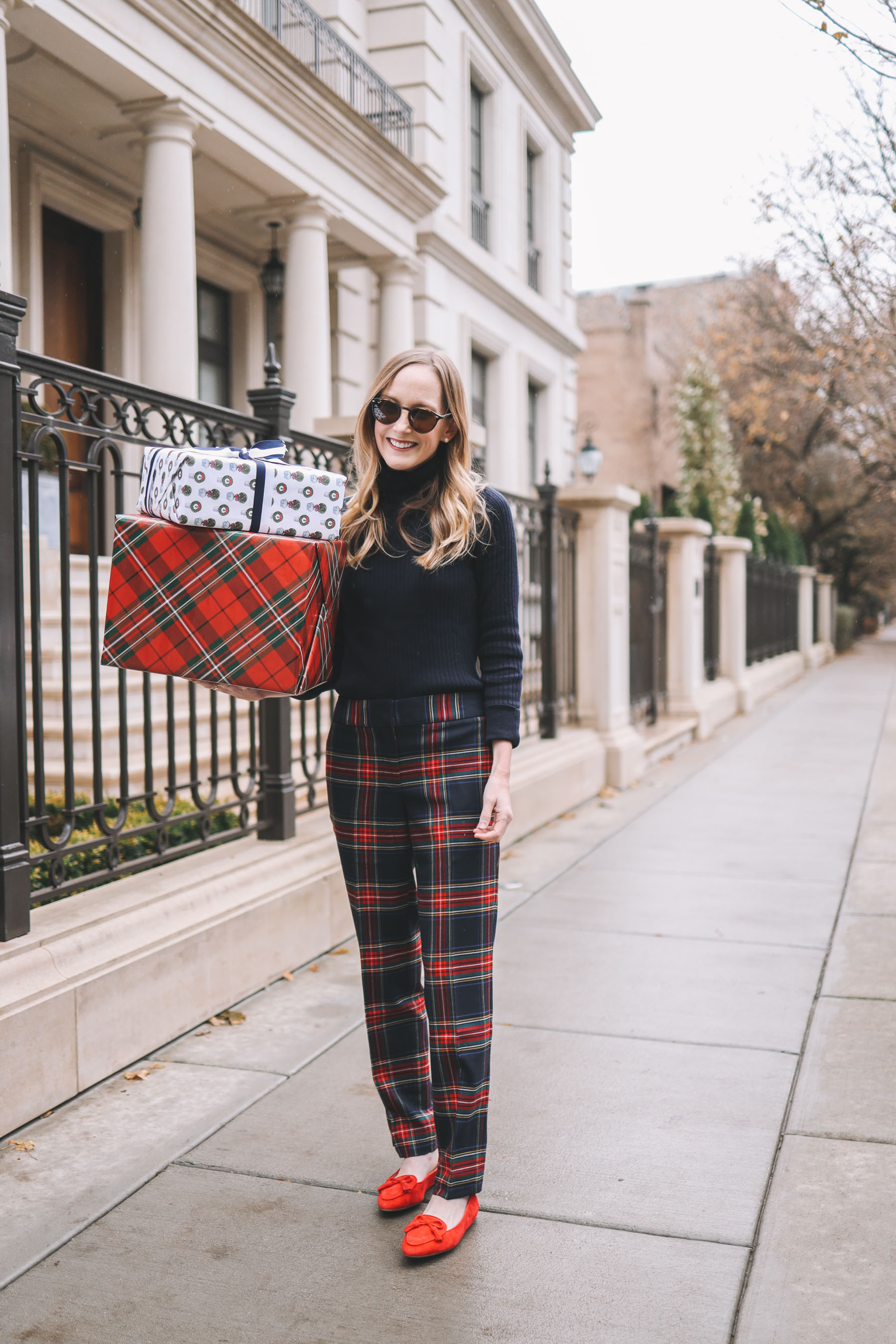 Wishful Plaid Pants / Button Cuff Turtleneck Sweater / Tassel Bow Flats (So comfy and available in so many colors!)
If you follow along with us via Instagram, you probably know that the Larkin Family is partaking in something we call #60DaysofPlaid. We started it three years ago, and it's still going strong! It began as a bit of a joke; friends teased that I could probably wear tartan outfits for a month straight without blinking. And then Mitch was like, "You know what? We should do it." And so we did. And then it was, hilariously enough, well-received. And so we upped it to 60 days last year, and… here we are. 😂
I think it's pretty clear that I love plaid, haha. It's funny; I went to Catholic school for a long, long time and wore a tartan skirt every day. Most of my middle and high school friends have since shunned the pattern, citing traumatic memories. 😜 But me? Still goin' strong over here.
This year, the "Best of Plaid Award"–just made that up–goes to Talbots. Seriously, though: Every holiday season, they bring it. So much so that I rely on the brand several times a week for my #60daysofplaid posts!
Before we get to all my Talbots tartan picks, a little bit about what I'm wearing here:
 Tartan Pants: HELLO. Sure, plaid is all around us at the moment. A classic tartan, though, is difficult to find. Yet these navy Stewart tartan pants are perfection! I've long loved this version of Stewart plaid, but it's far more common in black than navy. Was so excited to find it in blue, though! In terms of fit, I'd say that the pants run slightly on the larger side, so take that into account when ordering. I'm wearing my normal size in hook-and-eye closure pants here, but I probably could have sized down for a more polished look!
Button Cuff Turtleneck Sweater: I don't know about you, but I rarely buy basics. So silly, right?! I guess I just never think to do it, and then suddenly, I have nothing to pair with my favorite pieces. This button cuff turtleneck, however, is perfect for just that. It comes in a ton of different colors and you can pair it statement pieces (or just jeans!) now through the end of winter. I love that it's warm yet stylish and also very flattering! And how about that cute button detailing on the sleeve?!
Tassel Bow Flats: They're back! I own these in yellow and I'm crazed about them… and I'm so happy to have them in this festive red now! (Will be perfect for the spring, too, as I'm quite the fan of nautical looks.)  The Francesca flats are buttery soft and don't require a break-in period… and can we talk about that little bow tassel on the toe?! So sweet.

Currently, Talbots is having its "Mix & Mingle" event, and the brand is offering 30 percent off dresses, skirts, shoes, accessories and party favorites. What do you have your eye on?! See my faves above.
Shop the post:
Wishful Plaid Pants / Button Cuff Turtleneck Sweater / Tassel Bow Flats (So comfy and available in so many colors!)

This post is sponsored by Talbots, but all opinions are my own. As always, thank you so, so much for supporting the partnerships that keep Kelly in the City up and running!