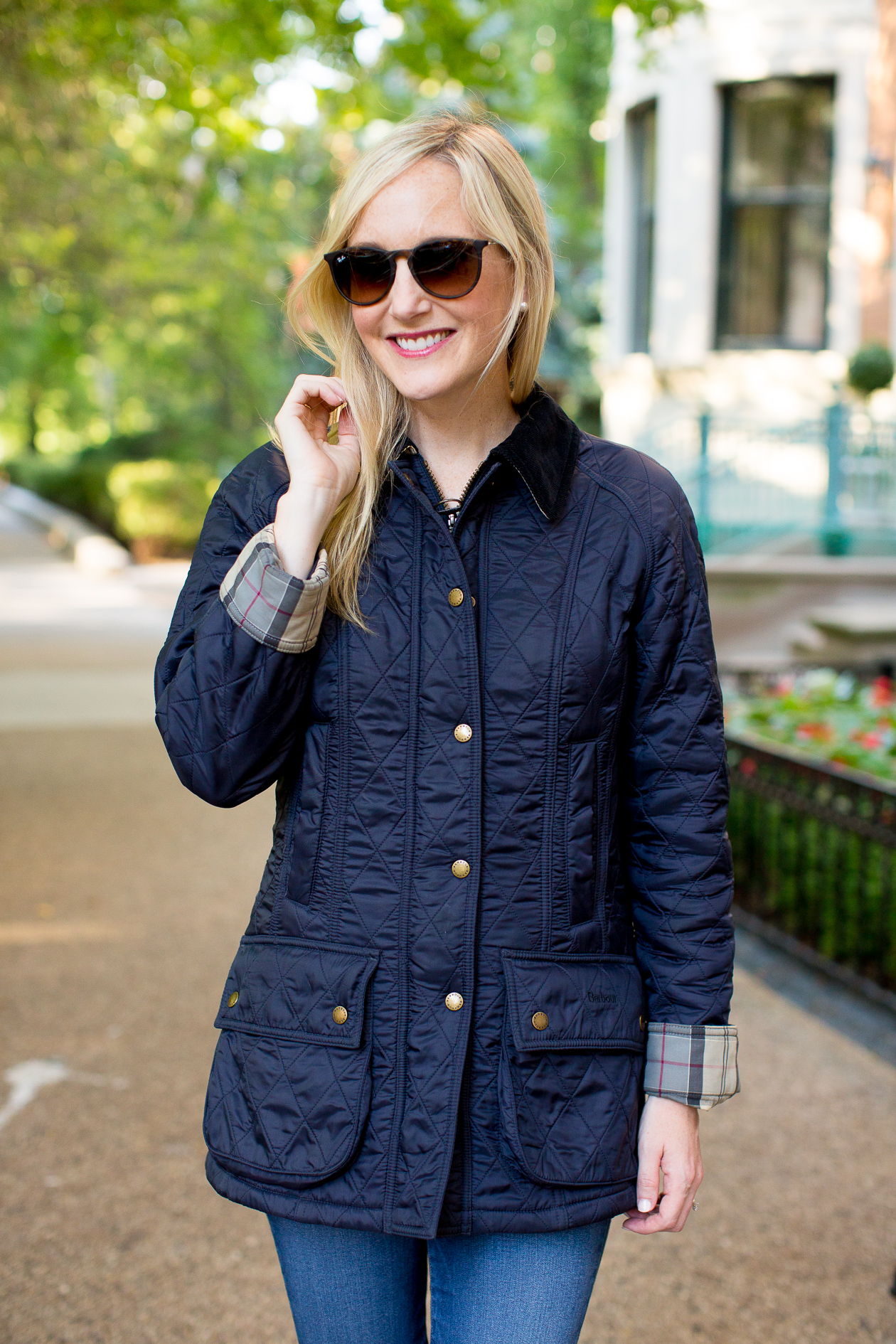 Barbour Jacket / Madewell Tote / Paige "Skyline" Jeans / Converse Sneakers / Ray-Ban Sunglasses / Initial Necklace

Mitch and I obviously share the coat closet in our home, but I'll admit that my jackets very often impede on his side. I can't help it, though! There are just so many good ones out there, and, I mean… I live in Chicago. Having one fall jacket would be like owning one t-shirt. ;)
I recently talked about my obsession with the Burberry Ashurst, but today I'd like to highlight my absolute favorite quilted jacket of all time: the Barbour Quilted Beadnell. Does owning both make sense? Yes, absolutely. The Ashurt is a bit fancier, and can totally be worn with heels and dressier looks… while the Quilted Beadnell is far more casual and a LOT warmer. It's the jacket I wear right up until I switch to my winter gear, and it's perfect for long walks with Noodle (and now Emma!), running errands, and trips to my in-laws' lake house downstate.
Don't get me wrong: I adore the classic Beadnell, and you'll actually see it on the blog tomorrow. But the quilted one? My mom and I agree that it's the best fall jacket to have ever existed. (I actually bought her the quilted version last year since it changed my life so significantly!) It looks just like the classic Beadnell, but it's slimming and lightweight, AND it's ridiculously warm. It's also machine-washable, and it has a ton of pockets. If you're not a "#navyornothing" kind of girl like I am, the quilted Beadnell comes in black and olive green, too. :)
As I've mentioned before, Nordstrom is my #1 go-to retailer for, well, everything this fall. (And you can find the Barbour Quilted Beadnell there!) There's just SO much inventory, and I adore the company's amazing customer service and the fact that it offers free shipping and free returns. Did I tell you guys that I place a thousand-dollar order the other day? Haha — I definitely don't plan on keeping it all; I simply ordered lots of sizes since I'm kind of in a weird place right now with my body! But how amazingly convenient is that? While I'd love to go fall shopping in person and have access to dressing rooms, that's not exactly feasible right now. Shopping online with Nordstrom is a close second, though. ;) And let's be serious: trying stuff on in your own home is way nicer!
For sizing purposes, I wear a U.S. size 4 in the Barbour Quilted Beadnell, which is the same size I wear in the classic. I'm about 5'4… and have no idea how much I weigh right now. ;) But I wore the same size pre-pregnancy, and I was probably between 105 and 110 pounds then!
Note: This is not a winter jacket. I suppose it could be if you live in a warmer climate, but I stop wearing mine in Chicago sometime in December. That said, it's the warmest fall jacket I've ever owned, and it definitely keeps me feeling toasty well into the cold season!
Shop fall jackets from Nordstrom

Shop the post:
Barbour Jacket / Madewell Tote / Paige "Skyline" Jeans / Converse Sneakers / Ray-Ban Sunglasses / Initial Necklace

This post was sponsored by Nordstrom. As always, thank you so much for supporting the partnerships that keep Kelly in the City up and running!