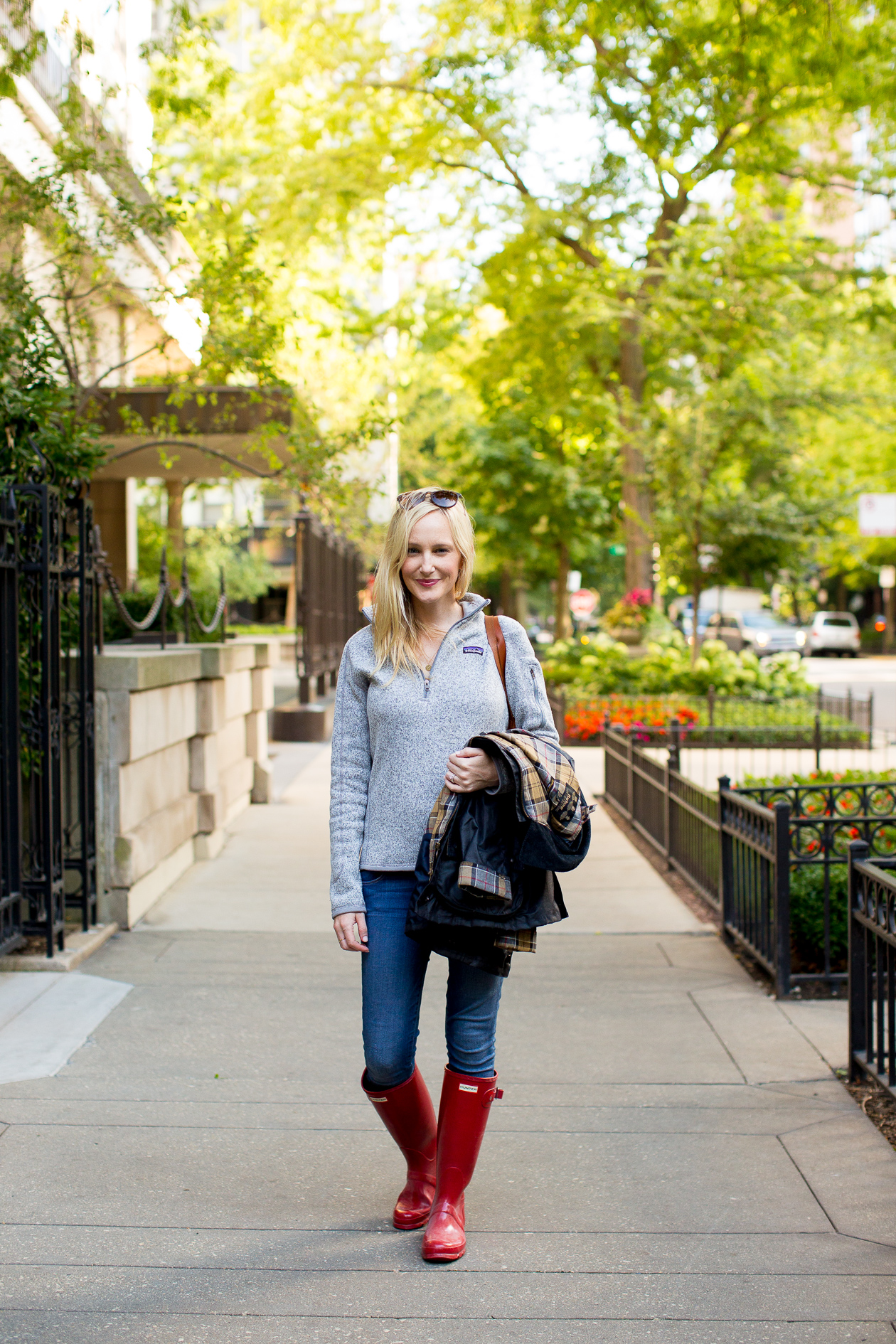 Patagonia Half-Zip (Full-zip here; vest here) c/o / Barbour Beadnell c/o (Get the hood and this liner, this liner or this liner!) / Hunter Boots c/o (Matte version here; short version here — And read my guide to buying Hunter boots here!) / Ray-Ban Sunglasses c/o / Initial Necklace c/o / Madewell Tote / Paige "Skyline" Jeans

Before I start today's post, thank you for putting things into perspective for me yesterday after this post.
You're right: "better content" doesn't necessarily mean professional photos and cute outfits. It simply means content that's real. I haven't exactly figured out how I'm going to run this site–or what changes I'm going to make to it–now that I have a family and am short on time. But your input was very helpful.
I'm also thinking back to my 2016 Goals post from January, and I'm remembering that I wanted to incorporate so much more into the site this year. Yes, some more (and better) photography… but also some deeper (and better) writing that stands alone. Where I'll find the time for that, I'm not 100-percent sure, haha. But hey: writing with a baby seems a bit easier than writing and shooting with a baby… right? ;)
~
Anyway, if you read yesterday's (second) post, you learned about my absolute favorite jacket for fall in Chicago. The one that I'm wearing in this post, though, is a close second. Does a person need two Barbour jackets? Probably not. But depending on where you live in the country (or world?), one might be better for you than the other.
Yesterday's quilted jacket is super warm, machine-washable, slim-fitting, and less expensive than other Barbour jackets out there. (Read more about it here.) Today's jacket is the quilted jacket's classic counterpart, though. Its waxed cotton shell makes it waterproof and durable, and it's perfect for layering with big sweatshirts and sweaters. It's also compatible with the hood and this liner, this liner and this liner. It's also guaranteed to last a lifetime, and it's the classic Barbour jacket.
(But really. HOW AMAZING is this liner, which can be worn as a standalone vest, too?! Remember this post? It was a men's jacket, and it was way too big on me. But I adored that tartan!)
Personally, I like the look of the classic Beadnell more, but I always find myself grabbing my quilted one instead during the fall. What can I say? Warmth > Beauty, haha. But which one do you like more, and which one do you think you'd get more use out of? Or do are you completely in love with another Barbour jacket I haven't mentioned?
And can we believe that September is almost upon us?! Goodness…
Shop the post:
Patagonia Half-Zip (Full-zip here; vest here) c/o / Barbour Beadnell c/o (Get the hood and this liner, this liner or this liner!) / Hunter Boots c/o (Matte version here; short version here — And read my guide to buying Hunter boots here!) / Ray-Ban Sunglasses c/o / Initial Necklace c/o / Madewell Tote / Paige "Skyline" Jeans