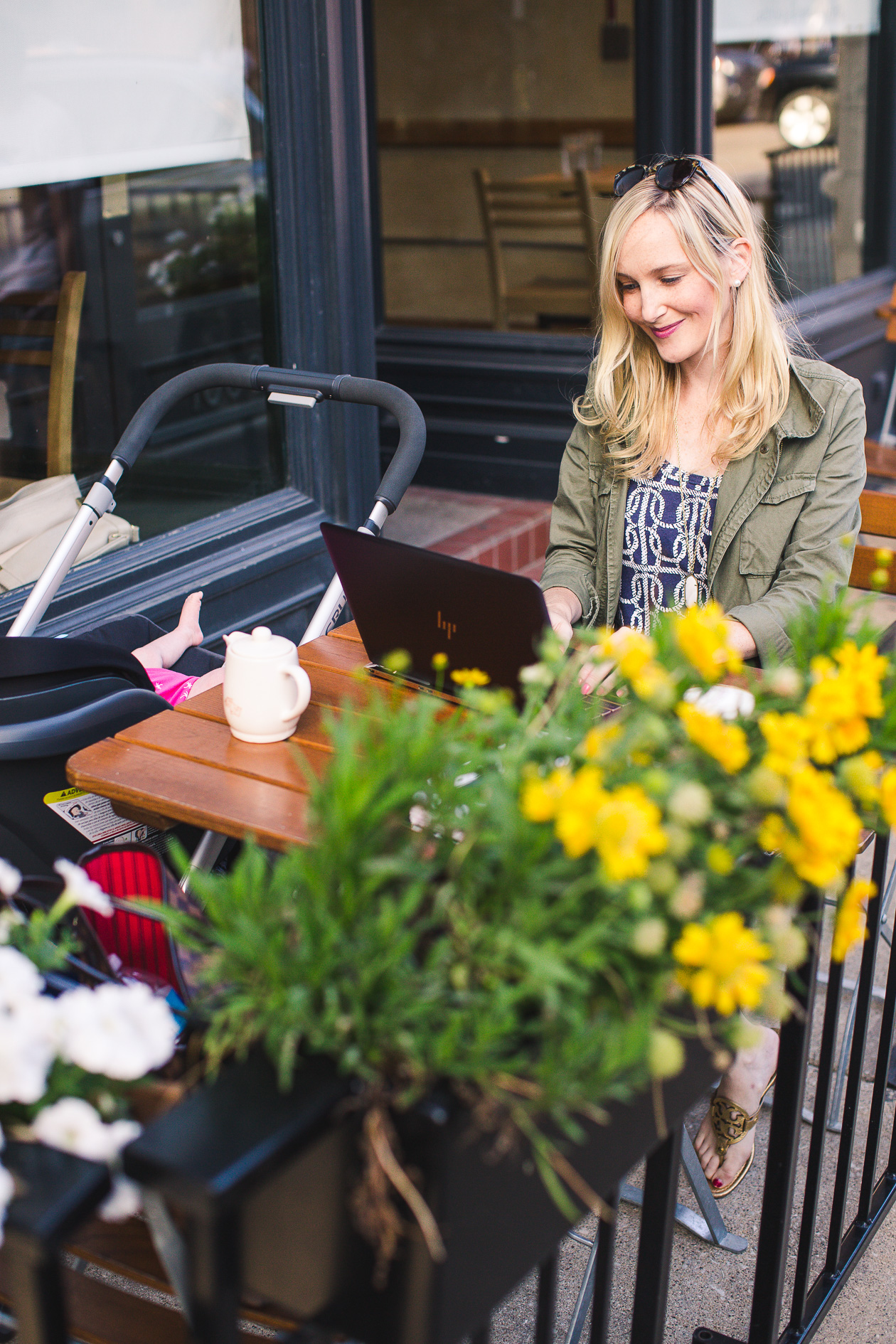 Can we just focus on two amazing feats from this week for a moment? The first: I showered and got dressed yesterday while Mitch was at work. (Pulled the bouncy seat into the bathroom and Emma didn't cry!) The second: I successfully worked at a coffee shop, in the sunshine, for a couple of hours as Emma snoozed by my side.
While Emma is now a month old (how did that happen?!), I'm still trying to develop a daytime routine and find my groove as a new (working) mom. I'll admit that things were a lot easier when Mitch was home with us, but now we're on our own and figuring things out rather slowly. ;) And that's okay!
Something that makes us both happy, we've determined, is getting out of the house. It would be very easy to sit on the couch all day… and okay, we did do that a lot for the first few weeks, as I was in recovery mode. (More on that soon.) But getting out, soaking up the sunshine, and interacting with others makes us smile… and sleep better. ;)
It also reminds me that life doesn't have to "stop" now that I have a baby. My lifestyle has certainly changed, and my priorities have shifted. (Some things, like cuddles and kisses, are far more important than work.) But I can still do so much of what I used to do, and I can definitely manage to hold down my job. That said, I need the right outlook–and the right stuff–to keep on keepin' on, in all areas of life.
Recently, HP sent me the new HP Spectre, as it's perfect for my new lifestyle. At just 10.4 mm thick (the width of a AAA battery) and only 2.5 pounds, the Spectre is the world's thinnest laptop. It easily slips into my diaper bag, and it doesn't hurt my shoulder. (Honestly, it just feels like I have a magazine or notebook in my bag!)
And guys: it's so, so pretty. When I first opened the box, I was amazed.
Note the copper accents. Sigh, right? Built from carbon fiber and matte aluminum, the computer totally stands out in a sea of silvery laptops. As it draws inspiration from high-end furniture design, the Spectre's hinges are essentially unnoticeable… and its hybrid battery, which features four prismatic battery cells, allows for longer-lasting charges. Finally, my favorite part: it has a full high-definition, edge-to-edge Corning® Gorilla® Glass display as well as a custom-tuned Bang & Olufsen audio system. Perfect for photo and video editing.
When I first received the Spectre, I thought it would be awesome for my new lifestyle simply because it was so lightweight, and therefore would be easier to carry around. But somehow, working on such a beautiful machine makes the work a little more fun. ;) When I pull it out, I'm a bit more inspired to keep going–even when I'm super tired. It's kind of like going back to school with a brand new backpack or pair of shoes. Somehow, that new backpack or pair of shoes helps you be a better student. Am I right?!
As I mentioned before, I took my Spectre to a nearby coffee shop this past week, and it was glorious. Not everything needs to be complicated when you have a newborn in tow. Some things are very, very simple. Though, big tip: feed said newborn before leaving for the coffee shop so she snoozes through your work session. ;) It'll make for a far more productive trip!
Also: I'm going to be publishing a few more posts about the Spectre as I get to know it better. I'll be showing you everything I do with it, so stay tuned!
How cute are Mitch and Emma in the background?! It's so nice that he can come meet us on his walk home from work!
This post is sponsored by HP, but all opinions are my own. As always, thank you so much for supporting the partnerships that keep Kelly in the City up and running!