Crossbody bags are defined by the long shoulder strap that is meant to be worn across the body. Because crossbody bags keep both of your hands free, they are especially convenient for moms. 
They also tend to be less bulky than a diaper bag, while still providing enough space for everything you or your child might need. Many of these bags still offer the benefits of diaper bags, like water resistant interiors and anti-theft rfid blocking card slots, but in a more stylish package.
Crossbody bags, as well as the more petite crossbody purses, are popular because they make it easy for you to access your things. They are especially loved by moms who don't want to have to compromise style for convenience. 
Crossbody bags are available in different sizes and styles, with various added features. If you're in the market for a new bag or are considering switching from a traditional diaper bag to a crossbody bag that matches your vibe, I've got you covered. These are 14 of the best crossbody bags for moms:
14 Best Crossbody Bags For Moms

Very few things can complete a look as effectively as a black leather crossbody bag. This best-selling bag from Madewell can be worn as a crossbody or shoulder bag, thanks to the two adjustable and removable leather and webbed straps. 
This chic leather bag has plenty of room for whatever you need to carry. It can fit a tablet, wallet, keys, headphones, and water bottle. The interior pockets help to keep your items organized and the front flap is secured with a magnetic tab. 
This mid-sized crossbody bag from Mark and Graham will quickly become one of your favorites. I included it as part of a cute and casual outfit because it's the perfect bag to keep packed with all your essentials for those days when you need to run out the door. 
This gorgeous pebbled Italian leather bag is available in black, camel, or forest green. I'm partial to the black, but seriously, they're all gorgeous. 
The body of the bag is large enough to easily fit all of your daily essentials. AND, for a small extra cost, you can have your bag personalized with foil debossed monogramming. 
The Sydney Crossbody Bag from Madwell is made of smooth, luxurious leather that somehow looks vintage and modern at the same time. This is the kind of bag that can be styled with just about anything and it'll look totally effortless. 
The Sydney Crossbody Bag has a knotted crossbody strap as well as top handles. It can easily hold your phone, wallet, keys, and more, with a magnetic closure to keep them secure. Plus, the interior pocket is perfect for loose change.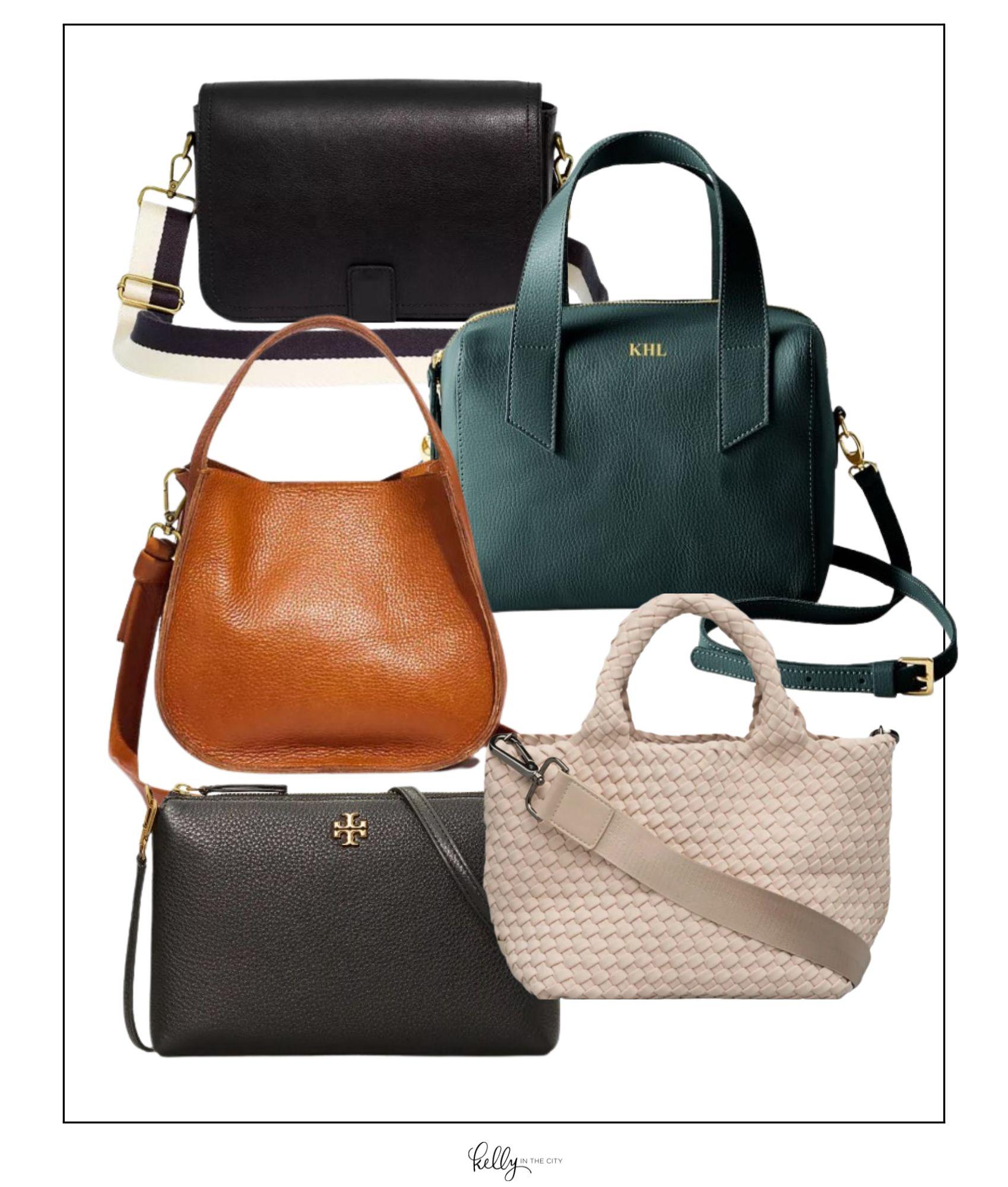 This bag is a great option for moms of older children who are free from diapers and other baby necessities, but who may still need to carry a few extra items wherever they go. The Kira Pebbled Leather Wallet Crossbody Bag from Tory Burch is the perfect bag for virtually any occasion. 
The removable and adjustable strap allows this bag to go from a sleek crossbody to an elegant clutch in mere seconds. It has a top zip closure as well as an interior wall pocket with four slots for your credit cards.  
This is another crossbody bag that I can personally vouch for. The St. Barths Mini Solid is described as "chic and compact" yet it looks and feels surprisingly roomy. It's made of hand woven polyester, has a detachable crossbody strap and top handles, and comes with a matching interior zip pouch.
One of my favorite ways to style this bag is with a classic little black dress. But with eleven different colors to choose from, you'll find that you can throw this bag over your shoulder to wear with just about anything. 
I love this Captain Round Leather Crossbody bag from AllSaints so much that I included it in one of my cute and casual summer outfits. It's currently sold out, but here's a similar one! The pebbled leather makes this bag super super versatile, and the roomy, rounded body ensures you have easy access to whatever you need for you and your little ones, without sacrificing your personal style. 
I love a good rattan crossbody bag, and this affordable option is no exception. The Orla Boxy Straw Crossbody bag from The Drop has a 23-inch crossbody strap as well as top handles. It's made from synthetic straw and comes with an optional shoulder strap. 
This lightweight crossbody bag is perfect for adding an extra bit of style to your favorite summer outfit. If you're planning a tropical vacation in the middle of winter, this is the one for you!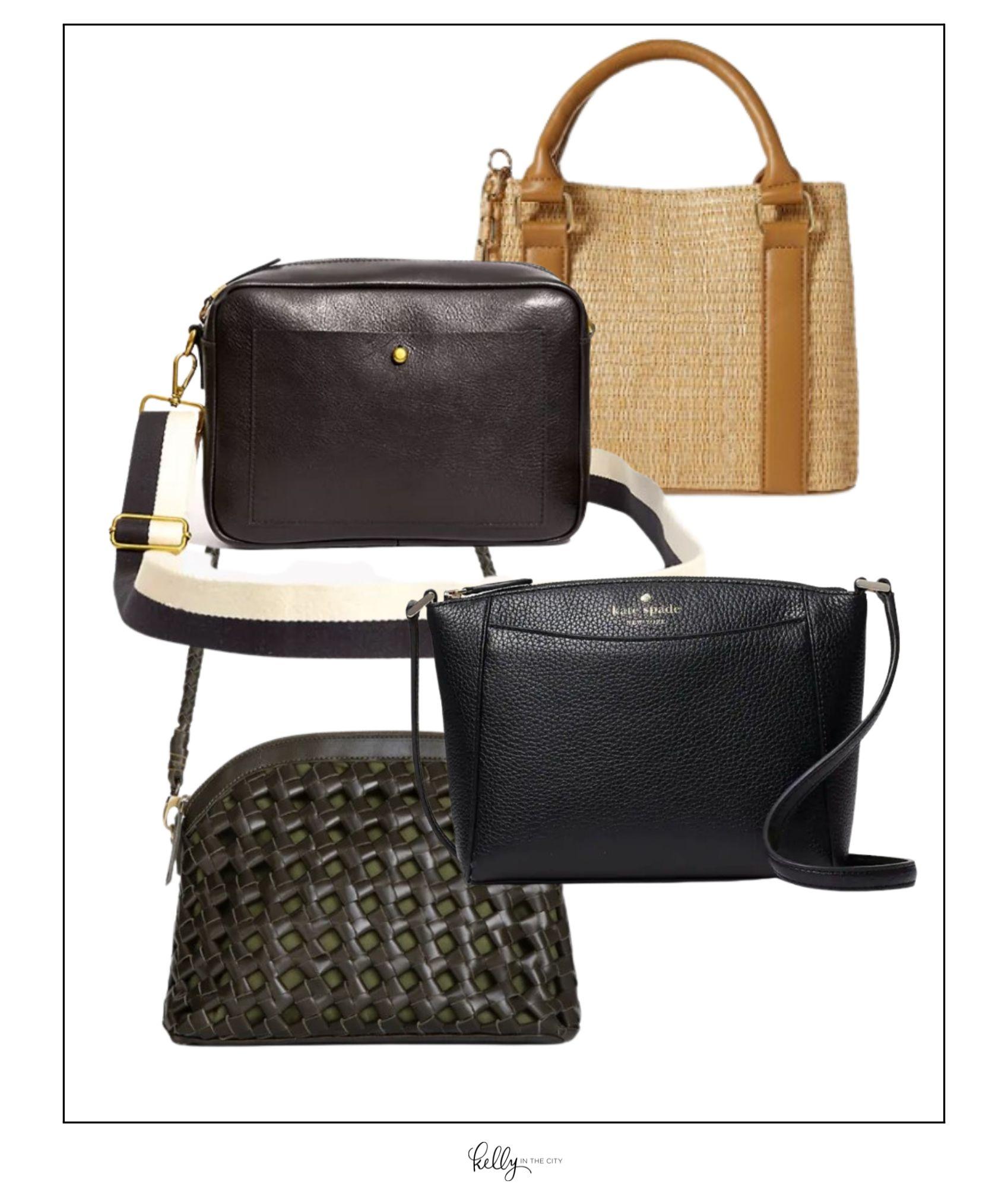 Can you tell I adore Madwell bags? This one, the Large Transport Camera Bag, is another gorgeous, classic-looking leather bag that has enough room to store your fancy camera and your daily essentials. It has a zip closure as well as a front pocket that closes with a collar stud. And lastly, it comes with two straps (one matching, one wide and webbed). 
The Monica Crossbody from Kate Spade is another gorgeous leather bag that is large enough to hold your most important things without being too bulky. I love the 22-inch strap, which is comfortably worn across your body, leaving both of your hands free. 
The Monica Crossbody features pebbled leather in one of four colors, a foiled embossed logo, interior and exterior pockets, and a top zip closure. It's alllll in the details! 
Available in four colors (olive, caramel, sienna, and black), the Bembien Carmen Crossbody Bag is a super stylish crossbody bag. It's the perfect day bag for when you don't have a lot to take with you. Still, it's surprisingly roomy, so you'll still be able to carry whatever your little ones throw your way throughout the day. 
The Carmen Crossbody Bag features a removable crossbody strap and zip closure. With gorgeous handwoven leather on the outside and cotton lining and a slip pocket on the inside, this is a versatile and stylish mom bag.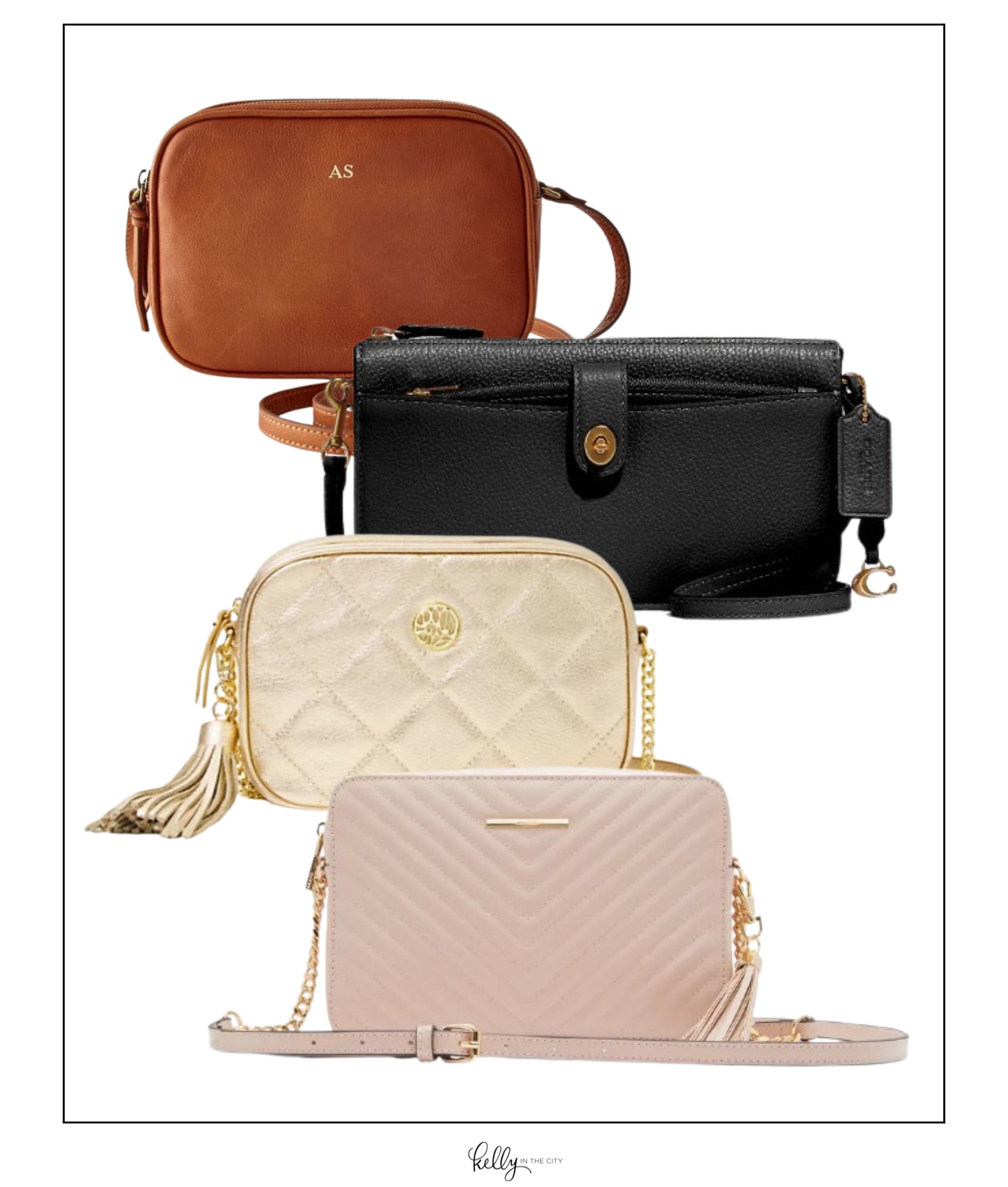 My red Essential Crossbody bag from Mark and Graham is one of my favorite crossbody bags. It's also a great bag to give as a gift, with available personalization for a special touch. 
The Essential Crossbody is a classic, soft leather bag with an adjustable shoulder strap. The durable leather exterior and linen-lined interior ensure that this bag will hold up to daily use, which is a must for busy moms. That, and all the room it has inside. There are two main zipper pockets, with plenty of pockets inside each main compartment.
I love the timeless look of Coach turnlock pieces and this crossbody bag is no exception. The Noa Turnlock Pebbled Leather Crossbody Bag is a great example of classic style. This bag features the signature turnlock closure and an adjustable strap for ultimate comfort and convenience. 
I had to include a crossbody bag that's a bit more fun for those festive occasions. The Dessa Leather Crossbody Bag is just that. The gold metallic shrunken leather body with quilted detailing ensures that this bag is sleek and stylish with a bit of a party vibe. The gold metal chain strap and leather tassel charm are fun too.
With so many leather options on this list, I wanted to include a fantastic faux leather option as well. The chevron quilting and elegant hardware give this structured crossbody bag an elegant touch, while the adjustable strap ensures it stays comfortable. Plus, it's flat on the bottom so it will stay upright when you sit it down.

Which crossbody bag is your favorite?
Fashion is a huge passion of mine. I find so much joy in sharing my passion with others and encourage you to share some of your favorite things with me. Tell me, as a mom, what is your go-to crossbody bag? 
For more of my favorite fashion finds and a glimpse into my world, head on over to the blog.