I purchased this striped sweater last season, and it quickly became one of my favorite staples in my closet. It has buttons down the back and no tags, so you can reverse it and wear it as a cardigan. It's incredibly versatile and goes with everything. Here is how to style a striped sweater three ways.
With a Leather Puffer Jacket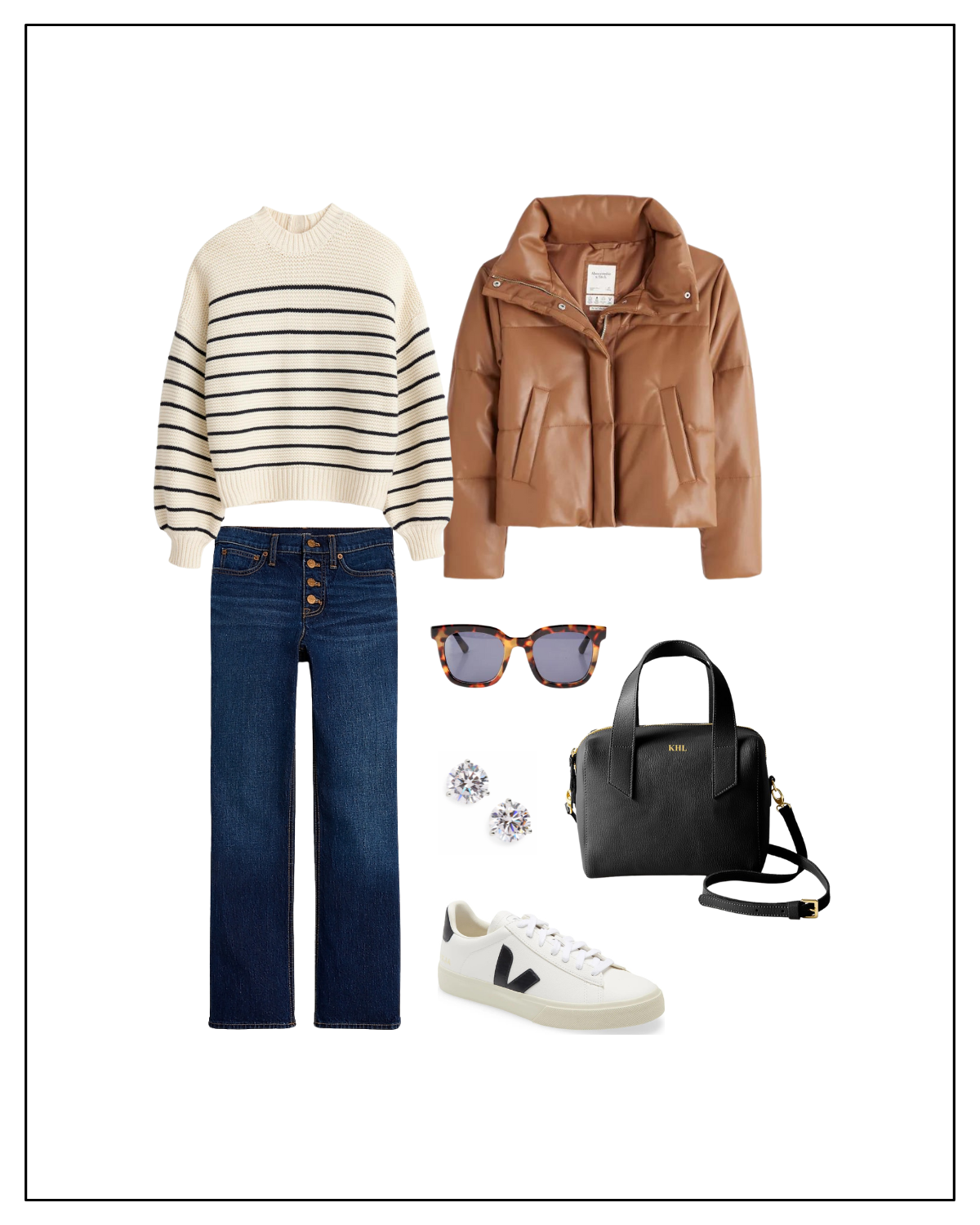 Striped Sweater / Jeans / Vegan Leather Puffer Jacket / Tortoise Sunglasses / Black Leather Crossbody Bag / Cubic Zirconia Stud Earrings / Veja Sneakers
I love wearing this striped sweater for a cute and casual outfit on weekdays or weekends. Style it with another wonderful fall staple, a leather puffer jacket. This one is on sale for 15% off right now! Pair it with dark wash jeans and accessorize with tortoise sunglasses and cubic zirconia stud earrings. Slip on a pair of leather sneakers, like these Veja sneakers, to keep it casual, and grab this black leather crossbody bag that's under $100, on your way out the door.
With a Quilted Coat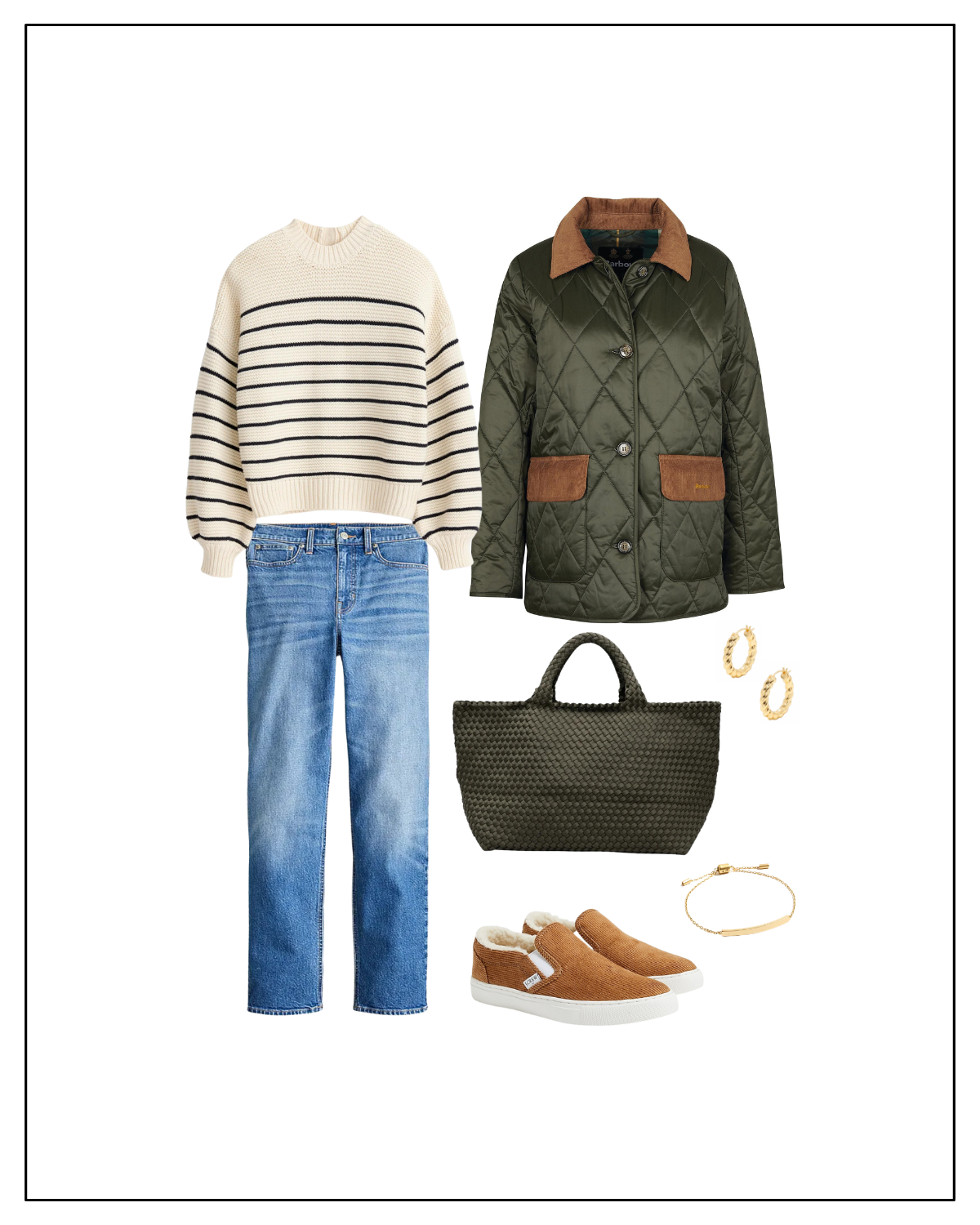 Striped Sweater / Jeans / Quilted Green Jacket / Olive Green Large Tote / Gold Hoop Earrings / Gold Bracelet / Corduroy Slip-on Sneakers
One of my go-to outfits in the fall is styling this striped sweater with a quilted jacket. This Barbour Jacket is such a good layer for fall. It's lightweight but still keeps you nice and warm. Wear it with a pair of jeans and corduroy slip-on sneakers, another favorite of mine this season. They're under $55 and lined with sherpa. Accessorize with an olive green large tote bag, gold hoop earrings, and a gold bracelet.
With A Pair of Black Loafers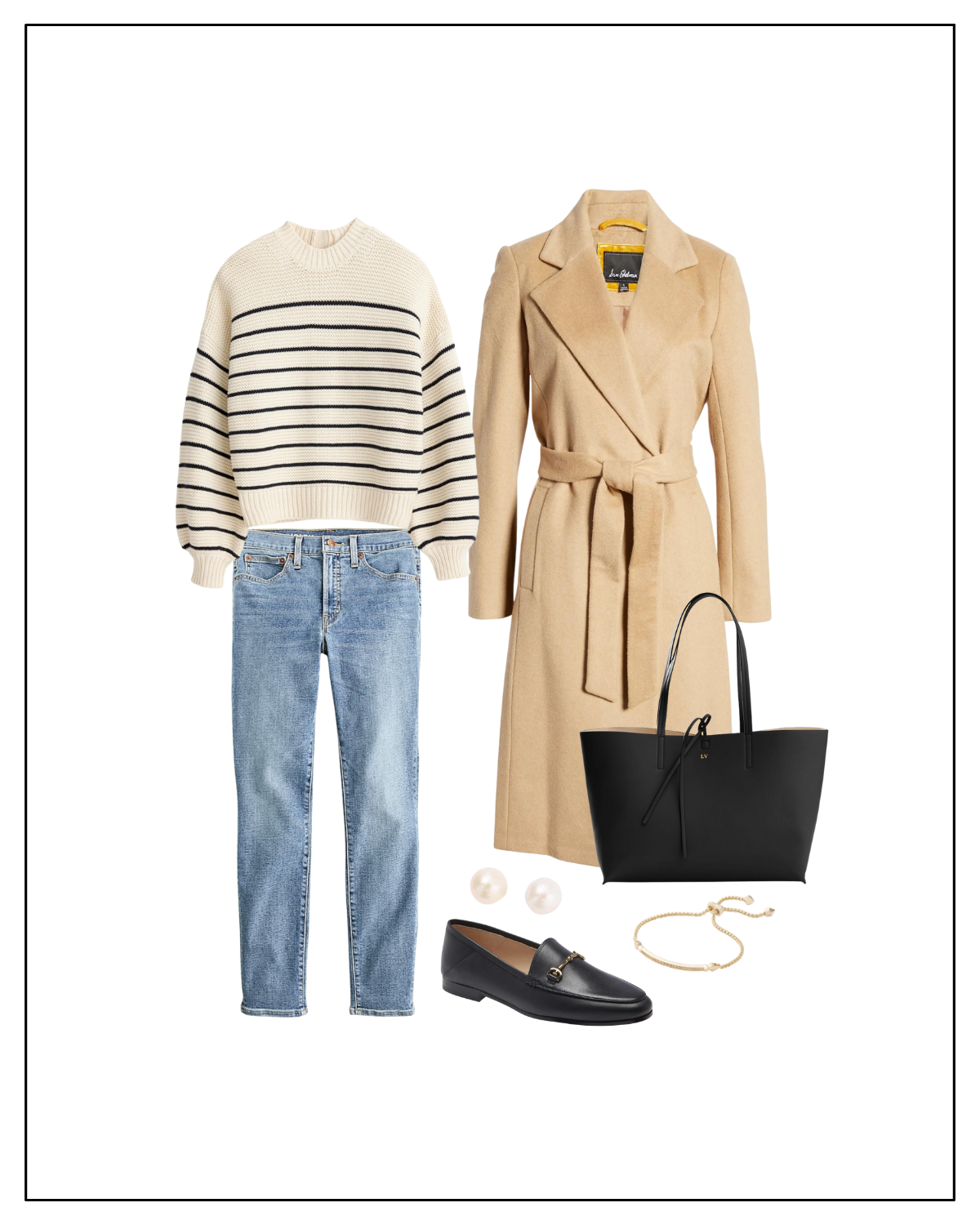 Striped Sweater / Jeans / Beige Belted Wool Coat / Black Vegan Leather Tote Bag / Pearl Stud Earrings / Gold Bracelet / Black Leather Loafers
This striped sweater looks lovely worn with black leather loafers for a relaxed yet still polished outfit. I love this pair of loafers because they look almost identical to the Gucci ones but for a fraction of the price, and they're just as comfortable. Wear it with skinny jeans and a beige belted wool coat for some warmth. Accessorize with this black vegan leather tote bag that's under $100, pearl earrings, and a gold bracelet.