Here are three of my favorite versatile fall outfits. From a blazer outfit to a cozy sweater to a midi dress for fall, all of these outfits are built around everyday basics.
Versatile Blazer Outfit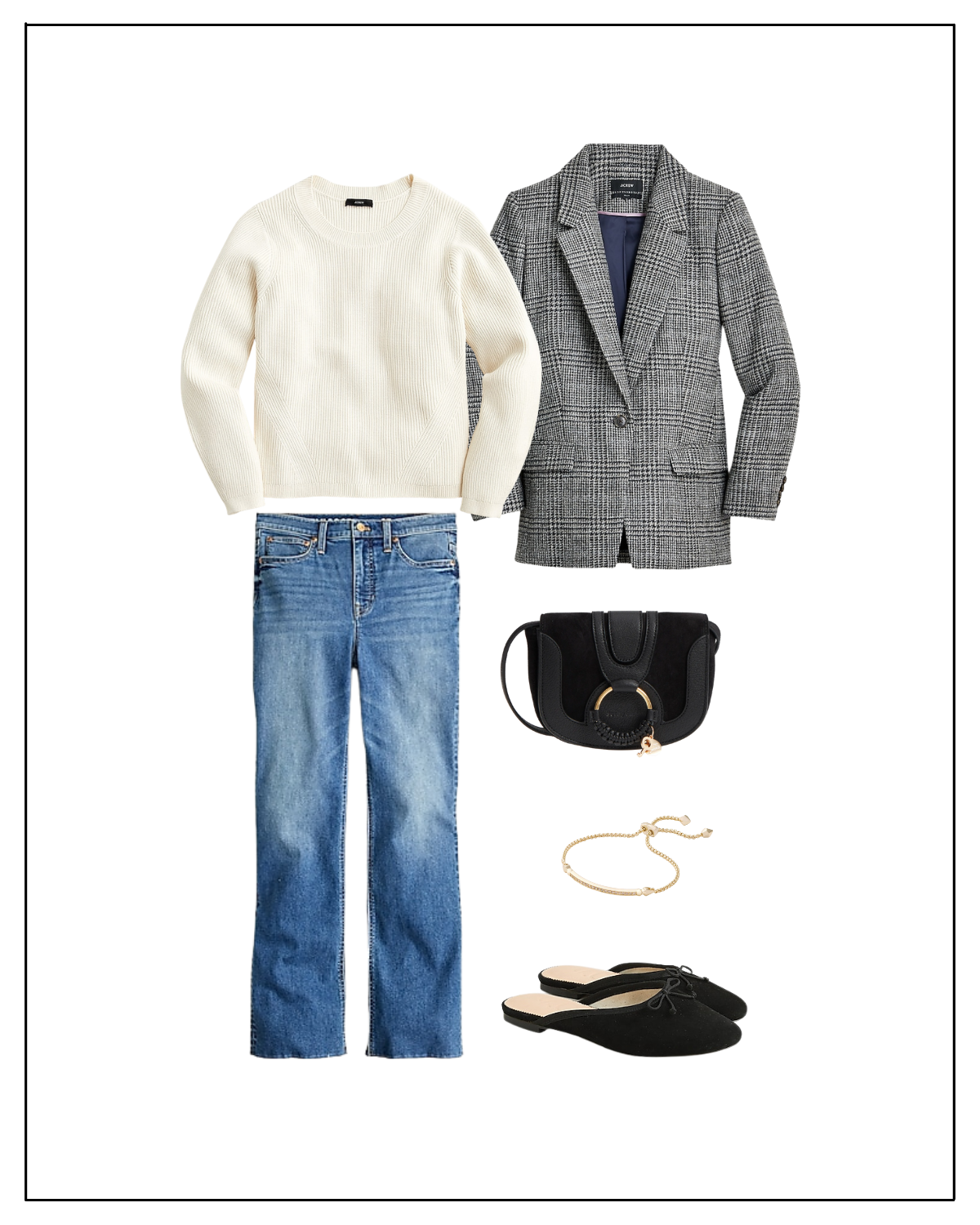 Cream Ribbed Crewneck Sweater / Grey Houndstooth Blazer / Demi-Boot Jeans / Black Crossbody Bag / Gold Bracelet / Black Suede Ballet Mules
A blazer is such a great staple piece for fall. It can be dressed up or worn with a pair of jeans for a more relaxed and casual look. This grey houndstooth blazer is gorgeous. Style it with a ribbed crewneck sweater and a pair of demi-boot jeans for a casual yet polished outfit. Accessorize with a black crossbody bag, a gold bracelet, and black suede ballet mules. For more blazer outfit ideas, see this post.
Simple Striped Sweater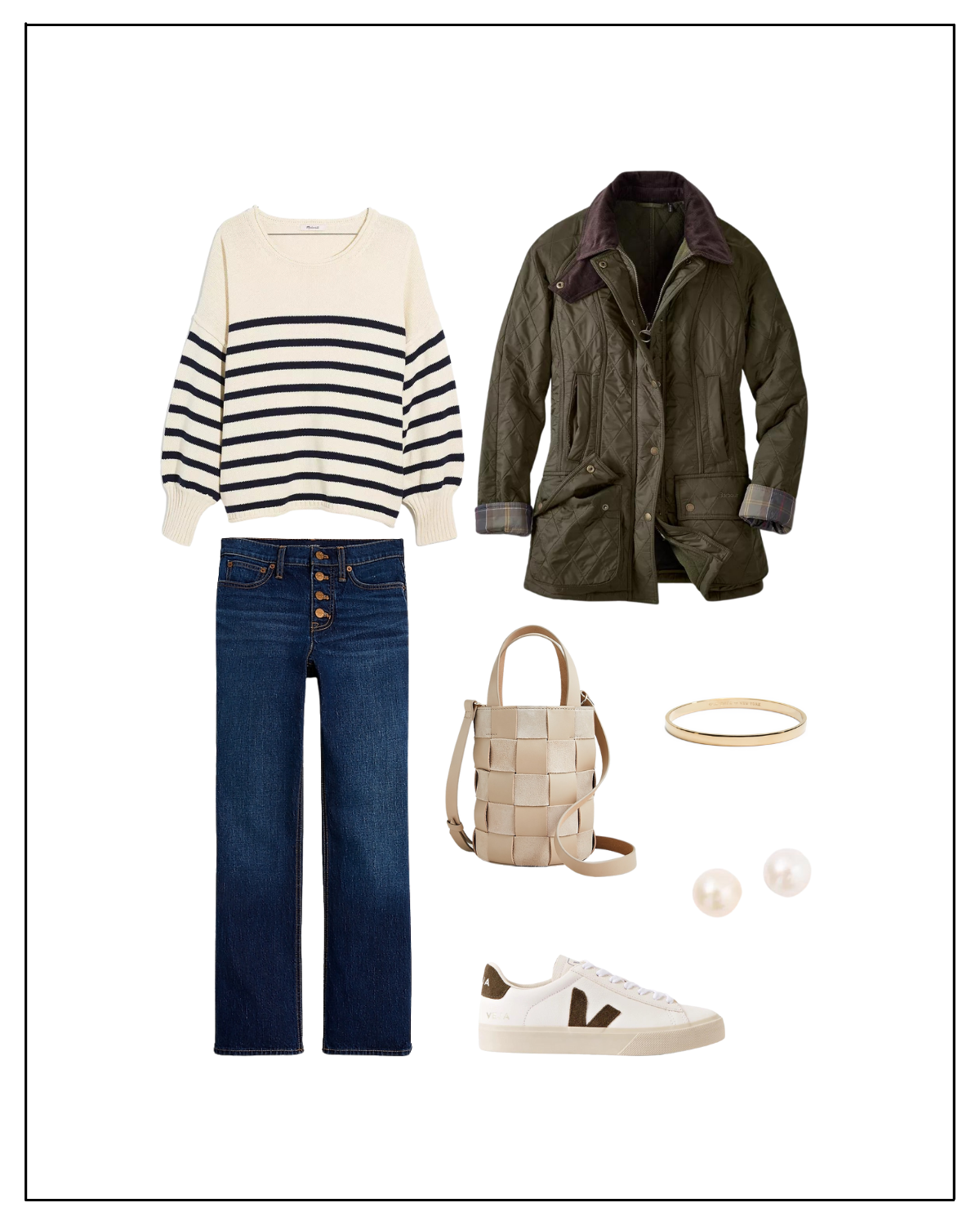 Black and White Striped Sweater / Barbour Jacket / High-Waisted Jeans / Beige Leather and Suede Woven Bag / Gold Bangle Bracelet / Pearl Stud Earrings / Veja Leather Sneakers
One of my go-to versatile fall outfits is a Barbour jacket and a sweater. This Barbour jacket is the warmest and coziest Barbour jacket EVER. For some reason, the green runs slightly smaller than the other colors, so I recommend going up a size. Wear it with a striped crewneck sweater and a pair of high-waisted jeans, and accessorize with a beige woven bucket bag, gold bangle bracelet, pearl earrings, and Veja sneakers. These Veja sneakers with brown suede details are so pretty, especially for fall.
Fall Midi Dress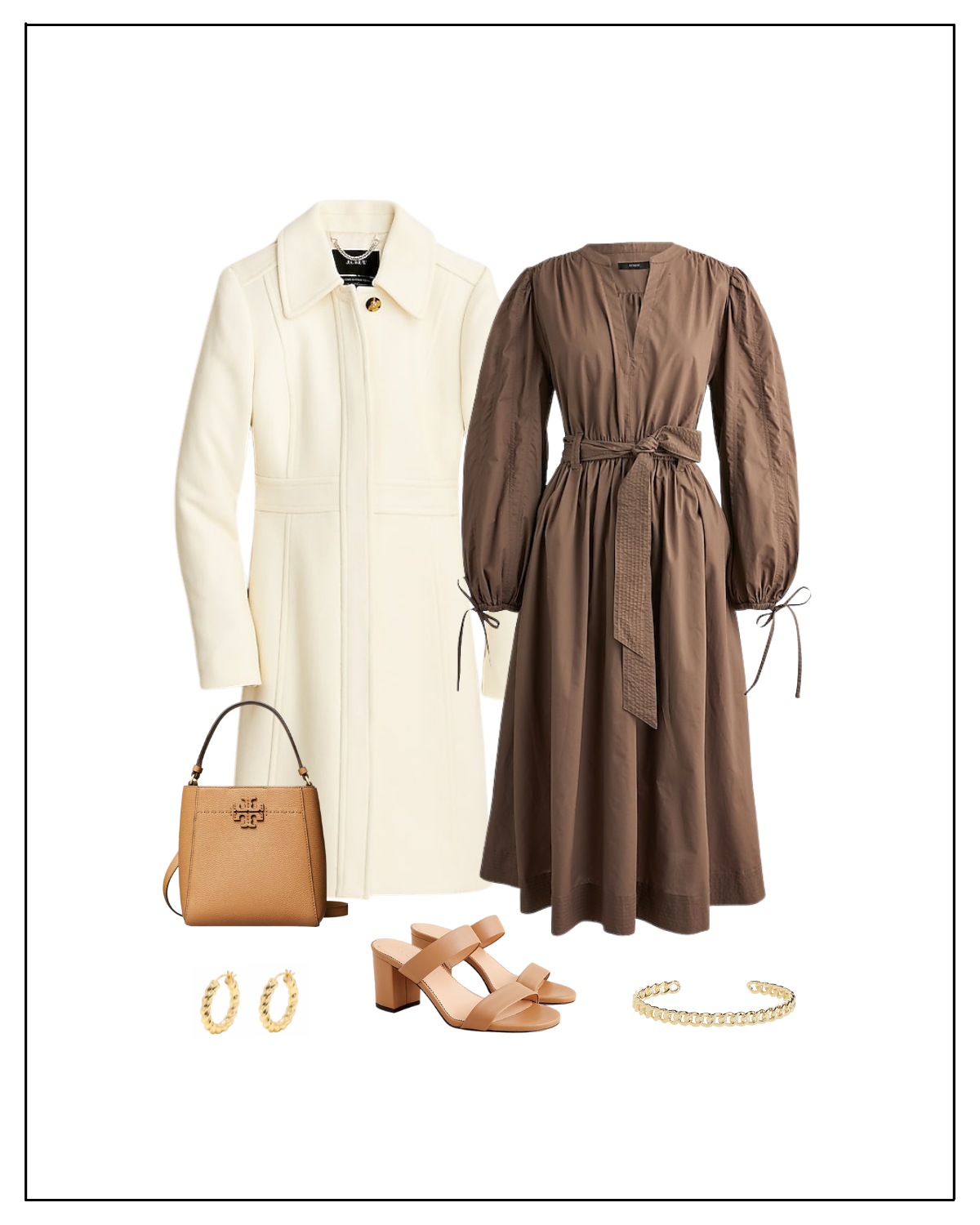 Cream Topcoat / Brown Long Sleeve Midi Dress / Tan Leather Bag / Gold Hoop Earrings / Gold Link Bangle Bracelet / Tan Double Strap Block Heels
I love a versatile fall dress, and this tie-waist style midi dress is just that. It looks gorgeous worn alone or layered with a cream topcoat on colder days. Accessorize with a tan leather bag and tan block heels, and gold jewelry like hoop earrings and a bangle bracelet.