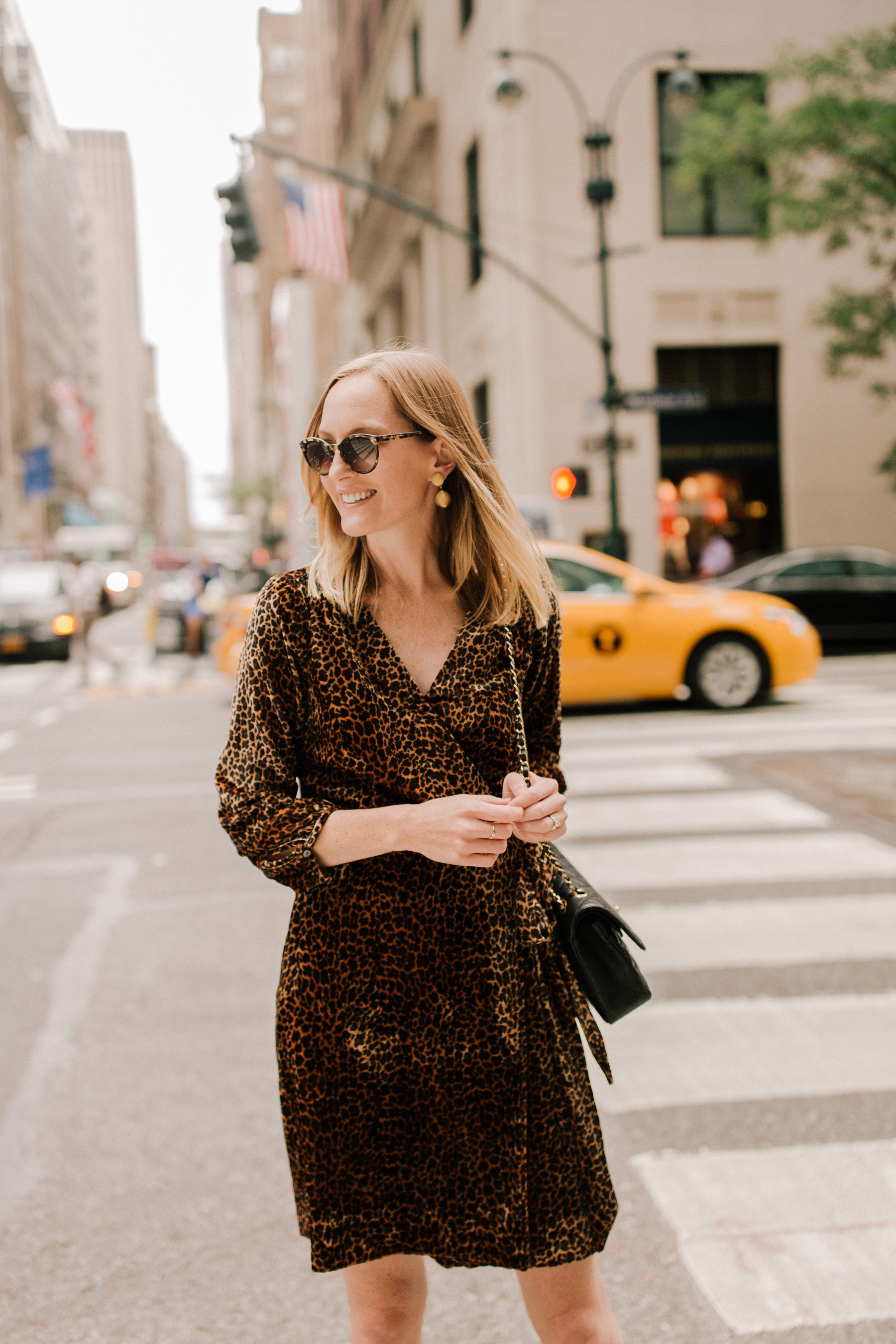 Velvet Leopard Wrap Dress (Runs TTS. In solid velvet here and in solid crepe here.) / Tortoise Sandals / Chanel Bag c/o (Love this similar one under $60 as well as this one from Tory Burch… and I like this this one and this one from Gucci–though not sure I could pull off that much bling. 😉) / Tuckernuck Earrings (Incredibly lightweight, which is why I wear them all the time!)
I thought I'd put a "regular" post up for those who aren't Lilly Pulitzer After Party Sale fans today. ;)
Anyway, I'll be honest and say that I didn't love the Fashion Week aspect of my recent trip to New York. Which was weird, considering Mitch and I had been really looking forward to getting away together!
Absolutely nothing traumatic happened, but there are a lot of reasons for it, if I think about it. I felt very out of place at a lot of the functions, just like I did the last time I "attended" Fashion Week stuff… and I was also homesick, for lack of a better word. Seems crazy to type that, since I almost always want to be in NYC, haha. This time, however, I just wanted to be in my little house with my little family and walk around our little neighborhood in jeans and loafers and drink (big) coffees and play at playgrounds.
Maybe it was because I was feeling traveled-out. Or maybe it was the rough timing. (Required to be there on Wednesday for an event; only other true obligation was on Saturday night–which made for a long time away from Emma.) And can't forget the boatloads of work I hadn't finished when we left, or that pesky sinus infection that just wouldn't go away. (Thanks for all your advice, btw! Not sure what my course of action will be yet, but thinking over the options.)
It goes without saying that I'm so grateful that I get to do stuff like this and travel on a regular basis. Can't forget that decade of my life when I did the opposite for work! But yeah: maybe I was just tired, and maybe I was feeling down because I was struggling to keep up. Maybe my 30s-something self just can't run like my 20s-something self used to be able to.
Regardless of our ages, we've all been there, right? Is it okay to just want to go home and cuddle up on the couch? Should we feel guilty for not enjoying every awesome experience? For not being able to be "on" all the time? For wanting to hit "pause" every once in a while?
Of course, there were some really great times. Highlights included dinners and drinks with family and friends, a couple of date nights, lots of pizza and bagels, celebrating some wonderful things, catching up with incredible brand reps, and sleeping in past 7. I actually wore this Velvet Leopard Wrap dress (in solid velvet here and in solid crepe here) for an evening out with some very special people. :) Pics and stories to come once I go through my iPhone!
I'm a lucky girl.
For now, though, this lucky girl is hanging up her leopard dress and slipping into those jeans and loafers. And then letting her 30s-something self sleep for a few years while reveling in the fact that there isn't much on the agenda for the next couple of weeks.
Anything good you've been watching on TV?
😜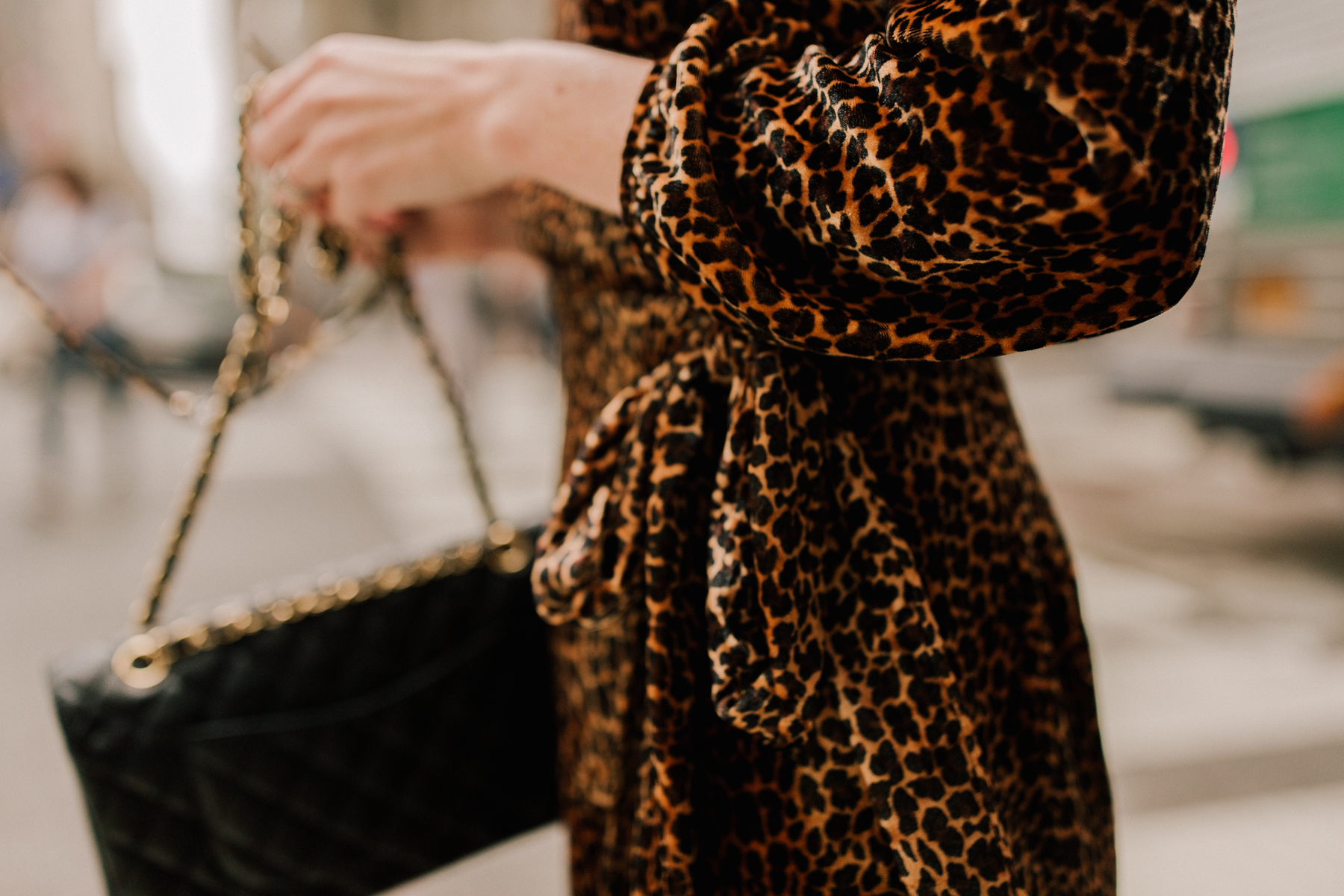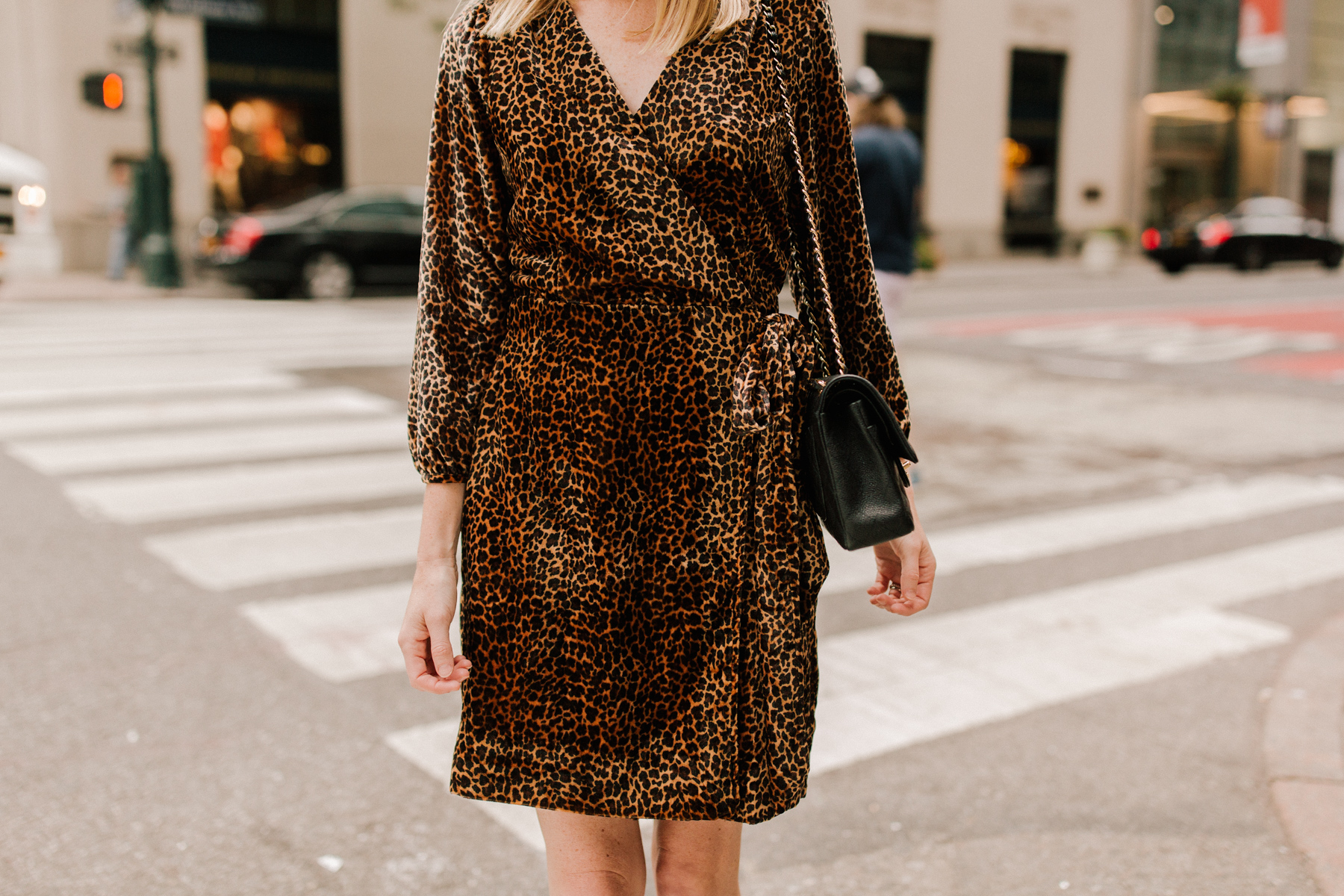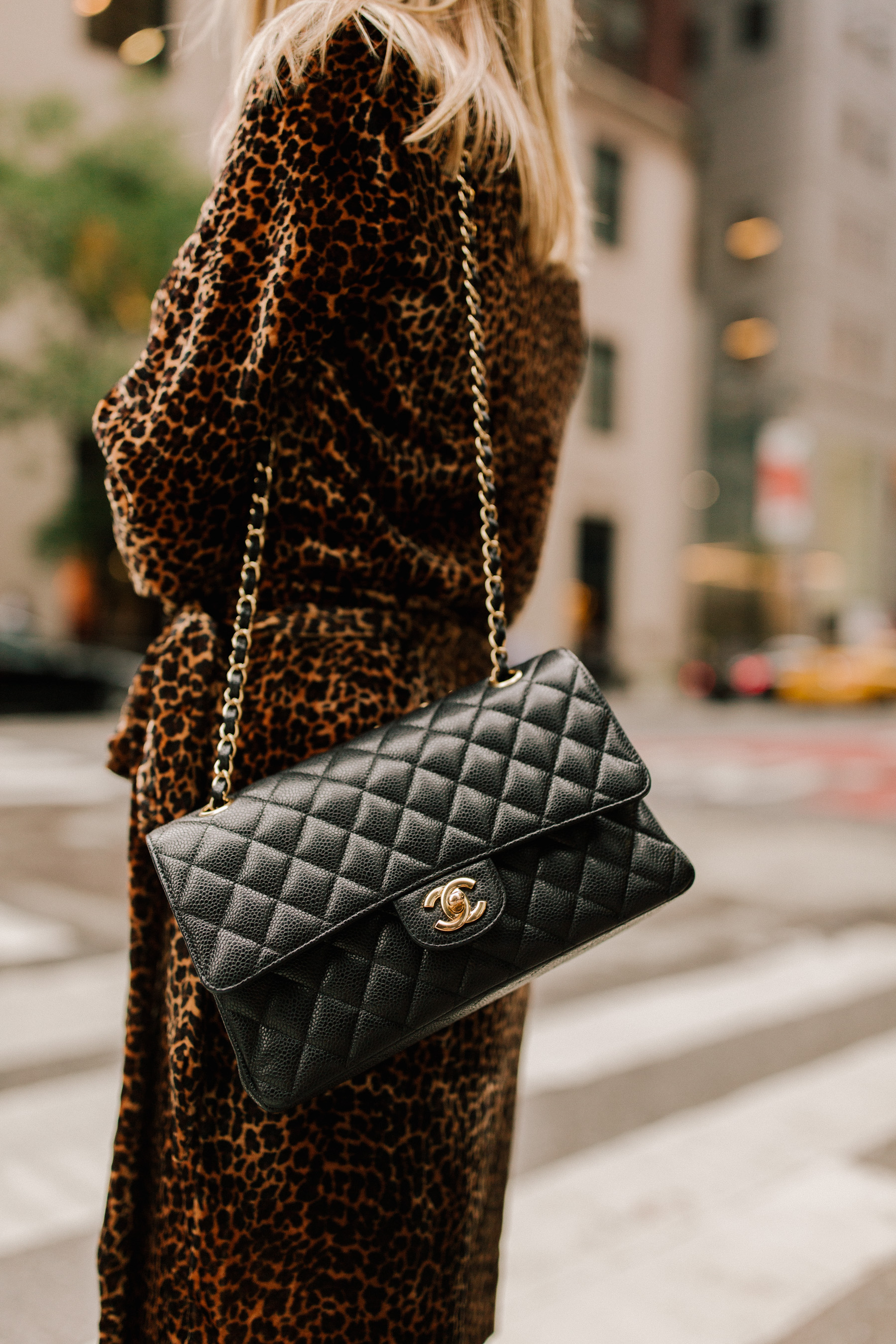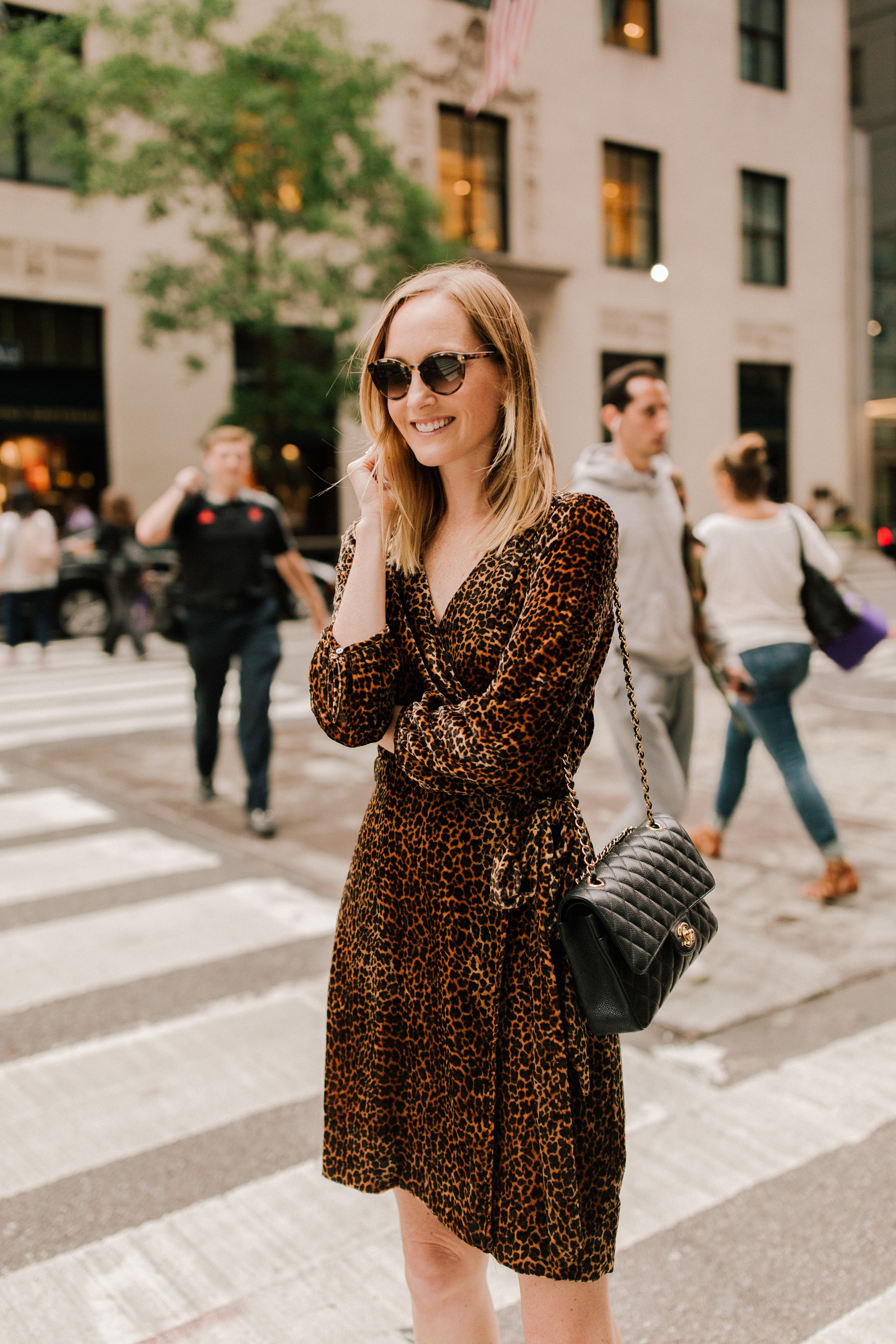 Shop the post:
Velvet Leopard Wrap Dress (In solid velvet here and in solid crepe here.) / Tortoise Sandals / Chanel Bag c/o (Love this similar one under $60 as well as this one from Tory Burch… and I like this this one and this one from Gucci–though not sure I could pull off that much bling. 😉) / Tuckernuck Earrings (Incredibly lightweight, which is why I wear them all the time!)