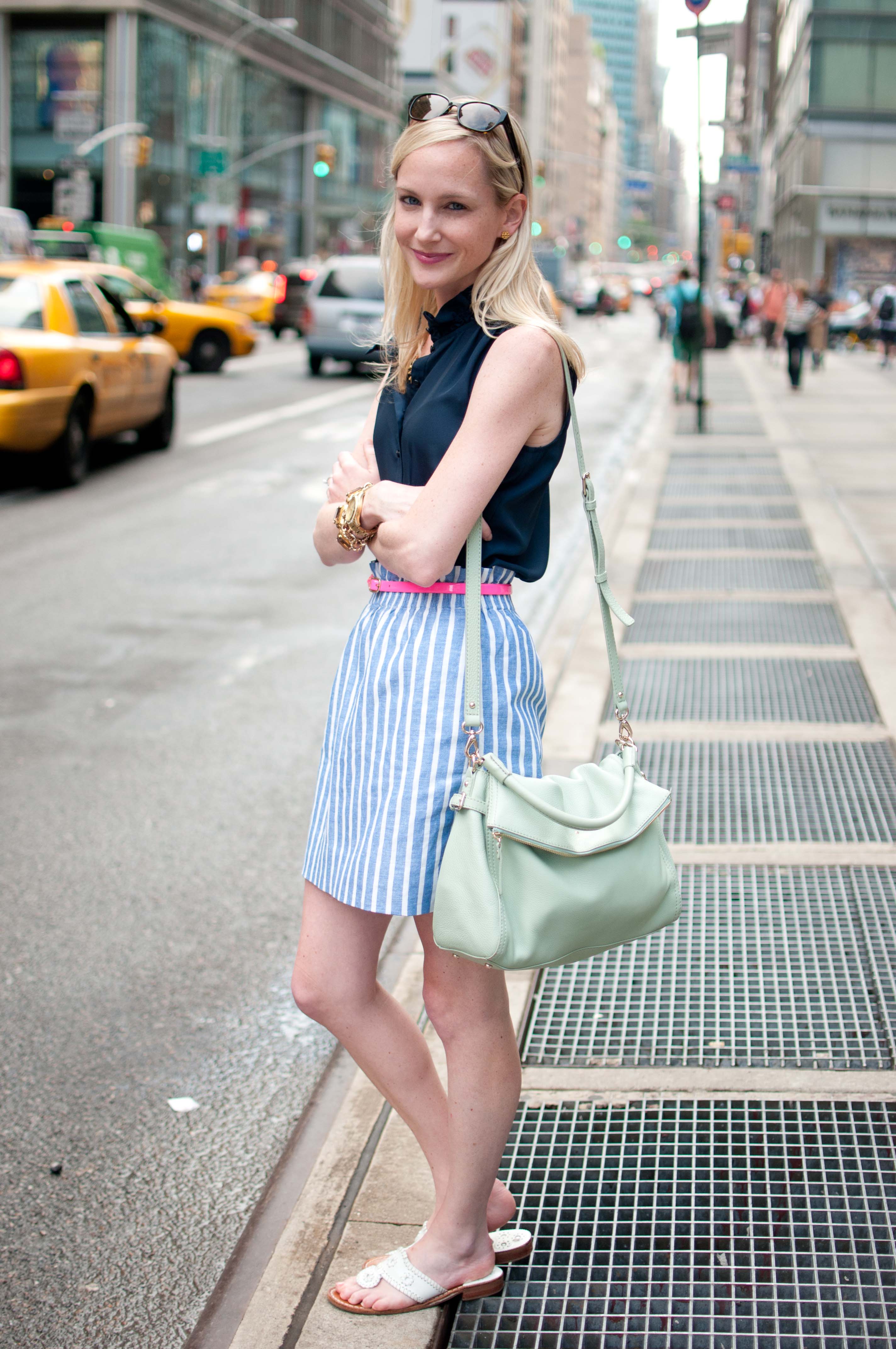 So, I've completely fallen victim to wearing essentially the same outfit on a daily basis, only in different colors/patterns. I blame my father. ;) He is notorious for going shopping once a year, and buying multiples of the same product–sometimes in different colors/patterns, sometimes not–to "keep it simple." Honestly, the man's a genius. It's funny that he does this, but it works for him. He looks great every day!
Top: J.Crew Factory*, also available in polka dot*, hot pink* and ivory* / Bag: Kate Spade (On sale!), same bag in black, tan, bright blue (On sale!), bright green (On sale!), straw (On sale!), and black and white stripe / Belt: J.Crew / Skirt: J.Crew Factory, similar here in hot pink*, here in navy*, and here in linen / Watch: Michael Kors / Bracelets: J.Crew Factory* and C.Wonder / Necklace: Stella & Dot (Sold out), similar here in the bracelet version / Earrings: Tory Burch / Lipstick: Clinique / Sandals: Jack Rogers, but crushing on these coral beauties (On sale) and loving the teal version! I also have to talk myself out of buying  these on an almost-daily basis. ;) / Sunnies: Kate Spade
*Take an extra 30 percent off with code "SPREE"
I've been kind of bummed with myself lately because I haven't been taking chances with my outfits. (It's not like I'm crying myself to sleep; I just prefer to "live colorfully," as Kate says!) This happens to me a lot. Like, every. Single. June. Ugh. I'm just so tired. School really needs to end! But you know what? It's okay to be tired sometimes. It's okay to not take chances every day. It's okay to fall back on what you know works.
A smart shopper is a shopper who knows what pieces can be worn over and over by mixing and matching. I think I owe this knowledge to Dad. (Actually, I probably owe it to Mom. ;)) This is real life! Normal people don't have millions of dollars to spend on clothing and personal stylists. And normal people don't have hours to devote to adorable outfit planning. So we–the average girls–need to be savvy when it comes to selecting pieces for our closets! We need to be able to grab and go!
Clearly, my June essentials (you know–when I hit the snooze button 5+ times) are Jacks, J.Crew mini skirts, and silky tops. And I'm fine with it. Maybe next Thursday–my first day of summer freedom–I'll be a little more inventive. But for now, fashionistas, I'm just another exhausted working girl in the same clothes on repeat, lovin' her crazy life! ;)