Tops

One / Two / Three / Four / Five / Six / Seven / Eight / Nine
8:00 p.m.
The winner of the tops section is the Elsa blouse. STOCK UP! Elsas rarely go on sale. I love this one in "High Tide Navy Heart and Soul."
Sweaters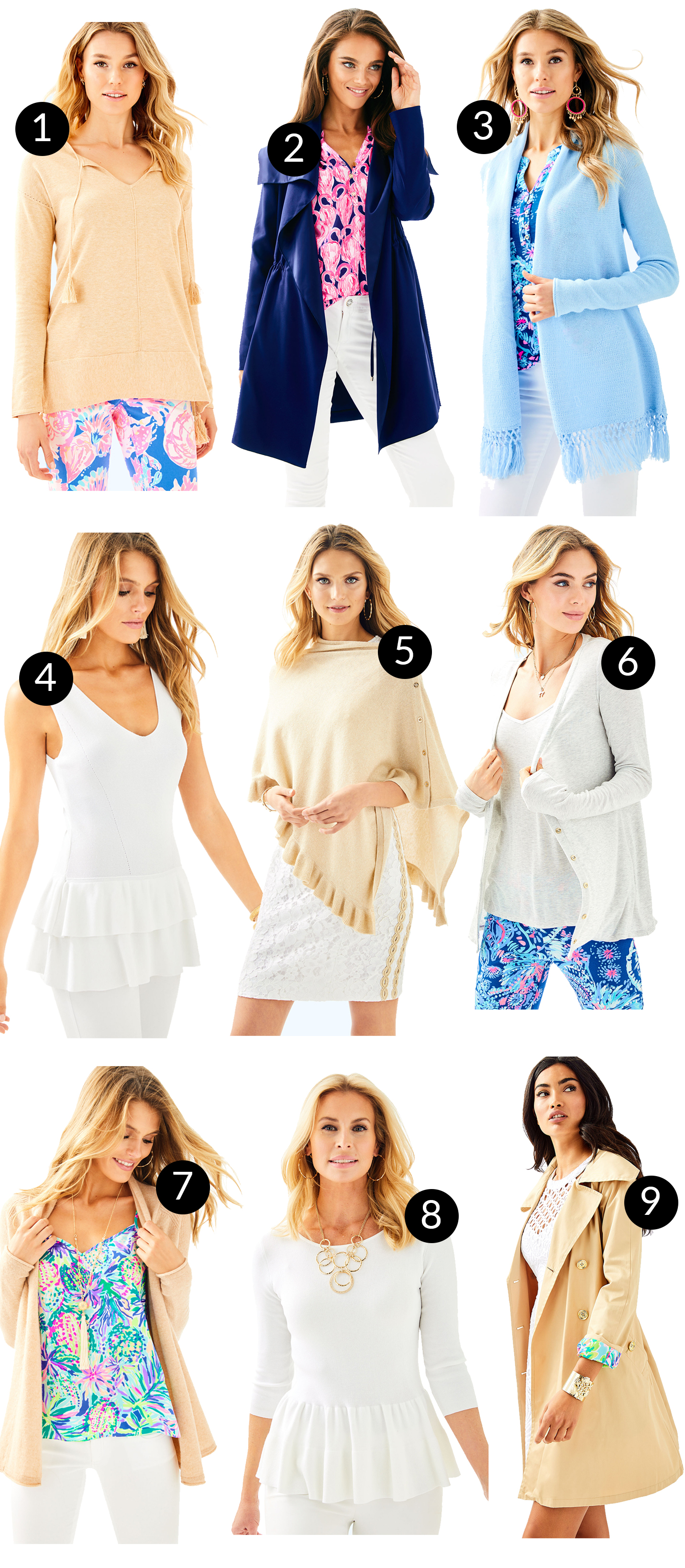 One / Two / Three / Four / Five / Six / Seven / Eight / Nine
7:45 p.m.
Again, I think this is the best section, considering fall is just around the corner. So many great sweaters for the transition! I couldn't live without #7, and #5 is calling my name…
Rompers + Jumpsuits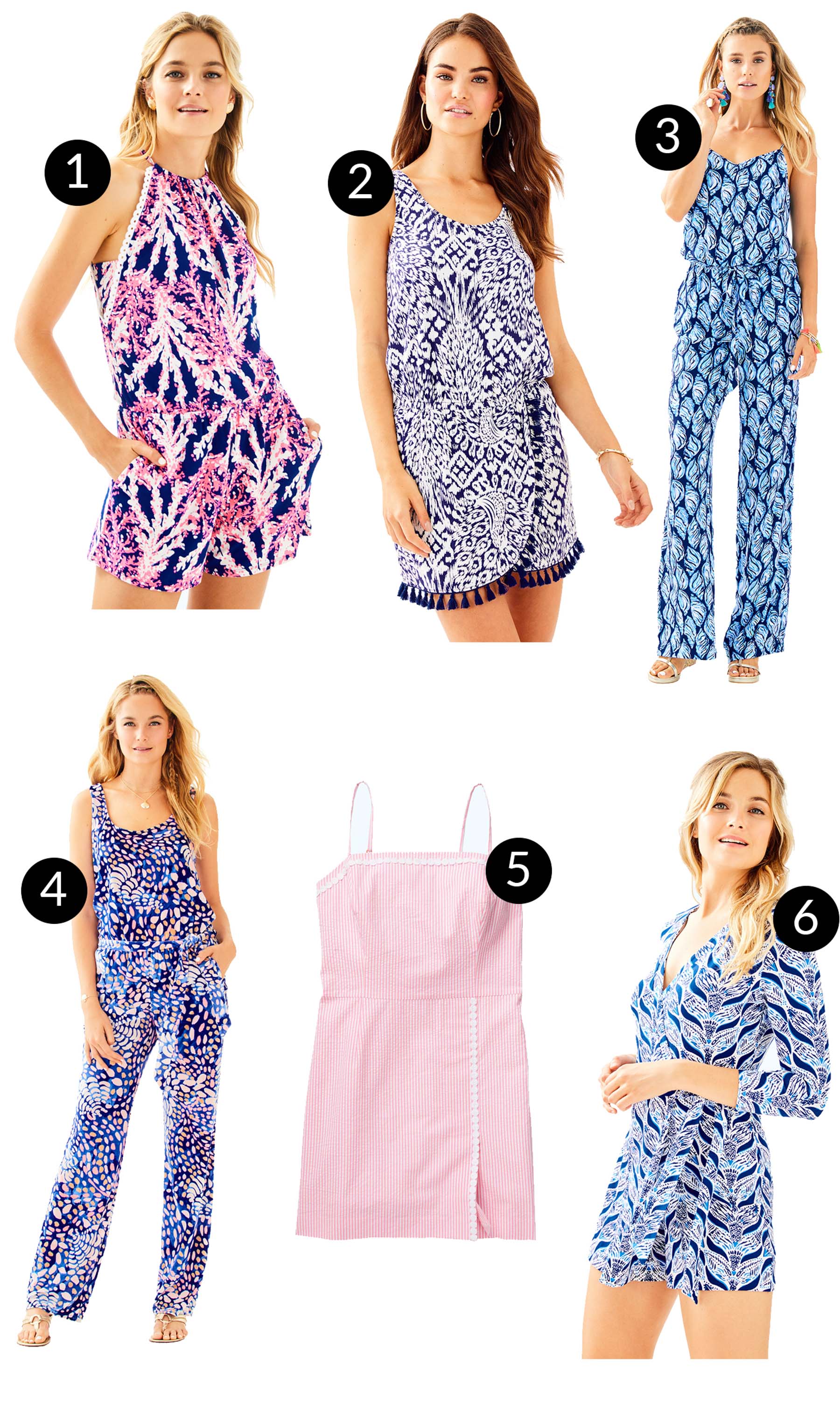 One / Two / Three / Four / Five / Six
7:45 p.m.
I think #3 is the cutest here, but this little white romper is pretty adorable, too. Shop other sale jumpsuits and rompers here.
Bottoms

One / Two / Three / Four / Five / Six / Seven / Eight / Nine
7:30 p.m.
The pants from the "sale bottoms" section that I need to highlight are the Palazzo pants. I wear these very often during the summer because they feel like pajama pants but look fancy! I love wearing them with a silk cami or blouse.
Swim + Luxletic

One / Two / Three / Four / Five / Six
7:15 p.m.
Without a doubt, you HAVE to get these activewear leggings in "Regatta", which aren't pictured above. I know I was just talking about this, but Lilly activewear leggings are insanely soft, and perfect for travel or sleeping. Or, I guess, working out. 😂 Haven't tried the swim collection but would LOVE to hear about it if you have!
Dresses

One / Two / Three / Four / Five / Six / Seven / Eight / Nine / Ten / Eleven / Twelve / Thirteen / Fourteen / Fifteen / Sixteen / Seventeen / Eighteen / Nineteen / Twenty / Twenty-One / Twenty-Two / Twenty-Three / Twenty-Four
These are my absolute favorite dresses (all of which I own and wear all the time):
What I have my eye on:
Other dresses that I forgot to include is this fish one, which matches Emma's; this beautiful maxi dress; this button up white number; and this knit sailboat dress, which will forever be a favorite because it can easily be dressed down or up.
Little Girls + Accessories

One / Two / Three / Four / Five / Six / Seven / Eight / Nine
5:45 p.m.
OKAY! I made some prettier, easier-to-shop guides for the sale. I hope they're helpful! Later, I'll add sizing/fit/quality details once I get everything linked up. (Takes a long time, haha.)
First up is the Little Girls and Accessories sections. See above for my faves from both!
A few quick notes, though: the gold clutches (#9 and #5) are SUCH a steal. I don't know if you feel similarly, but before I got a gold Lilly bag that looks very similar to these two, I never knew what to pair my Lilly stuff with! Because the prints can often be (adorably) loud, it's hard to find something that complements 'em. These are SUCH a steal, and my best recommendation for pairing with Lilly prints.
As for Emma's dresses, the three that I share above are our favorites this year. #3 is amazing; it looks dressy, but it's actually a t-shirt material, which makes it very comfy for a little girl. She's worn them on special occasions but she's also worn them to peewee and the beach!
More guides incoming in a few minutes. Stay tuned!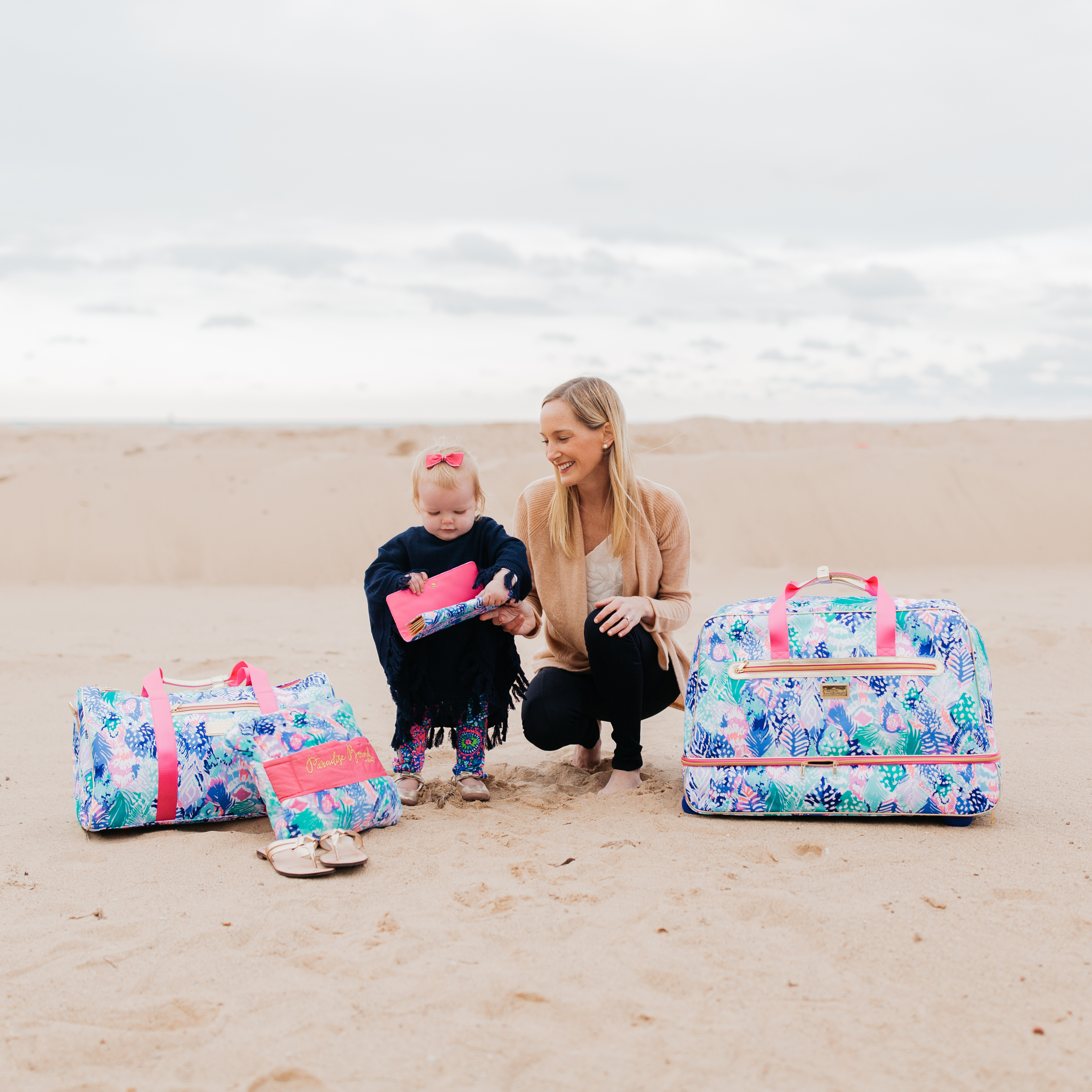 Favorite Camel Cashmere Cardigan on Sale!

2:45 p.m.
And what about the sweater section? There's actually no way to separate 'em from the tops, but there are only a few pages, and they're definitely worth going through. I'm really into the ponchos as I'm browsing. Thoughts? ;)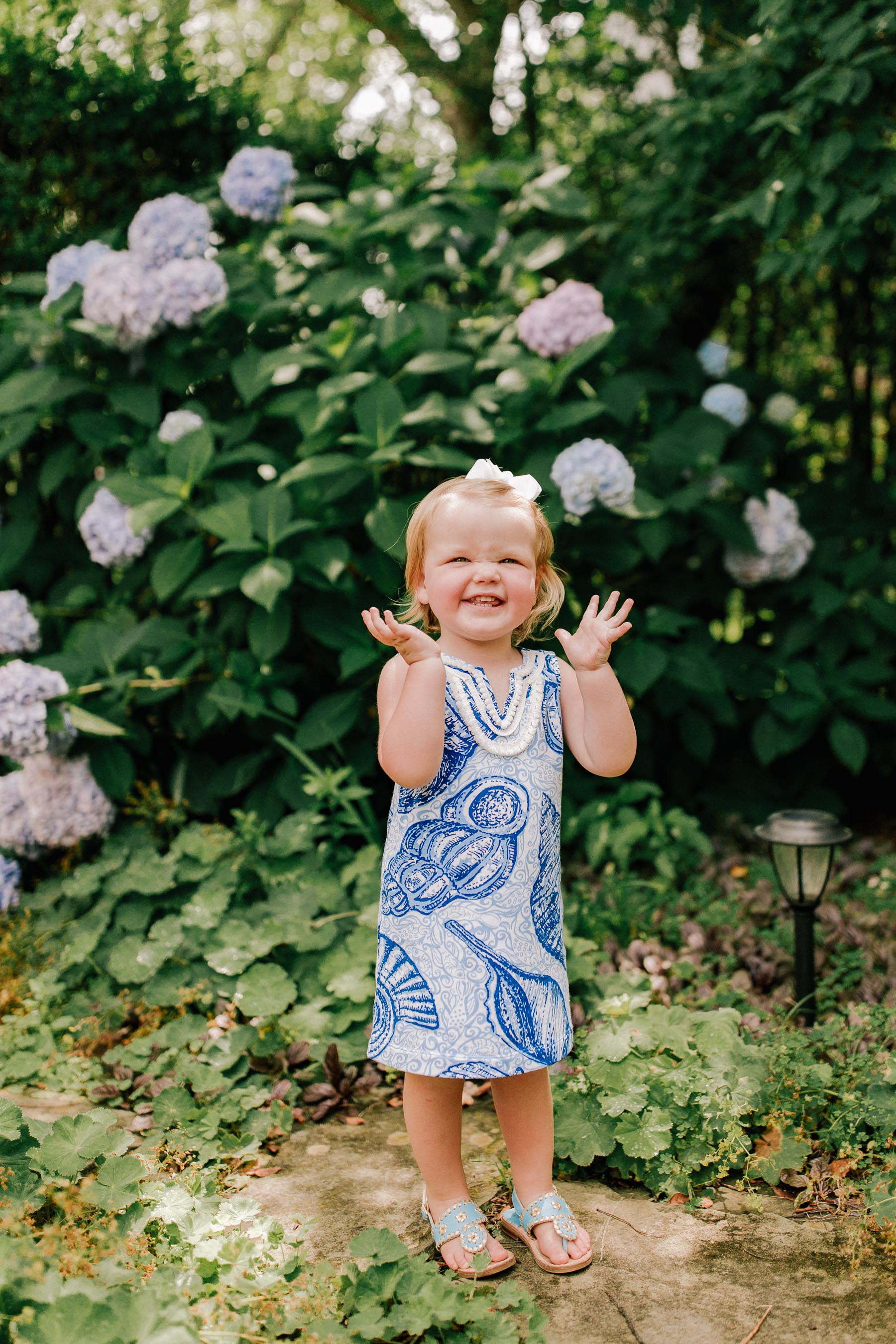 1:45 p.m.
Gah! Obviously I saved the best for (second to) last, haha. I can't get enough of the girls' section today. Last year, everything seemed to sell out absurdly quickly, but this year, there's so much available in Emma's size!
Our favorites are the Harper Dress, the Pearl Dress, the Essie Dress, the Classic Shift, the Sophie Dress, the navy poncho, and the fish-print Bay Dress.

1:30 p.m.
I've actually yet to try Lilly Pulitzer swimwear. But I'm SO interested in getting a suit. I'm thinking about one of the tankinis since I have a long torso. Do you guys have any insight?!


1:05 p.m.
As you guys know, I'm quite the fan of jumpsuits. They keep me warmer at night, and they provide extra coverage from the sun and protection from the bugs. Very impressed with how many are included in the sale this year!


12:50 p.m.
Lilly activewear is phenomenal. The leggings are my #1 choice, as they're insanely soft and comfy. They're my go-to for long flights and drives, and I've even been known to sleep in 'em. Highly recommended!


12:30 p.m.
Dare I say that this is the best sale I've ever seen? Above are some favorites from the Accessories section.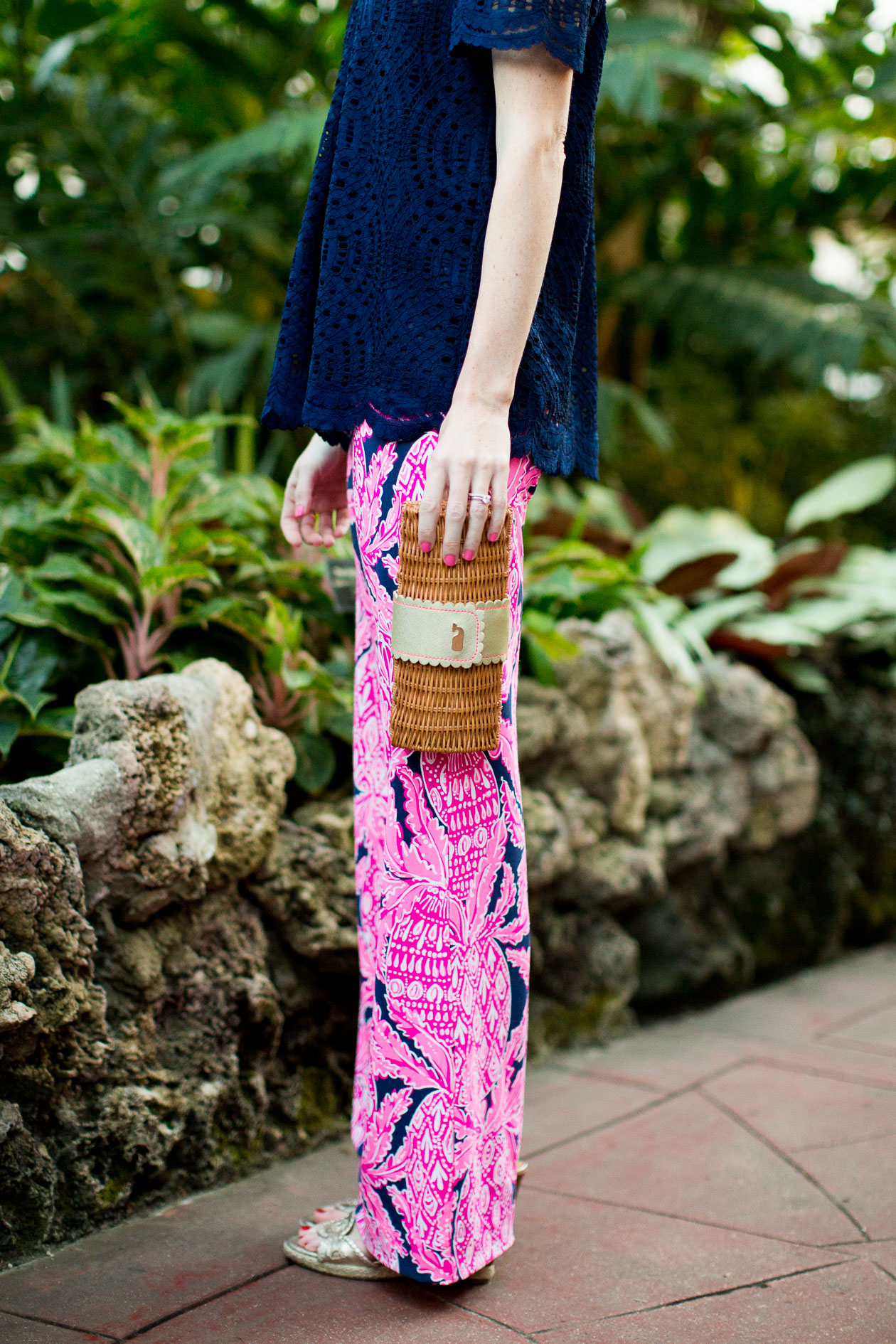 12:15 p.m.
Bottoms! A commonly overlooked section of the sale, but a great one this year.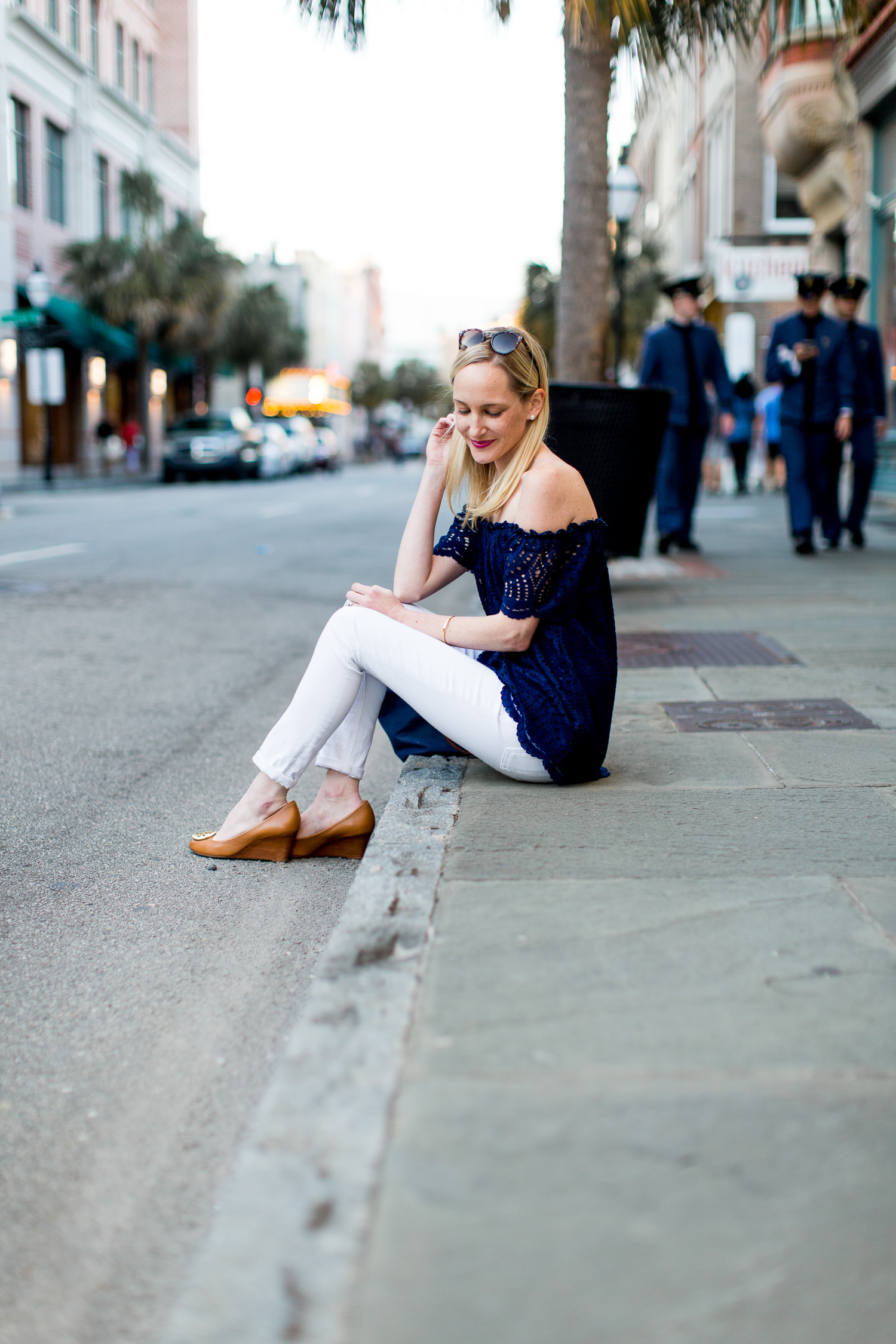 La Fortuna Lace Top / Long-Sleeved Version Here / White Version Here

12:00 p.m.
Woo! How is it already noon? Popping in to highlight some of my favorite sale tops. This is the best section of the sale, in my opinion, since so many of the pieces can be worn year-round. :)

11:30 a.m.
I'll pick back up with the dresses in a few minutes, but wanted to highlight the fact that Ruelala's Lilly sale is now live. Check it out! Lots of stuff that isn't on the Lilly site.
GUYS, MY BLUE BOW SHIFT DRESS IS INCLUDED.

Bailor Dress: Actually, wait. This might be my favorite Lilly dress of the year. (Too many great ones to choose from!) Okay; it's a tie between this and the Bay Dress. This is just an iPhone pic, and it really doesn't do it justice. But click here to see how gorgeous it is! Doesn't wrinkle easily, either, making it great for travel. Wearing my normal size. (Ties with a sash, so this is a safe purchase today. Order your normal size and if it's a teensy bit big, the sash will take care of it!)

Callista Dress: Another one of my must-worn Lilly dresses. Again, it's made from a t-shirt material, which means I can get away with wearing it to the beach but also to dinner. Runs TTS! Super comfy and flattering.

Cabrey Shift Dress: Can't get enough of the flamingos, and I can't believe it's back! (Thought for SURE it was a goner, haha.) Runs TTS and love that lace-up front.

Lela Silk Dress — one of my all-time favorites! Unbelievably flattering. It's somewhat roomy; order your usual size.

Cabrey Shift Dress: Those pom poms! Love that this dress is halfway between fancy and casual; it's perfect for date nights and dinners! I have my normal size and it's perfect.

Bay Dress: Without a doubt, my favorite Lilly dress from this past year. If you look closely, you can see that the stripes are actually scalloped… and there's an adorable twist-tie in the back. Couldn't recommend this one more; go with your usual size!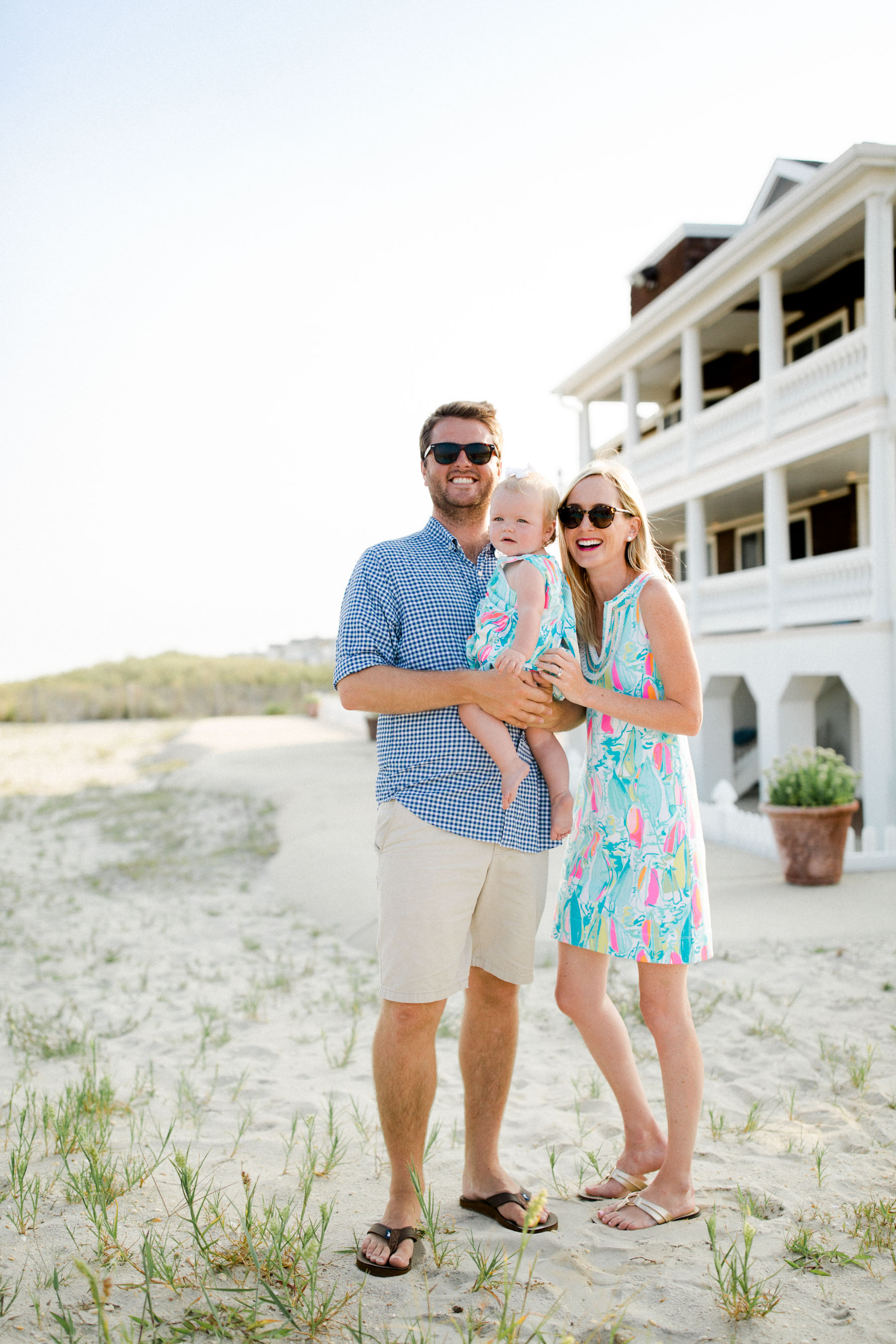 Harper Shift Dress: Probably my favorite shift, since it can easily be dressed up or down. It's made out of a thicker t-shirt material, so I never feel under- or over-dressed when I wear it! Runs TTS.
10:45 a.m.
Thought I'd take a minute to highlight some of my favorite dresses that are included in the sale! I've included photos as well as sizing info for each. See above!

Lela Silk Dress — one of my all-time favorites! Unbelievably flattering. It's somewhat roomy; order your usual size.

10:15 a.m.
Okay, I'm into the After Party Sale! I'm having some browser issues–not sure if anyone else was/is experiencing them, but I'm on Safari, and it looks like it's having trouble reading the CSS.
If you're experiencing a page full of weird text, simply click the links under "Sale." That should help you get to a functioning sale page!
My first impression of the sale is that it's GIANT! Holy goodness. It's honestly a little overwhelming, haha. But I've rounded up some of my favorite dresses above, a ton of which are dresses that you've seen on the blog before!

One / Two / Three / Four / Five / Six / Seven / Eight / Nine / Ten
9:10 a.m.
Still waiting over here! 👋 #5123; 13-minute wait. Not bad! I've heard (from friends who are already in) that there's a TON of merchandise. Like, so many pages. So don't freak out. Also keep in mind that most shoppers check out as quickly as they can so they don't lose whatever they have their hearts set on. Most girls aren't buying a thousand products; they're buying one or two things in their sizes.
Have you gotten in yet?! If so, what have you scored?!
8:30 a.m.
Did your wait time go up? Mine did, too. It actually went down to 26 minutes at first, and it now says I have "over an hour" to wait. (I'm #30,842, in case you're wondering.) I wouldn't worry! I would assume that site calculates an estimated wait time based on the average time girls are staying on the site before checking out. It doesn't mean that all the good stuff is flying off the shelves; it likely means that there's a lot of inventory, and it's taking shoppers longer than expected to explore the selection. :)
No panicking! Happiness only!
8:15 a.m.
Update over here: At the moment, I'm making coffee and posting bunny filter Instagram Stories. Oh, and my number is 37,996. It says I have a 43-minute wait time. What's your number?!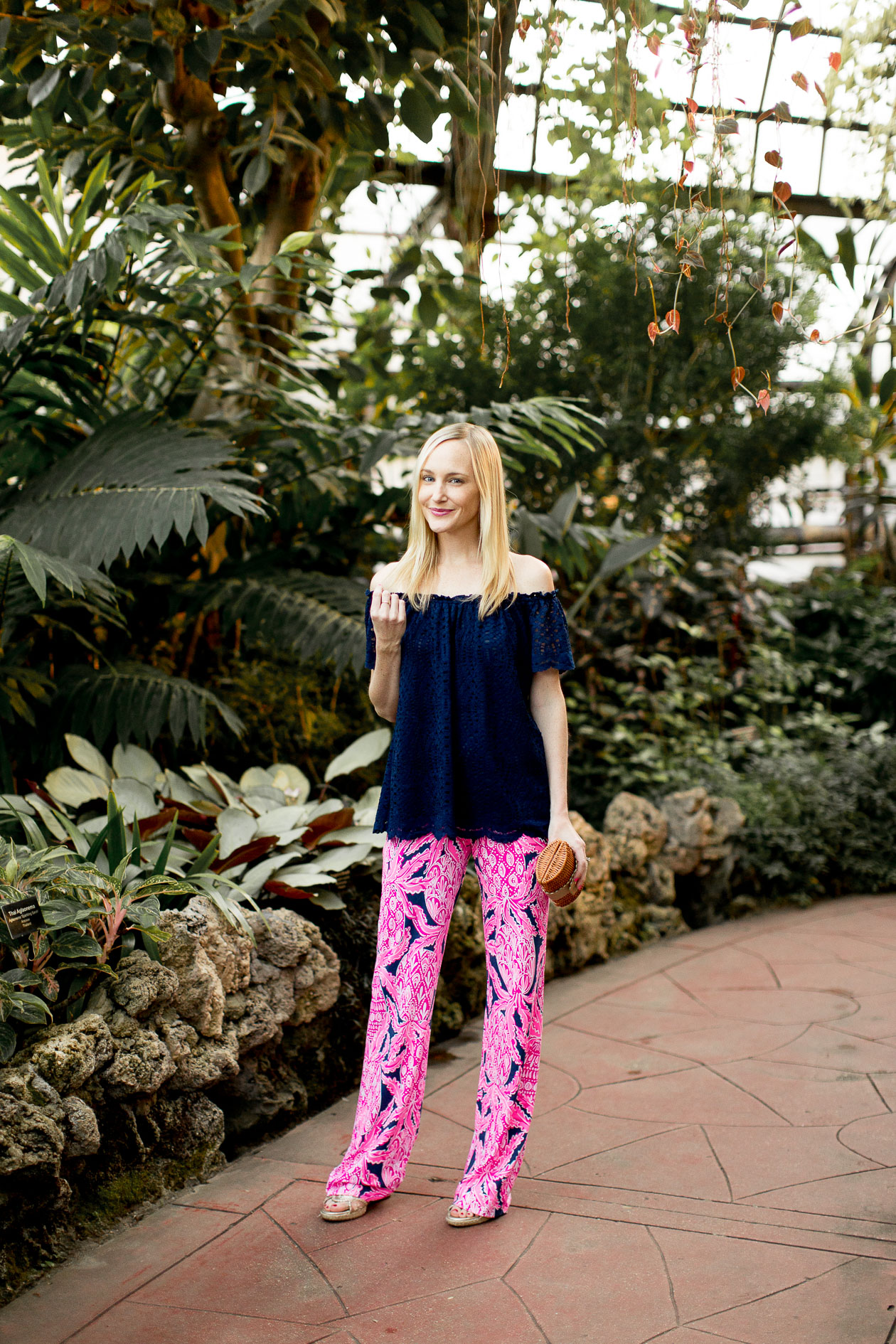 8:04 a.m.
I refreshed the Lilly sale page right at 8 a.m., and my place in line is currently #46,100 — wait time: more than an hour. I hope that makes you feel better in case you're feeling defeated! 😜 Just so you know, though, the line almost always moves more quickly than the time you're given, so don't stray too far from your computer!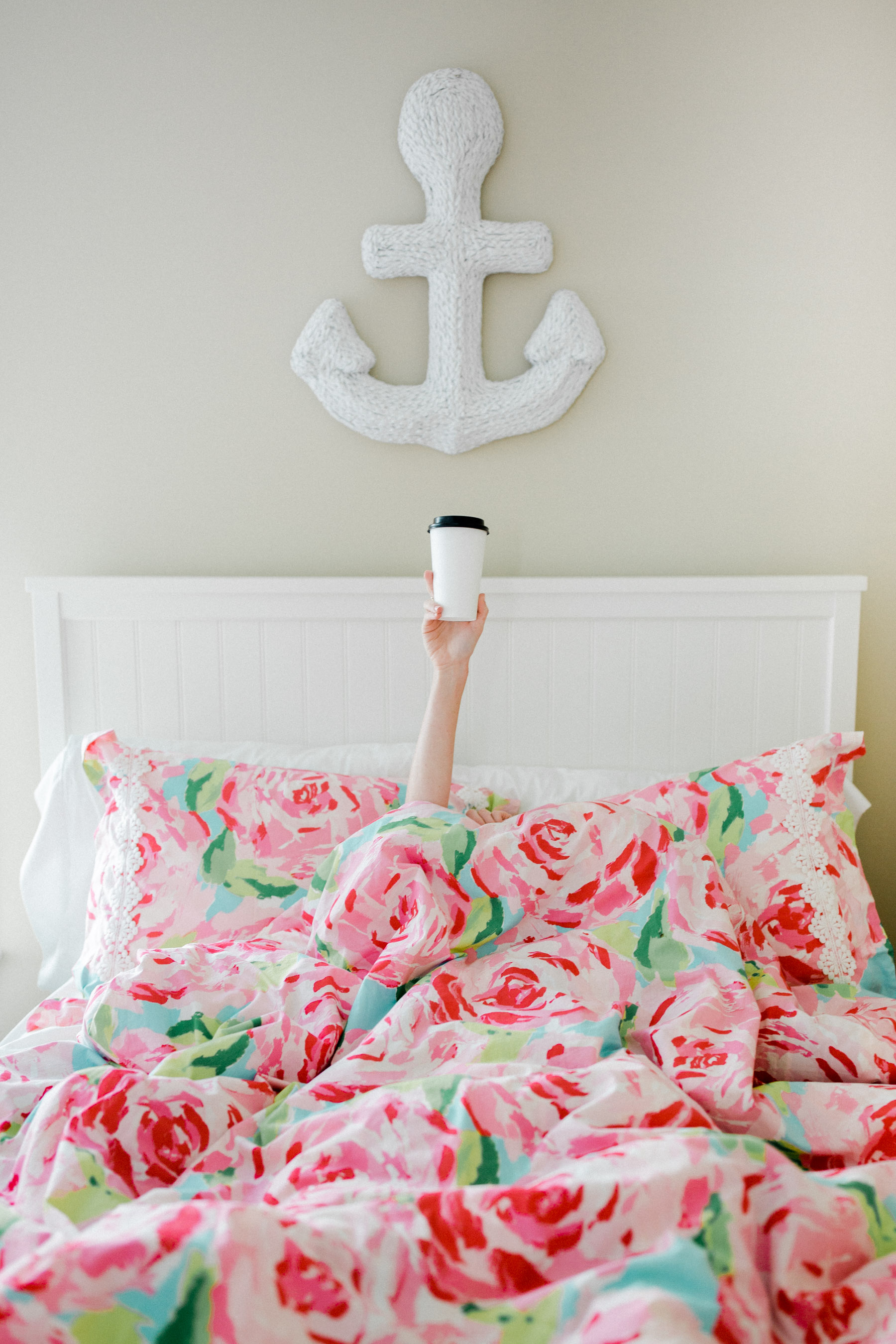 7:45 a.m.
Rise and shine, Lilly lovers! As you can see, the site is actually UP… which I feel like is a great indicator of how things are going to go this year.
In other news, I just heard that Ruelala is going to be having its own Lilly sale at 11 a.m., so definitely check that out this morning!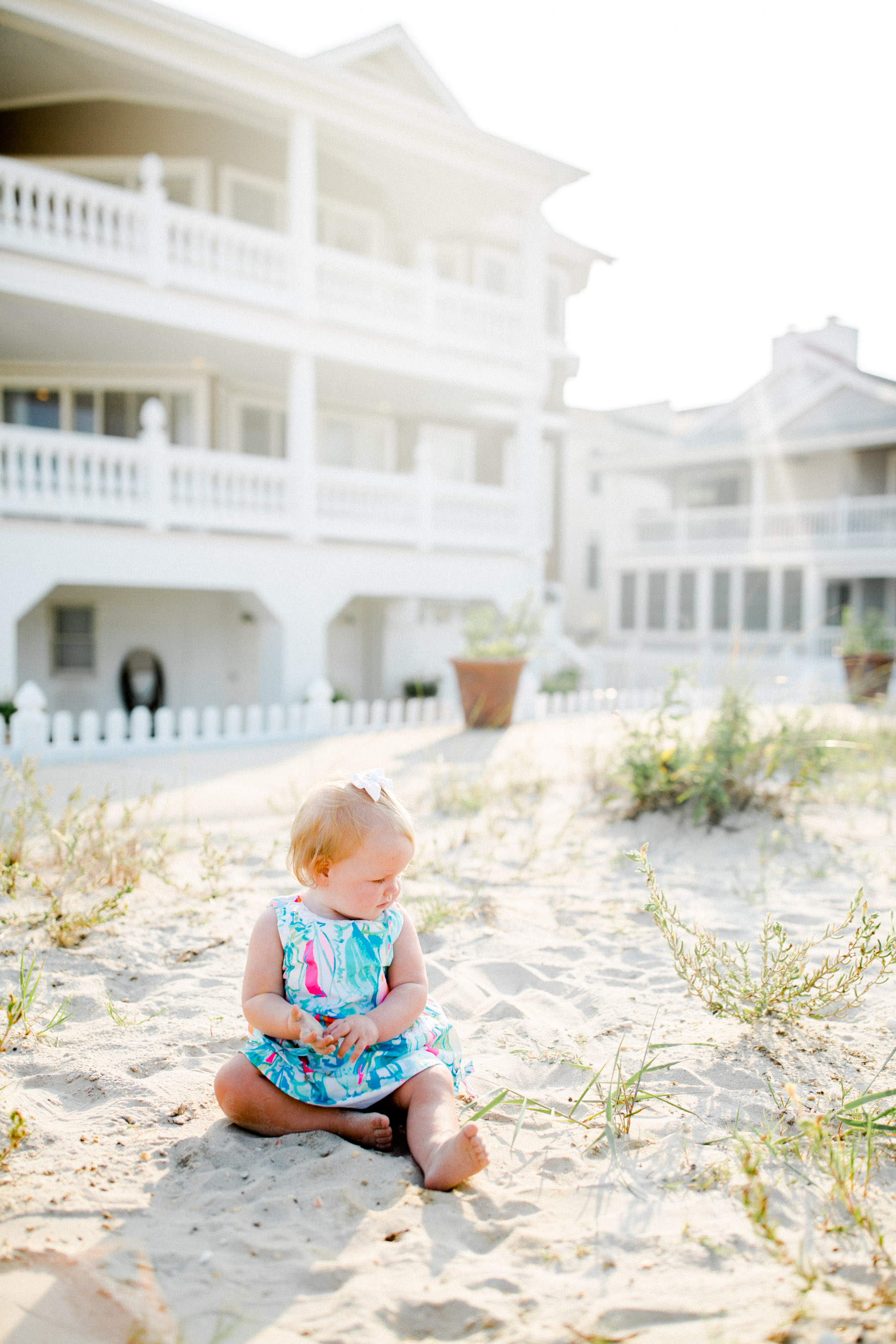 2 a.m.
For those of you who've recently started reading the blog, I publish a "live feed" every year during the Lilly Pulitzer After Party Sale (which starts this morning at 8 a.m.-ish). What this means is that I continue to update this post throughout the day with interesting information and other fun stuff. ☺️
If you're reading right now, you're probably waiting for the sale to go live. So let's get to something that'll help pass the time: today's giveaway! (Congratulations to Desiree T. who won the last one, btw.)
To enter to win a $300 Lilly e-gift card, simply comment in the comment section below with something random that's on your mind. ;)
Honestly, I'm just hoping that you'll help create an interesting comment section for everyone to read while they're waiting, haha. It's very open-ended! Could be funny; could be serious; also, could be completely out of left field. Just be sure to include your e-mail address in the following non-spammy format so that I can get in touch with you: Kelly [at] kellyinthecity [dot] com. I'll probably announce the winner at some point tomorrow, so that she has time to shop the sale with her winnings.
Anyway, I'll be back in a few hours, so tune back in soon.
Good luck and sleep tight!