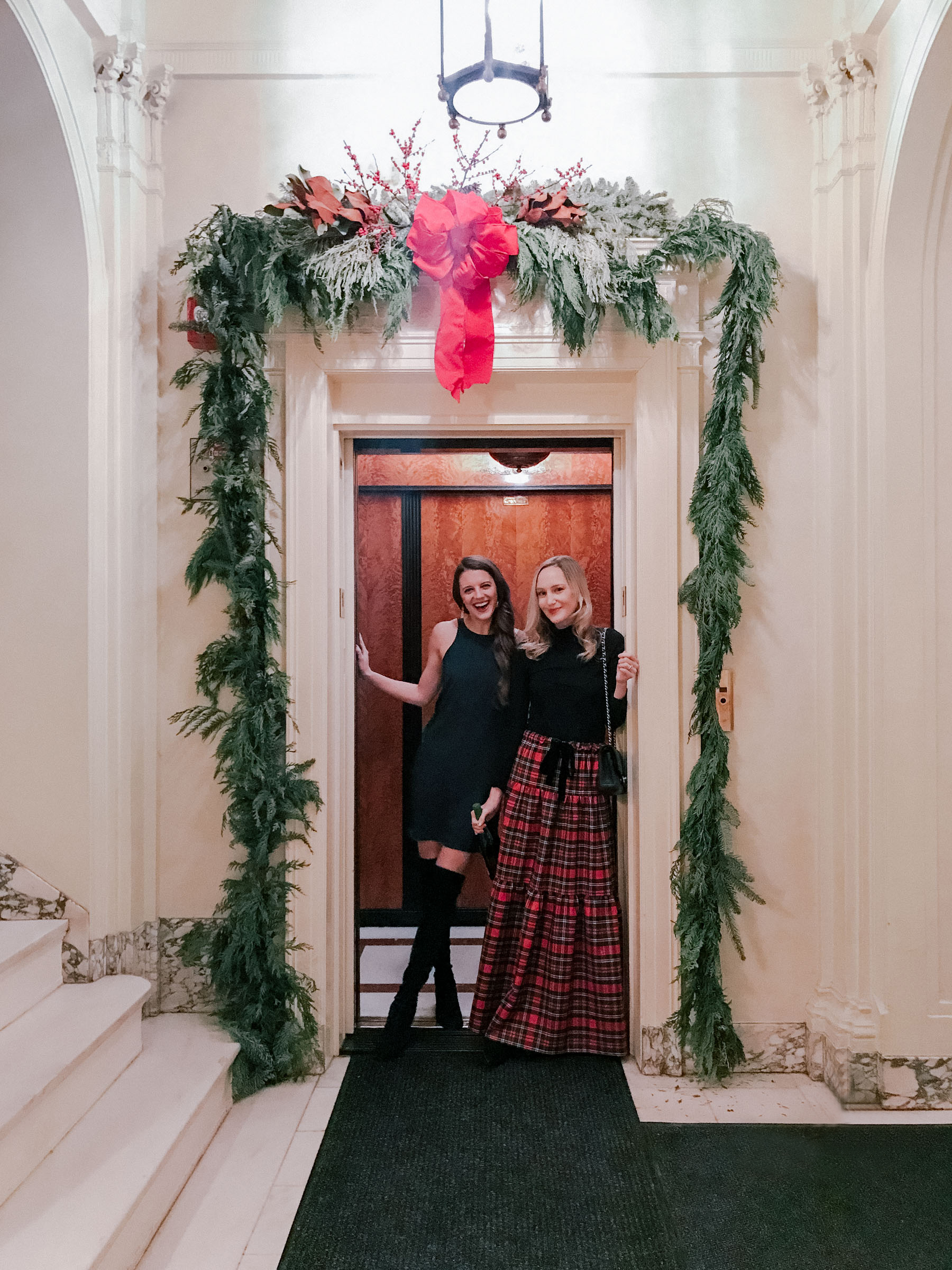 Plaid Skirt (On sale!) / Black Tissue Turtleneck / Chanel Bagc/o (Read my post on how to score secondhand Chanel for a steal!) / Block Heel Pumps (If they're sold out, they're also available at Zappos. And this pair, this pair, and this pair are super close. I also adore this pair of bow pumps and this pair of bow-tie pumps.)
It's been a while, hasn't it?! Totally meant to put up a post about this on the 26th, but for a lot of reasons, I decided to unplug for a week while we were at my in-laws' lake house. All around, good decision. ☺️ I think there's so much value in pulling back and taking things slowly the week after Christmas, and if I've learned anything from running this site over the years, it's that blogging and travel do not mix. It's too tough for me, and I always end up sick! Ironically enough, I've been simultaneously battling a stomach bug and sinus infection for the last few days (#life 😂), but we arrived in Chicago late last night, and I'm pretty happy about recovering at home. Feels so good to be back, and I missed you guys!
To get back into the swing of things, I'm doing two things tonight:
Bringing back "Life Lately." I admittedly haven't been taking a ton of photos. But a slow start is better than no start. ;)
Highlighting 50+ faves from the Nordstrom Half-Yearly Sale, which is running through January 2nd. (Scroll to the bottom of this post for my picks.)
So here we go!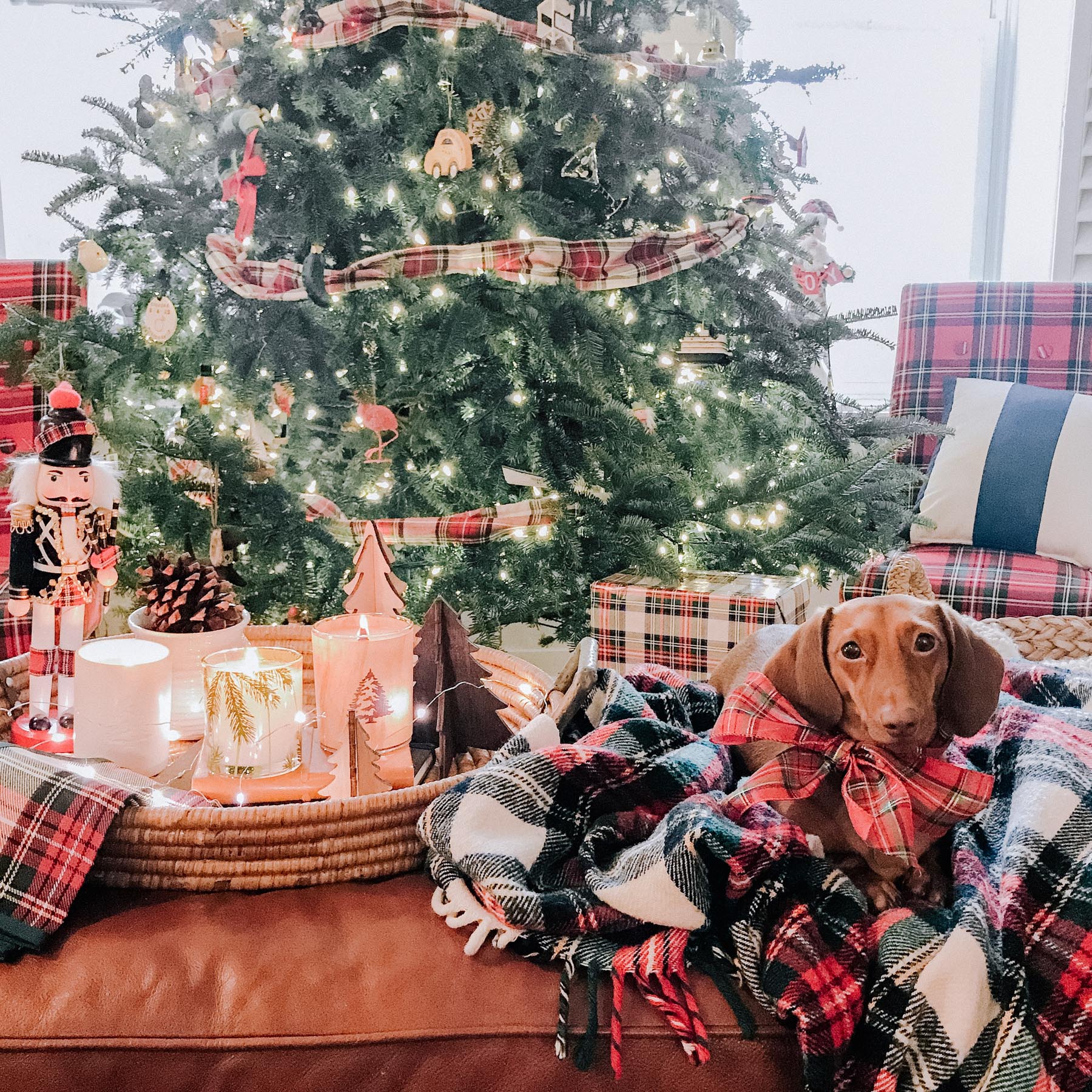 In between hectic December days, Mitch and I reserved a few nights for ourselves, and snuggled up on the couch to watch Hallmark movies. While the acting was often downright hilarious, we had a lot of laughs! Noodle was usually curled up under the blanket, right at our feet. (Note: Here are lookalike plaid chairs!)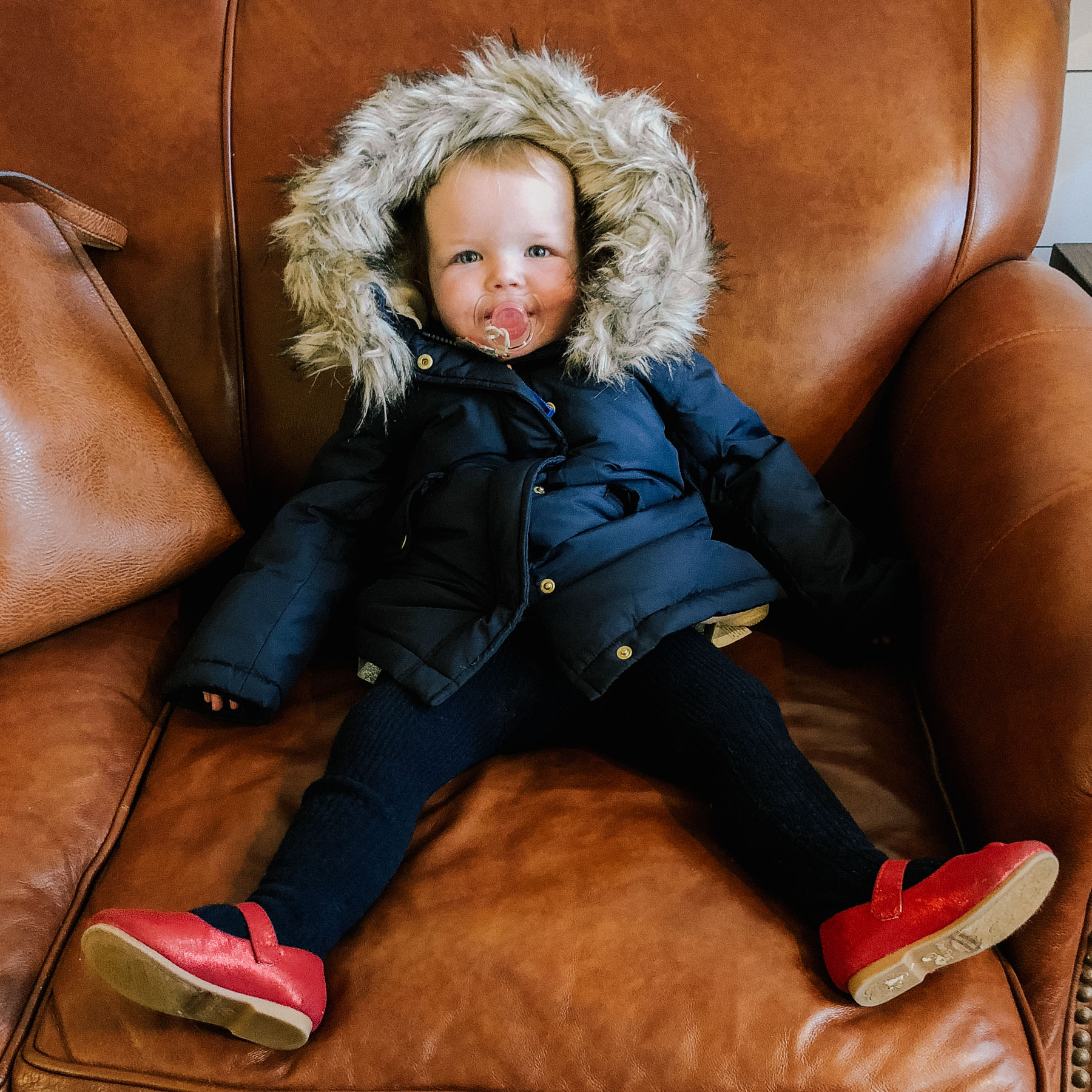 Temps plummeted in December, so we bought Emma this parka in a size 3T so she'll be able to wear it for a couple of years. It's currently 2 degrees in Chicago and she's still warm and toasty in it! (PS: we got it heavily discounted during the Black Friday/Cyber Monday sales, which means it'll go on sale again. Watch for it!)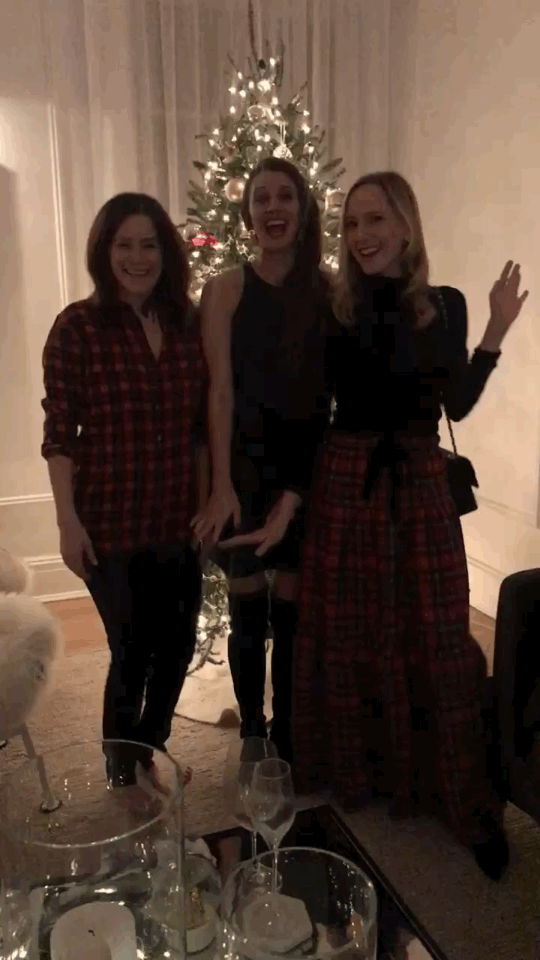 Had the best time with Danielle and Jess at Danielle's holiday party! That's where the first photo in this post is from. Got a babysitter and everything. Side note: skirt on sale! Definitely snatch it up for next year.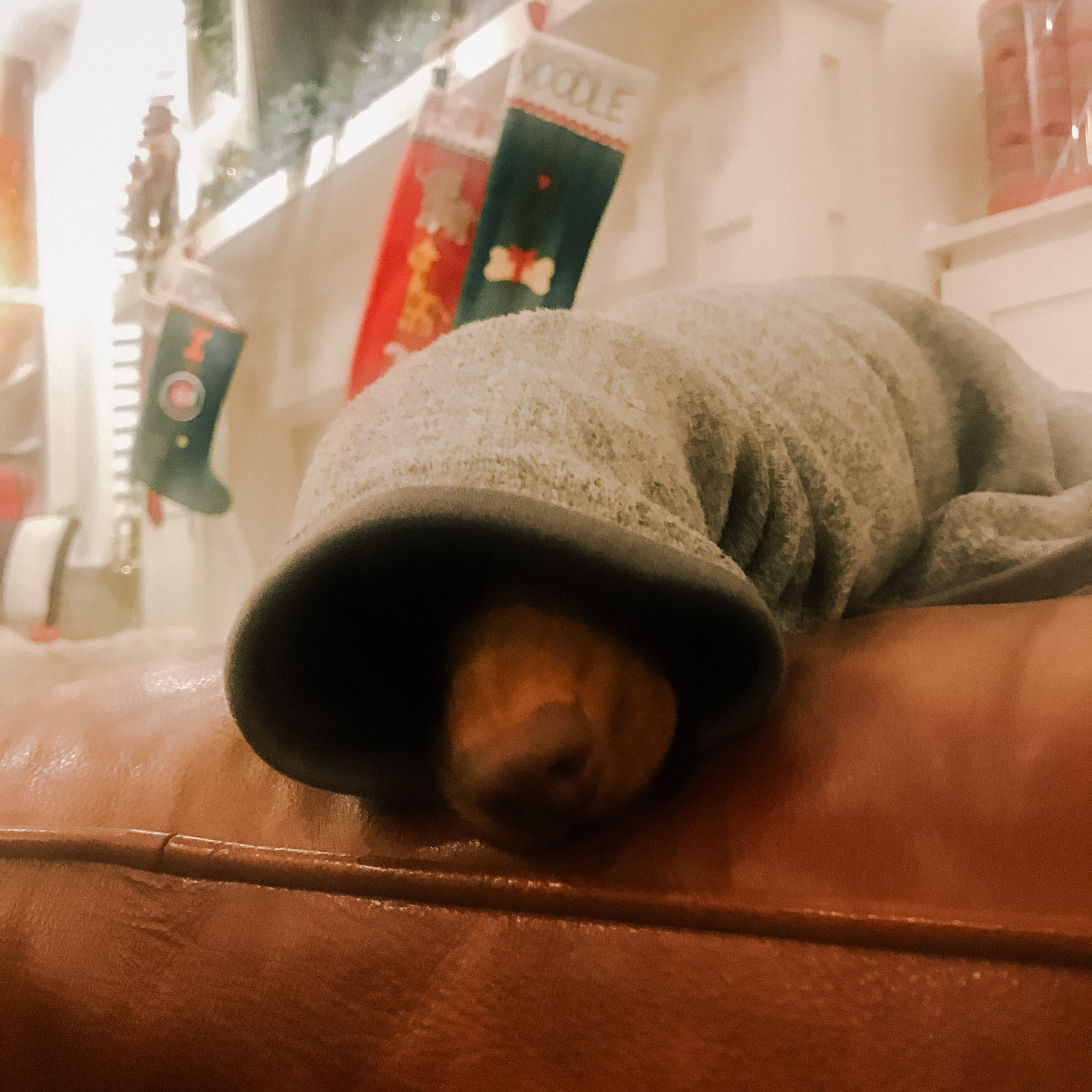 Noodle sleeping in Mitch's sweatshirt sleeve. Oh, dachshunds. (Not sure what's going on with my phone. Anyone else have an iPhone that does this at night?! I'm assuming my camera is broken.)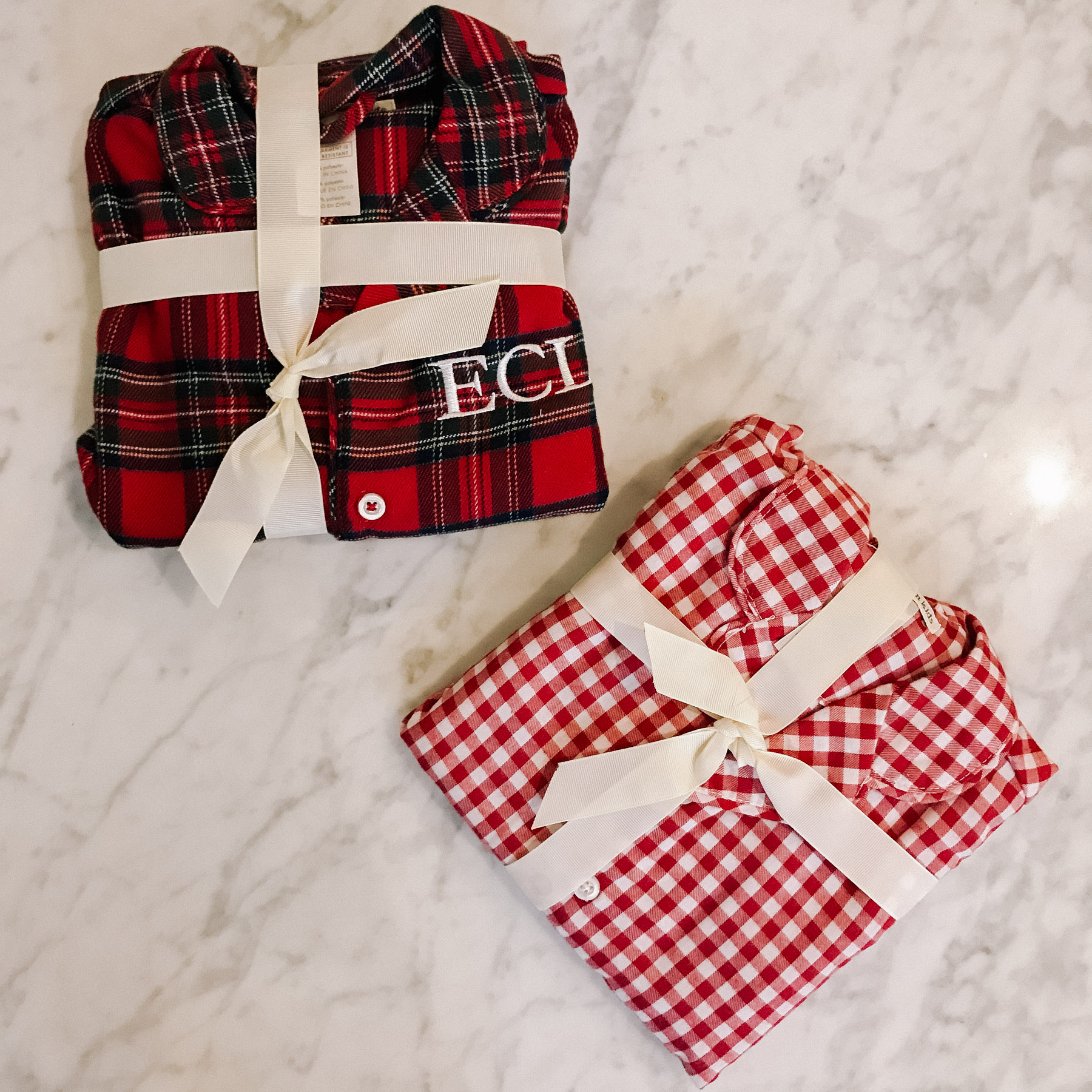 The cutest pajamas! They're from Pottery Barn Kids. We also bought these in a 3T so she can wear them for a few years, but they run big and I kind of wish we'd gone with the 2T. Cuffing works, though!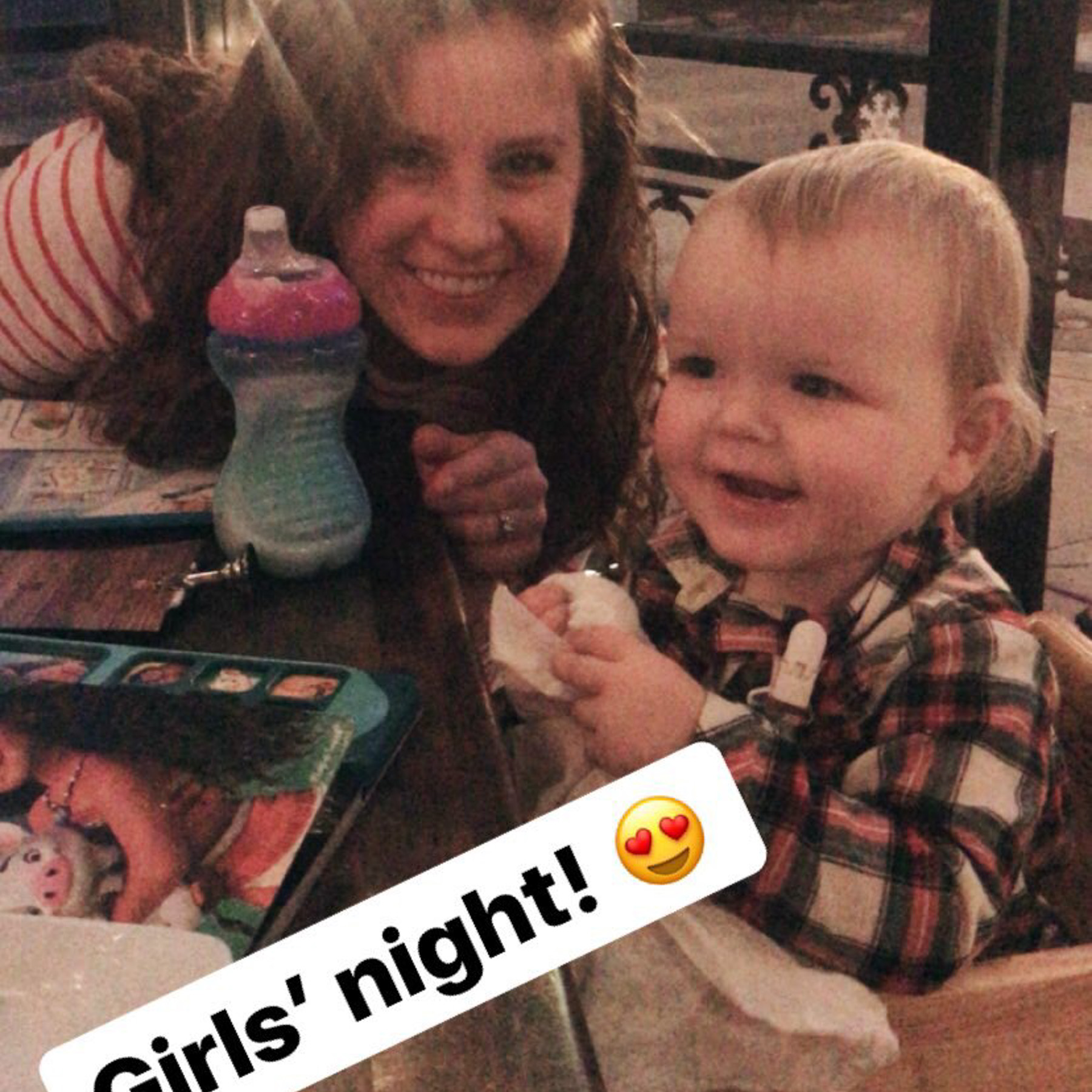 My brother and sister-in-law came to visit shortly before Christmas, and we had a great time with them despite how freezing it was. This was one of my favorite nights! Mitch was busy and Patrick was exhausted, so Kim and I took Emma out to dinner. So fun!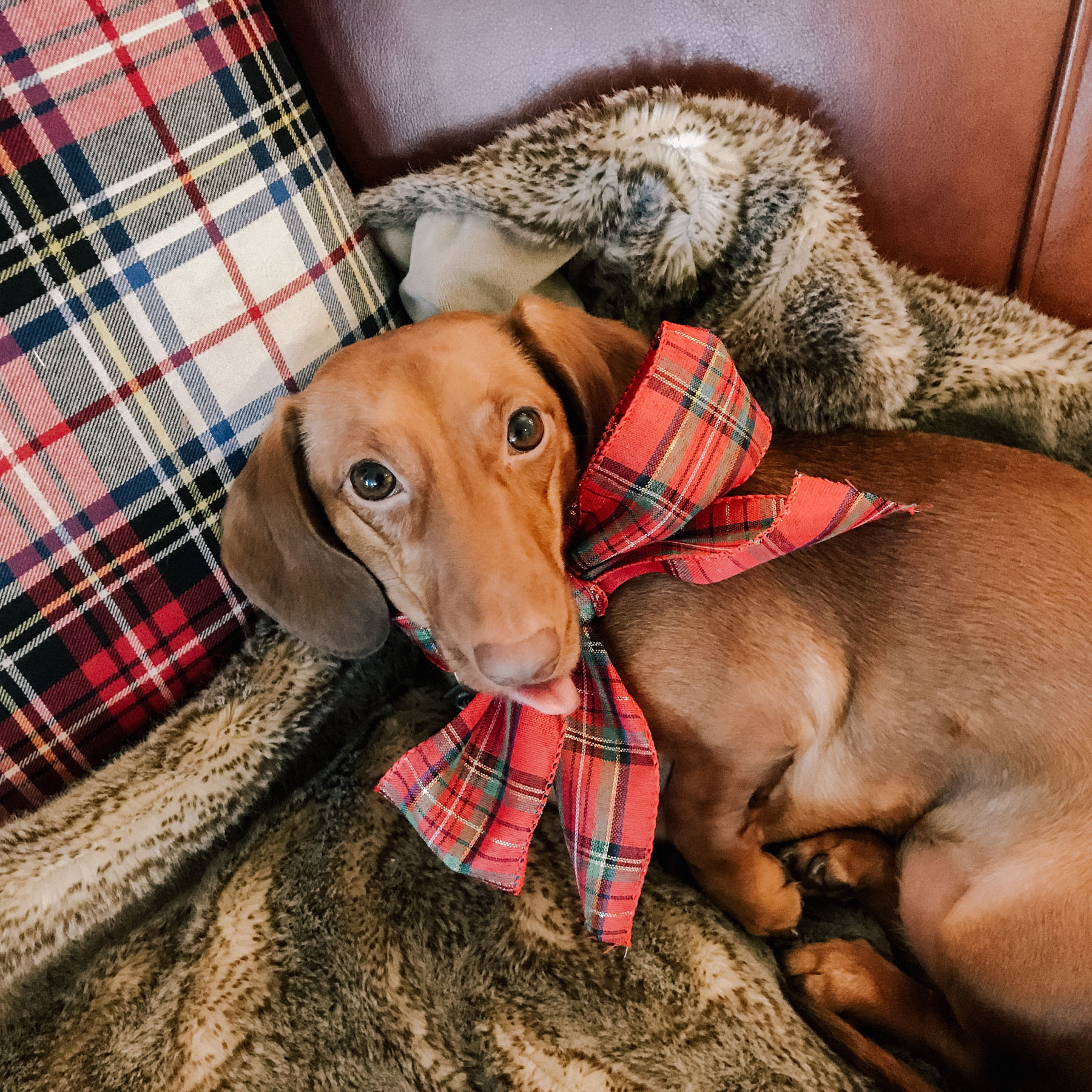 As you can see, Noodle rarely leaves the couch and her faux fur blanket during the winter.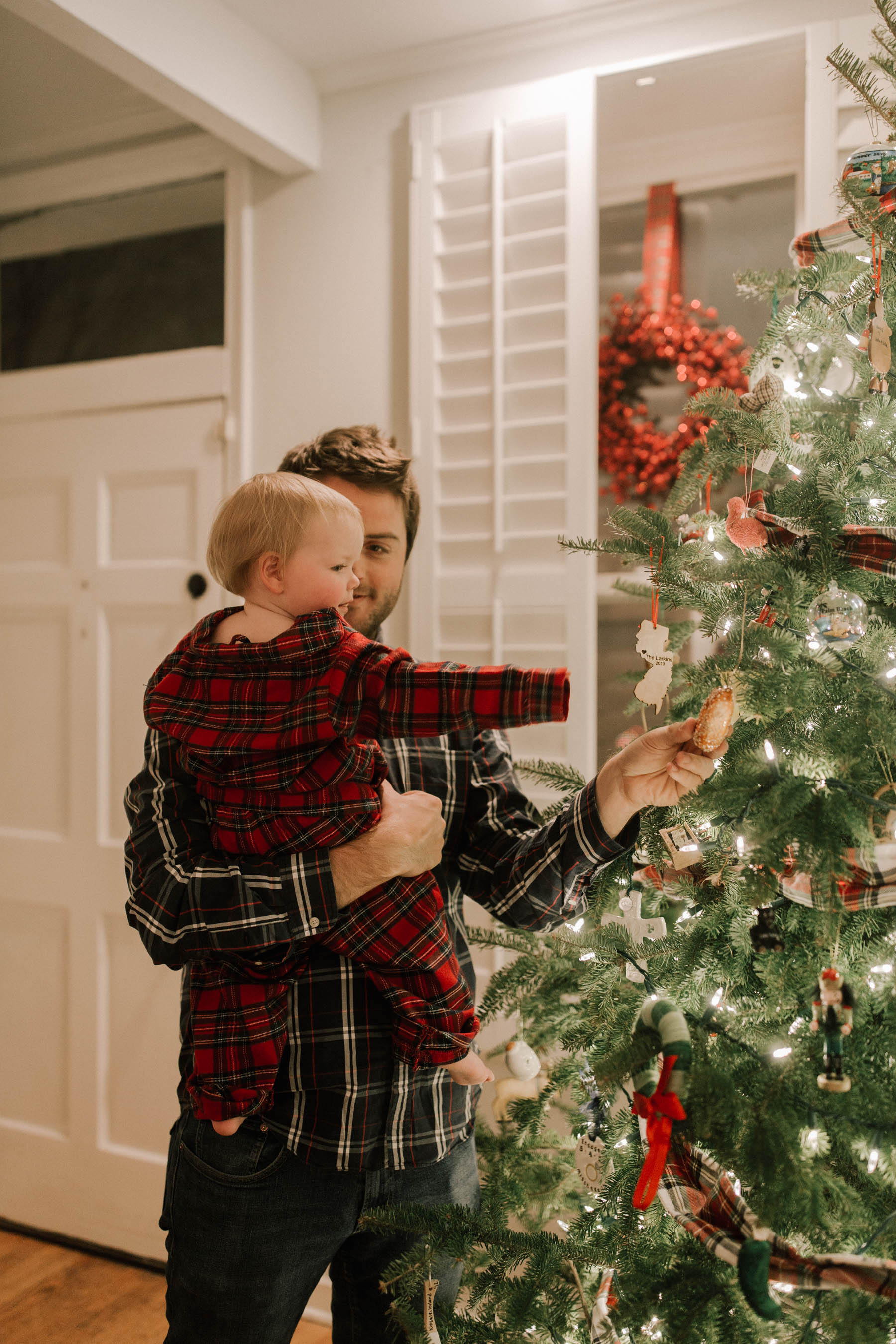 A quiet night at home before leaving for New Orleans. Here's how we decorated for the holidays, btw.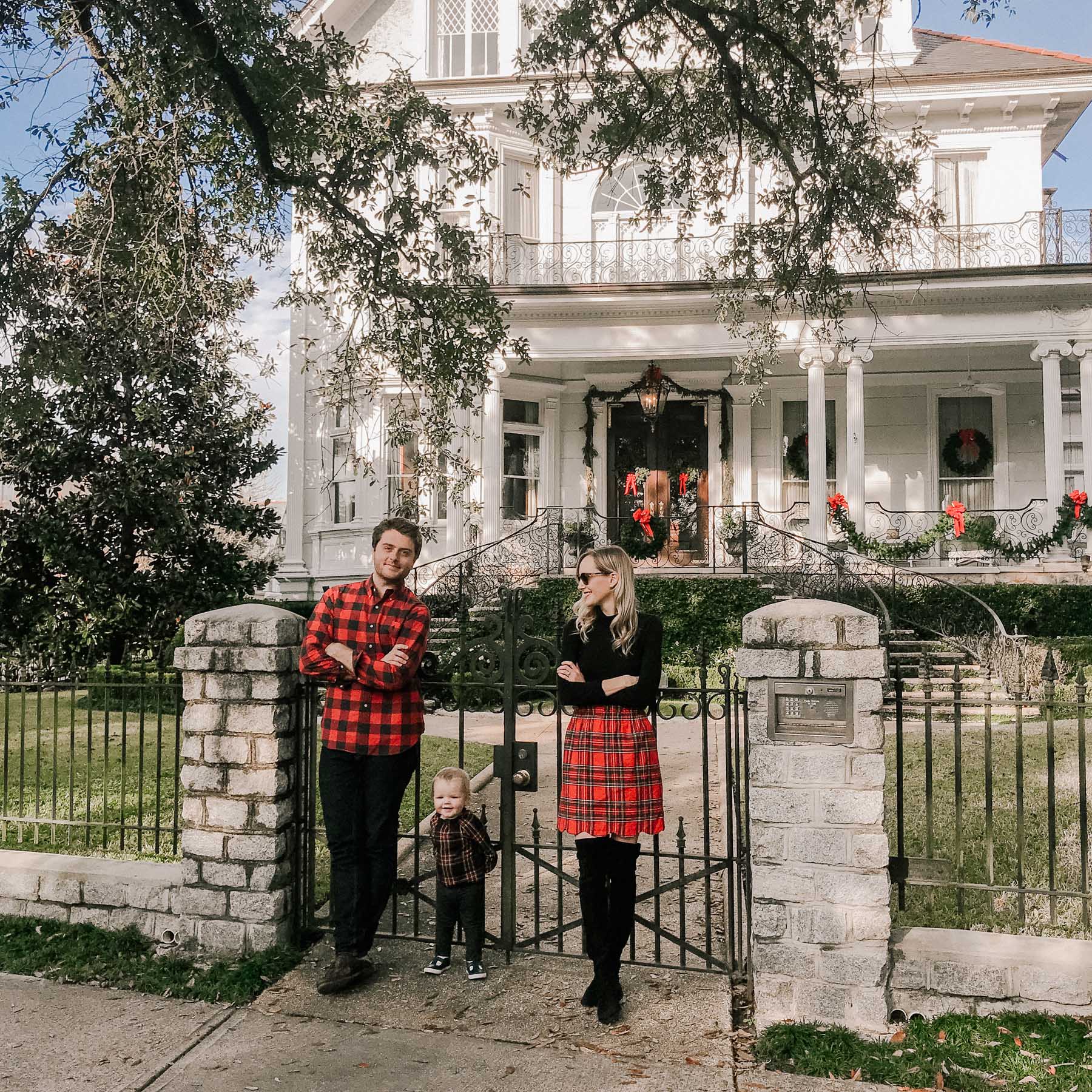 We flew to New Orleans the week before Christmas to be with my family. It was awesome! Definitely the least traditional holiday I've ever had, but I've learned that simply being together is far more important than adhering to traditions. (I talk more about that here.)
This photo was taken on a long walk around the Garden District and Uptown neighborhood with my brother, Danny. (More pics of the gorgeous houses and holiday decor here!) It was so nice to be together and kind of do nothing during the busiest time of the year. And can you believe that it was nearly 70 degrees when this photo was taken?! Outfit details here. :)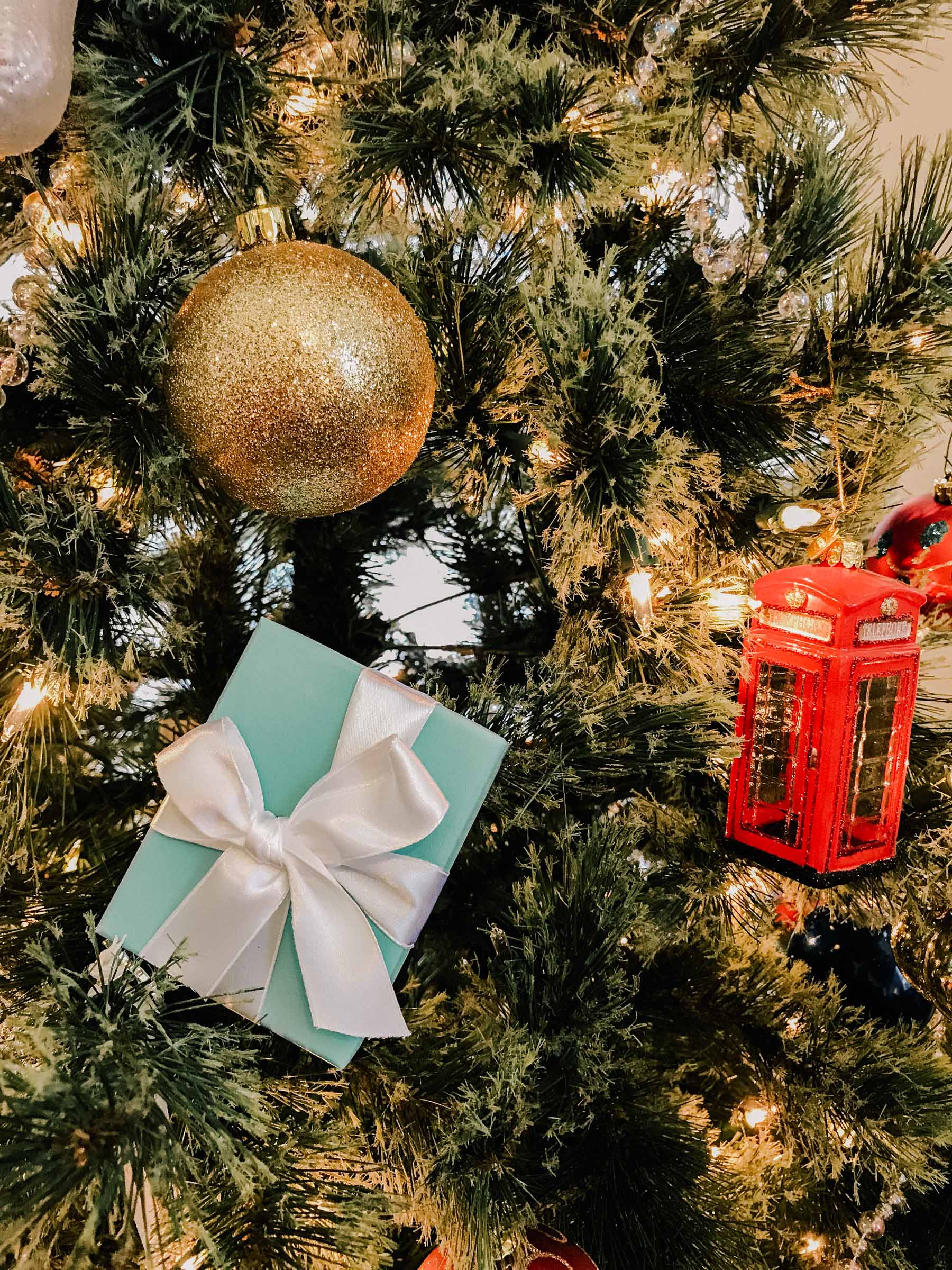 My family decided to pull back on the gifts this year on account of the trip, but we did exchange a few physically small ones. My dad got my mom a beautiful pair of pearl earrings from Tiffany's and hid them in the tree. So cute!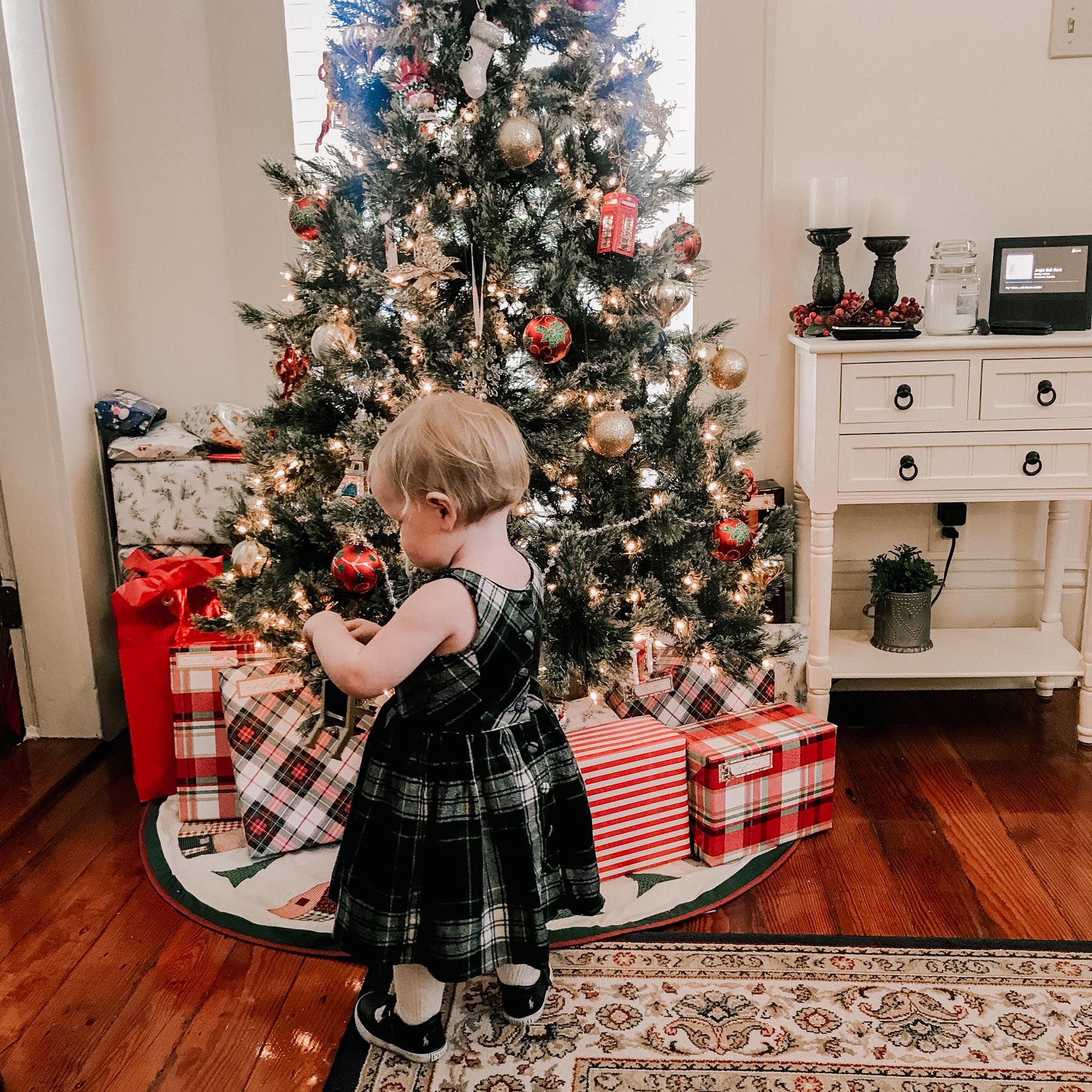 Emma loved playing with the ornaments on Patrick and Kim's tree. (She's wearing this dress.)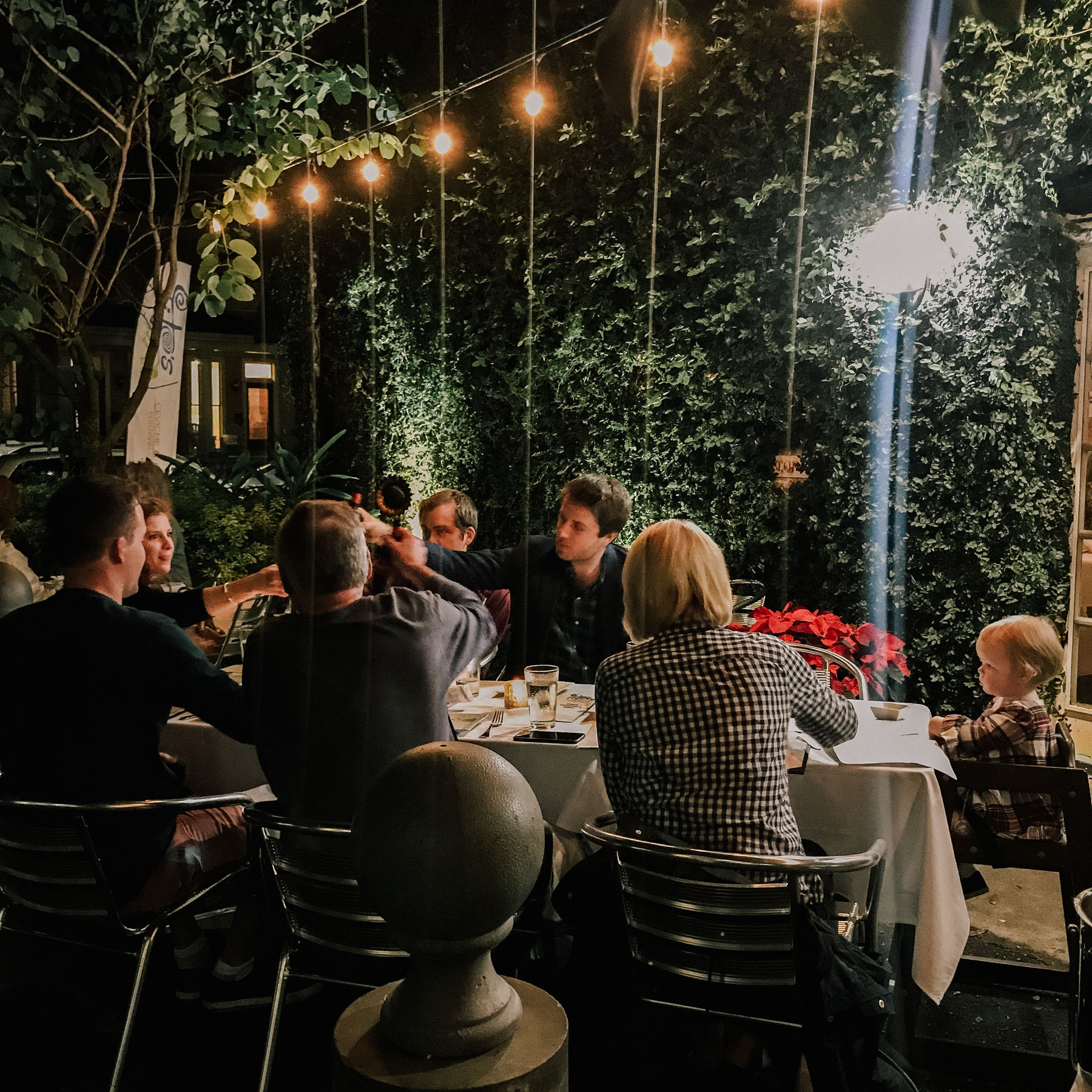 The reason we all went down to New Orleans was to be with Patrick and Kim. Patrick is an emergency room doctor and Kim is a PA, and neither could get off work for the holidays. Patrick actually had three night shifts in a row–as bad as it sounds–so we did our Christmas dinner a few days early so we could all be together. ❤️ It was a fabulous night, and I think the above photo speaks for itself!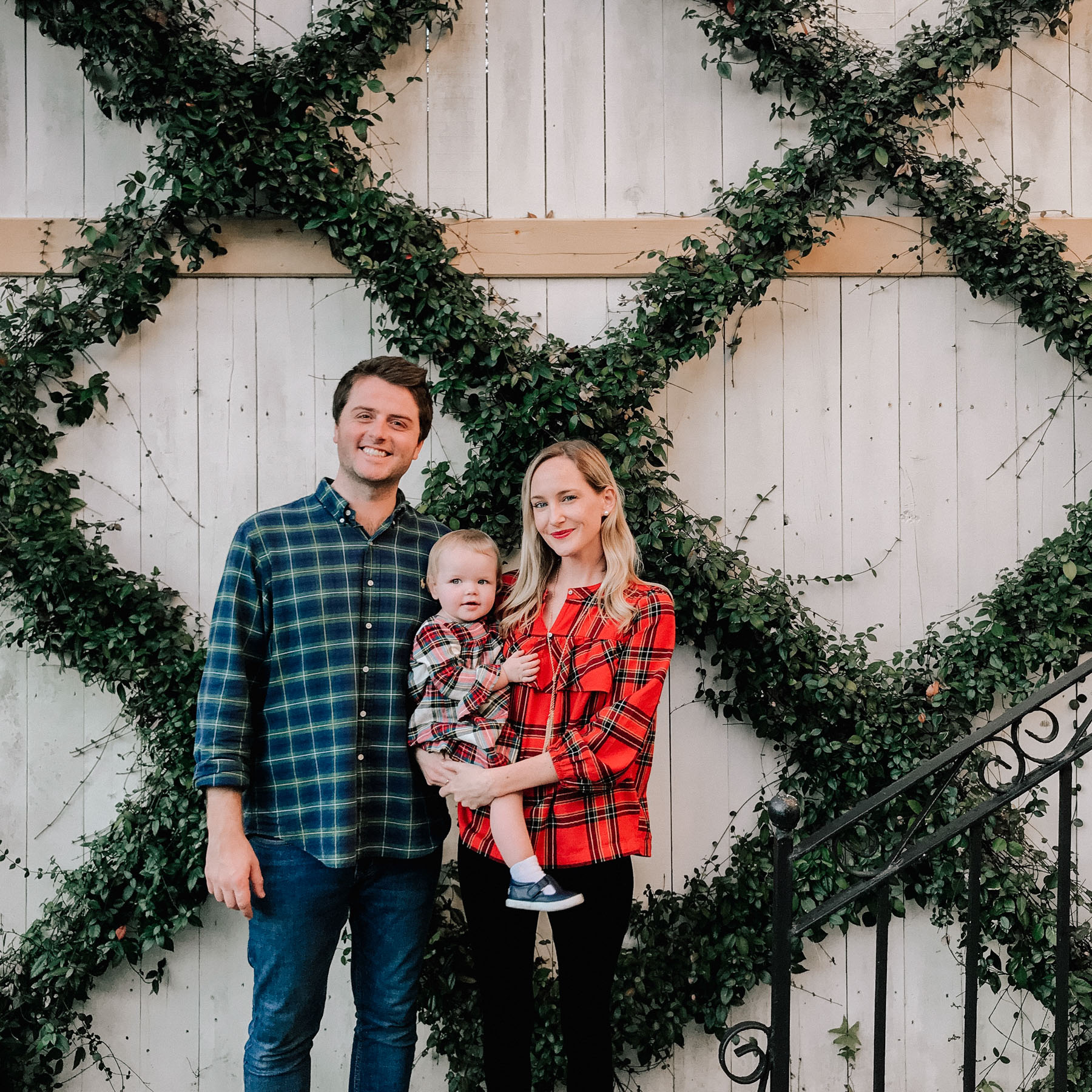 Love the trellis outside of my brother's house. Obviously asked Dad to take a family pic. This is my shirt, btw, and I'm wearing my favorite velvet leggings. Also, #humidityprobs, haha.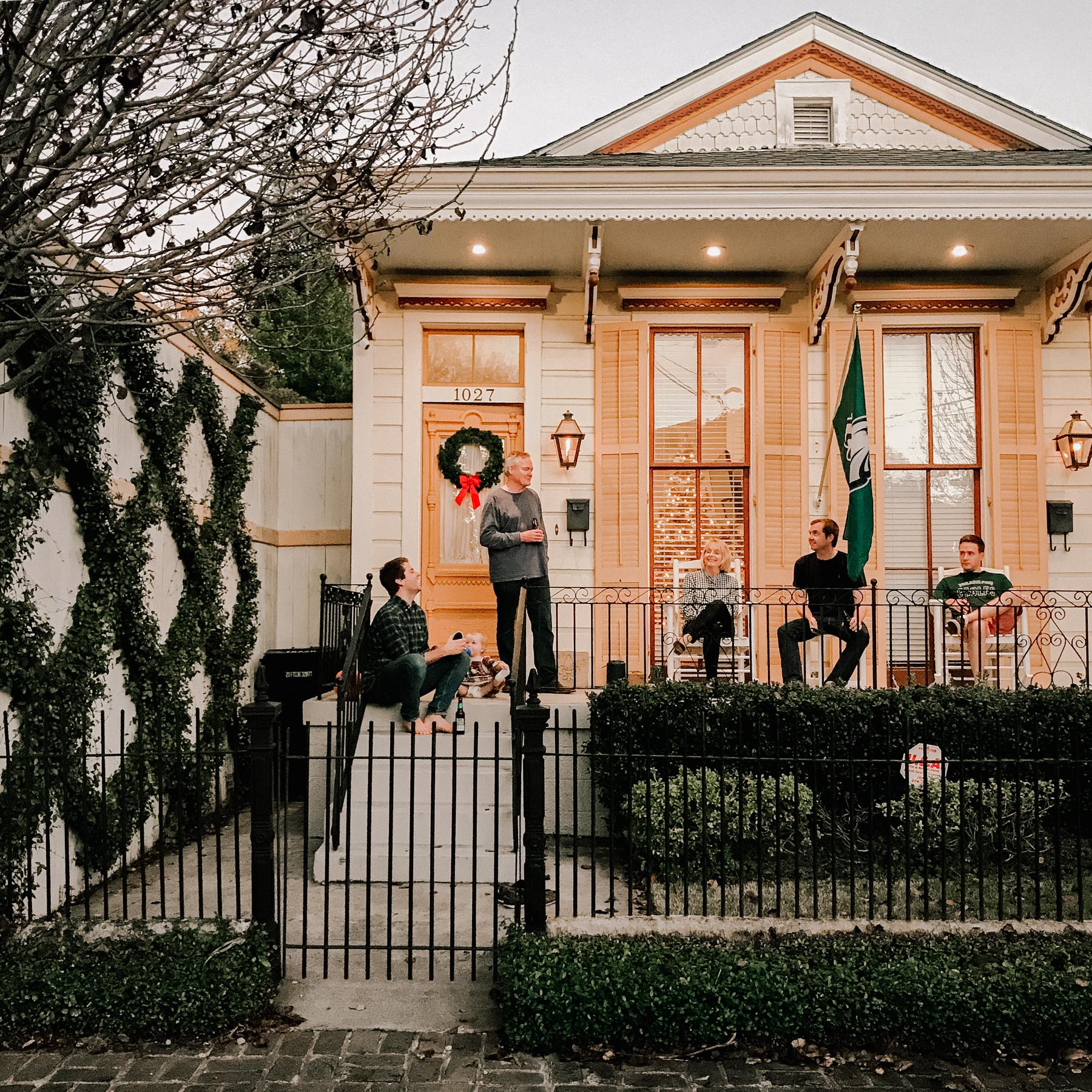 This is Patrick's house. ADORABLE, right?!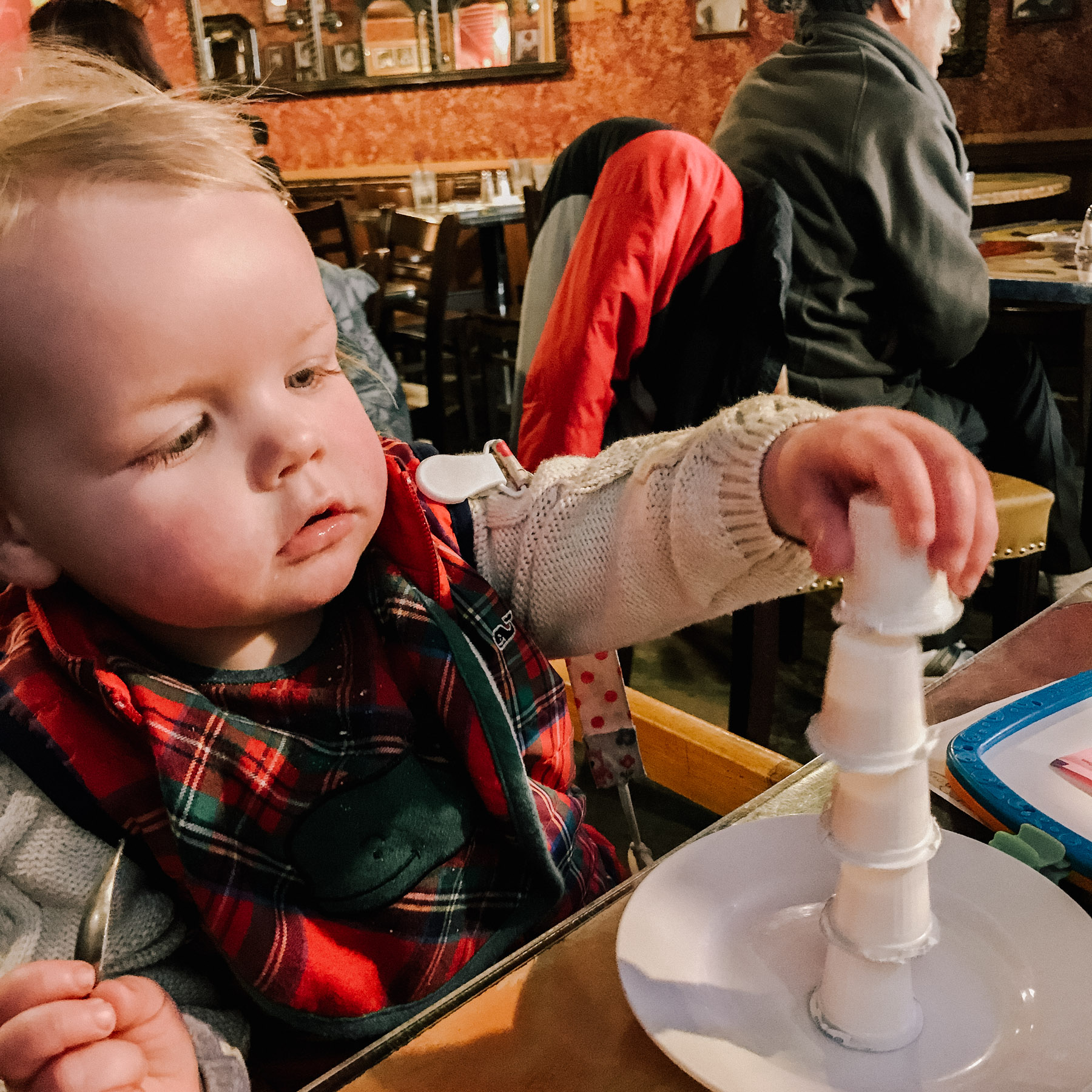 Breakfast one morning in New Orleans. After Emma did this, we promptly purchased her a set of blocks. 😂 (She's wearing this bib.)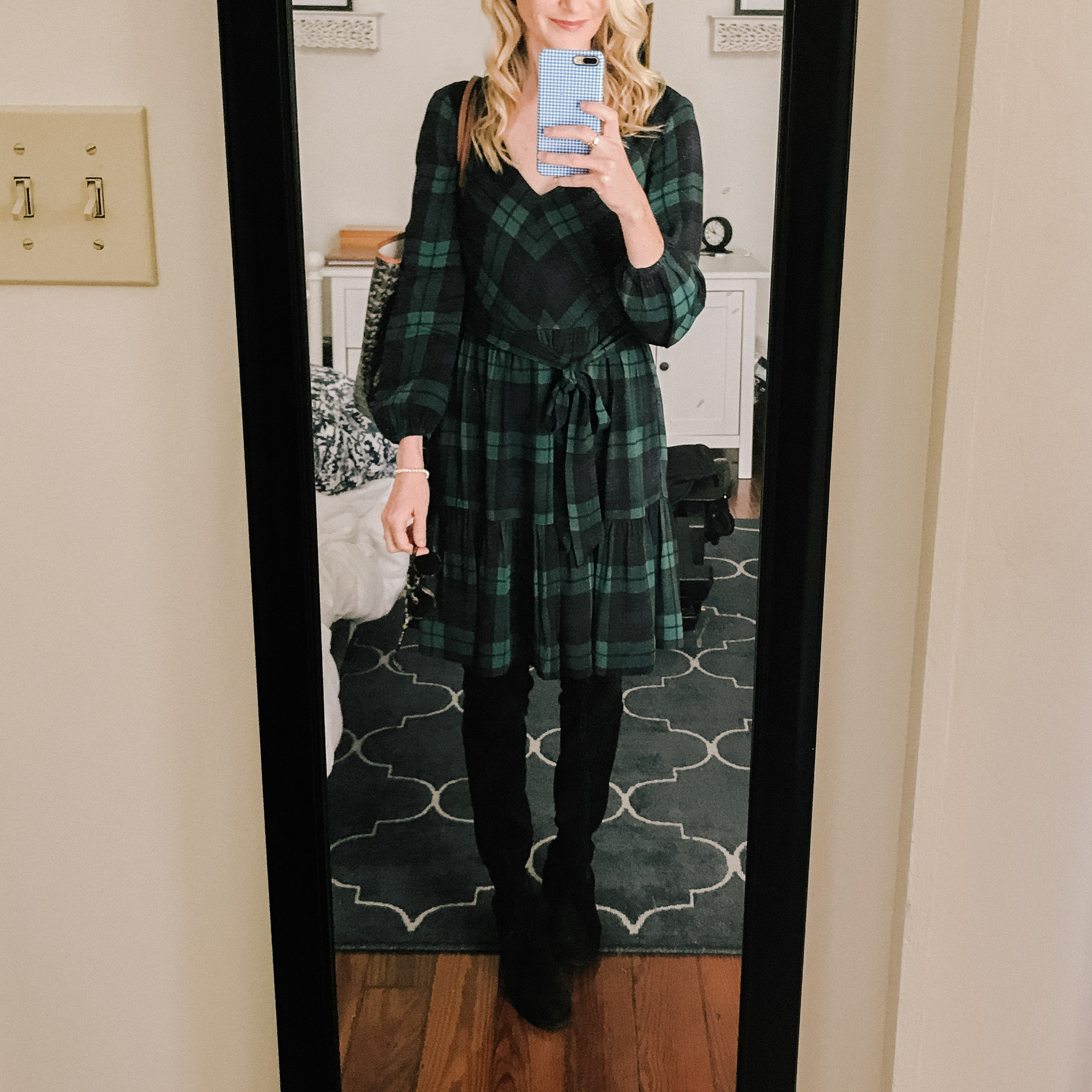 I wore this dress one day in New Orleans and LOVED it. You can see the full blog post here. :)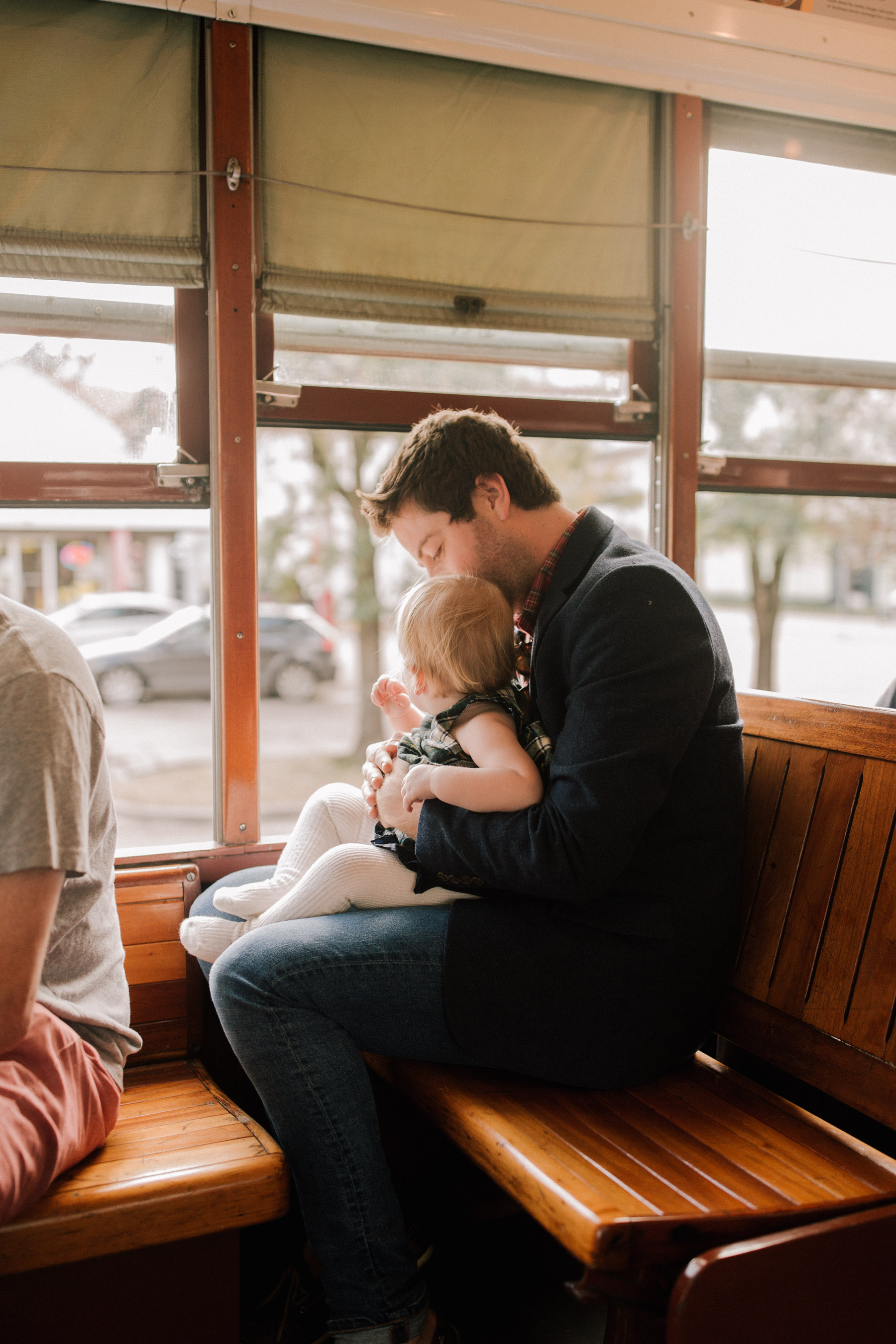 One last trip on a streetcar. How cute are Mitch and Emma?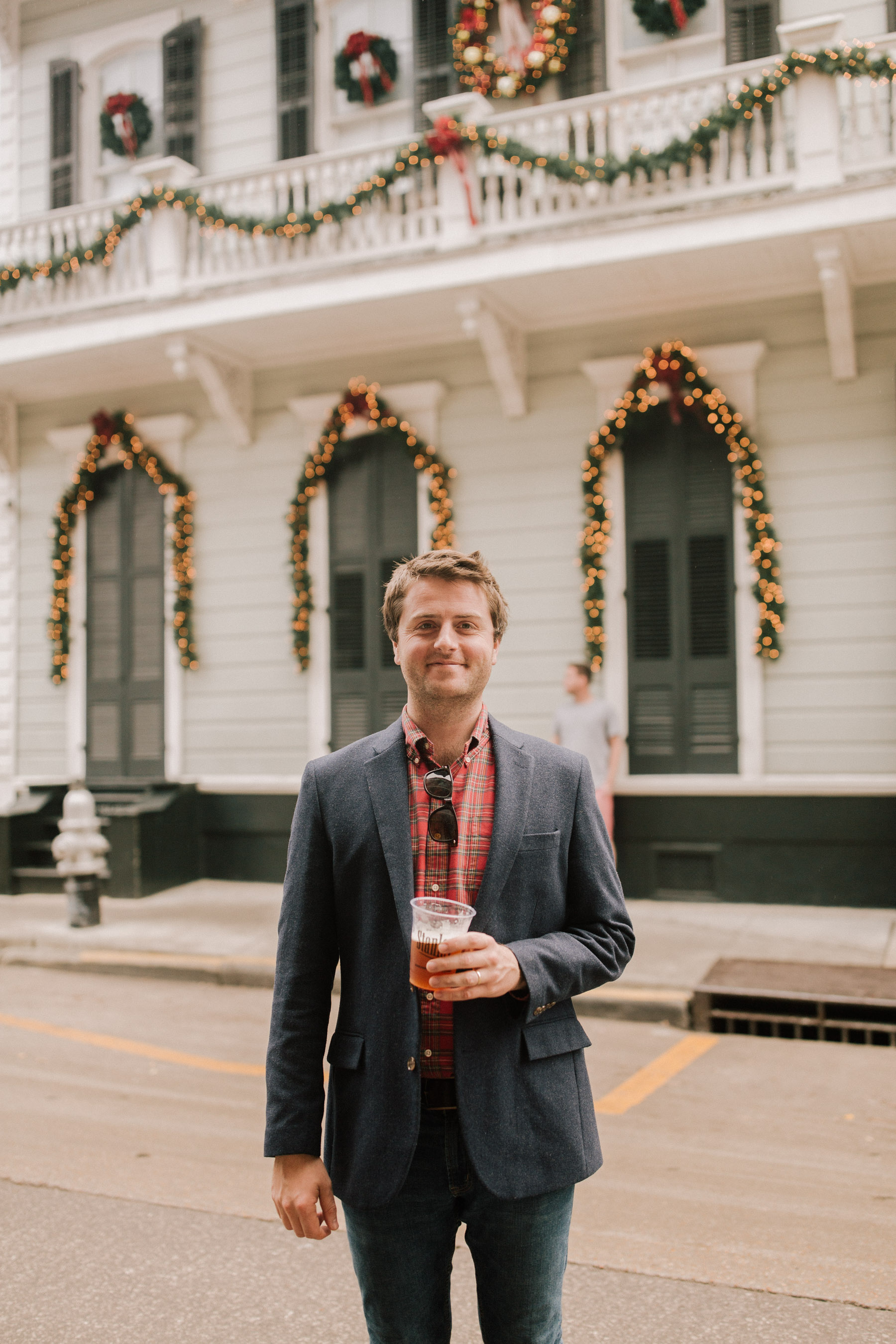 Mitch, I adore you.
The flight back to Chicago on Christmas Day was nothing short of a disaster. When we arrived at the airport, things were going swimmingly. The attendant at the gate was pulling random passersby and asking them to sing Christmas carols, and it was the cutest!
But when we got on the plane, we were held at the gate for over 45 minutes before taking off, and Emma had a SUPER tough time falling asleep. Once she did, a stewardess yelled so loudly at Mitch for not having his backpack fully under the seat in front of him that she woke Emma up, and she cried the rest of the way home.
Once we landed, it was literally -2 degrees outside (and snowing!), and our puffer coats and boots were stuck inside our car, miles away. Mitch was a huge trooper and went to get the car while Emma and I stayed inside the airport… but then he had a lot of difficultly re-installing the carseat, which had been banged up during the flight. We grabbed dinner and Emma cried for what seemed like hours until she finally fell asleep halfway to the lake house, chicken nuggets in hand.
DISASTER. Oy.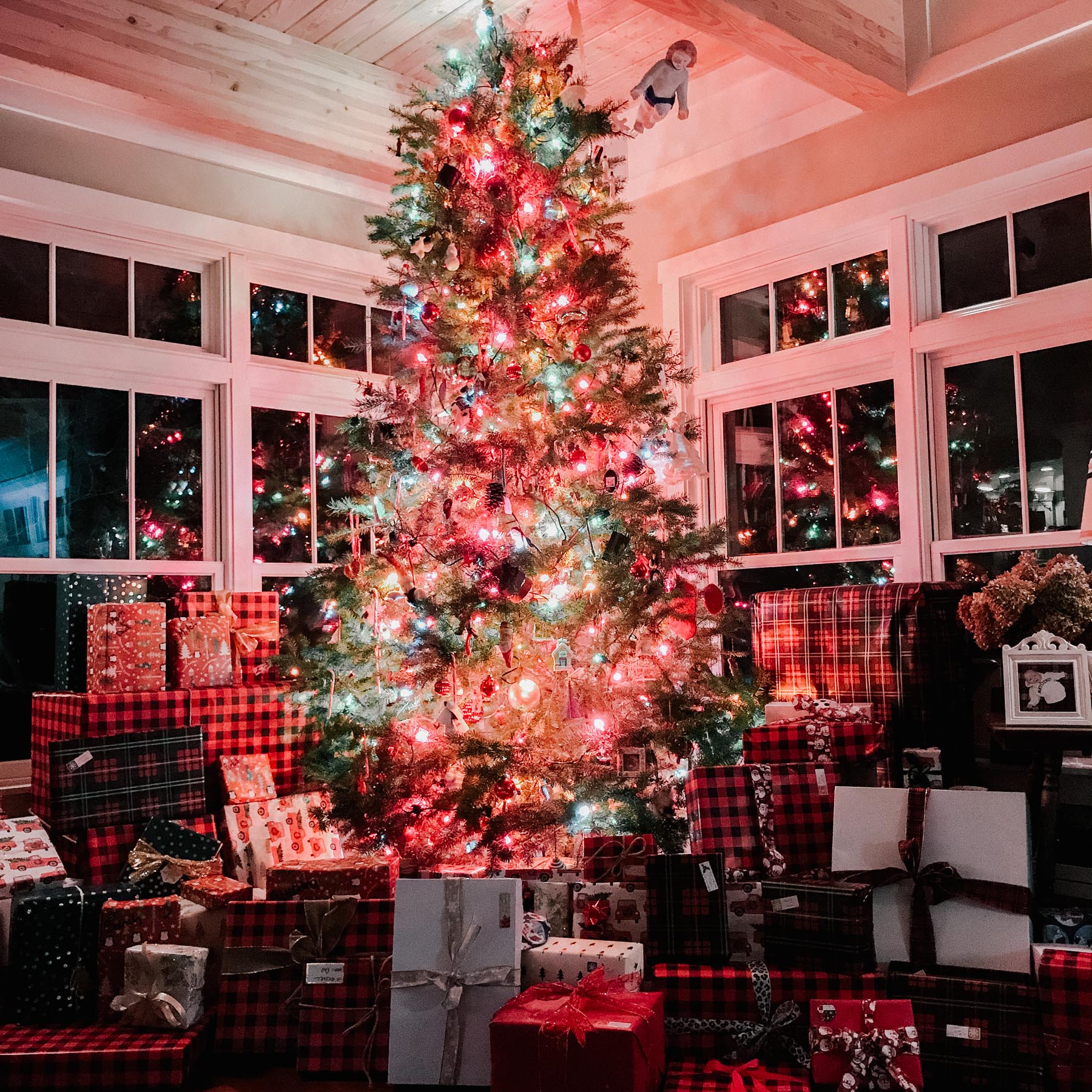 When we arrived at my in-laws' lake house that night, we were met with this ultra-Christmassy scene! Extra comforting after our disastrous trip home. We basically collapsed onto the floor and then we all had wine and things got better. 😂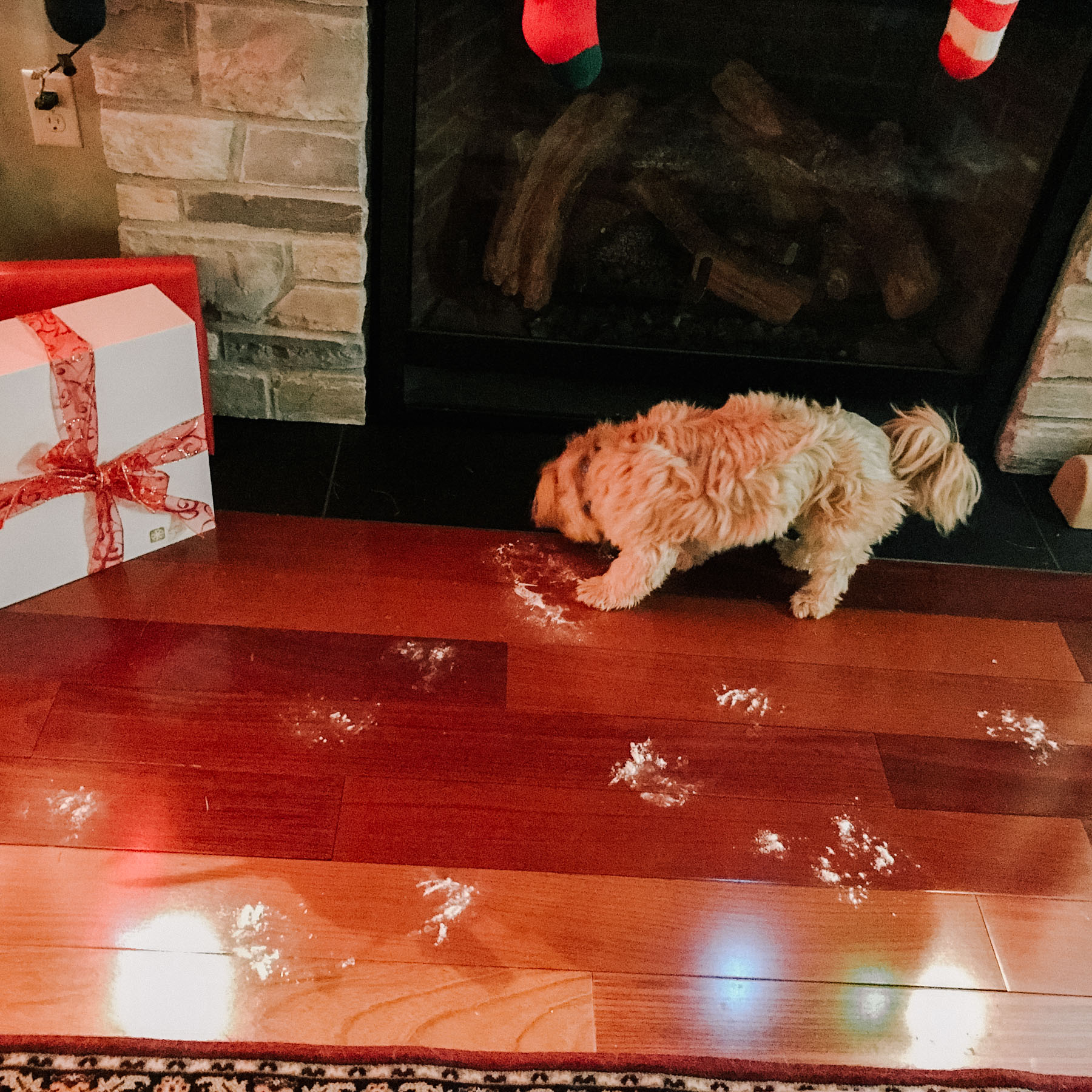 Every year, my father-in-law makes "Santa bootprints" by spreading flour on the floor and stepping in it. The kids love it. So does Walter, their dog. Always a battle to keep him away, haha.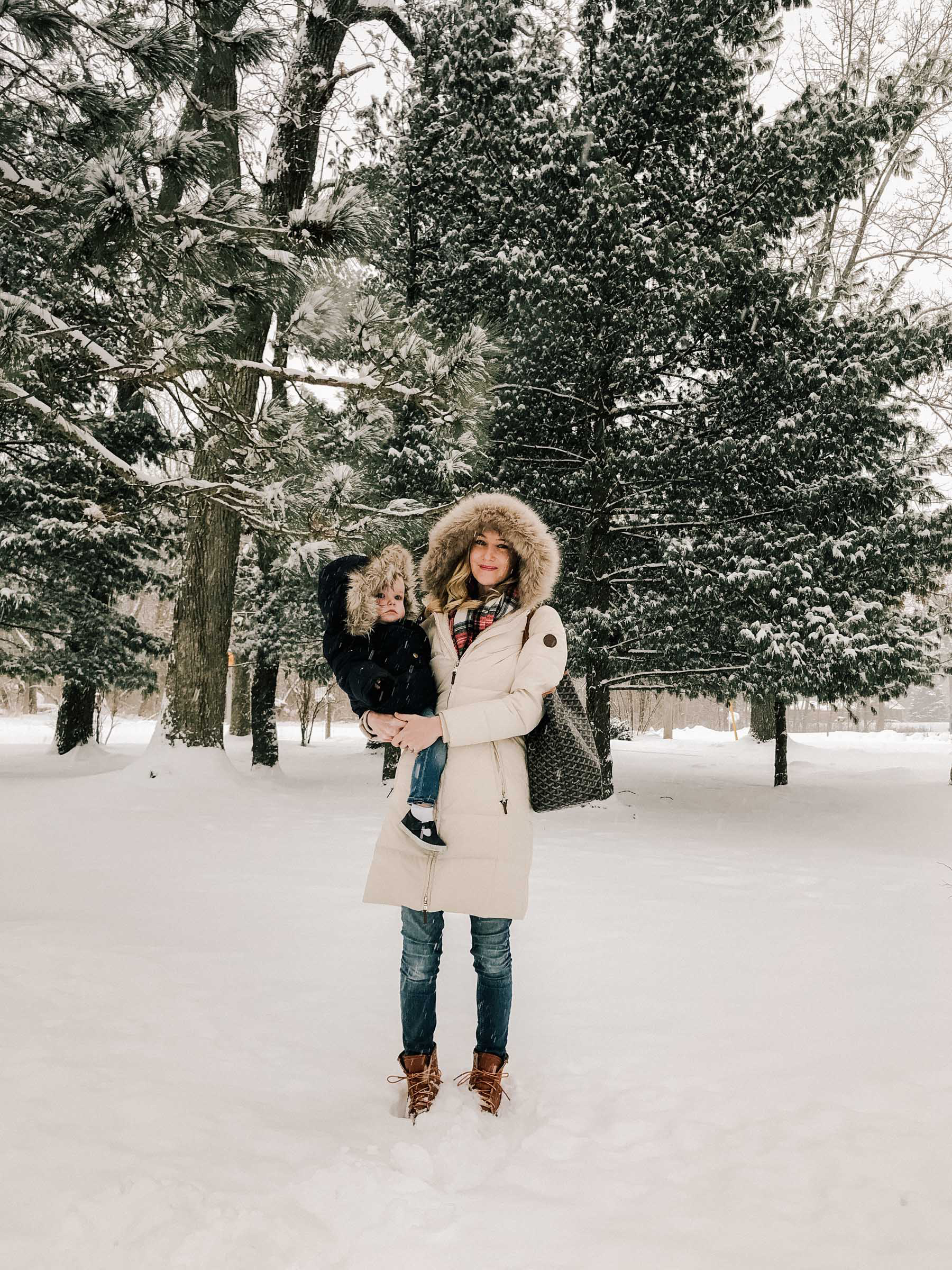 We spent the vast majority indoors while at the lake, because temps got to be as low as -10! But on a balmy day (😂) Mitch snapped this pic of Emma and me. We were on our way into town to visit the Children's Museum! (Emma loved it.) Wearing this puffer, these jeans, and this pair of boots. Oh! And here's my scarf and my bag.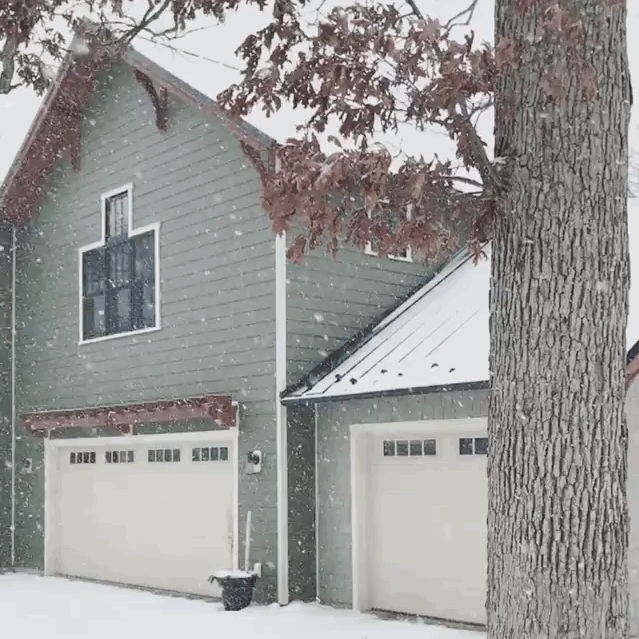 We left the lake on Friday night after a birthday celebration for my father-in-law. So much snow, but we drove incredibly slowly and made it home safely. Needless to say, we fell asleep soundly that night! :)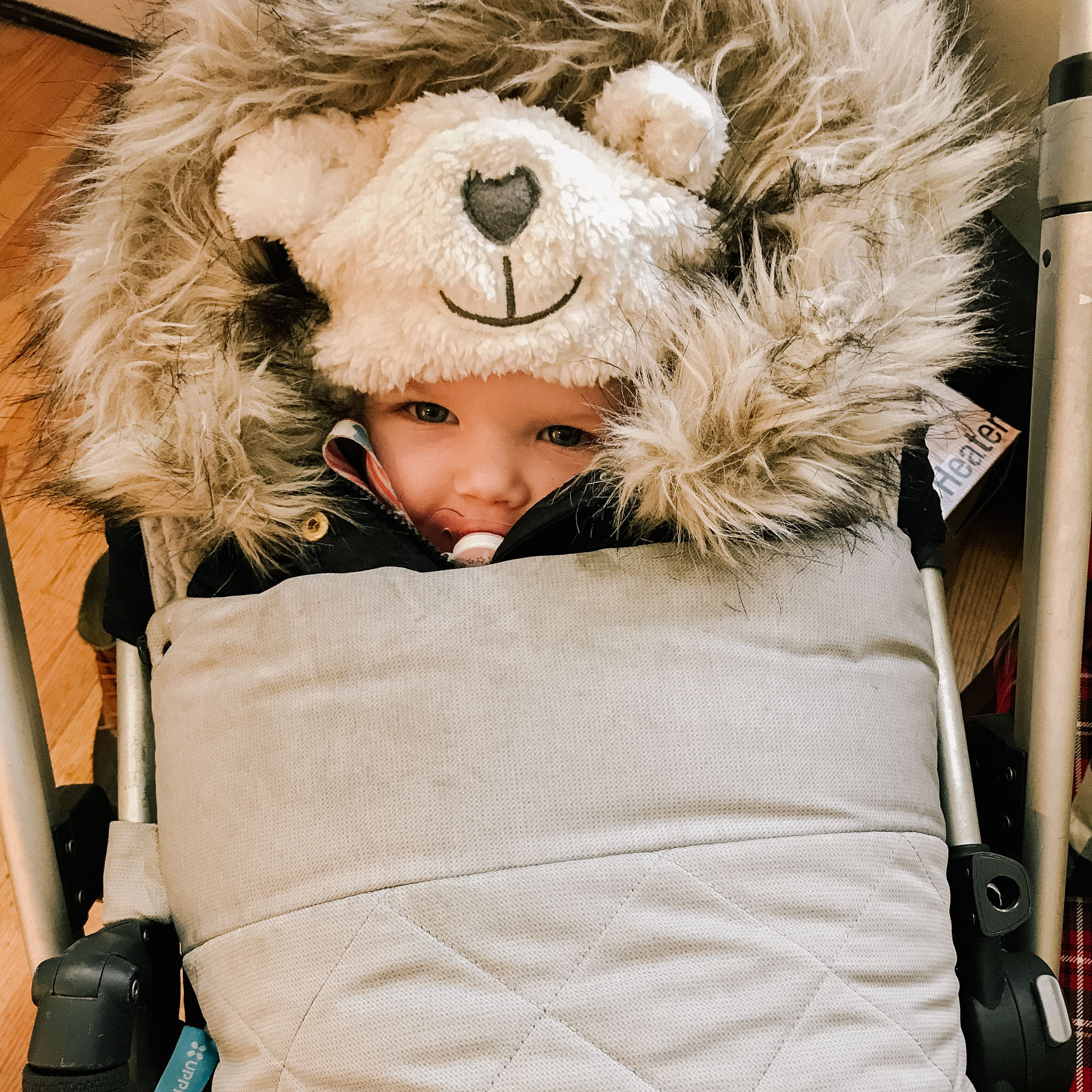 Back in Chicago in the freezing cold. Emma doesn't leave the house without being bundled up in her CozyGanoosh!
Nordstrom Half-Yearly Sale Picks: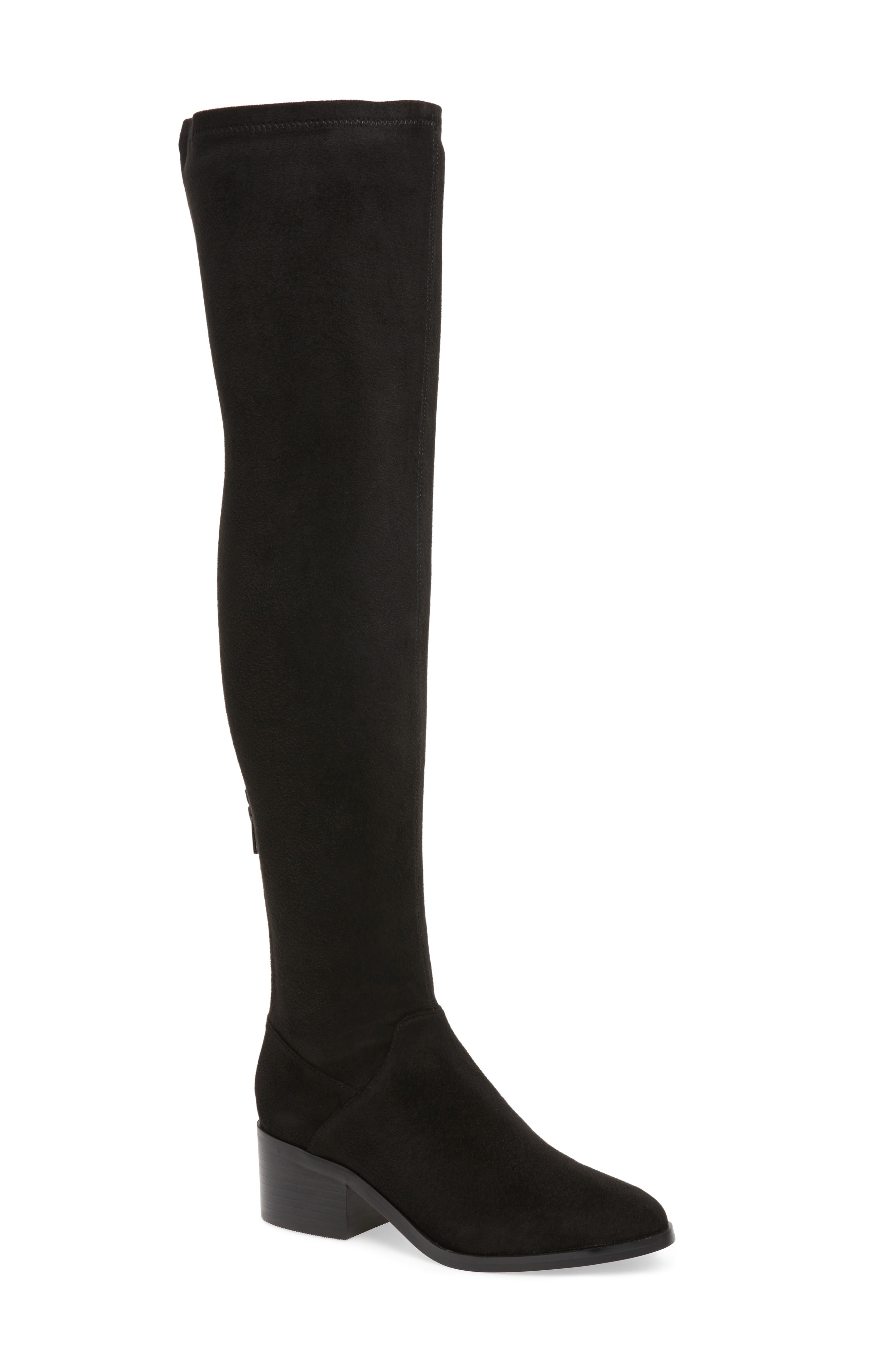 These are the over-the-knee boots that my family swears by. And this is the lowest price I've ever seen them for! They're great for added warmth during the winter, and for wearing skirts and dresses when all you want is to be wearing pants. ;)