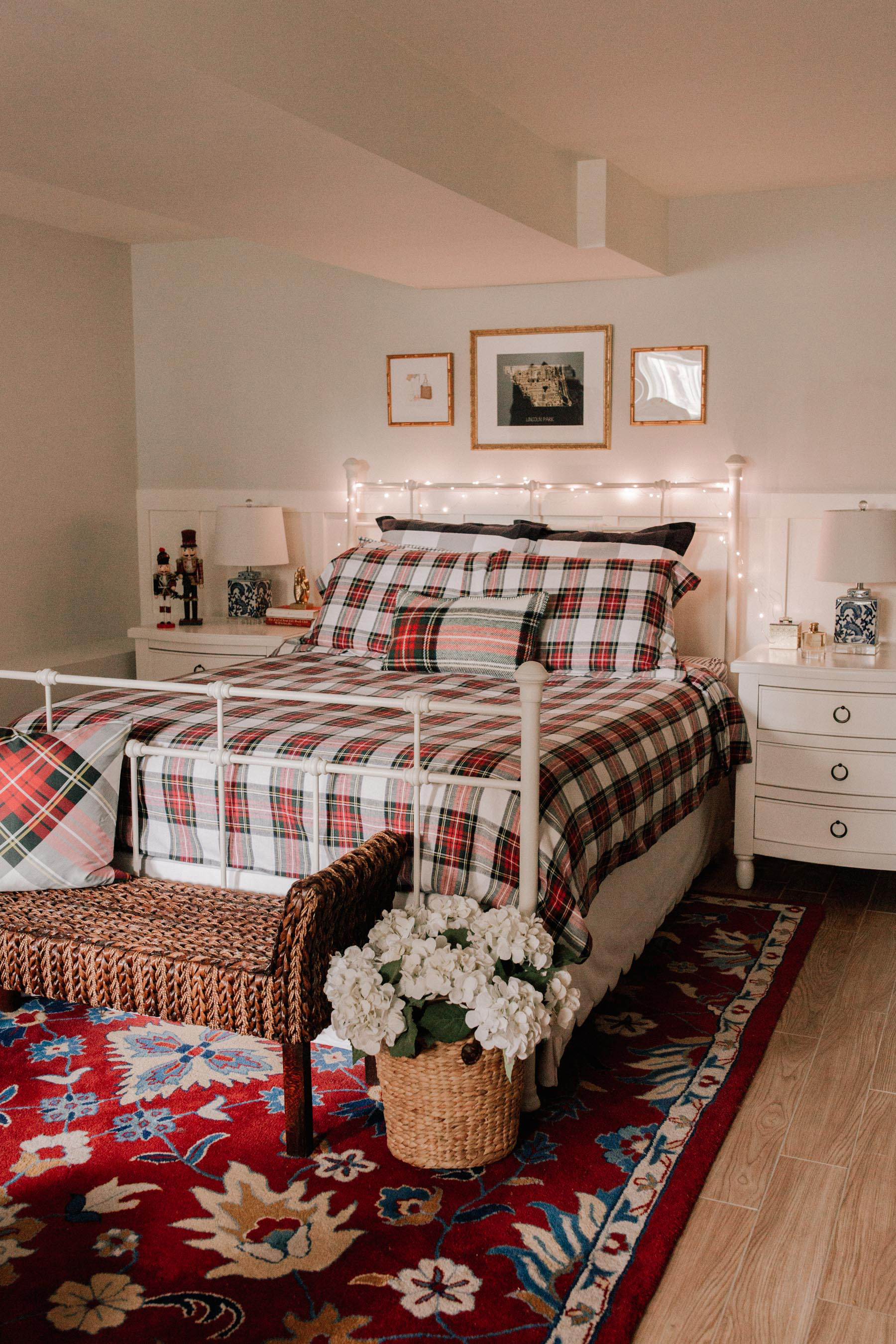 This post is a bit ironic, as we aren't home for Christmas. 😉 But Williams Sonoma heard about #30daysofplaid (!!!), and a couple of weeks ago, all the plaid arrived on our doorstep. (I nearly passed out from excitement, haha.) I know I've talked about this before, but Williams Sonoma carries my favorite tartan prints, and I get so excited to see what the company comes out with every holiday season. And while we aren't in Chicago for the actual holidays, I love that we got to enjoy the decor for a while!
But before we get to the photos, a few notes:
The kitchen is essentially done! You can see a glimpse of it below. We're still waiting on the microwave because Mitch and I didn't order it in time (oops), and we also accidentally didn't order the correct number of knobs. But for all intents and purposes, it's been completed, as we officially bid the construction crews farewell. WE LOVE IT! Will be doing a final reveal soon, but in the meantime, check out Kira David Design, who we used for the entire project. (She happens to be one of my best friends, and she's SO fun to work with!) If you aren't in Chicago, fear not! Kira takes on e-design projects as well, and can bring your dream kitchen to life. E-mail her at Kira@KiraDavidDesign.com.
If you want to take cute photos of your child with twinkle lights, make sure to get the battery-powered LED kind of lights. Never the plug-in kind. And this goes without saying, but don't leave the child unattended with the lights. (I know you know this, but gotta say it!)

I've linked everything you see from Williams Sonoma's holiday collection above. If I missed something, let me know and Mitch will get back to you with details! Writing this on my phone. 😂

Other products you might be looking for: Emma's pajamas, and nearly identical plaid chairs here, here and here. Other stuff above, but again, let me know if you're looking for something specific!
I'm wearing these loafers and this sweater. Sweater runs big, so I'd suggest sizing down. It's amazing!
We cheated with our Christmas cookies and used the mix because we ran out of time. And you know what? The memories are just as magical as those we've created when we made cookies from scratch. Parenthood has taught me that these little things really don't matter. We might not have it all together, but together we have it all. And boy do we have fun!
Why isn't the Christmas season two months long? It's simply too short!
Hope you're having a great week!
Shop the post: