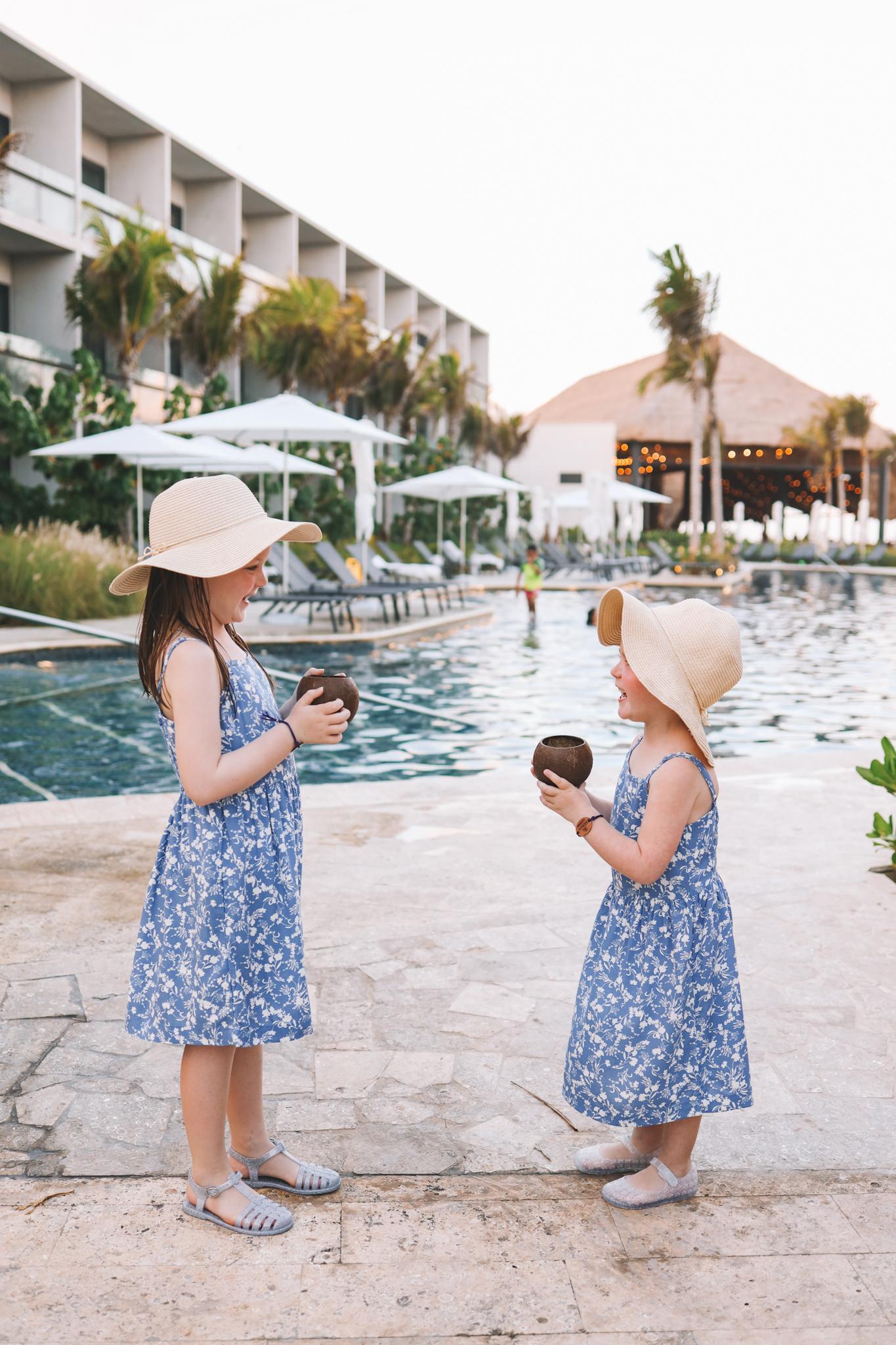 All outfits from the trip are linked here!
Mitch here!
We took a big trip for the girls' Spring Break this year, and the transition back to regular life has been a tough one for them. Not a day goes by without the words "I miss Mexico!" ringing throughout the house and they're getting really sick of hearing me say it.
Which is why I'm pumped to talk about our trip with you today.
Spring break 2023
Growing up, my spring breaks were spent complaining that we weren't on a cool trip while watching my dad plant corn and soybeans. And now that I'm a father myself (and know how hard parents work for their children), I feel all that pressure I put on my parents coming back on me tenfold. (I'm sorry, guys.)
We typically spend school breaks by traveling to our parents' homes so the girls can spend quality time with their grandparents and I can ~ahem~ avoid spending a fortune on traditional vacations. Oh, the irony. But two very important things happened a few weeks ago:
Our parents made other plans.
Kelly found an incredible deal on Travelzoo and booked it without telling me.
Kidding. We talked about it, and realized it would be the perfect thing to break up the girls' TWO-WEEK vacation. And after repeating "are we doing this are we doing this are we doing this" a zillion times, off to Mexico we went!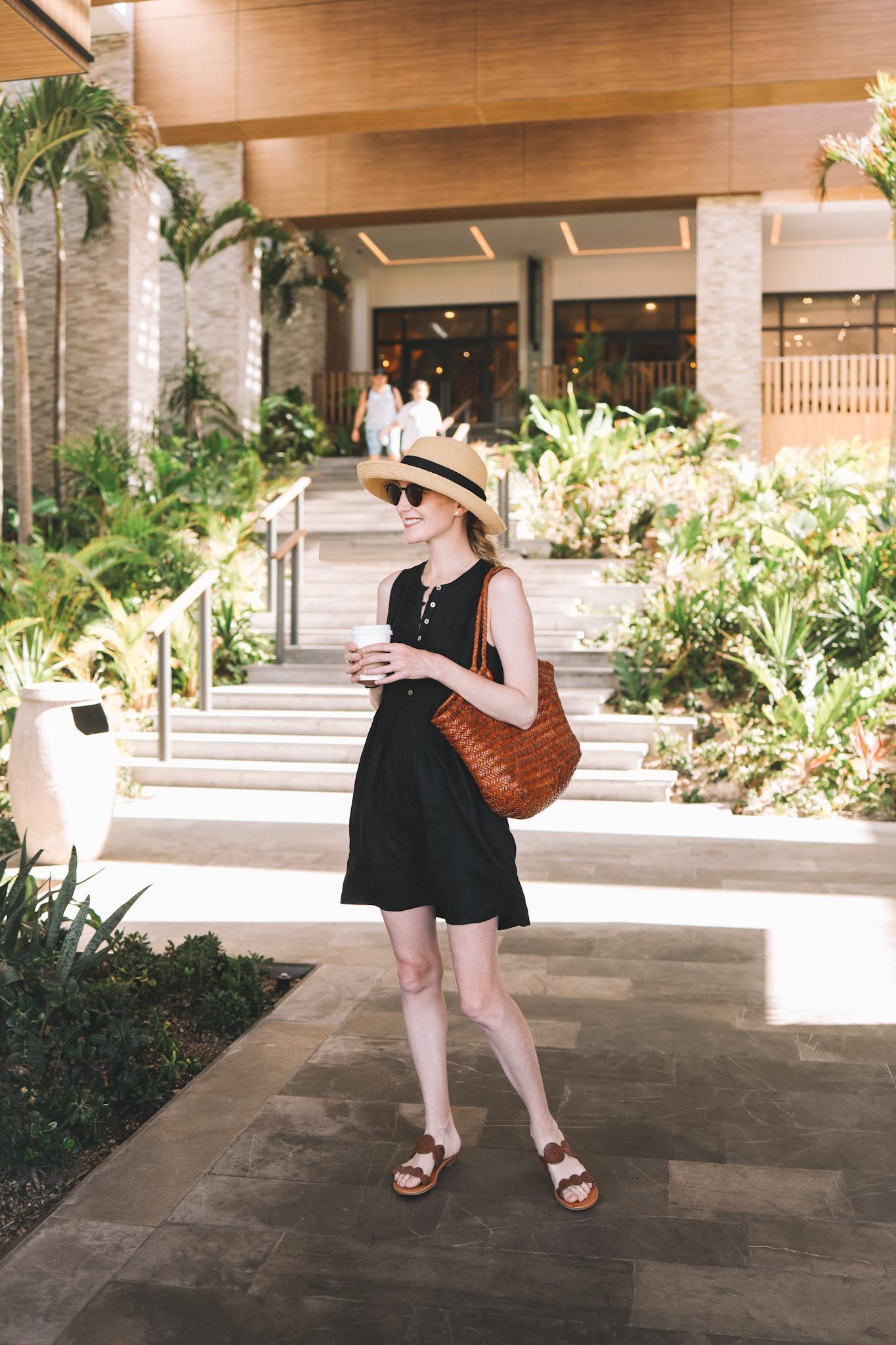 All outfits from the trip are linked here!
Why Tulum?
In previous years, we've taken snowbird vacations to Florida and in nearly ever instance, we've been met with cold, rainy weather. During our last chilly Florida trip, Kelly and I vowed to never make the mistake again, and instead get the girls passports and travel farther south where the sun couldn't avoid us any longer.
Besides warmth, we were also looking for:
A family-friendly place where the girls could swim all day
An experience that took planning and organizing off Kelly's shoulders
A trip that didn't have me mentally calculating just how much money we were lighting on fire every moment of the day
FOMO relief for me
What we decided was that our best bet was a truly tropical all-inclusive resort with a beach, pool and food for days. The girls could swim as soon as they got out of bed in the morning; meals would be ready for us whenever we got hungry; and the intense pressure that falls on parents re: planning and picking up attitudes throughout would be relieved. We would also pay for everything up front and therefore I wouldn't be tallying expenses throughout the trip. Finally, there's no real reason to leave a resort and explore; the point is to stay and relax. I'm a FOMO sufferer through and through while traveling, but I hoped this would help.
Did we worry about college spring breakers and have visions of wild MTV parties? Yes. But we set out to find a calm, family-friendly resort—and found the perfect one in Tulum.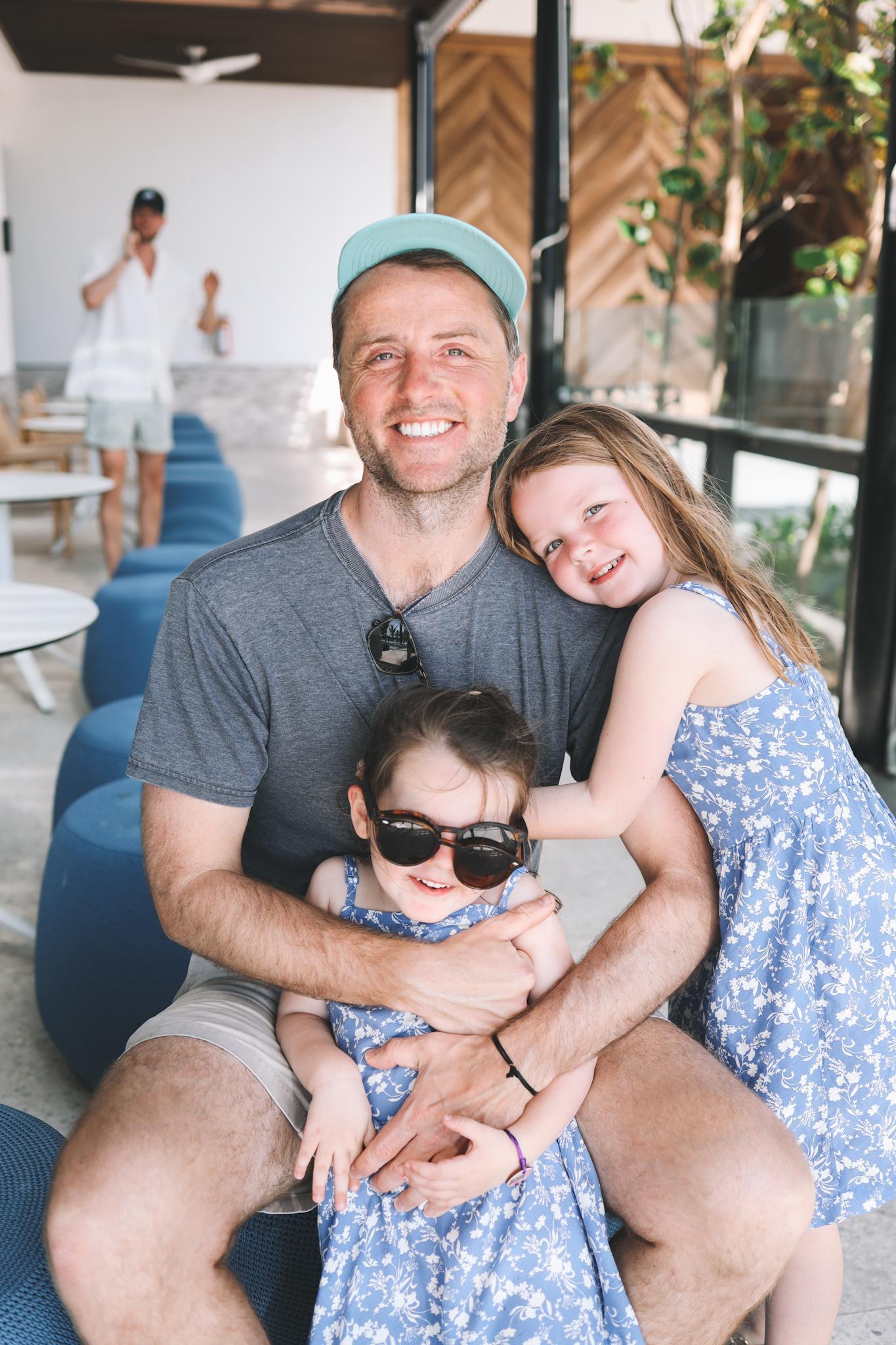 How we booked the trip
I've been an avid reader of the Travelzoo Top 20 newsletter for basically my entire adult life. There's nothing like spending an afternoon break reading over ridiculously cheap travel deals and mentally imagining myself on a beach or drinking an exotic cocktail somewhere.
While I never actually clicked on any of the deals, I did often send fun ones to Kelly, who I assumed deleted them or marked them as spam because she hates e-mail. Which is why I was so surprised when she not only clicked on one, but actually BOOKED IT!
Half of me thought we'd just been scammed—and I have to be honest that even while driving to the airport, I was suspicious that our plane tickets were even real.
But real it all was! And after this experience, I'm not sure we could plan a family trip any other way.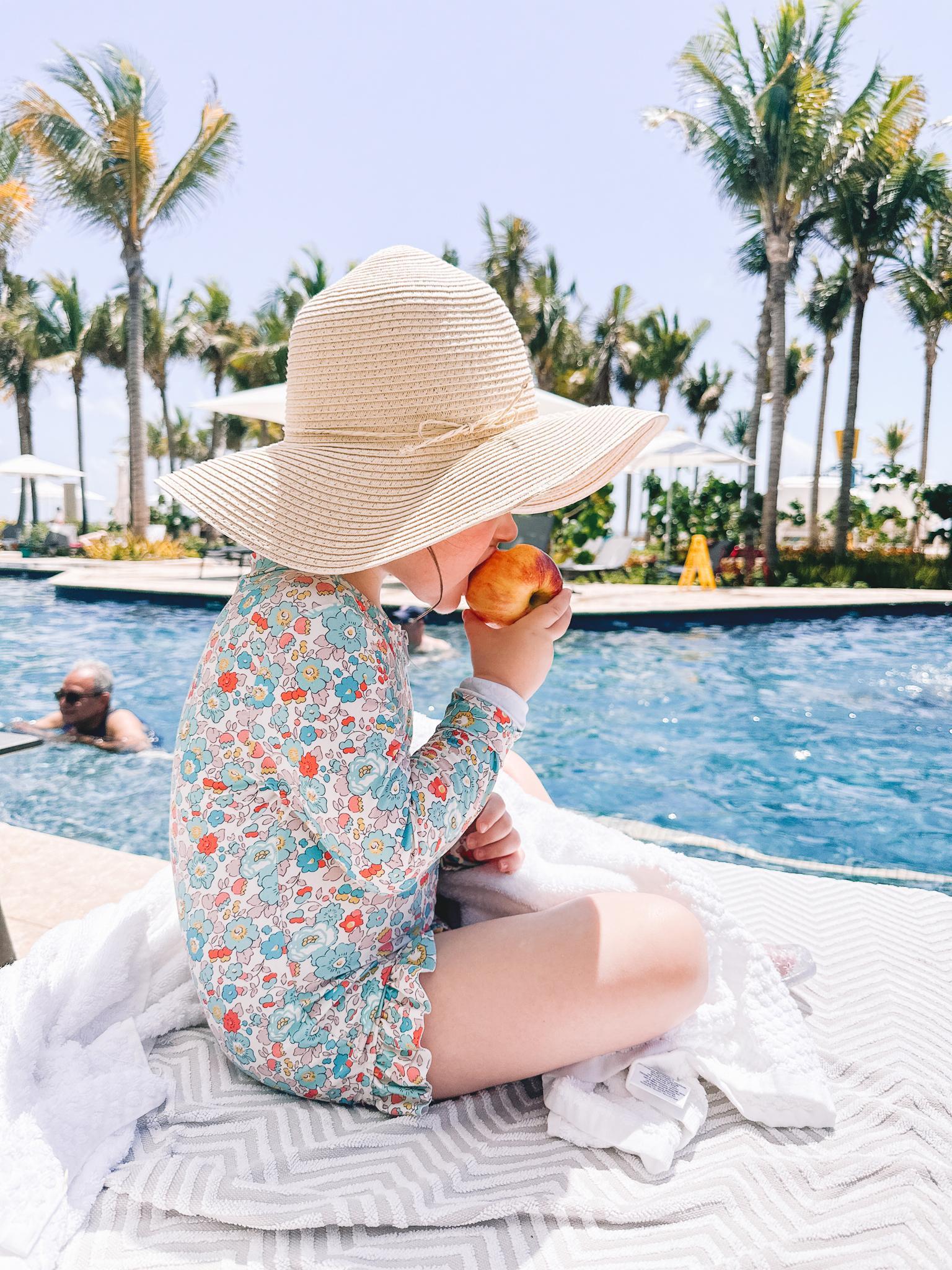 The quietest and cleanest all-inclusive resort
The Hilton Tulum Riviera Maya Resort is an all-inclusive resort, and as I mentioned before, "all-inclusive" did initially make us nervous—partly because of what we'd seen on shows and in movies but also because neither of us had ever been to one. Words that came to mind: "Overcrowded." "Rowdy." "Dirty." I figured that the… um, indulgence would be on full display, especially during prime spring break season.
But upon arriving, we immediately realized that this was an upscale place for couples and families. We never once saw any inappropriate behavior. The people were calm and the kids were all lovely. This resort was built in 2020, which is spectacularly bad timing for a resort to open, but it was great for us as it feels brand new. There wasn't a single part of it that felt dated, and the whole property was clean as a whistle.
How much we paid
In total, we paid $225 per-day, per-person for a six-night trip (with flights). Everything was included, from flights and airport transportation to meals/drinks and experiences. Heck, I think we've spent more on summer trips to the Jersey Shore.
All outfits from the trip are linked here!
Resort grounds
The resort stretches along the coastline with six independent casas, each with their own pool and dining establishments that are open to all guests. The casas are connected by a golf cart path with an ample number of smiling service members to drive guests between casas or to the main resort building.
For easy access, we were placed in "Casa 6," along with most of the other families with small children. Casa 6 is home to a kids' pool, splash pad, waterfront snack bar, and kids' club—so we really appreciated the convenience of being right there! (Note: the full-day kids' club had fun activities and allowed for peaceful afternoons for adults. Of course, our children were not at all interested in attending, but sure looked nice for luckier parents! 😜)
Lodging
Our trip was made less expensive in part because the four of us shared a room with two queen beds. It was difficult to find a discount trip which allowed for this, but Kelly worked her keyboard magic and figured it out. The room was plenty spacious for the four of us and we never regretted cramming in together. Each room has a balcony (great for after the kids go down!), and ours had a view of the playground, the ocean and a gorgeous full moon each night.
All outfits from the trip are linked here!
Restaurants and events
I was schocked at how decadent the service was at the Hilton Tulum Riviera Maya Resort. Around every corner was a smiling staff member prepared to offer anything our hearts desired. (And you better believe that three-year-old Lucy loved every minute of it.)
The resort has four sit down restaurants for dinner (Steakhouse, Italian, Mexican and Asian Fusion) and two buffet-style locations for the rest of the meals. Additionally, there is a 24-hour ice cream, snack and coffee spot which we visited roughly eight times per day. Poolside food and room service is also included. And, of course, there were ample drinks at the pool, the room, the multiple bars and everywhere in between. It was supreme decadence from start to finish.
Each night, the resort hosted unique events for guests as well as live music and dancing. They were a blast. Lucy was the star of the show, running straight to the dance floor whenever she had the chance. The kids' club also hosted nightly events, including princess parties, black light dancing, and bouncy house fun. We never felt bored and there was always something to look forward to.
I should also mention that there were lots of opportunities to take organized trips off of the resort via the hotel's concierge service. We decided against excursions, but they sounded like a ton of fun and seemed very easy to plan with the hotel.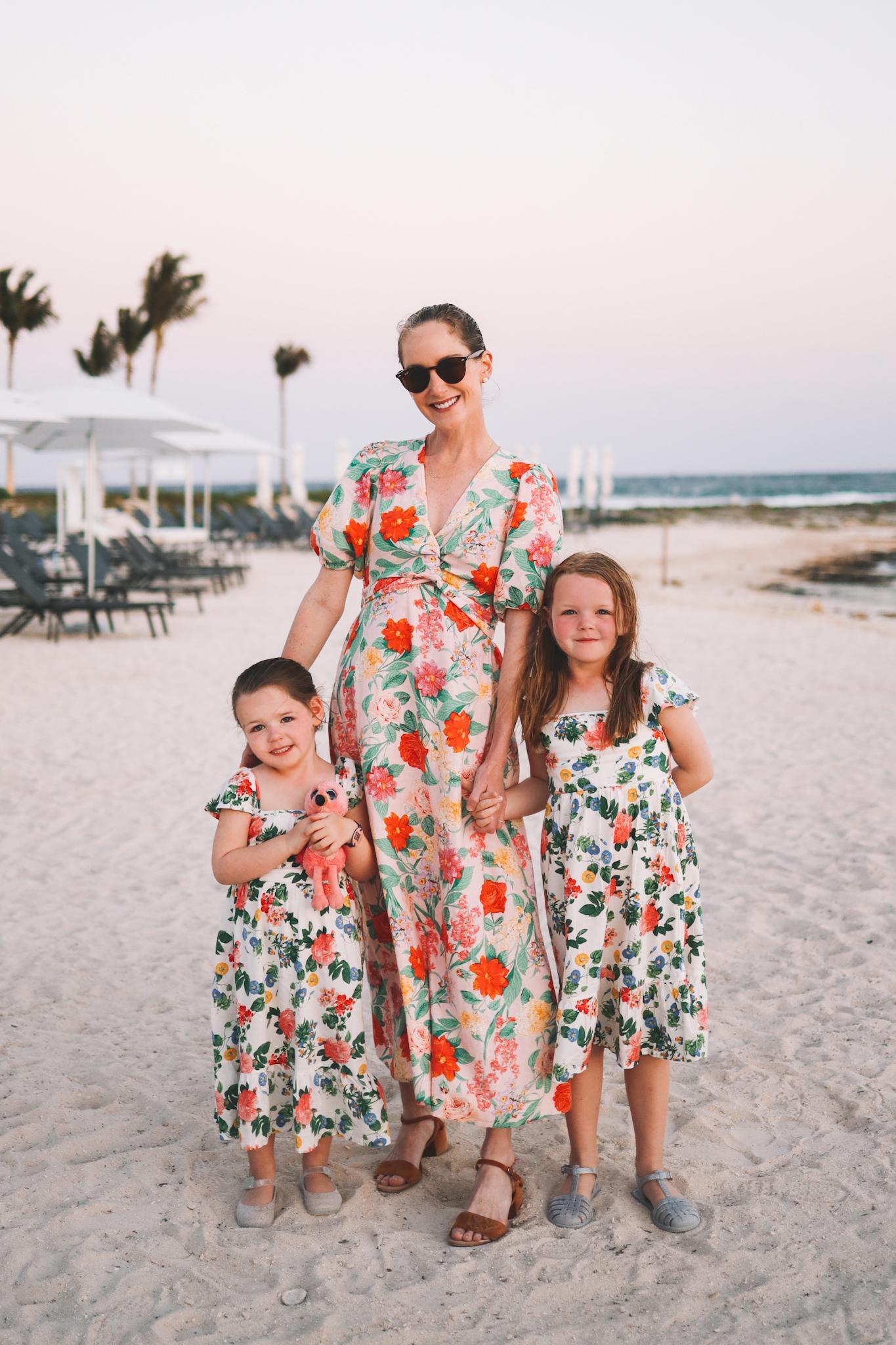 All outfits from the trip are linked here!
Safety when traveling in Mexico
Traveling in a foreign country with small children carries risks that I don't typically have to consider on our domestic family vacations. Before booking, we spoke to friends and family who'd taken similar trips and were told emphatically that at no point in time did anyone feel unsafe. That said, many of our friends and family who hand't visited Mexico were very concerned that we'd vacation there. The US State Department says that travelers should exercise heightened caution when traveling in the Mexican state of Quintana Roo (where Tulum is located), and that recommendation does result from US tourists' safety being compromised while traveling in the area.
In light of recent events, we did exhaustive research and and talked to the resort and transportation company. And we ultimately decided to go on the trip but play it safe by staying on resort grounds the entire time. This is the total opposite of my typical travel behavior, but we were looking for a slow, relaxing and easy trip anyway!
While I wouldn't take children off resort grounds out of an abundance of caution, we never once felt unsafe during the trip, for what it's worth. Tulum is absolutely stunning, the culture is wonderful and the people are the friendliest and kindest you'll ever meet. I can't wait to return and to learn more about Mexico.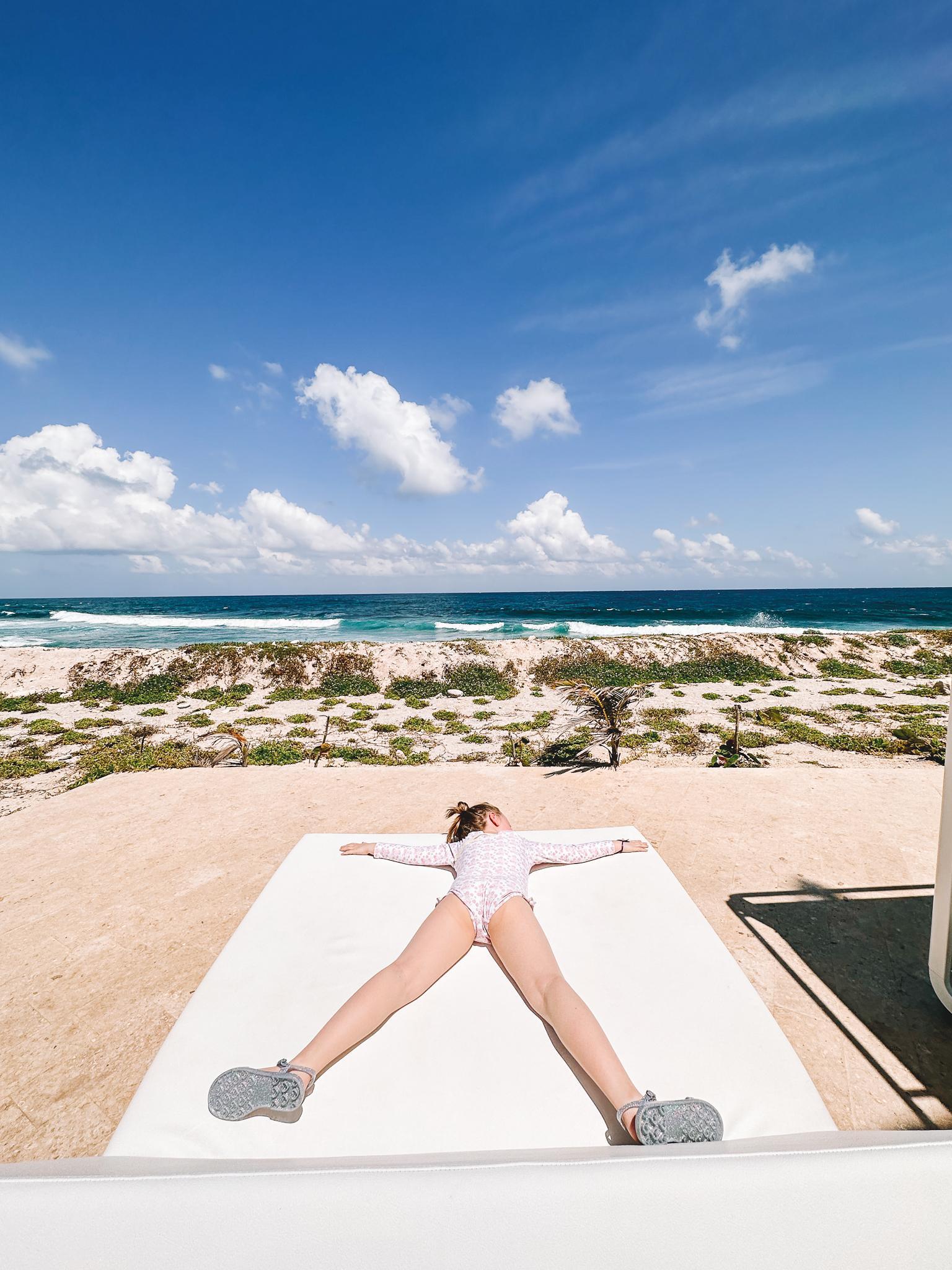 About Tulum and the Riviera Maya
The Yucatan Peninsula is the most popular tourist destination in Mexico thanks to its Caribbean coastline, rich history and culture, reliable weather, gorgeous white sand, crystal clear water, and accessible airport with quick direct flights from the United States. The region has much more to offer than your typical cruise ship ports—and Tulum is a relatively short drive from Cancun's airport. Like I said, we chose Tulum in the hopes of avoiding large spring break crowds, however I believe that the rest of the major destinations in the area (such as Playa Del Carmen and Cozumel) are equally hospitable if they're more your scene.
The Yucatan is a place of renowned historical significance, and Emma and I had a great time learning about it. Here's what we discovered:
Incredibly, this is the location of the Chicxulub crater which resulted from the asteroid impact that killed the dinosaurs. The crater is 110 miles wide which makes it impossible to recognize by the naked eye, but it's evidenced by the numerous gorgeous cenotes which dot the region as a result of the impact's explosive geological chaos.
Mexico is one of six known Cradles of Civilization where humanity independently organized itself socially and culturally.
Tulum specifically is historically fascinating in that it was a thriving Mayan city which was abandoned due to the Spanish invasion. It was forgotten and left empty for centuries, that is until the tourists found it and made it one of the most popular destinations in Mexico. The ruins are still there. You can go see them and everything!
The incredible kindness, friendliness and hospitality of the region's people is unparalleled. We've never felt so welcomed and appreciated. Throughout our trip we were continually impressed with it, which is one of the reasons we want to continue to travel in Mexico.
All outfits from the trip are linked here!
Takeaways
This was the best trip we've ever taken as a family. We succeeded in finding a vacation that each member would enjoy throughout. We stayed for six nights and at no point did a single member of the family wish to leave or go home early. A+.
Mitch. OUT!