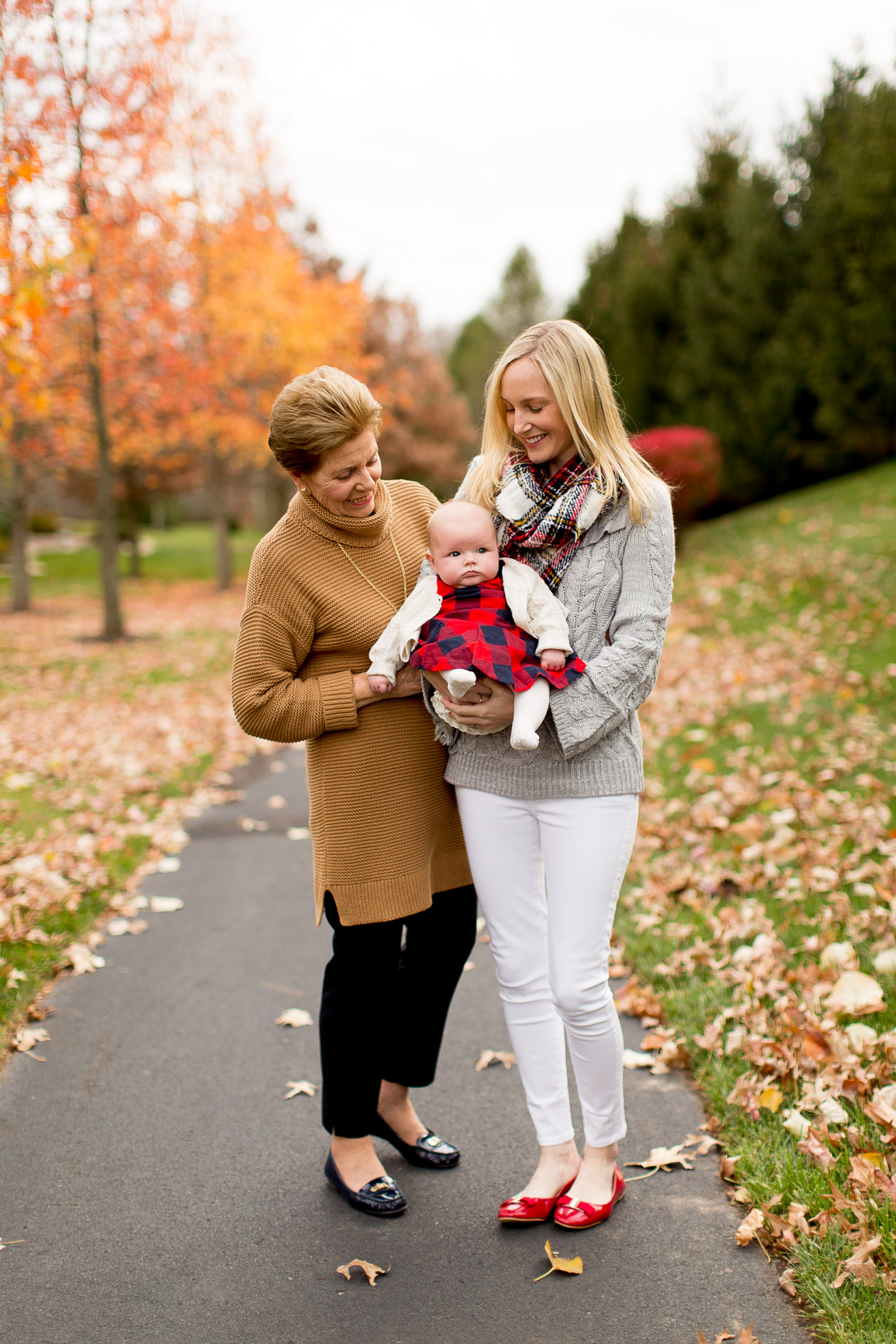 Look One: Cape / Jeans / Pumps
Look Two: Sweater/ Jeans / Scarf / Flats
Emma's Look: Dress / Sweater
c/o Kohl's
My parents currently live in Yardley, a small town in Bucks County, Pennsylvania. We always say that it's very similar to Stars Hollow—the imaginary location where "Gilmore Girls" was set. Yardley was founded in 1682, and it was actually a station for the Underground Railroad during the Civil War. If you visit, you'll notice lots of quaint little shops and old saltbox houses and homes with stone facades. (This is because the town borders the Delaware River and has a canal that goes through it, and floods pretty regularly.) Blink and you'll miss it. Yardley is so small that it doesn't even have its own high school!
Anyway, I love celebrating Thanksgiving there every year. And last week's many celebrations were the best I think we've ever had. Emma was present for the first time, after all! But it was chilly. While I normally wear dresses for Thanksgiving, I opted for cozy sweaters, seasonal plaid scarves and form-fitting skinny jeans—all from Kohl's—this time, and I was so happy I did.
For the first look you'll see in this post, I'm wearing the comfiest cape, which features adorable bow details around the armholes. I paired the cape with holiday pumps as well as my new favorite Levi's jeans, which seriously feel like a $200 designer pair. (Crazy soft, easy around the middle, and super stretchy. They also fit like a glove but don't stretch out throughout the day!)
For the second look, I'm wearing a ridiculously cute ruffled sweater, which I paired with the same Levi's in white. (What can I say? Designer jeans with that price-point? Amazing!) I wore patent bow flats and a cozy scarf in Stewart Plaid—my favorite of the holiday plaids, haha.
Kohl's has always been a favorite store for my family, as Grammie shops there constantly and both my brother- and sister-in-law worked in the corporate offices in Wisconsin for a long time. (My brother-in-law still works there, actually!) But this was my first time shopping for clothing at Kohl's, and I have to say that I absolutely loved everything I ordered! The quality was outstanding, the prices were a home run, and the cuteness factor was off the charts. See what I ordered above!
And speaking of Grammie, how sweet are the below photos of her meeting Emma–in her buffalo check dress and cable-knit sweater–for the first time? Adore. :)
Shop the looks:
Look One: Cape / Jeans / Pumps
Look Two: Sweater/ Jeans / Scarf / Flats
Emma's Look: Dress / Sweater
c/o Kohl's
This post was sponsored by Kohl's and ShopStyle, but all opinions are my own. As always, thank you so much for supporting the partnerships that keep Kelly in the City up and running!