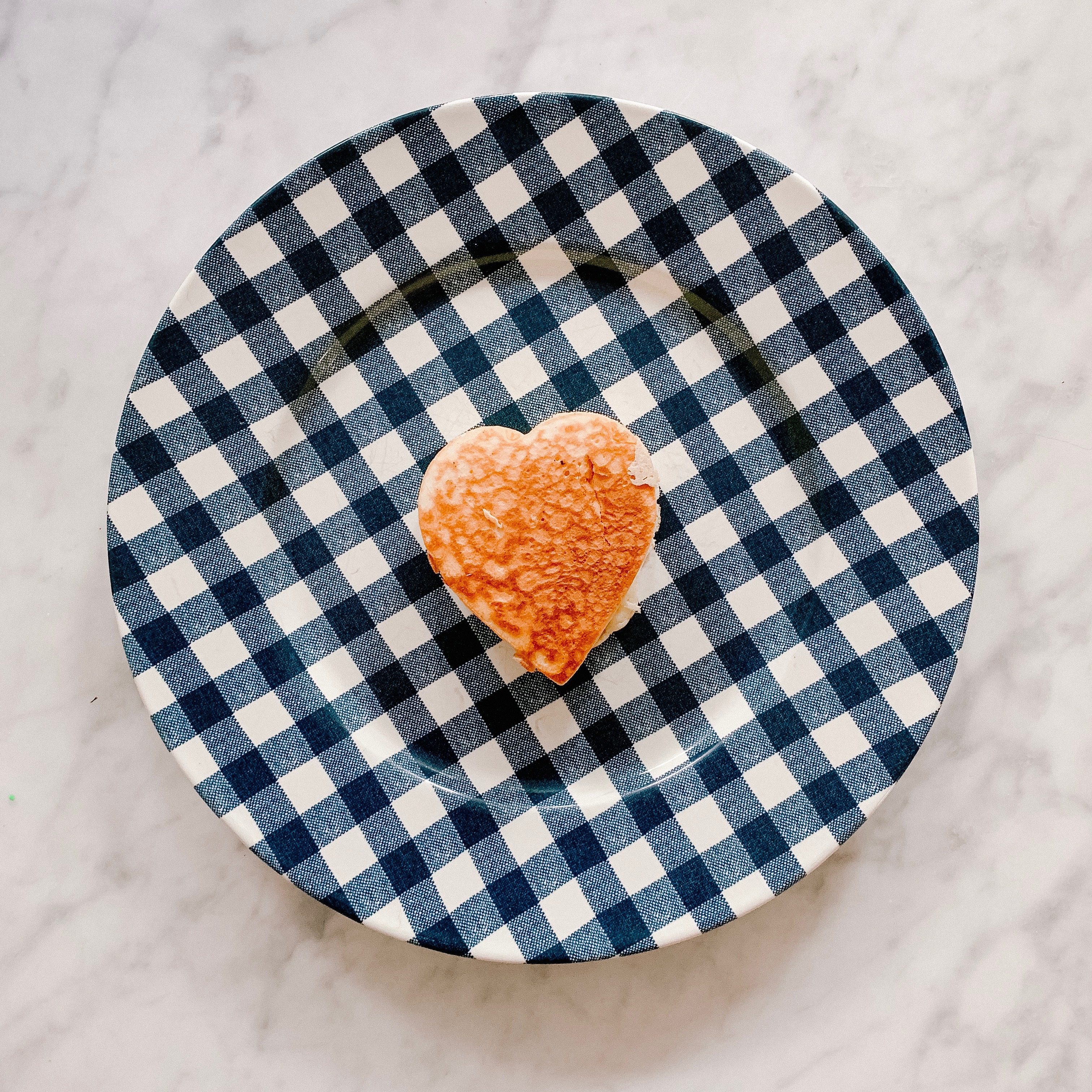 Sunday morning heart pancakes.
Heart Molds / Gingham Plates
We're back in Chicago! Things have been a little crazy here, as we basically landed and went right into a big family wedding weekend. So much fun, though. (Congrats, Gavin and Catie!) And now I'm nestled up in my office, drinking coffee and catching up on things, and also considering a nap… 😉
But here are some recent iPhone pics–some that made it to the 'Gram and some that didn't. :)
I got a lot of questions about why Sea Island wasn't "hopping" while we were there, and that's because it's currently off-season. Things will pick up over the next month or two! It was very nice for our little family, though; we kind of had free reign of the place, and there were zero wait times for anything. :)
As for the weather, temps were mostly in the 60s while we were visiting, and at night, they'd dip down a bit lower. So I relied mostly on sweaters! This was a go-to dinner look for me.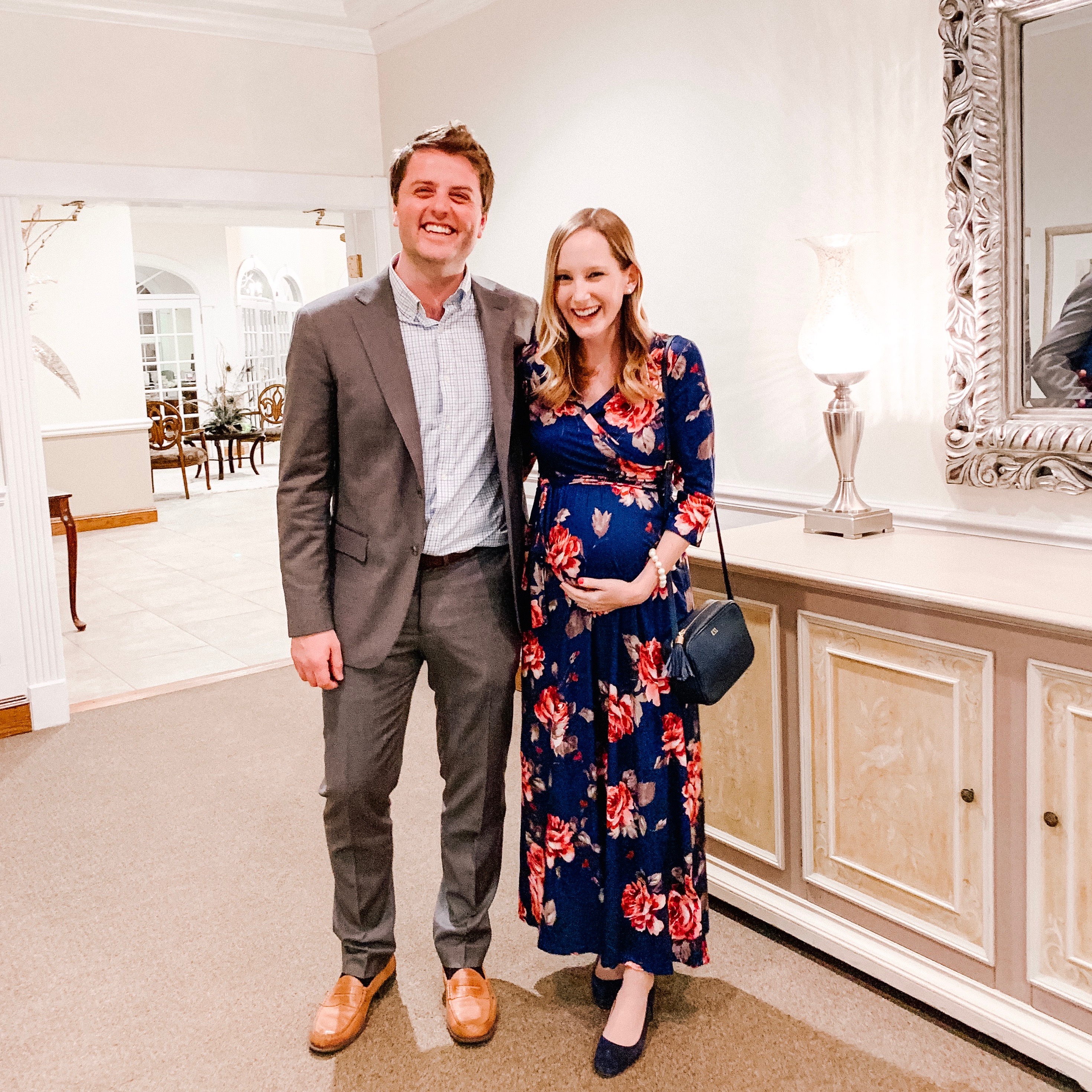 At Gavin and Catie's wedding! (Congrats, guys!)
Here's a fun story: Came back from Georgia and didn't fit into the maternity dress I'd bought for the wedding. Like, couldn't even come close to zippering it. 🙈 And so… PANIC! I mean, it's not exactly easy to find maternity dresses at the last minute. But thank goodness for one-day Prime shipping! I found this $22 navy number, and my mother-in-law-suggested wearing leggings underneath because #chicagoprobs. ❄️😉☃️ I stayed toasty all night, and no one had any idea! (Though I suppose now *everyone* knows, haha. 🤔)
If you're looking for an affordable winter maternity dress, look no further. (It's actually not maternity; just works really well with bumps!) Order your pre-maternity size. Aaaaand don't forget the leggings. 🤗 (Also, I've been Amazoning SO MUCH lately. You can see my favorites and recent orders via my "shop.")
Btw: Received a lot of questions about where Emma was during the wedding. At home, sleeping! We feel so lucky to have lovely, trustworthy and responsible babysitters that we can rely on. Took a while, but now feel 100-percent comfortable leaving her when we have to, and that's an awesome feeling!
Room details (And here's the Interior Define chair.)
Back with Noodle!
When we travel, Noodle either goes to my in-laws' house or a local doggy daycare/boarding facility that a ton of dogs on our block go to, too. She loves both, but it's always so nice to get her back! Look at that little face. :)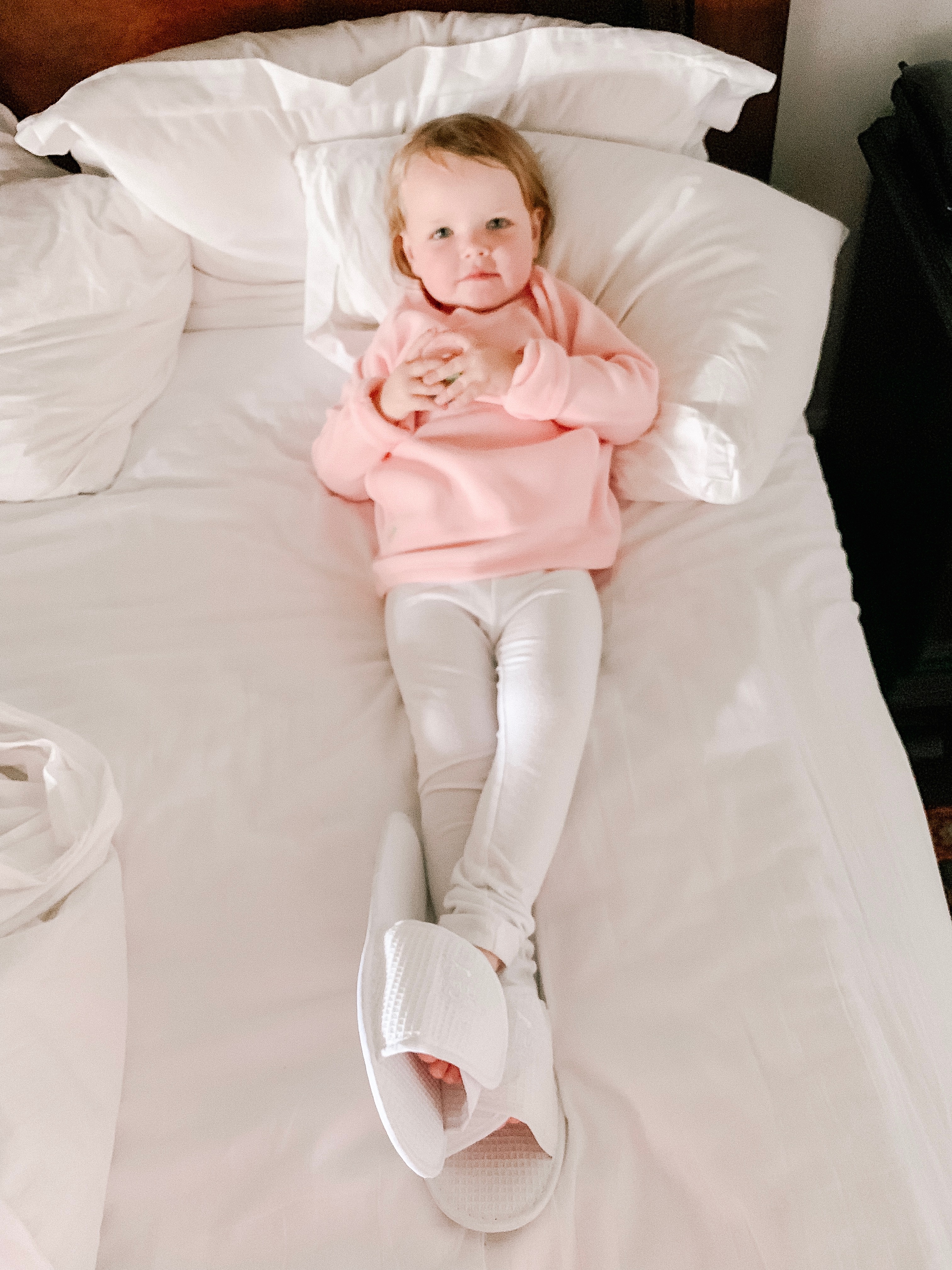 Emma's Dudley Stephens Fleece c/o (Btw: This is my newest obsession. In navy!)
This photo cracks me up. Here's Emma, living her best life, in our hotel room. She came down with a little stomach bug while we were in Georgia, and we snuggled/napped together in the big bed a couple of times… which resulting in her becoming obsessed with relaxing there. As evidenced by this photo, haha. (She's all better, don't worry!)
This is what I wore for our boat tour around Sea Island, which you can see here!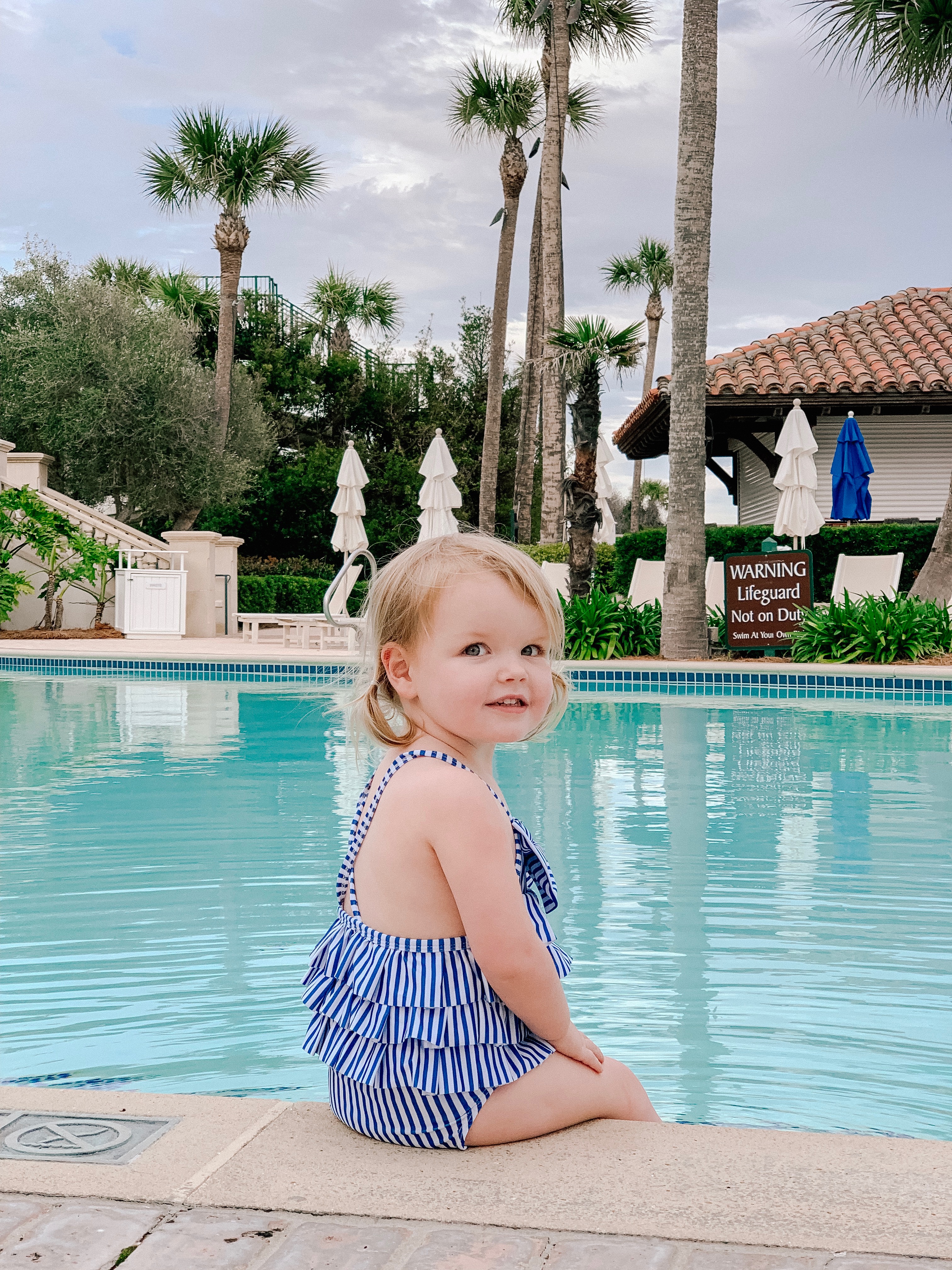 One day, temps were in the 70s, so we took advantage and went swimming in the heated pools! Isn't Emma's suit the cutest?! It's only $5.99!
Date night at Colt and Alison's at The Lodge. Before dinner, we cruised around The Lodge's stunning property with cocktails and mocktails, chatting with other guests… and I could almost remember what summer is like. ;) Side note: I just LOVE this dress. It's not maternity, but it works with a bump, and it's flattering on everyone. I'm wearing a size medium here.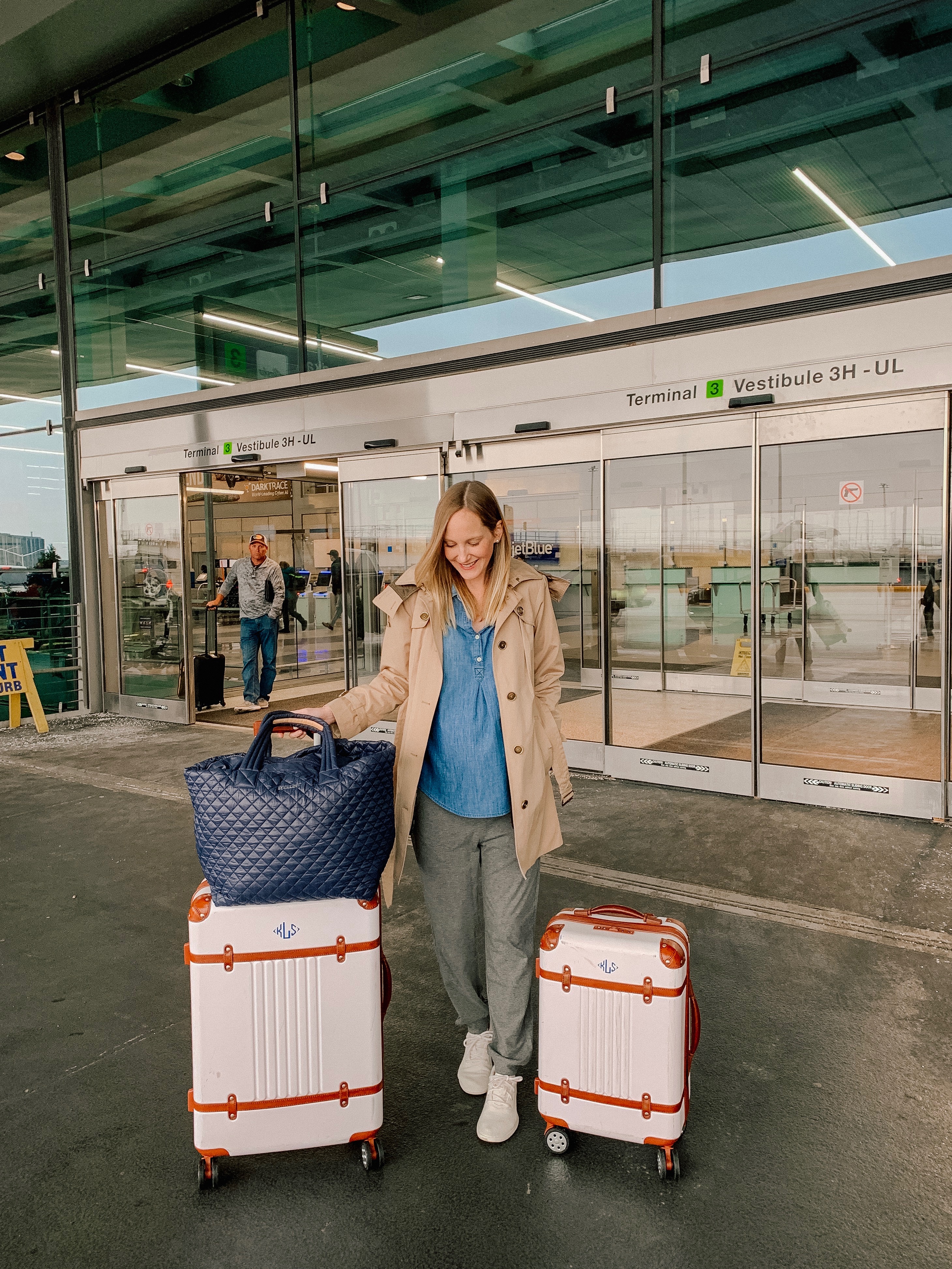 My VERY casual travel outfit. Wasn't feeling so hot the morning we departed for Sea Island, so I opted for my absolute favorite pair of joggers, and it made the trip a lot more comfortable. They're SO SOFT, and they look super cute when you're not smuggling a basketball under your shirt. ;)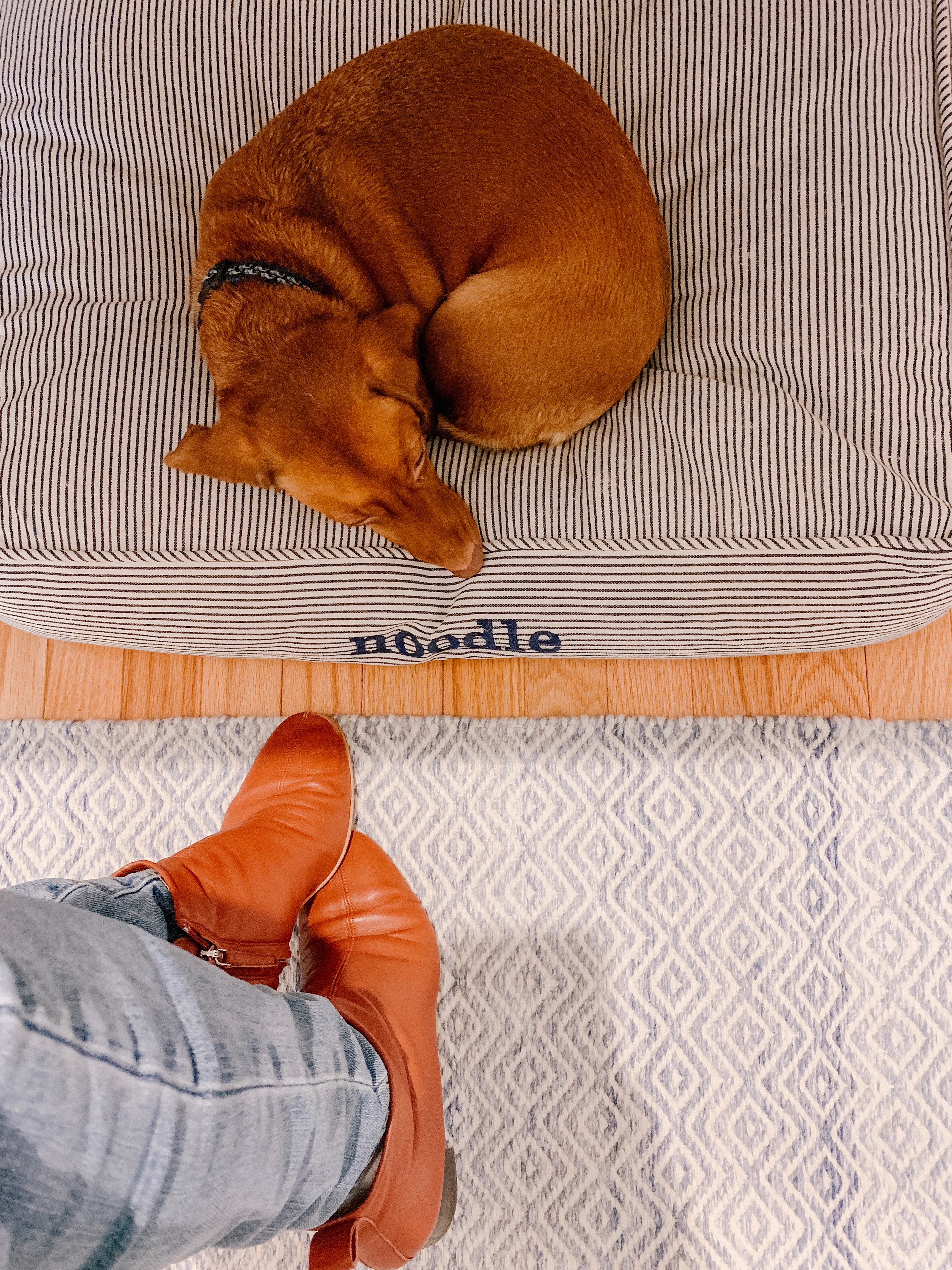 Dog Bed (Isn't this one cute, too?!) / Jeans / Rug (from my office reveal!) / Everlane Day Boot
Noodle sleeps under my desk on work days and I love it. :)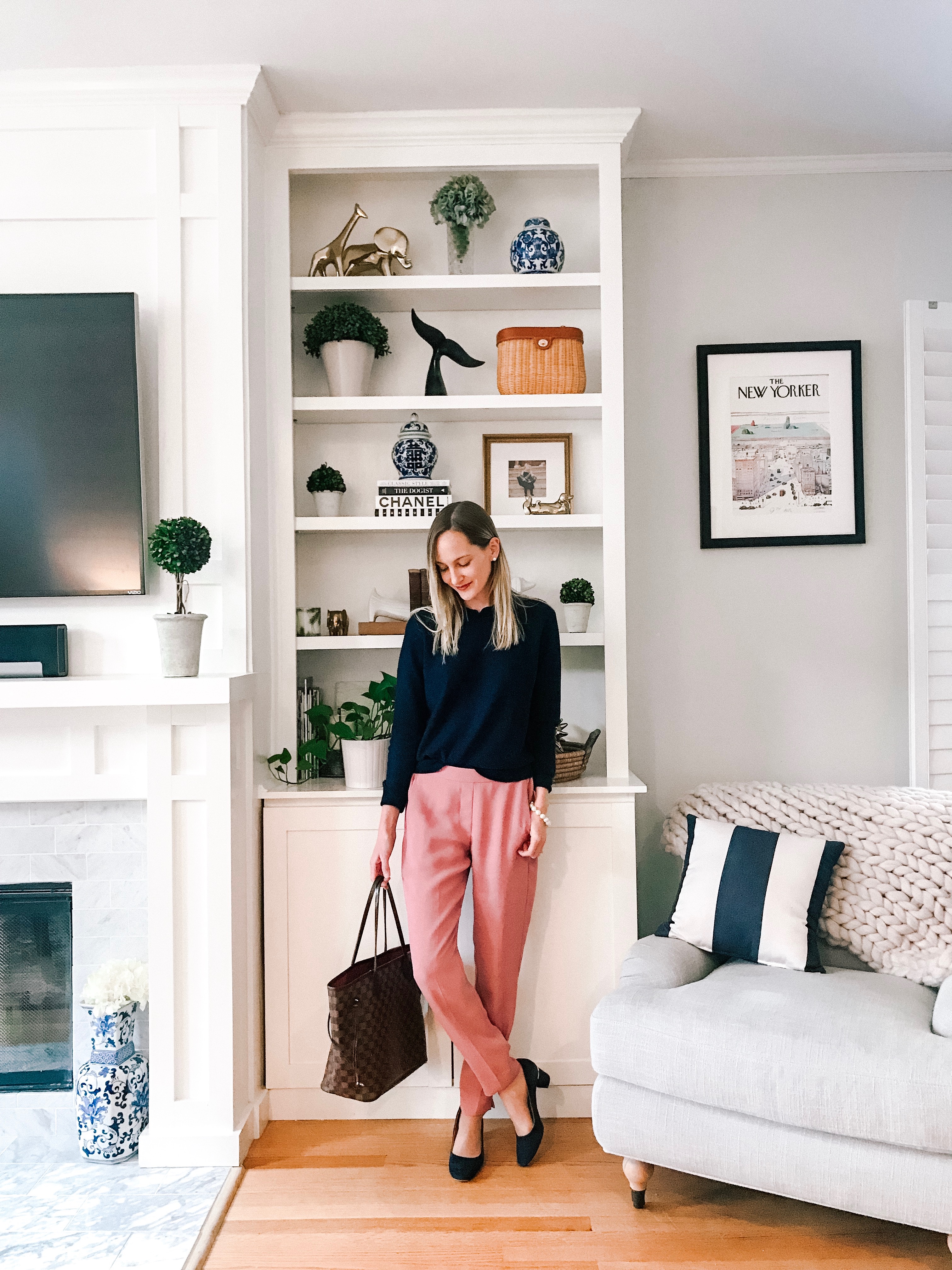 Ruffled Sweater back in stock! (I would go a size up. I'm wearing a size medium here.) / Pull-On Dress Pants (Obsessed. On sale!) / Louis Vuitton Neverfull MM Tote / Favorite Pumps (SO comfy! TTS.) / Kate Spade Pearl Bracelet / Interior Define Rose Chair
Not going to lie: I'm very much wishing for May 15th at this point. I know it'll be a while until I can get back into my regular clothing, but it's always hard toward the end since I tend to get so uncomfortable. I'm also (obviously) eager to meet the newest member of our family! The countdown is ON.