Newport Collection c/o Vacay (When you purchase an entire Vacay collection or any five pieces from the company, you'll receive 20 percent off and a free beach bag. You can also use the promo code "KELLY10%" to take an additional 10 percent off a purchase of a full collection or five-piece purchase. Free beach bag still included! Code is valid today through March 25th.) / Jack Rogers / Tory Burch Earrings (Also love these!) / Similar Bracelet / J.Crew Jeans
When I first moved to Chicago, I thought my heart was going to burst from sadness and homesickness and loneliness. Everything was foreign. If you read my blog back then, you probably noticed that I tried to keep an upbeat attitude, but I didn't always succeed. The bottom line was that I wanted to go home.
A year and a half later, I'm SO happy here… which, I know: I talk about often. (Just trying to focus on gratitude this year!) I still get homesick, though. Actually, I'm not sure if it's homesickness. I think it's more like "peoplesickness."
A few weeks ago, I started missing my parents like crazy. I always miss 'em, and talk to them on the phone nearly every day as a result. But this was different. I had to go home.
It was a quick trip, for sure. I had a bunch of projects in Chicago that kept me from leaving earlier and staying later. But I did manage to spend a TON of time with Mom, have lunch with Grammie, celebrate Danny's acquisition of his dream internship over dinner in Philly with nearly the whole family (missed you, Mitch!), attend Katie's bridal shower (how gorgeous is the bride?!), and make it down to Ocean City with my parents for a few days.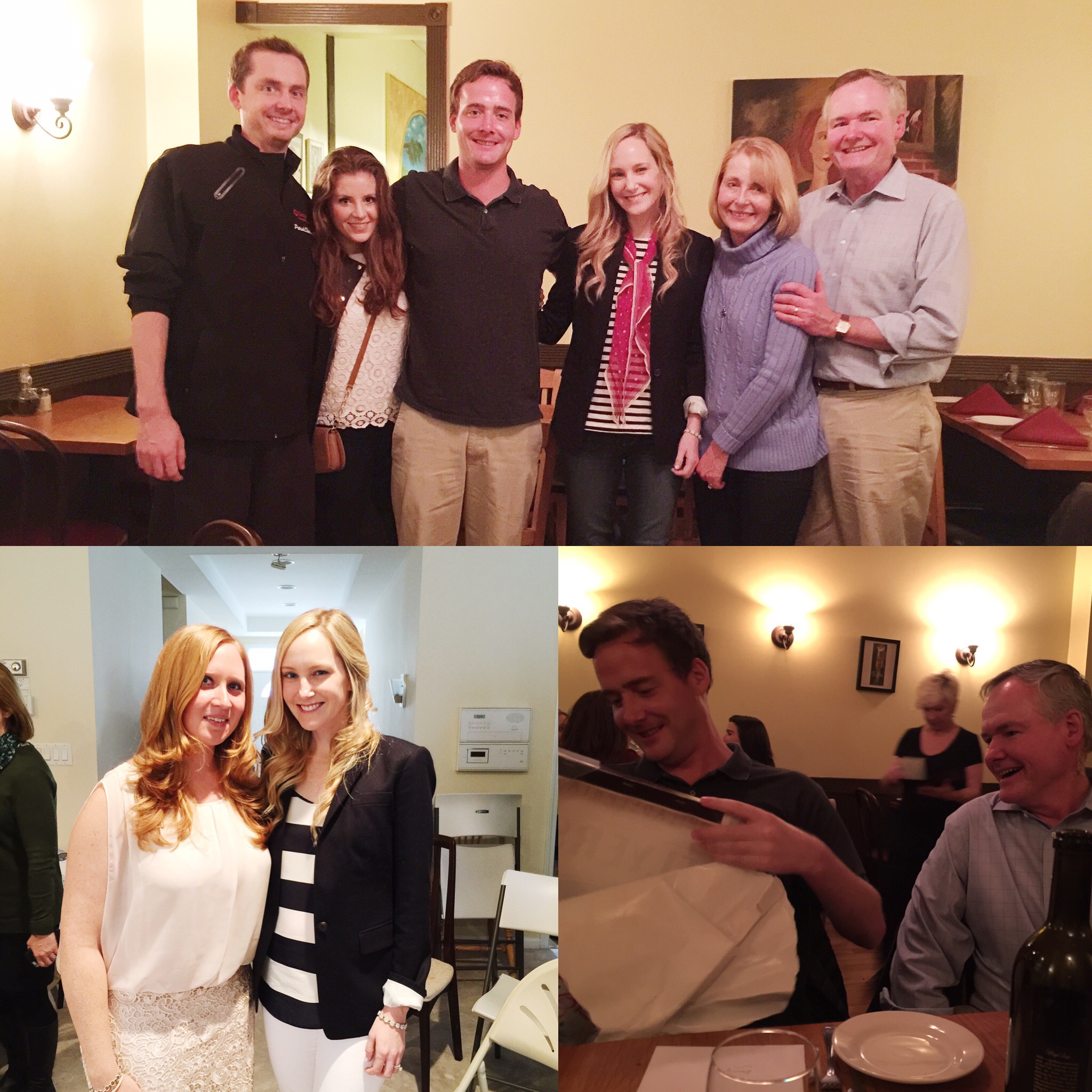 And I came back with a full heart.
While life is good out in the Midwest, I often feel stuck here. Mmmm… that sounds harsh. Let's try again. ;)
I often feel that going home is a much bigger ordeal than it actually is, and this prevents me from making trips as often as I'd like to.
But it's not a big ordeal. All I need to put Noodle in doggy daycare (because I'm too nervous to fly with her), shift some stuff around, and book cheap tickets. (Which there are plenty of, considering I can fly on random weekdays and during odd times!) I'm lucky enough to have a flexible work schedule, and I need to start taking advantage of it.
Do any of you guys live far away from your families? How often do you go home? Right now, I'm thinking that every two months might be the magic number for me. And that perhaps these trips should be scheduled far in advance, so I can ward off "peoplesickness" and simply look forward to seeing the fam. AND make time for more friends when I'm home. Because right now, that's a struggle. I want to see my best friends from home desperately, but often I can't tear myself away from my family when I have so little time with them. Which means I need to make more trips. :) Friends, I MISS YOU!
Anyway, that's enough rambling for today. Switching gears, I'm wearing another look from Vacay, out of a potential 13. (You can see my first look here, and my second here!) If you missed my last couple of posts on the company, Vacay is a San Francisco-based clothing brand redefining the art of women's travel wear. With each collection's five pieces (specifically designed to take you from day to night), you can create 12 to 15 adorable outfits, making packing much easier than it normally is. All you have to do is bring along a couple of staples–your favorite pair of shorts and your favorite pair of jeans–and you have 12 to 15 outfits that easily fit in a carry-on.
I only packed Vacay's Newport Collection for my trip to Ocean City, and it made everything so seamless! In today's post, I'm wearing the top to the Newport Maxi Dress along with my favorite pair of white jeans. But I could also pair it with its matching skirt to wear it as a maxi dress, or pair it with shorts. (Another one of  my "staple" pieces.) Three outfits with one top? I'll take it!
Sadly, it's not quite as warm in Chicago as it is on the East Coast right now. LIVE IT UP, people, and consider grabbing yourself a Vacay collection for your near-tropical weather! I hear it's going to be in the 70s in New York today. Jeaaaalousssyyyy… ;)
Thanks for the photos, Dad! Love you!
Outfit Details:
Newport Collection c/o Vacay (When you purchase an entire Vacay collection or any five pieces from the company, you'll receive 20 percent off and a free beach bag. You can also use the promo code "KELLY10%" to take an additional 10 percent off a purchase of a full collection or five-piece purchase. Free beach bag still included! Code is valid today through March 25th.) / Jack Rogers / Tory Burch Earrings (Also love these!) / Similar Bracelet / J.Crew Jeans