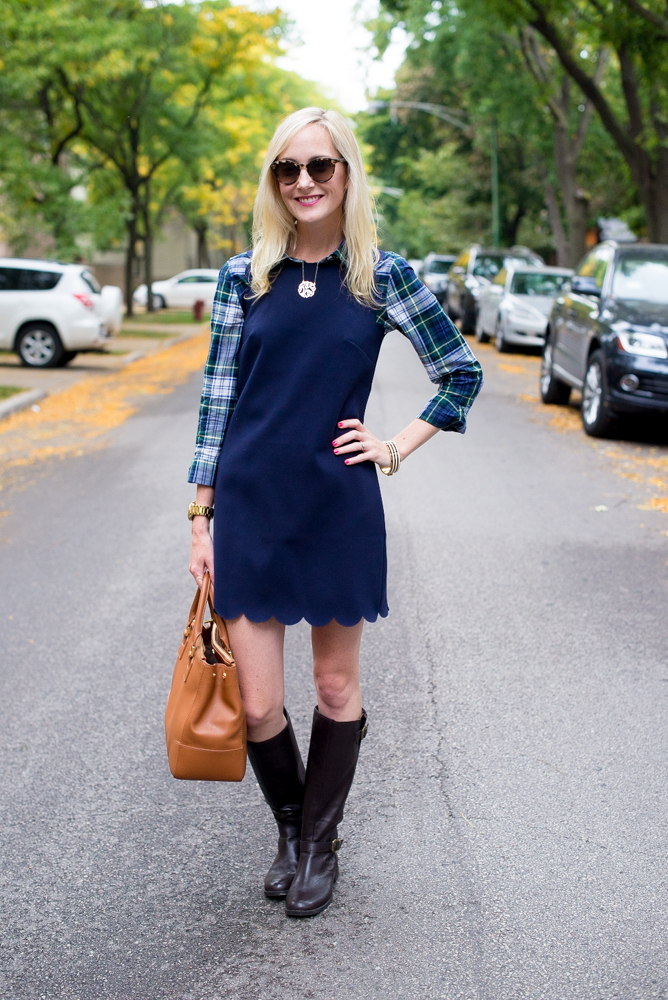 J.Crew Scalloped Dress (Factory version here; other option here) / G.H. Bass Boots (c/o — See other G.H. Bass shoes here) / Factory Plaid Shirt (Old, but love this one, and see my "Shop" page for more!) / Tory Burch Tote (Also loving this newer style) / Monogrammed Necklace (Old, similar options here) / Henri Bendel Bangle (c/o — Sold out, but here's the classic!) / Tory Burch Earrings / Kate Spade Sunnies (Old, newer styles here) / Michael Kors Watch
A few thoughts today:
1. I just learned how important it is to resize my photos to the width of my blog's main column. I've always wondered why my images were so much sharper on my computer, and I now know it was because I wasn't resizing them properly. (My main column is 680px wide, fyi.) I can't believe it took me this long to figure out! What a simple, quick fix. If you have the same issue with your photos, I highly recommend determining how wide your main column is and resizing your images accordingly. I can definitely see a difference in mine!
Before I started Kelly in the City, I considered myself to be relatively good with computers. But I've learned so much in my 18 months of blogging, from html and design to plugins and widgets. Of course, I'm far from being an expert (and will likely never be an expert), but I feel like I learn something new every day, and I love that. I also love how much I've learned from other bloggers. I used to be apprehensive about e-mailing girls I hadn't met in person with technical questions. But now I realize that everyone's been there, you know? Those I've reached out to have been incredibly kind, and I'm so thankful for the help and support they've provided. Like I said, I'm no expert, but I'm always here to help, too. :)
2. My favorite dress can be worn year-round. (Factory version here; other option here.) I've mentioned this a few times, haha, but I have very little fall clothing with me out in Chicago right now. I left a lot of my stuff at my parents' house back on the East Coast before the big move over the summer, thinking I'd grab it sometime in August during a visit. But things got crazy and the visit never happened, so I'm getting by with what I have until my next trip home. While I wish I had my cozy sweaters and flannel shirts, it's been kind of fun figuring out how to incorporate summer pieces into my fall looks! One piece I've been relying on a lot is this dress, which I normally only wear during the spring and summer. In my opinion, though, it's totally appropriate for fall when I wear a button-down under it or a cardigan over it! I'm also thinking it would be pretty cute paired with a fisherman sweater. :)
3. The Chicago blogging community is awesome. I have some really, really amazing girlfriends, and I hate being so far from them. I miss girls' nights, shopping dates, and meeting up for coffee or drinks after work. Like, a lot. I love my husband to pieces, and am so thankful I get to spend so much time with him now that we're in Chicago–last year, we really struggled to find time for "us"–but I miss my girls.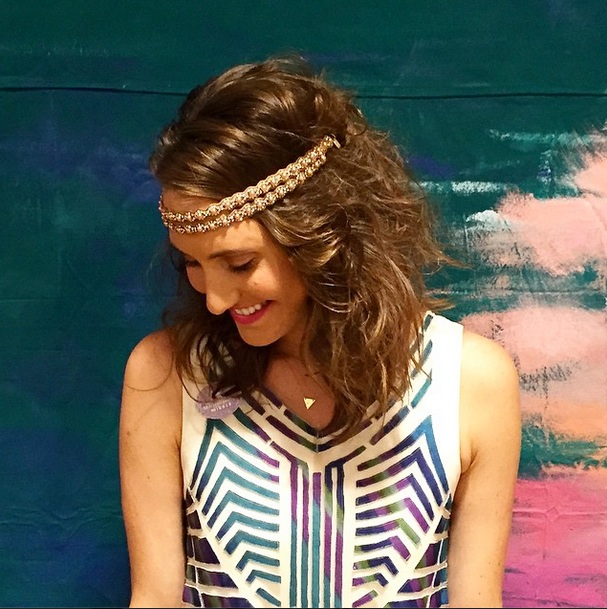 It's fun–and really easy–just to hang out with Mitch and Noodle, and so I do it often. Last night, though, I kind of had a girls' night! I met up with Maya of Charmingly Styled, and Jess, the Fashion Editor at The Everygirl and blogger behind The Golden Girl, to watch Emily of Isn't That Charming walk the runway at the Anthropologie fall fashion show in Southport. It's always nerve-wracking meeting people you've only interacted with online for the first time, but Maya and Jess–and Emily, who I met at the Godiva event in August–were incredibly welcoming and sweet, and I had a blast. (I can't seem to find the dress Emily wore on the Anthropologie website, probably because it's new, but she was gorgeous in it!) So today, I'm feeling thankful and upbeat… and excited about being part of the Chicago blogging community. :) And I'm head overs heels for this Anthropologie "Puppy Love" dress now!
Oh–and as I was writing this post, one of my best friends from high school, Rebecca, sent me this article from The Everygirl. Definitely a sign, don't you think? (Love you, Rebec.)
4. Have you entered the Eastland giveaway? You should. :)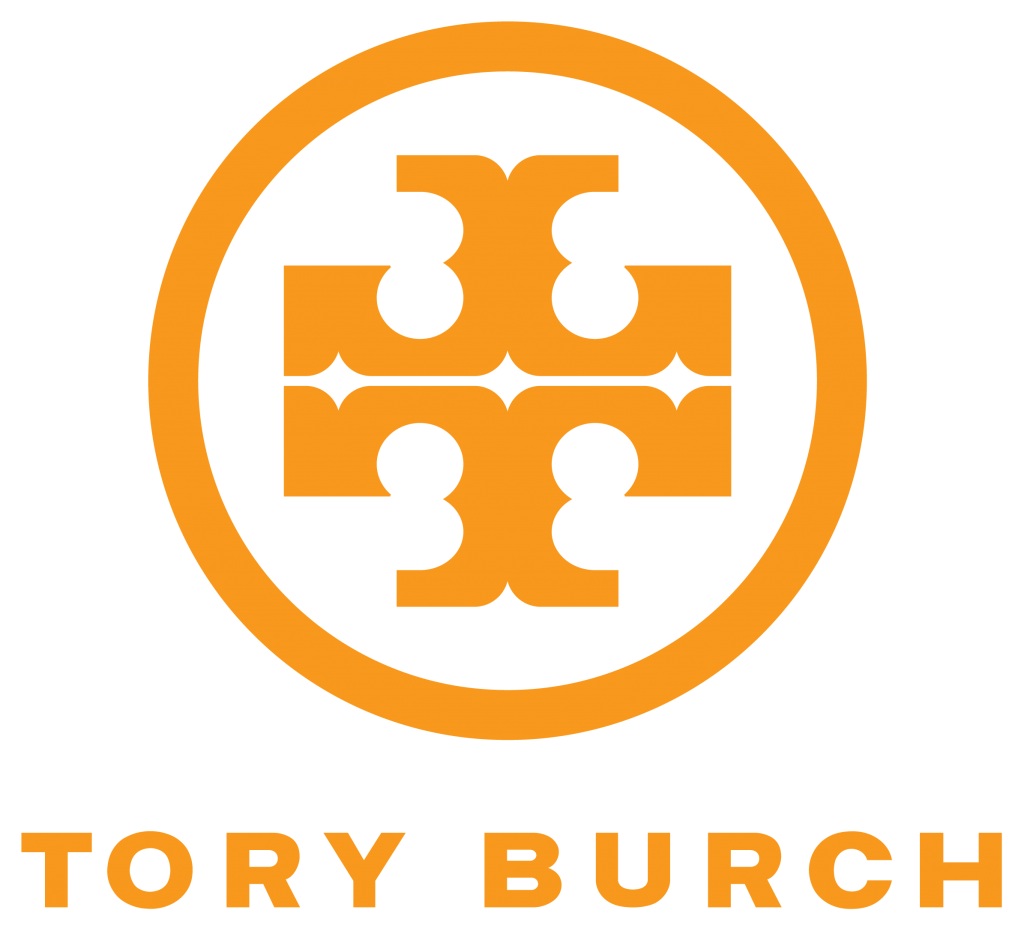 5. The Tory Burch Friends and Family Sale starts today! Take 25 percent off with code "FRIENDLIEST." Go, go, go! (Time to buy those investment pieces, like that bag you've been eyeing or those boots you've been lusting after!)

Happy Friday!