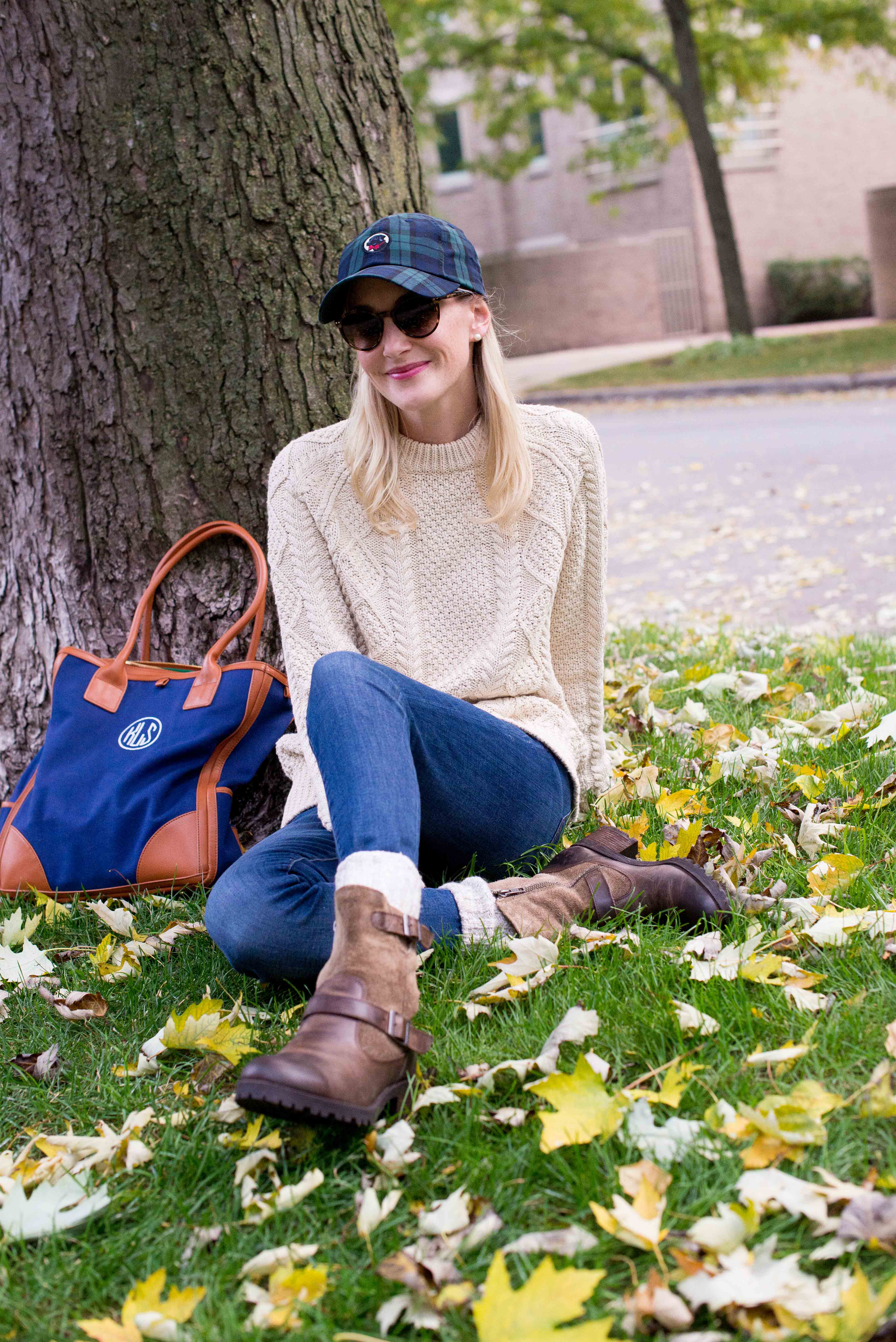 Eastland Boots (c/o) / Tartan Hat (c/o Tuckernuck) / L.L. Bean Fisherman Sweater (Size up! It's a tight fit. I went up two full sizes. E-mail me if you have questions!) / J.Crew Camp Socks / J.Crew Jeans / Cinco Powell Tote (c/o) / J.Crew Pearl Earrings / Kate Spade Sunnies (Old, newer styles here) / J.Crew Jacket
*Take 25 percent off any regular-priced product on Eastland's site with code "KELLY25" now through October 10th. The "Made in Maine" and "1955 Edition" styles are included!*
Today, I'm teaming up with Eastland, a premium leather boot and shoe company based in Maine, to give away a $100 gift card to the brand. :) Since 1955, the family-run Eastland team has been manufacturing classic, hand-sewn and durable footwear that reflects its Maine roots and long-standing principles of shoemaking. That's three generations!
I don't know about you guys, but sometimes I feel like I see the same products over and over again. Every season, there's an "it" shoe, an "it" jacket, an "it" dress, etc., etc. Don't get me wrong; I definitely feed into it. Trends are fun! But isn't it wonderful when you discover something amazing that isn't all over Instagram and blogs yet? I feel silly saying it, but it's kind of like you're in on this big secret… and you get to spread the word about its awesomeness.
Well, that's how I feel about my Eastland Belmont Boots. They're amazing! Before receiving them, I had a couple of pairs of riding boots and one pair of duck boots. But none that I could easily slip on without bending over to adjust or tie for a minute or two. (And I don't have a minute or two when it's 6 a.m. and Noodle needs to go out!) My Belmonts, though, are super easy to slip on, and they're extremely comfortable (no rubbing or blisters), rugged and well-made.
With some of my other boots, I'm constantly worried that I'm going to damage them. But with my Eastlands, they only seem to look better with wear. (And Noodle and I have trudged through our fair share of puddles and mud!) I love their chunkiness, suede detailing, and decorative buckles… and how they still have that fabulous leather smell even though I've been wearing them nonstop for a couple of weeks. Now that's a good boot.
I'm obviously obsessed with the Belmont, but I also love the Jezebel. See a pair of boots that you love? Or perhaps something else from Eastland's women's collection? Enter the giveaway below. You could win a $100 gift card to Eastland! :)
Good luck! In the meantime, don't forget to use code "KELLY25" to take 25 percent off any regular-priced product on Eastland's site now through October 10th.