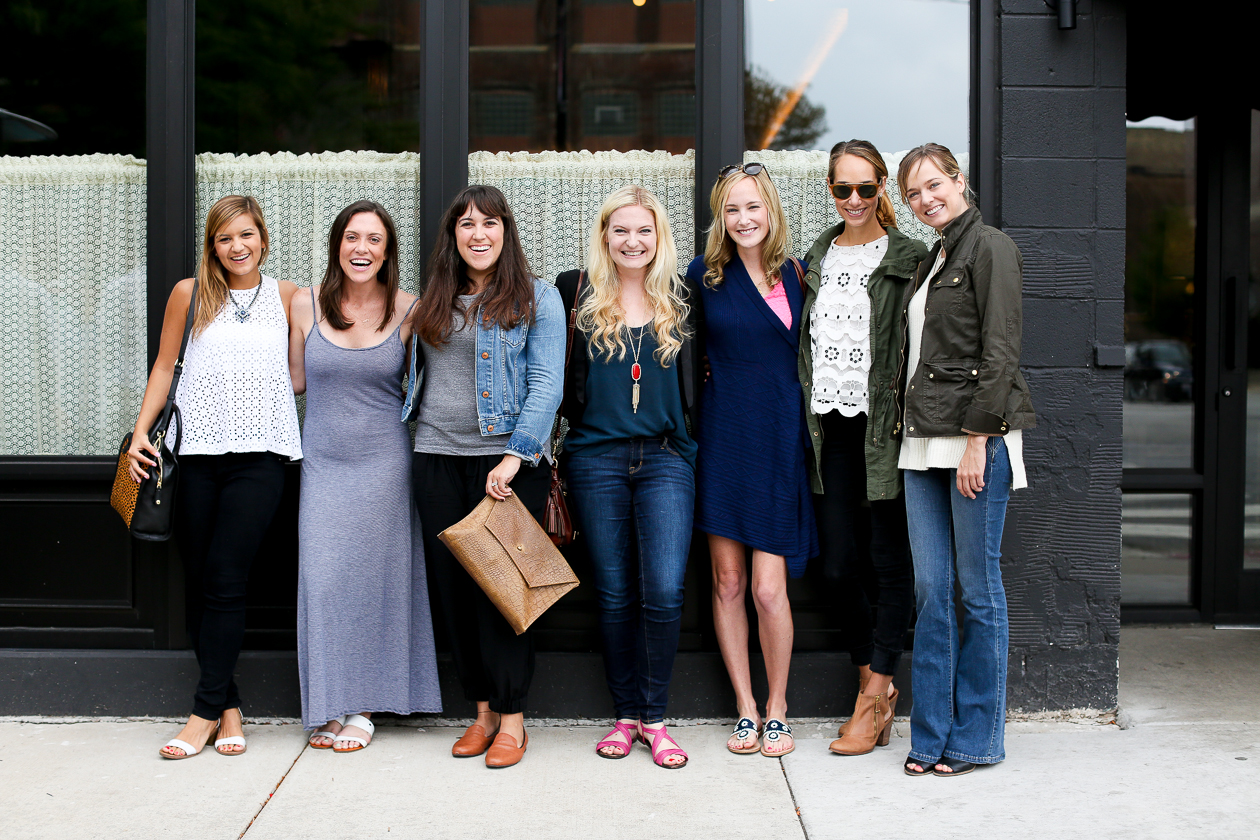 Pictured above: Lauren, Whitney, Erin, Kit, Blair and Maya
Chicago has an amazing restaurant scene. And because the city has so many great spots, I thought I'd start highlighting a few on the blog every month. What do you think?
Carriage House
Located at 1700 West Division Street in Bucktown, Carriage House looks like it belongs in New England, which I obviously love, haha. Maya (who took the below pics), Katharine and I recently attended a seafood boil there, and–oh my goodness–it was unbelievable. While I haven't attended brunch yet, my friends personally attest to its fabulousness… and I totally vouch for the dinner menu! Low Country Boil is my fave. :) Carriage House's sister property, The Bedford, is awesome, too. It's an old vault that's been repurposed into a restaurant and bar.
(All Carriage House Photos by Maya)
Formento's
Please excuse the absurd number of friend photographs, but I'd just become the proud owner of my new camera and lens, and went a little nuts. ;) Plus, we had an incredible time–a huge thank you goes out to Kit for organizing and planning everything fun in my life!
Formento's, located at 925 W Randolph Street in the West Loop, is an Italian restaurant inspired by classic "red sauce joints" of the 1950s. The fare is hearty, the atmosphere is lively, and the service is off the charts. My favorite brunch dishes were the lemon ricotta pancakes (#omg) and the italian fried chicken, and I'm dying to try the sandwiches. (Like, all of them.) We clearly need to go back for dinner, too!
The Hampton Social:
GUYS. You really feel like you're in the Hamptons! The Hampton Social has, hands down, the best atmosphere of any restaurant in Chicago (in my humble opinion, hehe). The natural light is incredible, the decor is nautical meets urban, and the food?! SO MANY LOBSTER OPTIONS. Lobster is kind of hard to come by in Chicago, but Hampton Social offers lobster rolls, lobster mac and cheese, lobster pizzas, lobster deviled eggs, lobster tails and lobster salads. Heaven, no? Oh! And be sure to try to clam chowder. It's life-changing. :)
What are your favorite Chicago restaurants? Where should I go next?