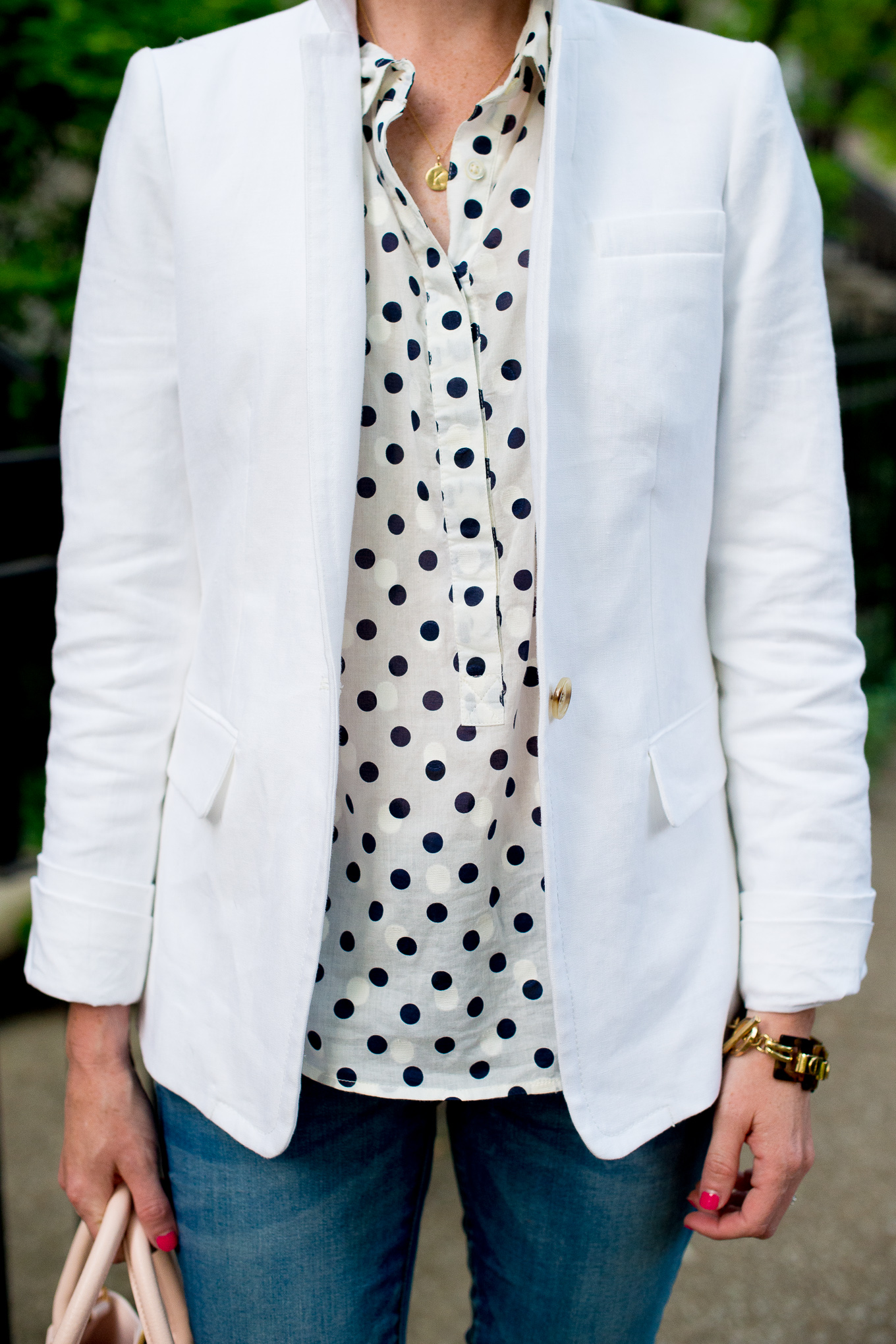 J.Crew Linen Blazer c/o and Earrings / Helen Ficalora Necklace c/o / BlankNYC Jeans (Also available at Nordstrom) / J.Crew Factory Popover (Similar here) / Vera Bradley Tote c/o / C.Wonder Bracelet (Old, but love this one, this one and this one) and Pumps (Old, similar here, here and here)
I don't know what the heck is wrong with me. Shooting my daily outfits takes maybe four minutes, yet I always put it off until the last possible moment.
Take yesterday.
I'd been dressed all day, and Mitch had been home from work for hours. (#teacherperks) But instead of shooting between 4 and 6 p.m.–when the light is perfect, in my opinion–I opted to organize my sock drawer, take Noods for yet another walk, and watch an episode of "Gilmore Girls." I mean, why would I not shoot at the last possible moment, right before we need leave, when it's already dark? ;)
If I'd had a more pressing task on my to-do list, you can bet your bottom dollar I would have taken outfit pics to procrastinate with that. Once a procrastinator, always a procrastinator, I suppose.
Anyway, that's my explanation for today's super dark, grainy photos. There's only so much one can do with camera settings and post-processing software, haha. ;) But this is what I wore to Little Italy last night with our friends Dan and Laura, who in town from Denver. We had the best time catching up over small plates, and more than enjoyed the wide-opened windows, warm air wafting through.
Summer Nights, I love you.