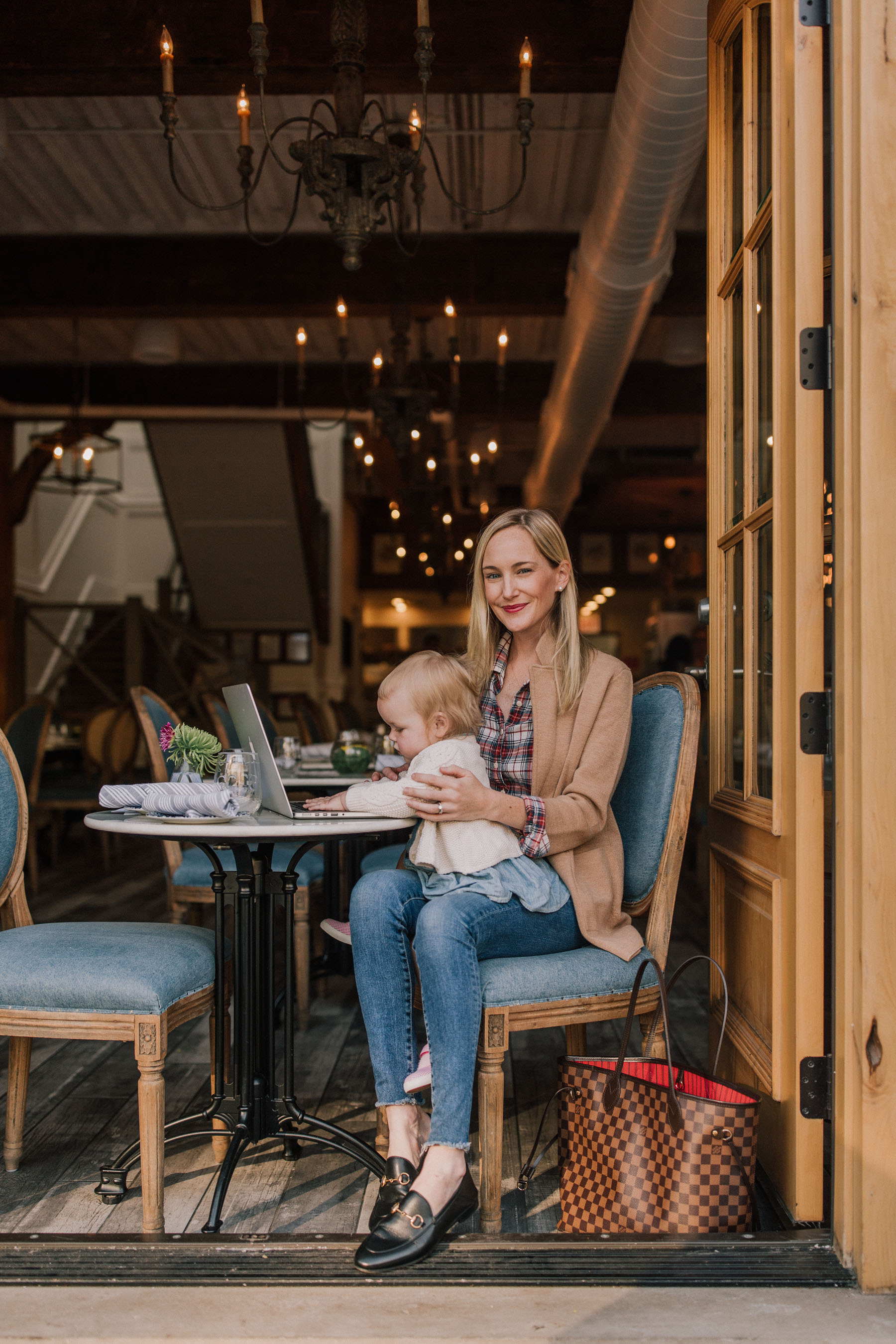 I say it all the time: If I won the lottery, I'd immediately enroll at NYU. I'm not sure if I'd actually pursue a degree, but I'd study creative writing and photography for a couple of years. (And then I'd move to London, but that's kind of beside the point. 😂) My ultimate dream is to publish a novel, and photography simply makes me very happy. And going to NYU for fun and living in the West Village or something?! 😍 Heart eyes, for sure.
Of course, this isn't going to happen anytime soon. First, there's the little issue that I never buy lottery tickets, haha. Second, life is too good here in Chicago to leave right now. Third, I don't have time for traditional schooling at the moment. I have a one-year-old at home, after all. ;)
I recently realized, though, that I don't have to go to NYU to write a book or become a better photographer. Heck, I don't even need to leave my house if I don't want to. I can learn and practice for 15 minutes here; an hour there–from wherever I want–through a fantastic website called Skillshare.
Hear me out. This is NOT a gimmick.
A few months ago, Mitch (who manages the blog's email inbox), told me that the company had reached out to see if we wanted to take some of their classes. He explained that Skillshare is an online learning community with instructors who are just like us. Anyone who has a little (or a lot of) expertise in a particular area can teach, and everything's in video form. It's like YouTube but WAY better. Classes are available in four categories: Business, Technology, Lifestyle and Creative–the last of which includes Writing and Photography subcategories. Oh, and there's an easy-to-use app, too.
Exciting, right?! Yes. Still, I turned it down at first. I had too much on my plate, and where in god's name was I going to find the time to take classes?! But as it turns out, I totally have enough time on my hands for it. Because it's nothing like I thought it would be. Lots of the classes I take are less than 15 minutes. Yes, some are longer, but they're always broken up into shorter segments. And there's no homework. Or grades. Or penalties if you suddenly drop out of a class. Or astronomical tuition fees. (Unlimited classes–over 17,000 to choose from–for $15 per month or $8.25 per month if you sign up for the year.)
One day, when I was struggling with editing a particularly tricky batch of photos in Adobe's Lightroom application, Mitch suggested that I hop on Skillshare. Feeling frustrated, I did, but only because I needed a break. 😉 (#stubbornwife) After only a few minutes of clicking around, I was hooked.
At the moment, I love "taking" classes in bed at night on my phone or on Mitch's iPad. Before Skillshare, I often went to bed feeling lost and defeated from a creative standpoint. And while I probably only use Skillshare for 20 to 30 minutes every few nights, I learn something new every time, and I end my day feeling positive and inspired. I also recently took an entire day (when my mother-in-law came up) to really dive into a ton of Skillshare classes. I hunkered down at Blue Door Farm Stand in Lincoln Park (isn't it beautiful?!), and Mitch snapped these pics when he and Emma came to meet me at the end of the day. No, I wouldn't recommend taking classes with a toddler in your lap. ;) But I truly feel that I've become a better photographer–and a better editor–over the last few months because of Skillshare.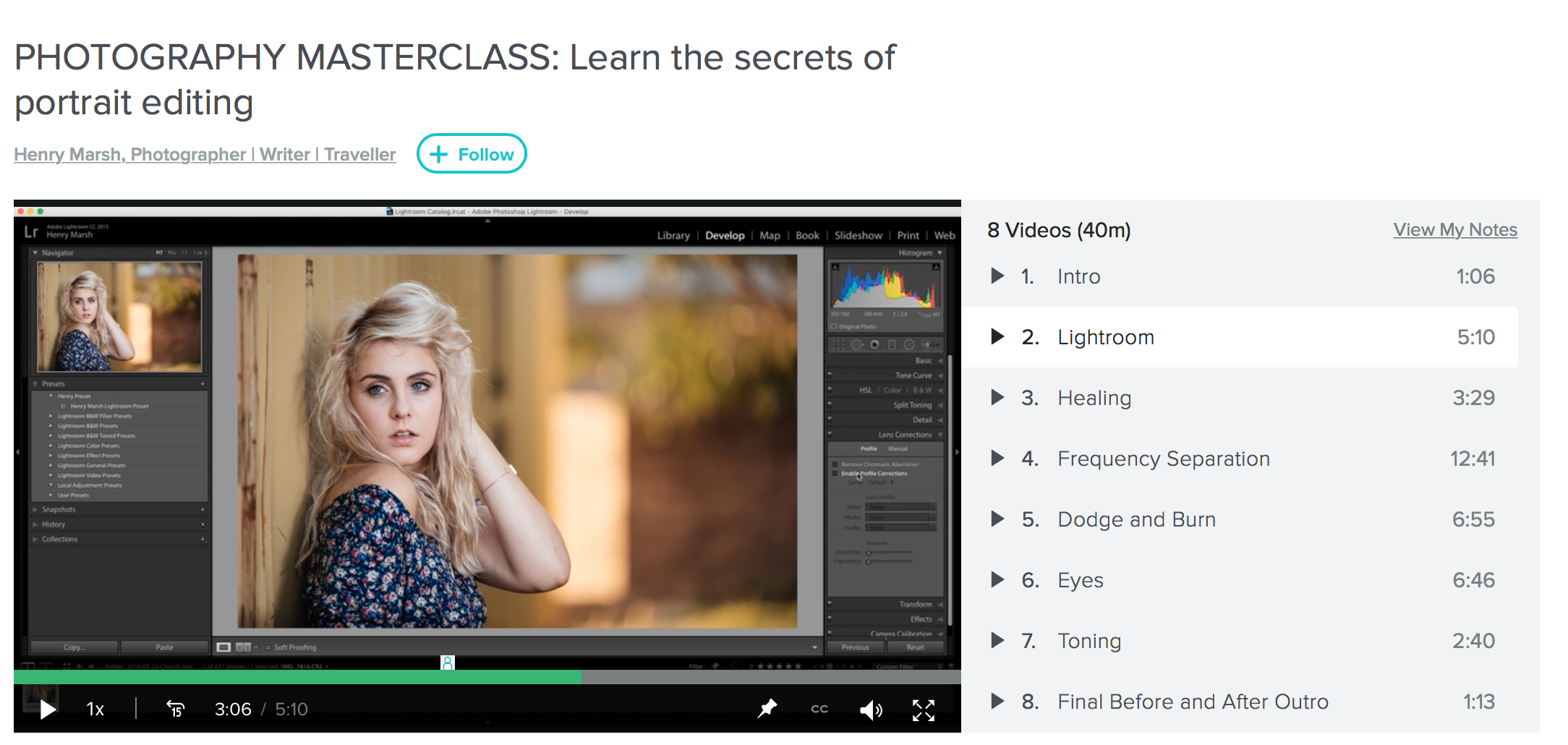 Here's an example of a Skillshare class I took. Want to try? Click here to get two free months!
The thing about my photography background is that I don't have one. I know how to do a few things relatively well but that's it. There are some gaping holes in my "education" because I've only ever taken one class… and that was when I was 12, so I've forgotten a lot. ;) Since then, I've slowly improved my craft by practicing, Googling, and trial and error. But I really can't get over how much I've learned in such a short period of time since Skillshare came into my life. And yes, I'm writing this post in partnership with the company. I know that this often makes readers doubt whether bloggers are being truthful, but GUYS. IT'S SO COOL AND THE FIRST TWO MONTHS ARE FREE WHEN YOU CLICK HERE SO YOU MIGHT AS WELL TRY IT!
I think what it comes down to is this:
If I want to become better at something, I need to put the time in. I'd been wishing that I was better at taking and editing photos for YEARS. But I rarely put the time in to figure out how to make that happen, and when I did, I looked in all the wrong places. I was constantly after some super quick-and-easy shortcut or workaround.
For example, I struggled for a long time with taking photos in broad daylight. Everything looked washed out, overexposed, and harsh. The mood or tone I was going through never came through. My solution: Avoid it, and shoot in the early morning or "Golden Hour" (before sunset) only. Did it work? Sure, I guess. But I came to rely on that, which stunted my growth.
And then there were those couple of months when I was like, "Oh. I'm just going to buy some other photographers' settings and then my photos are going to look ah-mah-zing." Nope. I didn't have a fundamental understanding of what those settings did or how to appropriately adjust them for my photos, and therefore my finished product ended up looking unnatural. Like, every time.
Skillshare's made it easy to get better, though. So far, my favorite classes have been those that include shooting techniques and editing workflows, as I love watching professional photographers in their element. Everyone is so different, and I've picked up little things here and there from each one which has help me develop my own sense of style. It's been awesome. I've also enjoyed classes on portraiture and shooting interiors, as that's mostly what I do.
Am I the best photographer out there as a result? No. (Example: I was messed up with yesterday's photos. Dark, hazy and lacking detail. I need to practice shooting in the rain!) But I'm a better photographer, and I'm so excited about how much more I'm able to do now that I've invested myself in learning. I've become passionate and excited about photography again, and I didn't even have to win the lottery to make it all happen.
As for writing that novel, I do want to do it, and I'm kind of kicking myself for not hunkering down during my first year in Chicago when I was blogging full-time without any major responsibilities. Totally should've taken advantage of that! But in a few months, I'm going to start "taking" some writing courses through Skillshare, and we'll see what becomes of it. I can't wait!
So tell me: What would you take classes on?! Would love to hear what your dreams and aspirations are outside of your day job!
Remember: Just click here to get a free two-month subscription to Skillshare.
Shop the post:
Loafers (Same style but SO much more affordable here. Mules here.) / Sweater Blazer (Love this one, too.) / Nearly Identical Plaid Flannel / Legging Jeans / Louis Vuitton Tote (Available here, here and here. Looking for an affordable brown tote? I LOVE this one!) / Initial Necklace / iPhone Case
In collaboration with Skillshare. All opinions are my own. As always, thank you so much for supporting the partnerships that keep Kelly in the City up and running!
Remember: Just click here to get a free two-month subscription to Skillshare.