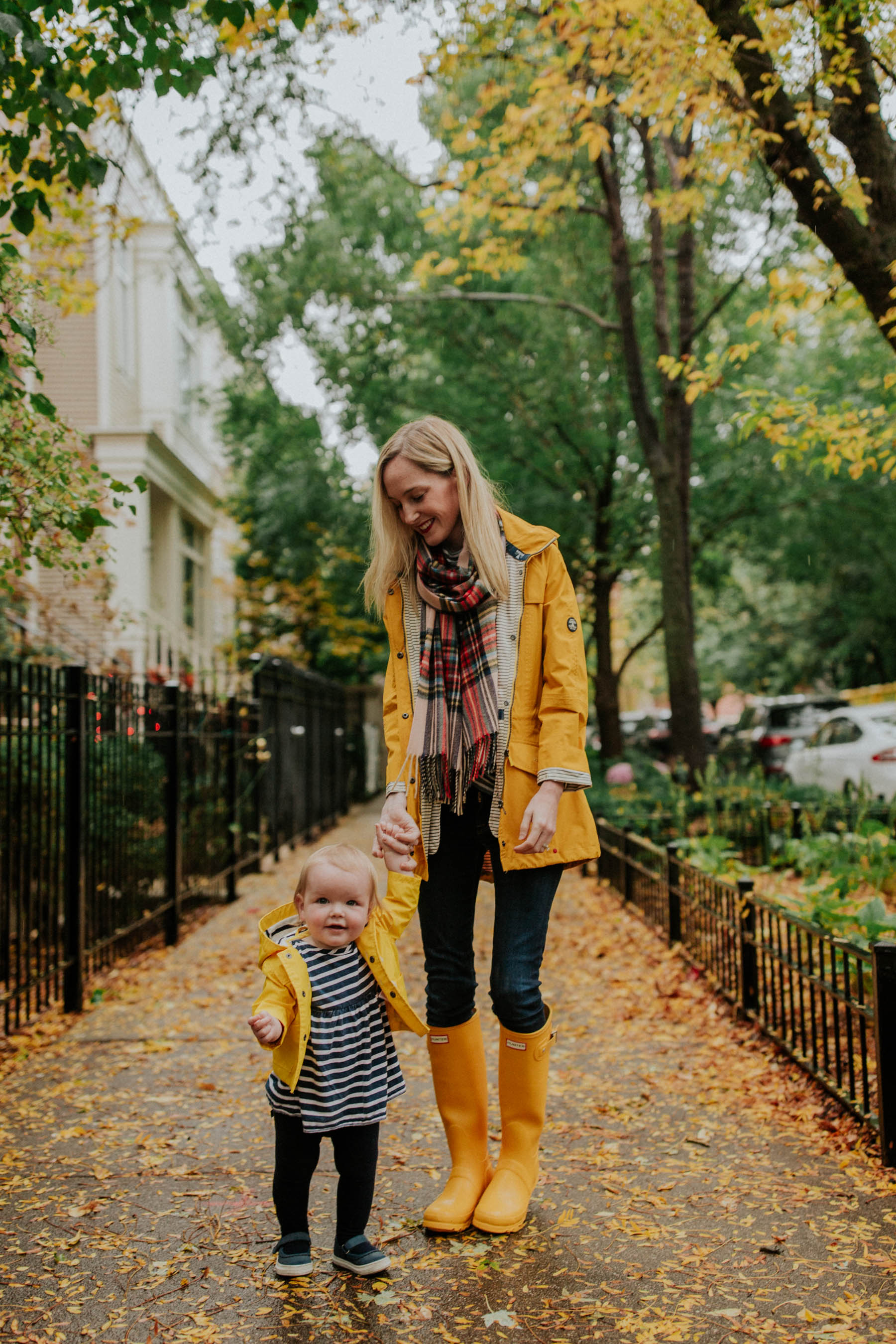 Plaid Scarf (Feels like cashmere! SO soft. Other scarf obsessions this season: my classic Burberry, this gray Ralph Lauren number, this buffalo plaid one, this PERFECT J.Crew Factory one, and this L.L. Bean staple.) / Tissue Turtleneck (In solid here. You can find 'em at J.Crew, too.) / Hunter Boots (Also love the glossy and short versions.) / Hudson Jeans (My favorite dark jeans!) / Barbour Raincoat c/o (My favorite water-resistant jacket is BACK, though! I also love this similar one, which I own in red. And then there's this one, which is such a classic. This one is adorable and is on sale, and this plaid waterproof poncho?!) / Newer Version of Emma's Raincoat / Emma's Mary Jane Sneakers (Don't worry. I'm getting her this pair of toddler Hunters, haha.)
A few months ago, I wrote this post on how many children Mitch and I want to have. Or, really, I talked about how indecisive we are on the topic. ;) Today, though, we're diving into a question that we actually have an answer to.
Where do we see ourselves raising those children?
Before I start, though, Emily and I have some big news: Shaheen has joined our Motherhood Series! Which means it's only a matter of time before her husband, Trevor, teams up with Mitch and Doug for a post. 😉 (Yassss!) In all seriousness, though, we're incredibly excited. Shaheen is one of our very best friends, and like us, she's a new mom. Her son, Zain, is five months old, and the CUTEST little guy you've ever seen. First of all, #babyhairgoals, for sure. And he simultaneously looks just like his mom and just like his dad. Oh, and the facial expressions. (DYING.) Anyway, be sure to read Emily's post as well as Shaheen's, as they're both amazing moms and answering the same question today!
Okay. So here it is:
Mitch and I plan on raising our children here in the city. We never want to leave. I think, honestly, that the only other places we'd ever consider moving to are London and New York. (But don't really see that happening.)
Our plans to raise our kids in the city comes as a shock to most. Wouldn't things be so much more convenient in the suburbs? (Yes.) Couldn't you have so much more space? (Yes.) Wouldn't it be more affordable? (Yes.) Wouldn't it be so great to be near your parents? (omg YES.)
But, like, in a few years, once Emma starts school? Don't you think you'll move?
No. 😂 We're staying.
Mitch and I are happiest in the city, and when we think about leaving, we get really sad. I remember when we were first dating, and we discovered that we both planned on living in the city for the long haul. I was SO happy. Mitch didn't want a big house on a hill somewhere, and neither did I. We knew our bank accounts would be considerably more padded if we left the city, but we both wanted the hustle and bustle of city life–and everything else that comes along with it–forever.
We bought our (half of a) house specifically for the school. We're actually like a block away from being outside the zone, but we made it by the skin of our teeth. ;) We also bought it because we could covert the office space into a third bedroom for guests but also for a second child. (Not there yet, but you can read more about that here.) It's a little home, but it's bigger than anything we've ever had, and it works pretty well for us.
I will say that we couldn't have pulled this off in New York. We tried. We came close to purchasing a one-bedroom condo in Brooklyn that we could convert into a two-bedroom, but we would have gone significantly over budget for a place that we likely could only have one kid in… and we didn't have a solid plan for schools. (Couldn't afford private, and the zoned public school wasn't good.)
We moved to Chicago specifically because we thought we could actually pull it off here. Still, our first year was a struggle. Our apartment was a complete hole in the wall, and when we started house hunting, we were coming up with zilch. Finally, though, we found a cute little gem just within the invisible boundaries we'd set. And while we've had to put a lot of work into it, we now LOVE it. (Kitchen renovation starts in two weeks, btw! Ahhhh!) So grateful for our home but also for the life that we've built here.
Something we have started talking about is moving to a larger home in a few years. But we also talk about not doing that, and not taking on a bigger mortgage. (A couple of years ago, I wrote this post on how Mitch and I save money in the city, and we maintain that living below our means has made the biggest impact!) But there are so many "ifs." On one hand, it would be lovely to have more space, especially now that Mitch and I are both working from home and we have a baby. (A backyard?! A playroom?! An office?! A mudroom?!) On the other hand, a larger home in our neighborhood–and yes, we're dead set on staying in our neighborhood–would be pricey, and we both adore our current home. I love the idea of being content with and grateful for what we have, and not yearning for more. So… who knows.
But back the whole raising-our-kids-here thing.
We're so excited about doing it. We hope to send Emma to diverse schools and instill a sense of independence in her here in Chicago. Not that we wouldn't be able to do that in the suburbs; we just love our city and think it has a ton to offer. :)
Yes, Emma's childhood will be a little different than the one I had. (Mitch spent half of his childhood here in Lincoln Park, so there will be a lot of similarities there!) But our thought is that we know a handful of people who were raised in the city (e.g. Mitch) and they came out GREAT. And because we're such "city people," we think Emma will likely be a city kid/person, too. Finally, we think that happy parents make happy children.
I do think it's important to remember, though, that it's not a house–or a location, for that matter–that makes a home. It's the people within it.
I was raised in the suburbs, and I had the BEST childhood. My parents were planning on raising me in Stuyvesant Town in the East Village in New York (I coincidentally lived there with Mitch for a few years!), but they changed their minds about having one kid, and as a result, I ended up with two amazing brothers and a completely different upbringing. I loved it, and I wouldn't change that for the world.
So if life throws us a curveball and we eventually end up elsewhere, that's okay, too. I guess what I'm trying to say is that I love my life because of Mitch and Emma; not because of the city.
But tell me:
Where do you see yourself raising children?
Remember to read Emily's post as well as Shaheen's!
Style notes:
Really quickly, I love my Barbour raincoat, but my current favorite water-resistant jacket is back! SO excited to wear it on the blog; will report back soon. :) If you're looking for a yellow raincoat, this similar one is awesome. And then there's this one, which is such a classic. This one is adorable and is on sale, too. Not yellow, but how cute is this plaid waterproof poncho?!
As for my plaid scarf, it sadly keeps selling out. But definitely look into this classic Burberry, this gray Ralph Lauren number, this buffalo plaid one, this PERFECT J.Crew Factory one (which is similar to mine), and this L.L. Bean staple.
I've been wearing my yellow Hunter boots on the reg, and I just got Emma a pair, too! (Yes, I'm crazy.) I also love the glossy and short adult versions. I usually wear a size 7.5 in flats, and I take Hunter boots in a size 7.
Shop the post:
Plaid Scarf (Feels like cashmere! SO soft. Other scarf obsessions this season: my classic Burberry, this gray Ralph Lauren number, this buffalo plaid one, this PERFECT J.Crew Factory one, and this L.L. Bean staple.) / Tissue Turtleneck (In solid here. You can find 'em at J.Crew, too.) / Hunter Boots (Also love the glossy and short versions.) / Hudson Jeans (My favorite dark jeans!) / Barbour Raincoat c/o (My favorite water-resistant is BACK, though! I also love this similar one, which I own in red. And then there's this one, which is such a classic. This one is adorable and is on sale, and this plaid waterproof poncho?!) / Newer Version of Emma's Raincoat / Emma's Mary Jane Sneakers (Don't worry. I'm getting her this pair of toddler Hunters, haha.)