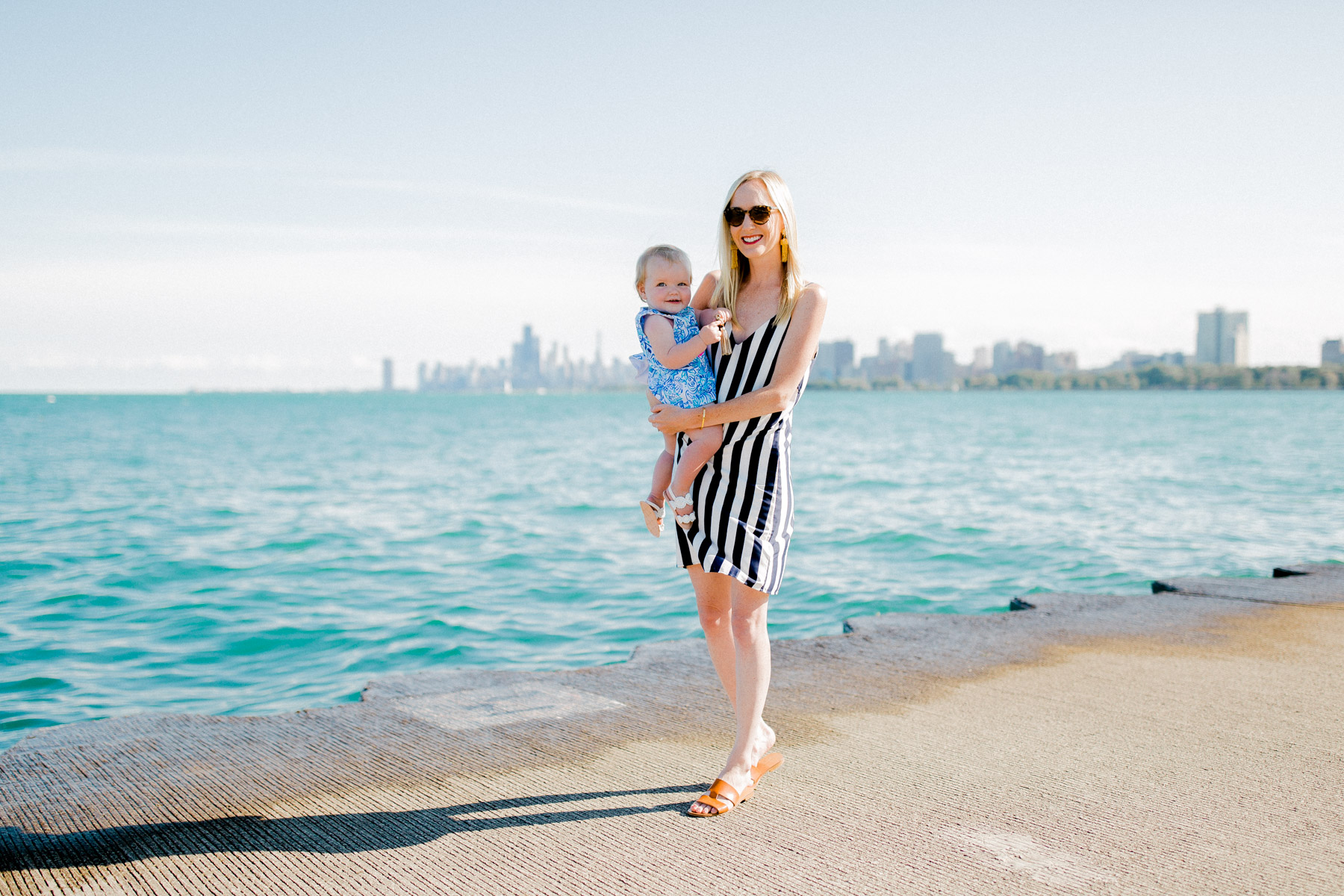 Mitch has a post going live today, too! Check back later for it. :)
Navy and White Striped Dress (Runs a little big. I'm wearing the XS here.) / Everlane Bridge Sandals c/o (Back in stock! Order now before they sell out.) / Lisi Lerch Earrings c/o (Similar here at Nordstrom) / Lilly Pulitzer Bag / Monica Vinader Bracelet c/o / Sunglasses / Emma's Jack Rogers / Emma's Lilly Pulitzer Shift
Mitch and I get asked this question a lot.
So today, I'm teaming up with Emily from Isn't That Charming for our weekly Motherhood Series to talk about how many children we think we want to have. Be sure to read her post! I adore Em and Doug, and have a feeling their answer is going to be a bit different than ours. ;) Though I could totally be wrong!
How Many Children Do You Want to Have?
Anyway, here's the short answer for Mitch and me: we don't know.
Here's the long answer: Probably two, though we'd be completely happy with just one. But who knows? What if we do have two and then feel like there's still someone missing? Then… three? WHAT IF WE HAVE TWINS OR TRIPLETS NEXT?!
Let me explain, as there are some factors at play here.
Infertility
We experienced great difficulty in getting and staying pregnant, and this took quite the emotional toll on me. To be very honest, I'm just not ready to go through the treatments again and potentially experience great loss. It's extremely daunting, especially with a one-year-old in tow. My thought is that because I now have Emma, I might actually have an easier time with the whole process. And my hope is that if we do suffer additional miscarriages, that they won't be quite as painful as they were pre-Emma. But I realize this may be naïve… which is why I'm scared. At the same time, I'm so incredibly grateful that I have my Emma, and realize that it might not happen for us again. When I got pregnant with her, I thanked the heavens above and swore up and down that if I could have only one child, that I'd be just fine with that. And I still feel that way.
City lifestyle
Mitch and I both agree that we always want to live in the city. This surprises most people, and we fully recognize that not moving to the suburbs or countryside at some point is a little different. Yes, there are parts of life that are a bit more difficult and inconvenient, and we have to be really good about budgeting. But we're personally happiest in the city, and we both think we're going to be better parents because of that. We also love that our urban lifestyle is going to provide our kids with some pretty awesome opportunities and expose them to great diversity. (Not that we wouldn't be able to get that elsewhere in the country; we just lucked out with our particular situation and don't want to give it up.) That said, life in the city can be fast-paced and hectic. I'm not sure we could handle more than two children here. I only have two hands! If I had three kids and needed to cross the street and Mitch wasn't there to help, what would I do?! A silly example, but I hope you catch my drift.
Finances
Life in Chicago is far less expensive than life in New York was, but it's still pricey. And we don't want to spend our lives worrying about finances. It's a little sad that money can often determine how many children one has, but the reality of the situation is that living an urban life usually means having far less space… and fewer bedrooms. We think that having two kids will be doable in our home, but more than that? We're not sure. (I guess that's one reason why people leave the city, haha!) We talk about maybe upgrading to a larger home one day, but we don't want to leave the neighborhood and we're not in the position to do that yet. So we'll see.
I think that just about sums it up:
We'll see. Maybe life throws us a curveball and we get pregnant tomorrow with triplets. Maybe, in a few years, we decide we can't take city life anymore. Or maybe we win the lottery. ;) Whatever the case, I love that life is full of surprises, and that at this point, we just don't know.
What are your thoughts on this? Even if you don't have children already, do you have an idea of how many you might want to have one day? (If any!)
Shop the post:
Navy and White Striped Dress (Runs a little big. I'm wearing the XS here.) / Everlane Sandals c/o (Back in stock! Order now before they sell out.) / Lisi Lerch Earrings c/o (Similar here at Nordstrom) / Lilly Pulitzer Bag / Monica Vinader Bracelet c/o / Sunglasses / Emma's Jack Rogers / Emma's Lilly Pulitzer Shift
SaveSave