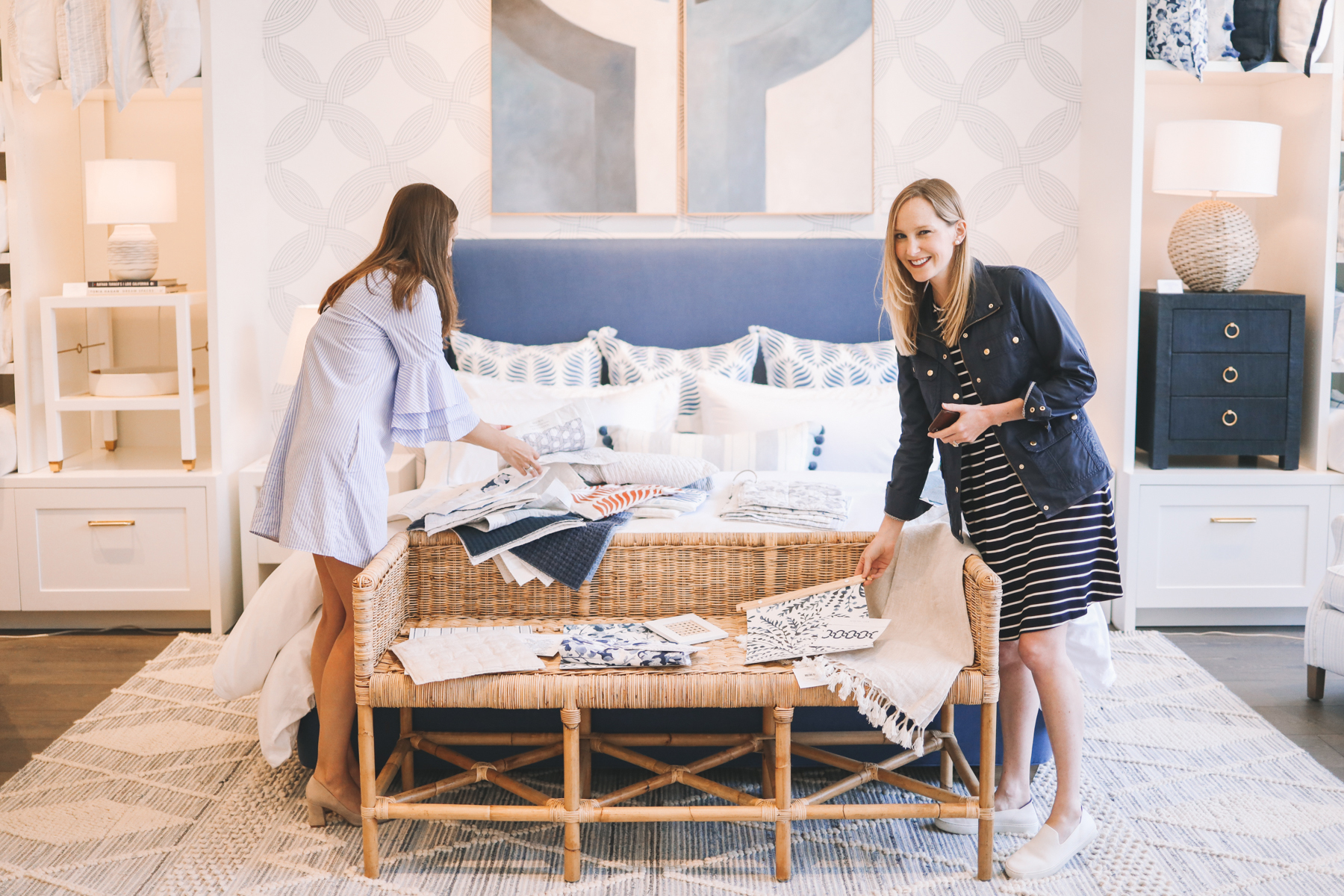 My absolute favorite home brand, Serena & Lily, invited me into the Lincoln Park store last week to design our master bedroom with the team. I was SO excited! When we had an offer accepted on our now home, I remember saying to Mitch, "I basically want this house to look like the inside of a Serena & Lily store." 😂 So to have our master kind of feel like that is a dream come true. ;) I love the idea of starting each day in a room that's both calming and inspiring–two feelings that the company never fails to create!
In today's post, I'm going to:
Show you the "before" photos of the master bedroom. (What it currently looks like.)
Walk you through what we already have for the master bedroom as well as what we're going to add from Serena & Lily.
Take you along for our design/shopping experience at the store in Lincoln Park, Chicago.
Lay out our "options."
Ask you to vote for your favorite bedding + wallpaper!
Talk about our next steps.
Sound like fun? Let's get to it!

The "before"
This is what the room currently looks like! (Photos from our original home tour as well as found on my iPhone.) I. Love. It. I know I've mentioned this before, but the previous owners of our house took such good care of it. This was a huge selling point for us because we didn't want to undergo major renovations or make any structural changes while raising two tiny children. The only construction that's going on in the master is the addition of white shiplap to the ceiling with Kira. We think it'll add a lot of character. :) The work is being completed next week!
What we already have
In terms of furnishing, I'm currently playing a game of shuffleboard, pushing pieces from one room to the next, trying to figure out how to repurpose and make our old stuff work in the new house. So far so good, though, and we really haven't needed to get rid of much!
We have, however, added a few things since the new house is larger than our old one. We sent our queen-sized bed down to Lucy's room so it could double as a guest room… and then we purchased the king-sized Serena & Lily's Harbour Cane Bed because my friend Danielle has the daybed version of it and I've always been in love with it. It's beautiful, and we LOVE sleeping in a king!
Our nightstands and my dresser–which I'm sharing with Mitch–totally work, so those are staying. (Mitch's dresser went down to Lucy's room, too, since it's too tall for the dormer ceilings.) We also have lamps, a jute rug, and a floor mirror that look nice in the space. Very happy about that!
What we're doing with Serena & Lily
King-sized bedding: All we have right now is a king duvet insert, a few random pillow covers, and an "emergency" set of sheets from HomeGoods that I picked up the night before our move.
Wallpaper: As you know, I'm on a quest to wallpaper every square inch of this house. (I realize that this isn't for everyone, but I grew up in a wallpapered house, and LOVE how warm and inviting it looks and feels. So yes, I blame my mother… 😜) Anyway, I wallpapered my old office in Serena & Lily, and was definitely a little sad to "lose it" when we moved. Really happy that we're going to have S&L paper somewhere in our new house, though!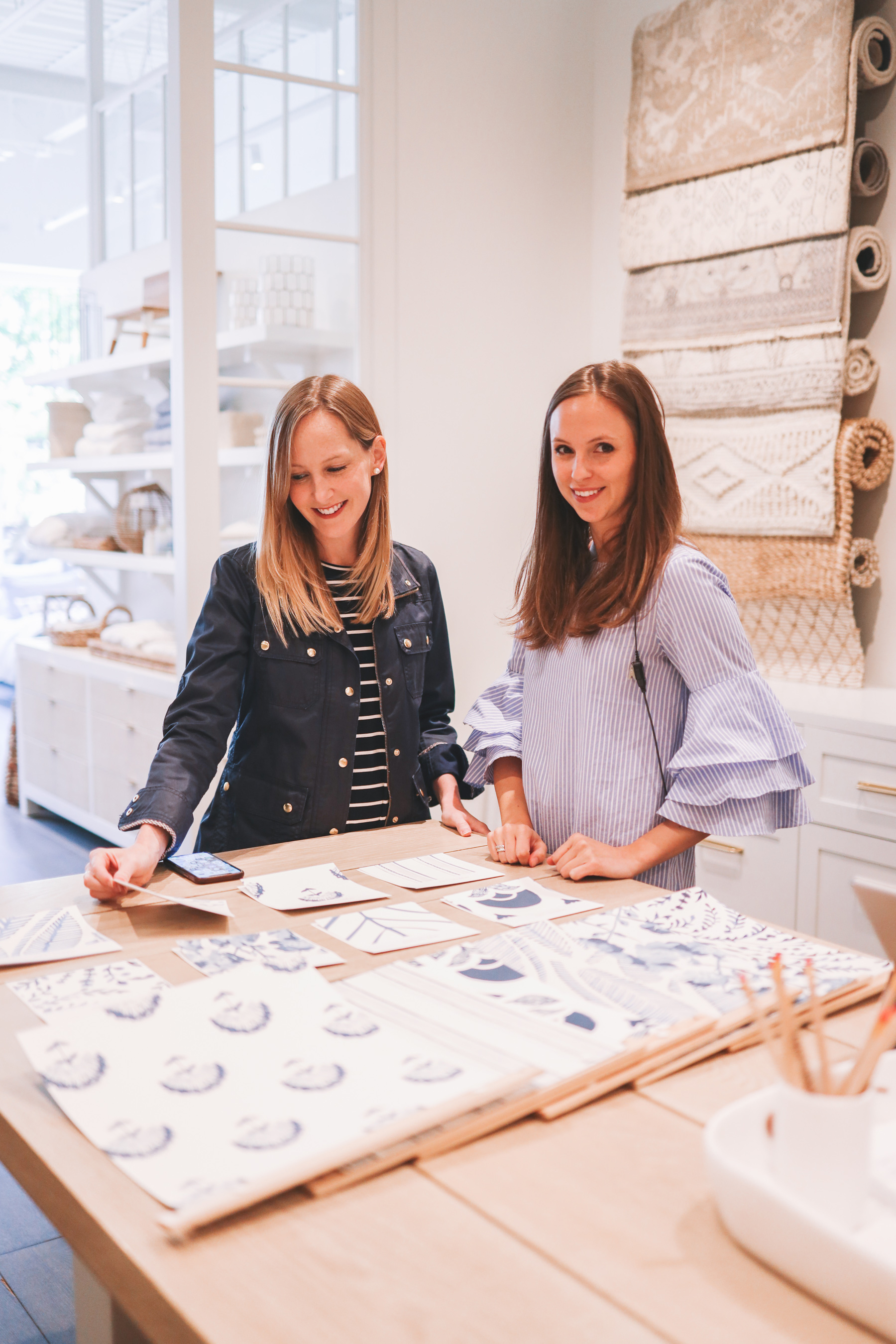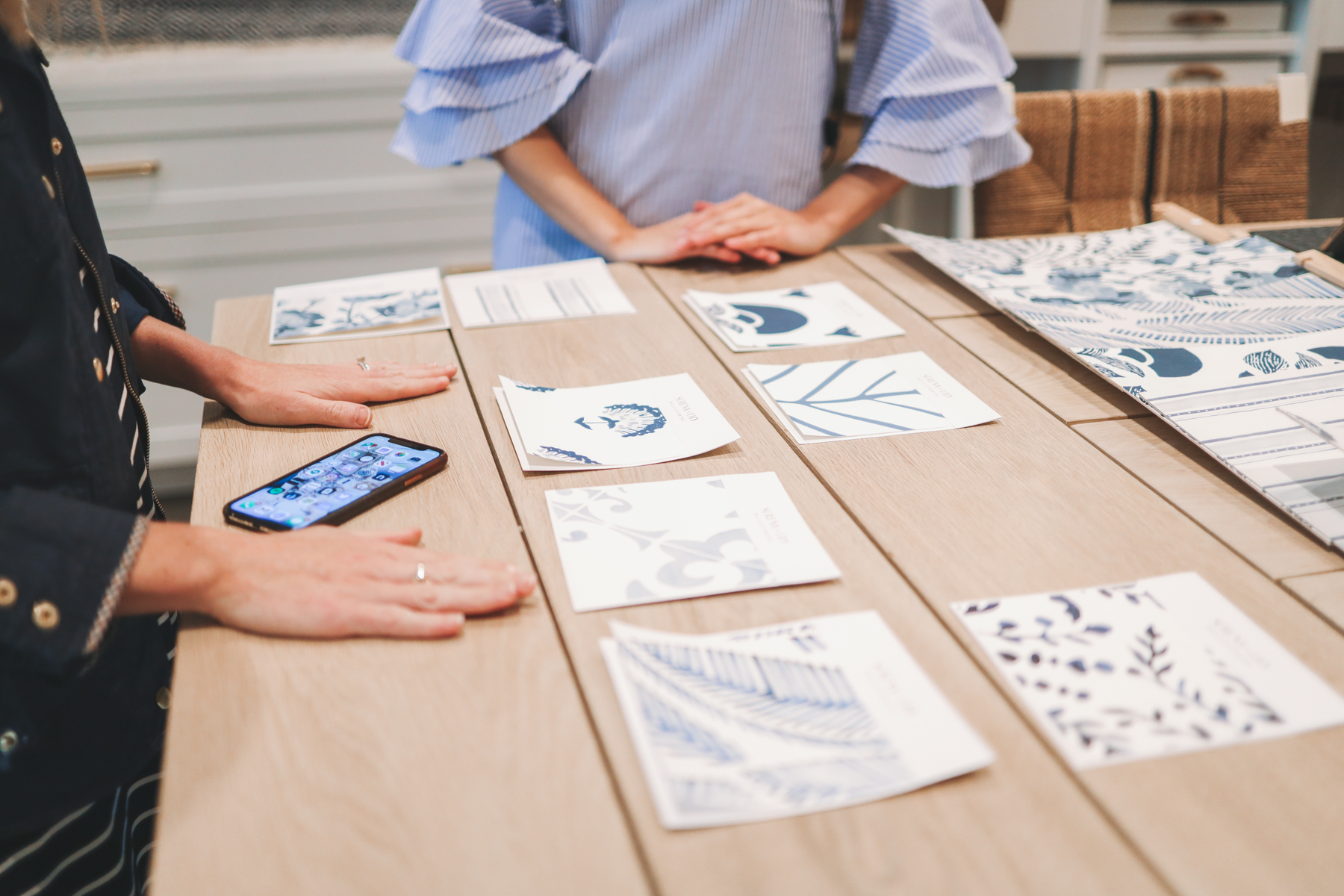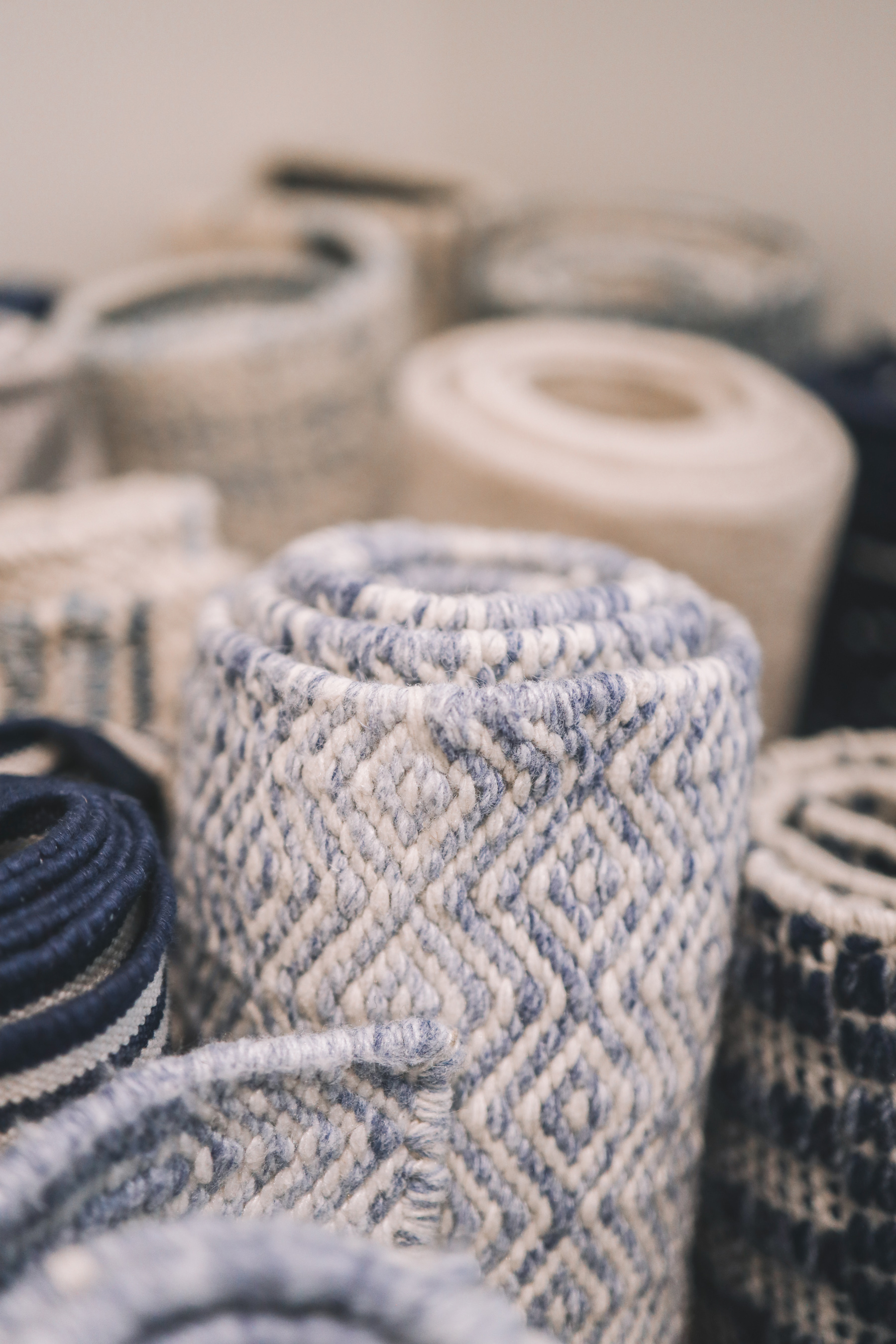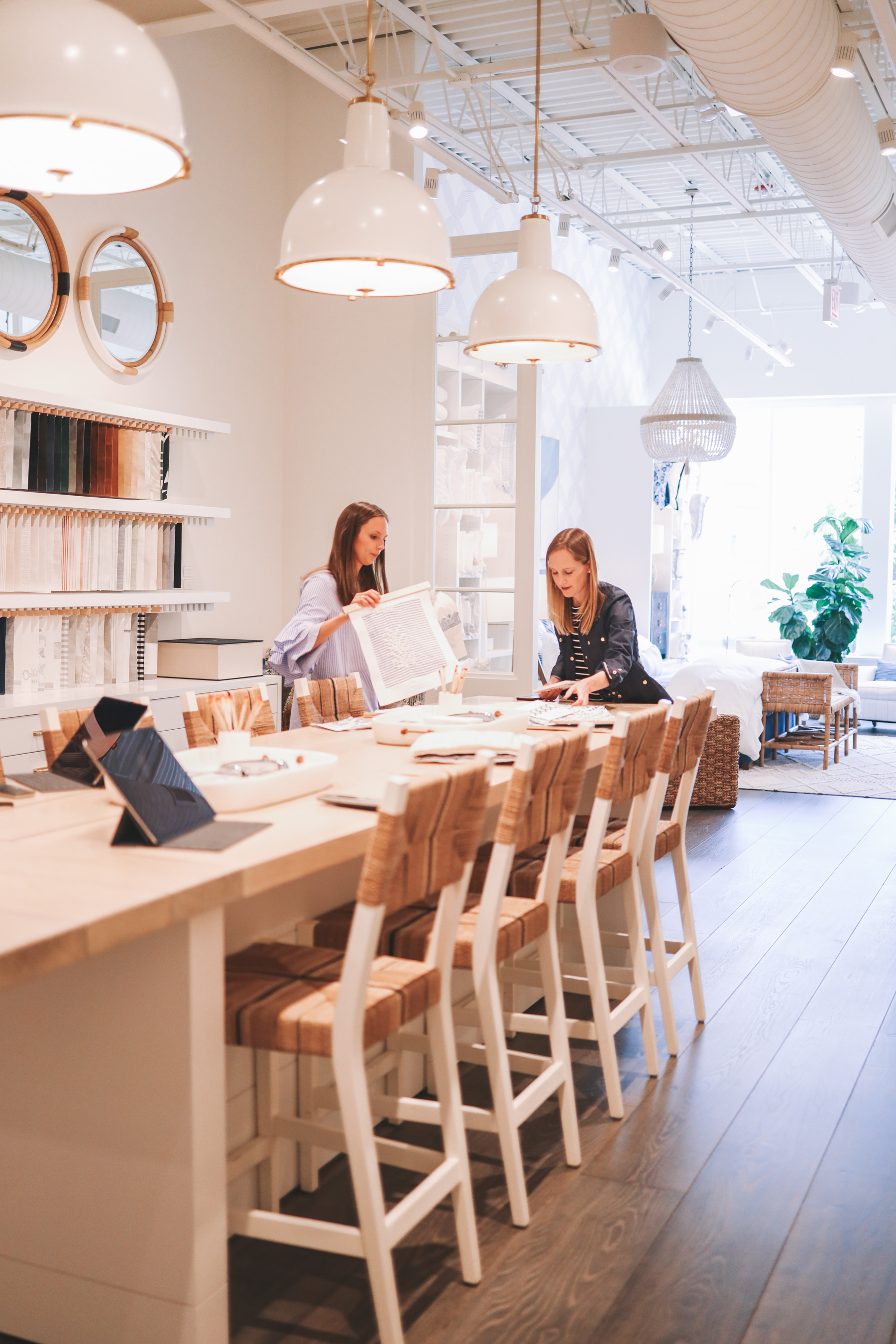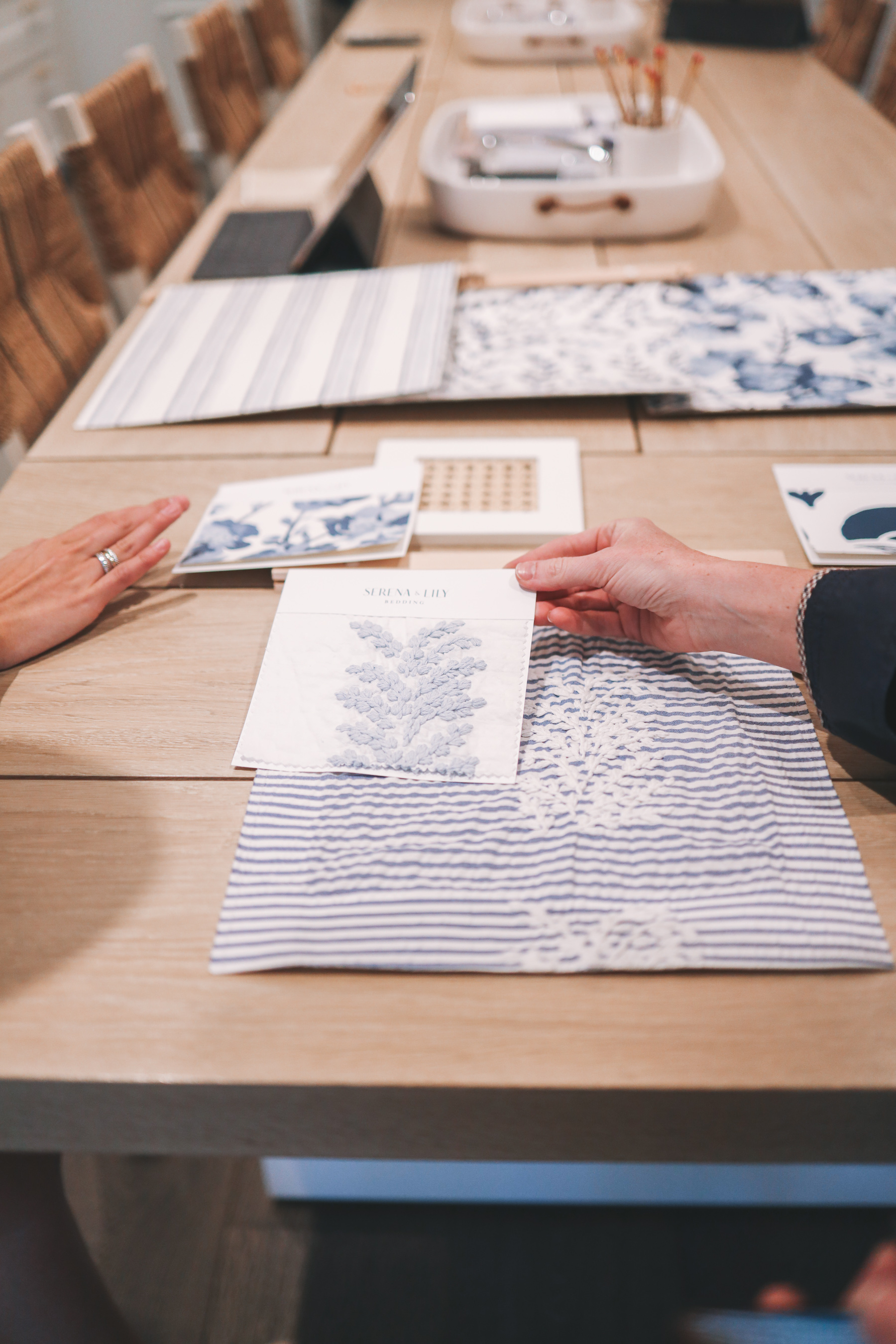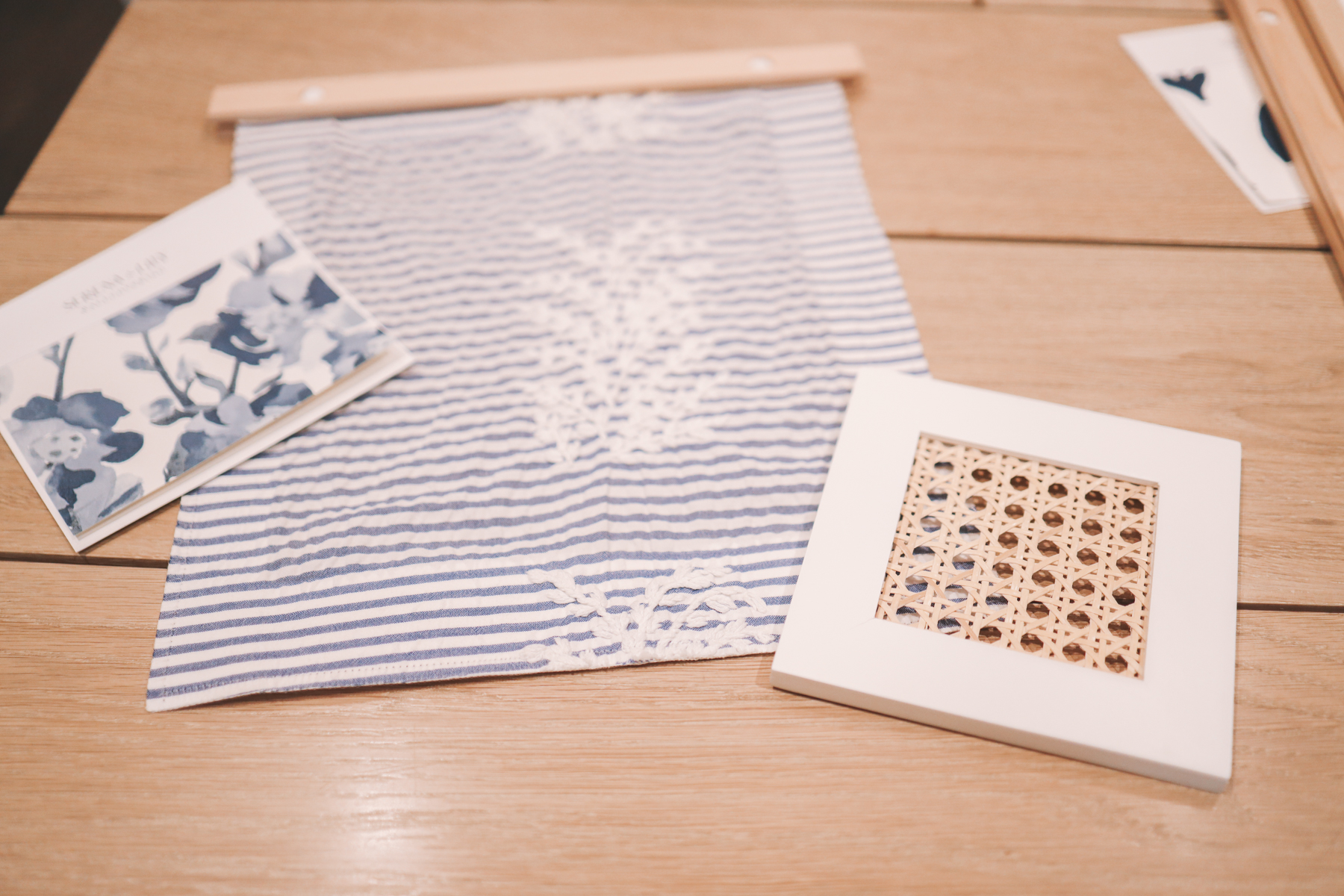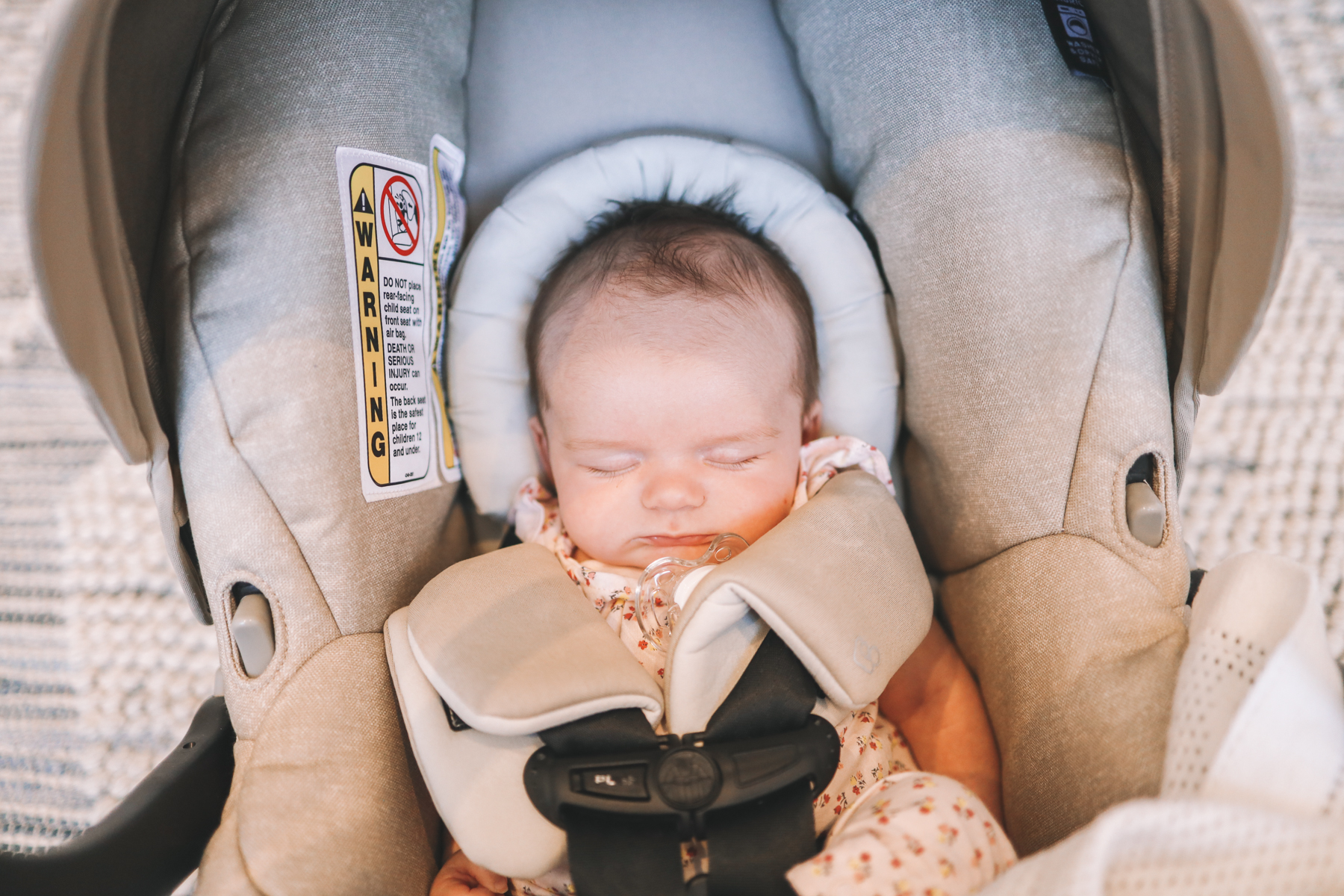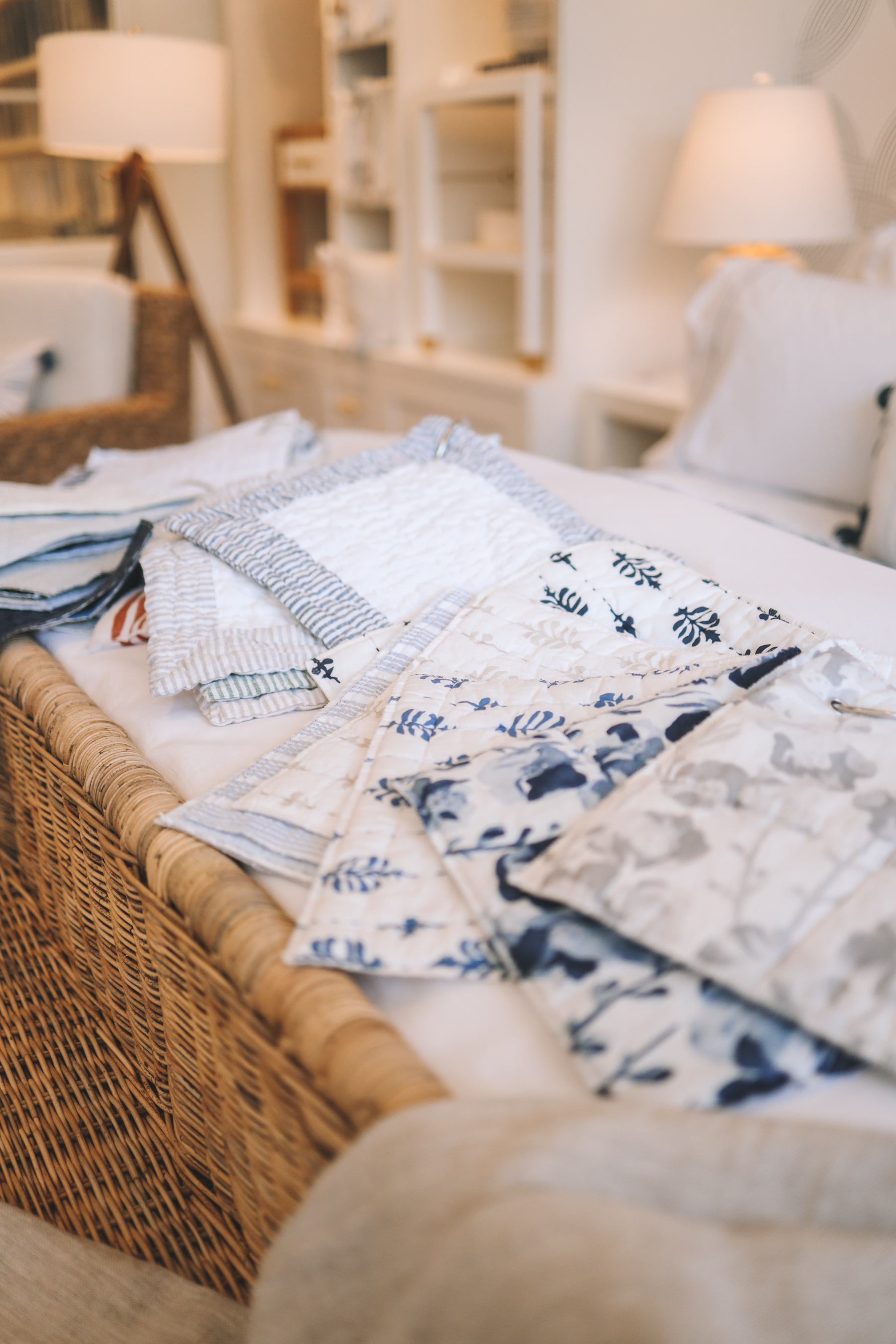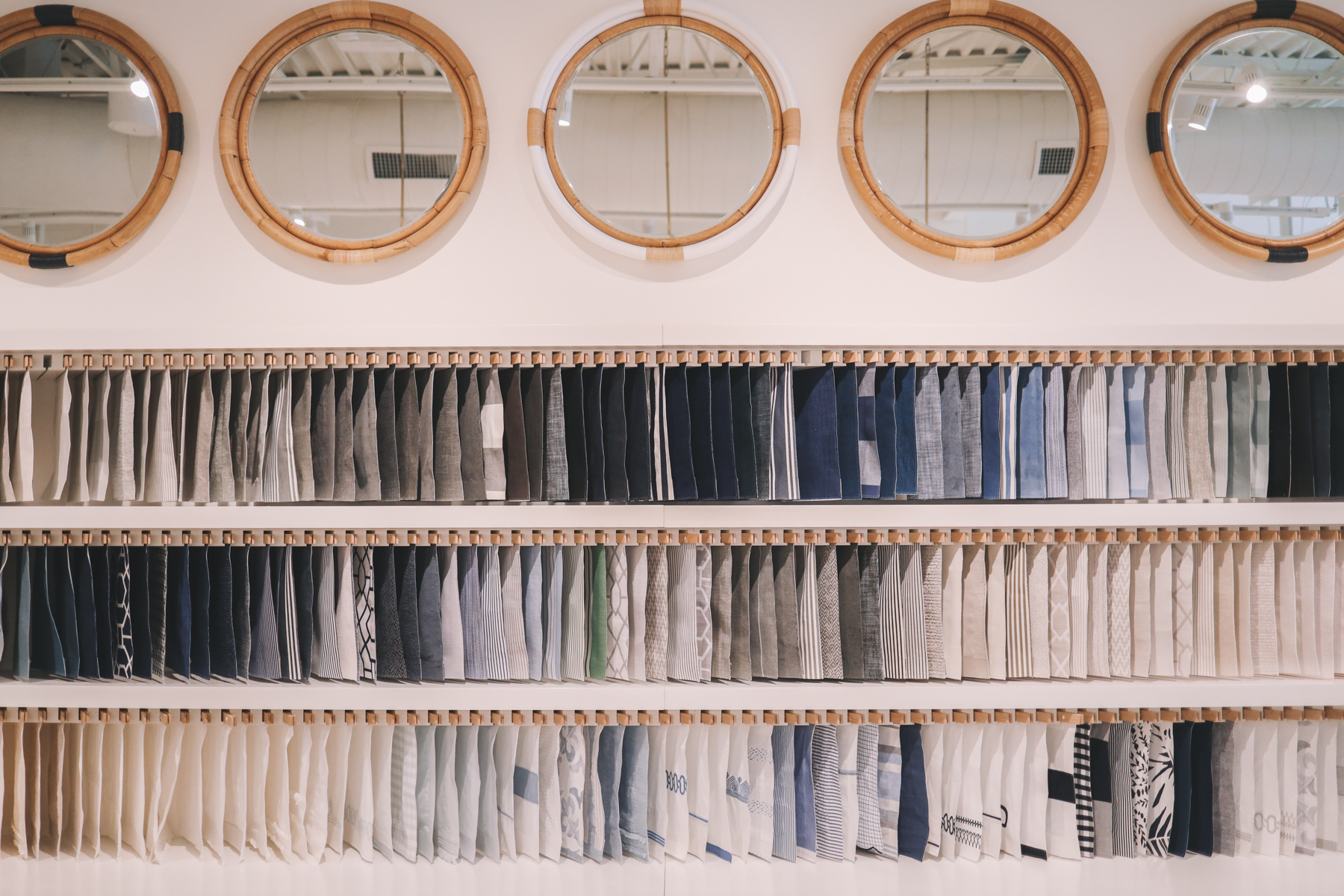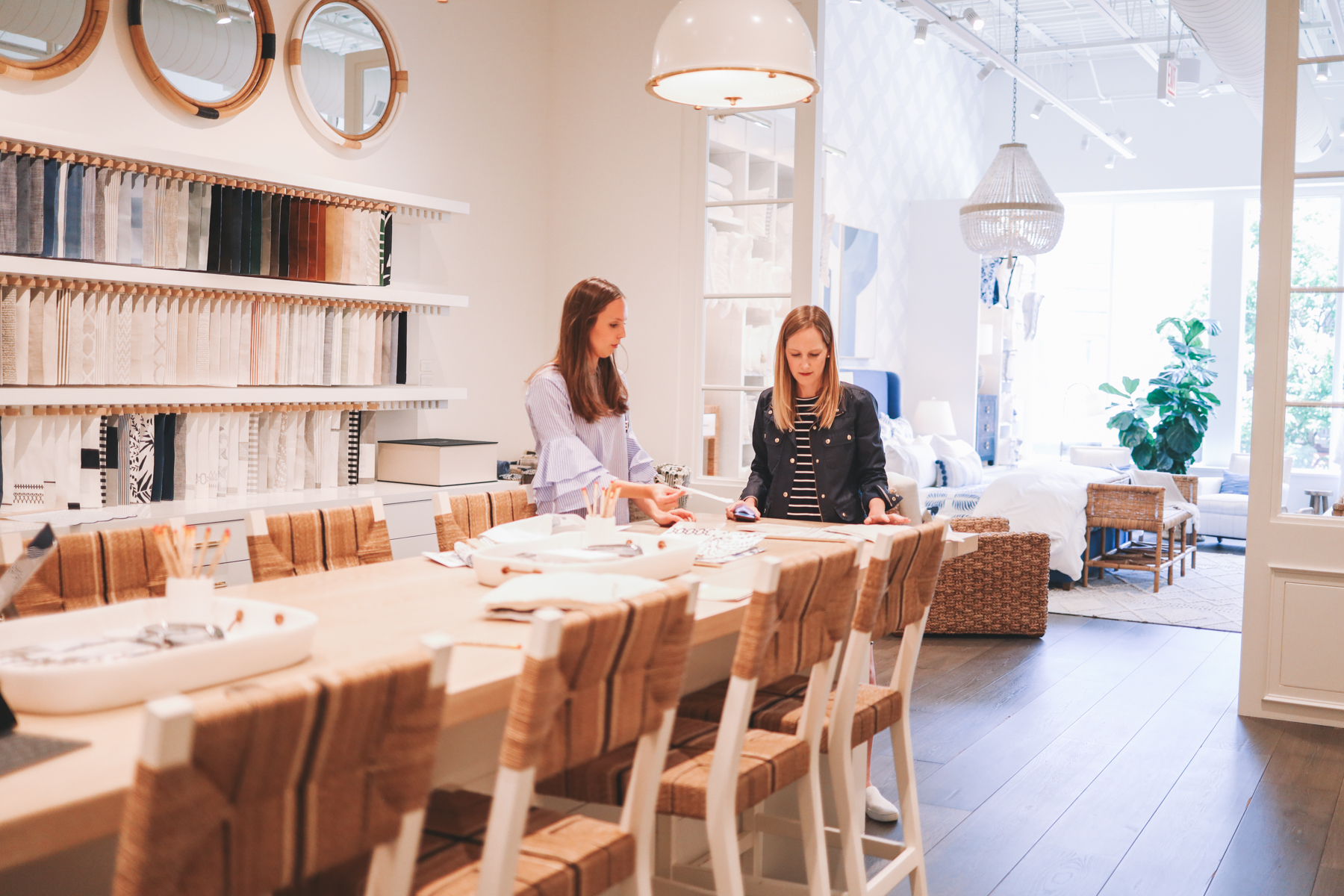 Visiting the store in Lincoln Park, Chicago
We decided to go on a weekday morning since Emma would be at peewee, thus making things infinitely easier. ;) We met with Taylor Markgraf, one of the Serena & Lily's Designer Advisors in the Lincoln Park store.
Note: Did you know that S & L's design services are completely free?! There are a couple of options here. Option 1: You can book an appointment and visit a design shop like I did. The designers even encourage you to bring in blueprints, photos and whatever other sources of inspiration you might have. (But it's not required, of course!) Option 2: If you don't live near a Serena & Lily location, you can also do it all online. It's incredible.
Anyway, Taylor was the best, and definitely ask for her if you plan on coming into the Lincoln Park store! She guided us through the design shop, and helped us pull textiles and wallpaper swatches. I went into the store thinking I wanted to go with stripes, but Taylor showed me that there is so much else out there! And let's be serious: I could stand to be pushed a bit outside my comfort zone, haha. (Not that stripes aren't fantastic. I mean, look at this. Scroll down so you can see it in a bedroom.
SO PRETTY.)
Once we were done collecting swatches, I really couldn't narrow it down. I loved it all! So Taylor had me pick my three favorites for each "category," and then she created MOOD BOARDS so I could really visualize everything. I can't tell you how helpful that was. In the past, I've simply ordered stuff I liked for a room, hoped and prayed that it would all come together. And while it definitely did sometimes, there were other times that it most certainly did not. And I was left feeling discouraged and tasked with the annoyance of returns. (Not always easy when dealing with furniture!) Taylor, though, made everything come alive. Heck, she even used our actual bed and a rug that looked identical to the one we have in our master! It was wonderful.
A couple of other things we did on the company's website that you can do, too:
Roughly an hour and a half later, we kind of had to sprint out of the store because we needed to get to peewee to pick up Emma in time. 😂 And since I knew I'd need more time to mull things over, I decided that it would be fun to share the mood boards with you guys before making up my mind on what stuff to go with!
The mood boards
All created by Taylor Markgraf, Serena & Lily Designer Advisor
Mood board #1:
Acadia Stripe Wallpaper, Westport Duvet Cover, Westport Shams, Sutter Quilt, Sutter Euro Shams, Beach Club Sheet Set, Topanga Pillow Cover, Harbour Cane Bed, Samara Abaca Rug, Blake Raffia Nightstand and Morris Table Lamp
Mood board #2:
Fairfax Wallpaper, Westport Duvet Cover, Westport Euro Shams, Fairfax Shams, Oyster Bay Sheet Set, Tassel Pillow, Harbour Cane Bed, Samara Abaca Rug, Blake Raffia Nightstand and Morris Table Lamp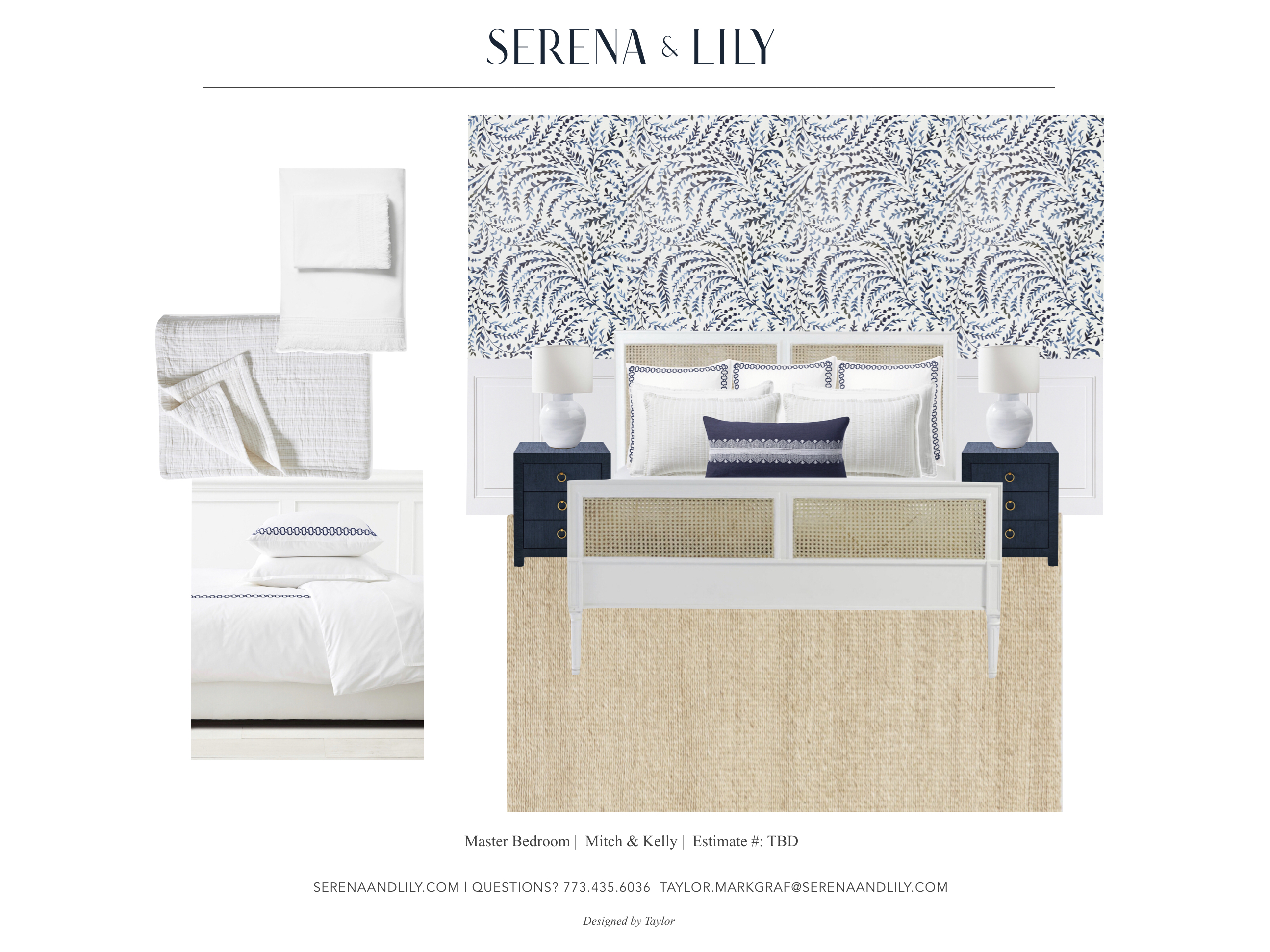 Mood board #3:
Priano Wallpaper, Solana Sheet Set, Savoy Embroidered Euro Shams, Savoy Embroidered Duvet Cover, Pickstitch Matelassé Coverlet, Pickstitch Shams, Olympia Pillow Cover, Harbour Cane Bed, Samara Abaca Rug, Blake Raffia Nightstand and Morris Table Lamp

Vote
This is a completely anonymous vote, but I'd LOVE to get your opinion! If you have a moment, please weigh in on your favorite mood board. :)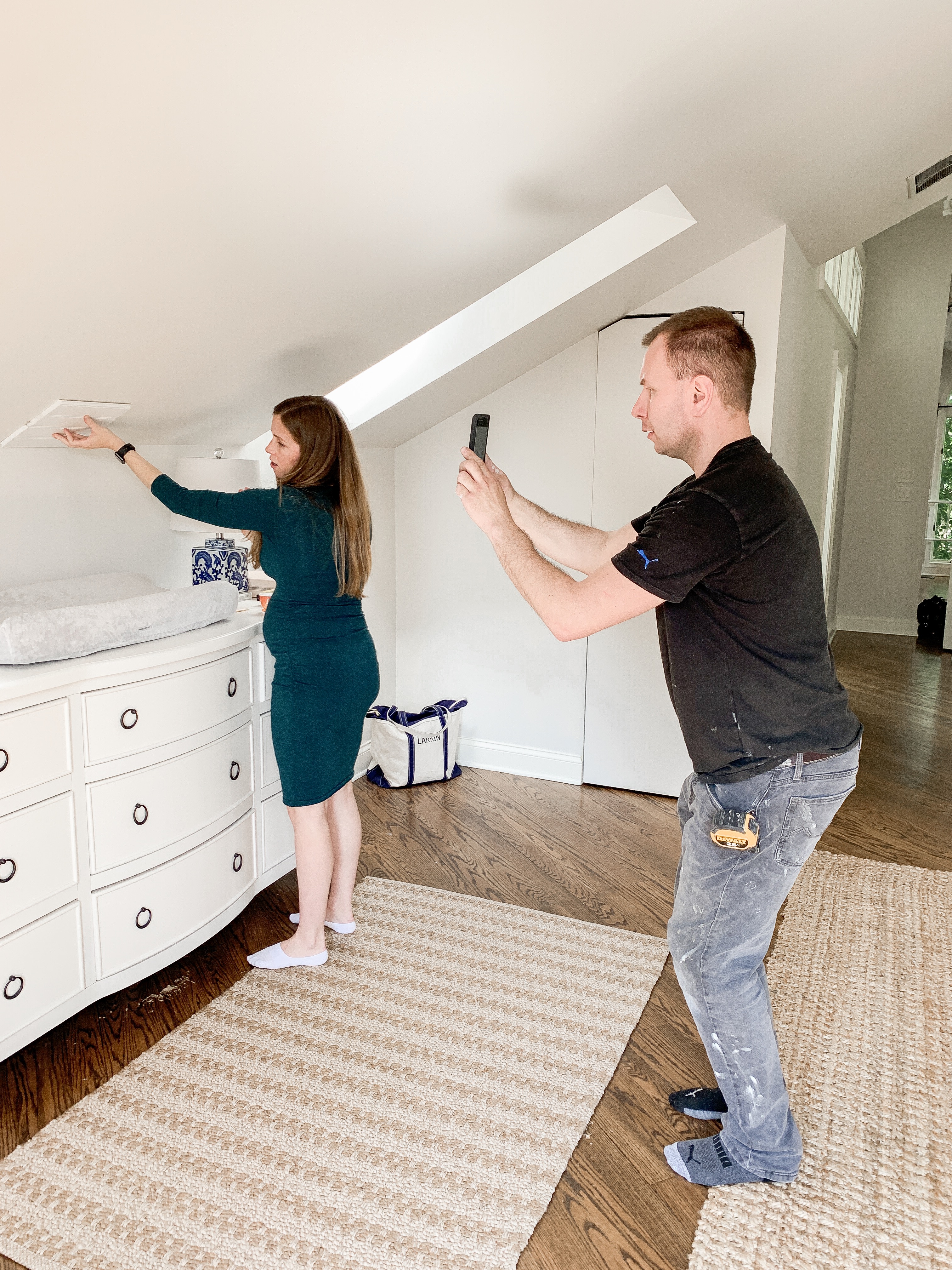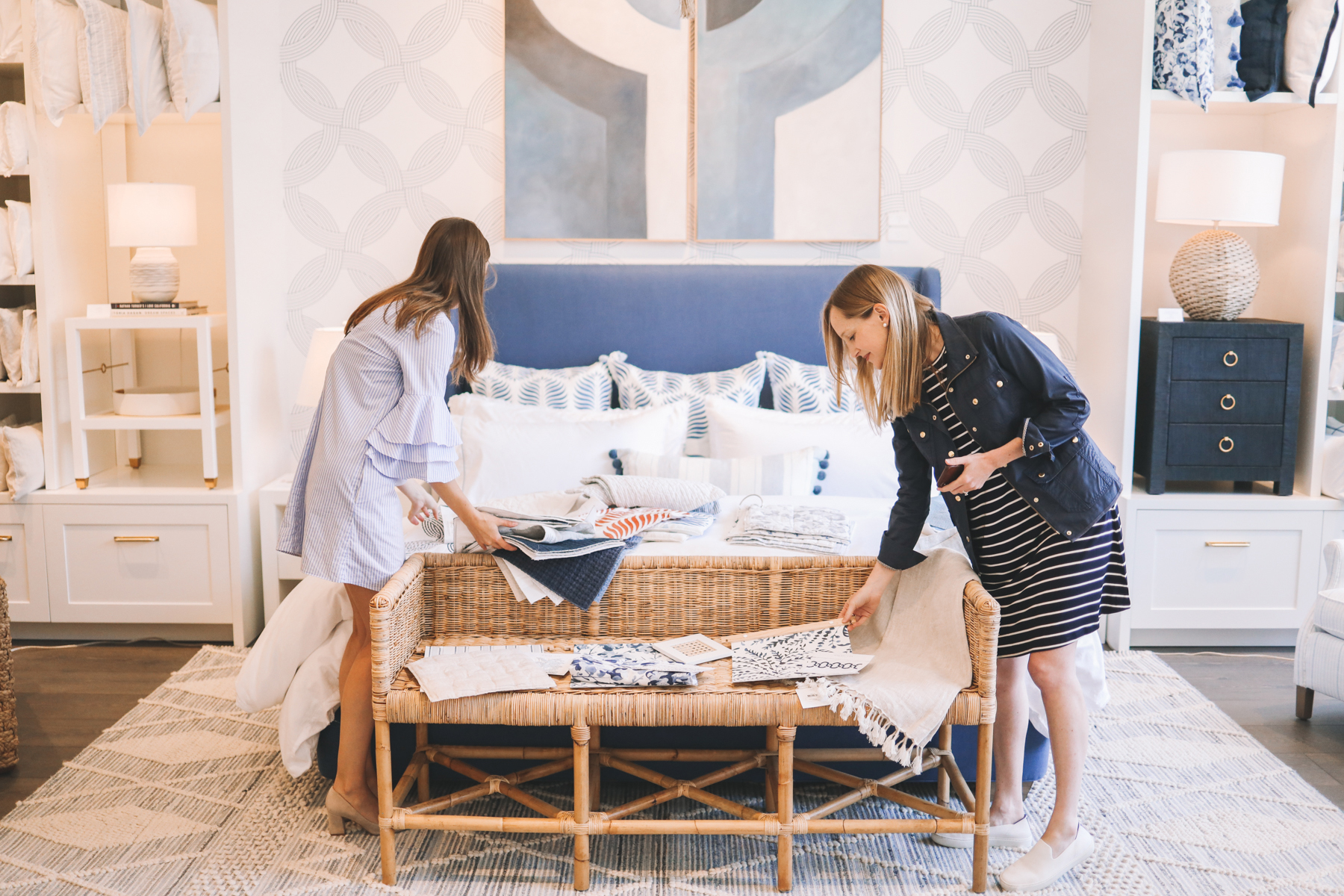 Next steps
Construction: As I mentioned, Kira is installing shiplap installed on the dormer ceiling, and that should be completed next week. It was just finished up in my office and it looks incredible, so I'm wildly excited to see it in the master, too!
Wallpaper + bedding selection: I'm honestly not sure what we're going to choose yet. But I can't wait to see what you think and to find out the results of the vote! And while it's going to take a few weeks to have the wallpaper installed, I will keep you in the loop re: the results and what we decide to go with before the "final reveal" hits the blog. Eeeee! I'll also be documenting the process via Instagram Stories, so follow along on IG if you'd like to see more. :)
Misc.: I'm going to replace the sconces with something brass and the curtains with something neutral. This shouldn't be too difficult! Eventually, I'd like to add a valance to the window over the bed, but that's a project for another day.
Thank you!
While this post is not sponsored, Serena & Lily is providing us with the wallpaper and bedding so we can make the vision come to life! This was definitely a "pinch me" experience and I'm so grateful to both S&L and to YOU for it!